I have been using the Jabra Elite 2 TWS Earbuds for more than a month now (Wink-Wink MKBHD). And I think it is time to write a review about these and share my experience with you guys.
These are currently available for Rs. 3,999 from Amazon/Flipkart/Jabra and other e-stores.
Previously, I was using the Realme Buds Air 2, and in fact, I own a few more TWS headphones.
Notably, Jabra is an established brand in the sound industry, and I have used the Jabra Elite 65T before.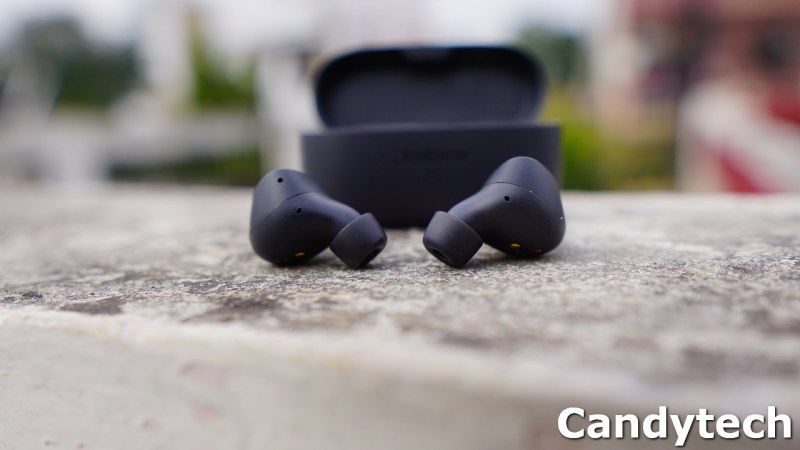 There are several top-selling TWS earbuds (bOAt Airdopes 441 Pro, JBL C115, Realme Buds Air 2, Cross beats Torq) in the Rs. 3000 to Rs. 5000 price range. Let's find out if Jabra Elite 2 can stand out from the crowd.
I will try to share specs, features, experience, pros, and cons in this review.
Without further Ado! Let's unbox these beauties and find out what we are getting in the box.
Unboxing
The earphones come in a large cardboard box in white and grey color. I have the dark grey color; these are also available in the deep blue color.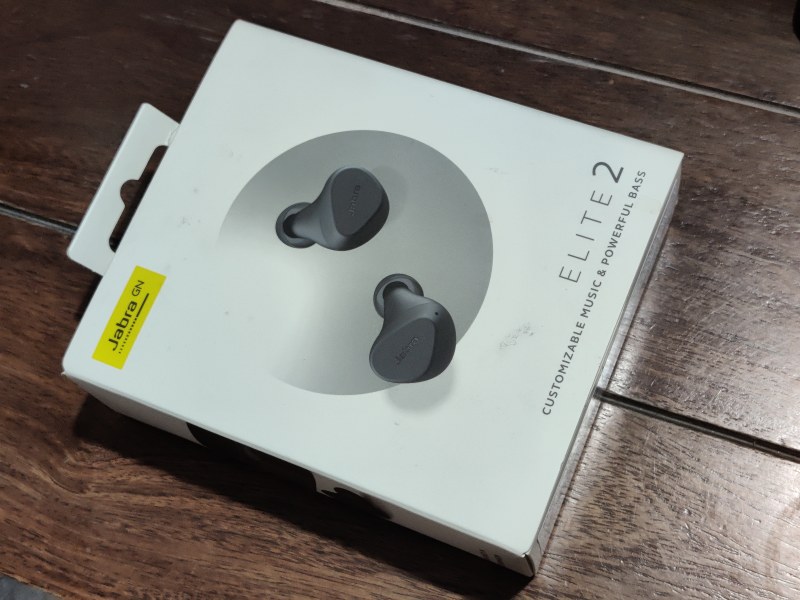 There are headphones and three silicone ear tips of various sizes inside the box. Also, there is a USB-Type C charging cable.
You can effortlessly change the silicon tips on the earphones to match your ear canal size for better fitment and comfort.
Top Features & Specs – Jabra Elite 2
For Starters, these headphones come with Bluetooth 5.2 support and have Android Quick pairing support.
The headphones boast a 6 mm dynamic driver and offer an IP55 rating (splash-proof).
You don't have to worry about wearing these in the gym or while running. The earbuds weigh 4.6 grams each, and the charging case weighs 31 grams.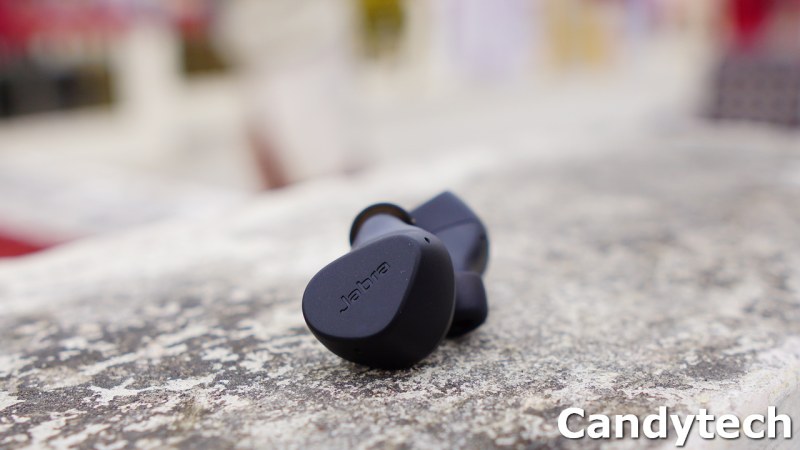 Also, the brand is offering a 2-year warranty on the product, which is more than the standard 1-year warranty on most other TWS (need to register using the Sound+ App from Jabra).
The TWS headphones support Google fast pairing to connect with your Android smartphone quickly.
In my experience, I found the range (close to 10m) and connectivity relatively stable. There were hardly any instances of interference or loss of connectivity.
The headphones have a 20Hz to 20 kHz frequency range and come with the Qualcomm apTX and SBC codec support.
Physical Touch Controls
The earbuds come with physical buttons to play/pause/next/previous tracks and activate Google Assistant or Alexa.
The physical press buttons are easy to use but need some pressure and getting used to, and these are better than sloppy touch sensors.
Design
The buds have a matte finish and soft rubberized plastic that feels comfortable to wear. Even the case has the same soft plastic with a matte finish and even has a magnetic dock that securely holds the buds.
The dark greyish design makes these look premium and undoubtedly better than most rivals that come with glossy plastic.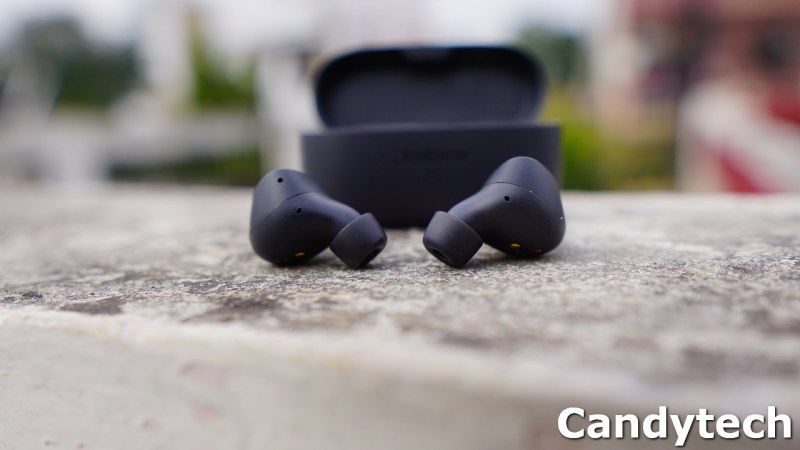 The Right and Left signs are easily visible on the earpods.
These earbuds offer excellent passive noise cancellation, thanks to the design that stops most ambient noise from entering your ears.
The noise cancellation is better than the Realme buds Air 2 (despite these having 35 dB ANC).
The earbuds cover the ear canal to prevent outside noises.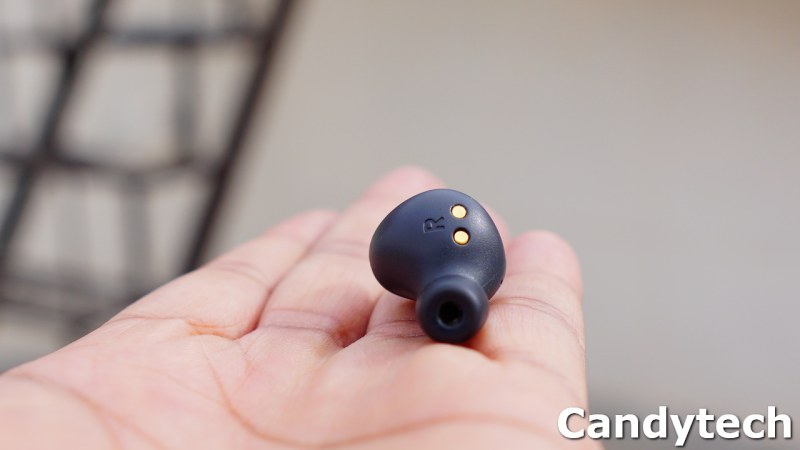 Let's address the elephant in the room – the Sound Quality.
Sound Quality And Experience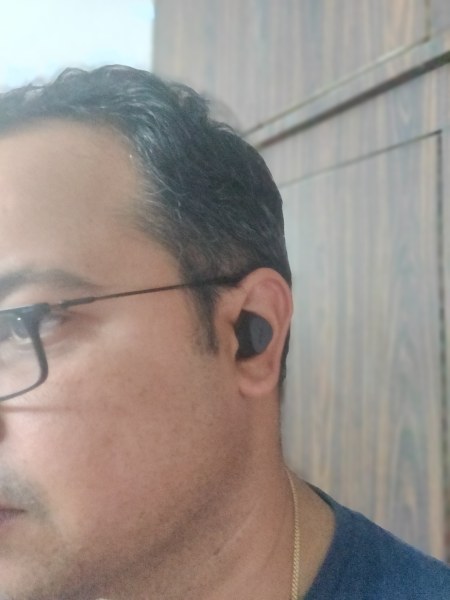 I am using these as my daily driver with Oneplus 8T and even tried these with the Samsung S21 Plus.
I watch Netflix, listen to music on Youtube Premium, Amazon Music, and Gaana, and paired these with my MacBook Air M1.
These fit snuggly into the ears, and you can choose the right size of silicon ear tips supplied with the buds.
I have worn them for hours on a stretch, and they are comfortable even for prolonged listening.
After the extended session, I observed white noise or pressure build-up in my ears, but nothing that spoils the experience.
One of the Cons of these TWS earbuds is the missing Auto-pause feature (music pauses when you take the earbud out and resumes on insertion).
At this price, a lot of other TWS offer this.
I have used these when walking or even jogging, and these don't fall out for the most part. However, for gym and workouts, I will suggest buying neckbands to be extra safe.
Sound Quality
Unlike some rivals with drowning bass or shrill treble, the headphones are tuned meticulously. These are balanced, and I would rate them far above the Realme Buds Air 2 or the Oppo Enco M31 in terms of sound quality.
Not to mention, Realme buds Air 2 or the Oppo Enco M31 are better than most other headphones in their price segment.
It is not only the hardware, but the optimizations also matter when reproducing an accurate soundstage.
These offer a punchy yet clear sound. You can distinguish the sound of different musical instruments.
The vocals are easily discernable, and these don't offer overwhelming bass or treble. I like a little more bass in some songs and use the Sound+ App to fine-tune the audio presets. Also, these come with the Qualcomm apTX support that further improves the audio quality.
These are ideal for listening to the music of nearly all genres, and you will love the sound quality.
Lastly, the sound stage is decent but not comparable to high-end wired/wireless earphones like Sony Wh-1000XM3. I don't expect these to match those considering the price. But these are better when it comes to music than most TWS headphones I have tested in the sub 5k price range.
Sound+ App
The Sound+ App is available for Android and iOS and comes with basic settings.
First is the equalizer you can use to select different profiles based on your preference or even create a custom preset. Secondly, you can even update the software using the App.
Check below the headset update and sound equalizer preset feature of the Sound+ App.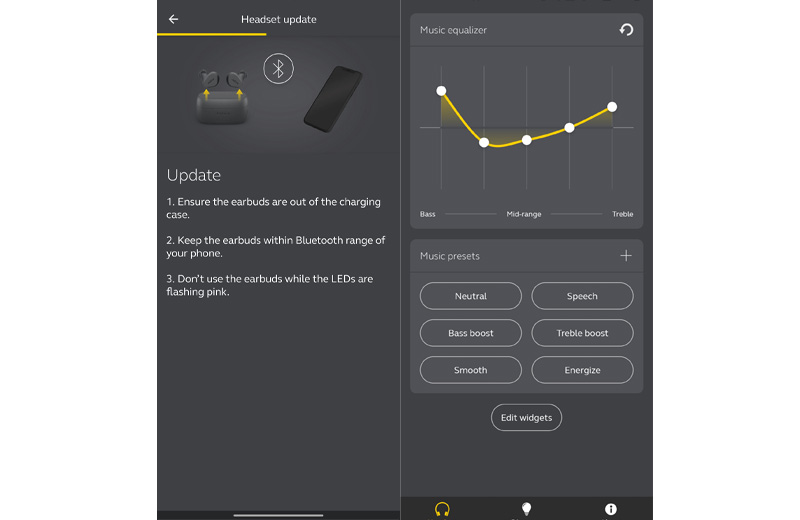 The earbuds even got a firmware update recently to further improve the experience.
Call Quality
The call quality is acceptable in my testing; the Realme Buds Air 2 offers better background noise isolation than these.
The Jabra Elite 2 comes with just 2 mics instead of 4 on other earbuds. Even the Jabra Elite 3 has four mics that offer better noise removal and clear audio for calls.
The Bluetooth range is about 10 meters, as the company also states on the official website.
Battery Life And Charging
You can charge the earphones using the USB-Type C port, and it takes about 1.5 hours to fully charge.
The TWS earbuds have long battery life. They last for more than 6 hours on a single charge.
Most other earbuds have 3-4 hours of battery life, but these truly offer a lot more playback time. The case offers close to 20 hours of battery backup.
Review Summary and Conclusion
At an asking price of Rs. 3999. These offer excellent audio quality for listening to music and are comfortable for long sessions.
They can last long and reduce background noise when listening to music. Infact, after I got them, I stopped using the Realme Buds Air 2.
Overall these are quite comfortable to wear and use as a daily driver. The background noise reduction during calls could have been better, and adding features like auto-pause would have made them perfect.
Overall, these are good pairs of TWS buds, and I can happily recommend them to buyers looking for TWS buds in this price range. If you have a higher budget go with the Jabra Elite 3 buds.
You can check out some more astounding headphone reviews and launch details here.