Detailed Review HP 15S AMD Ryzen 5500U Laptop for Work and Students
Every day I sit down at my desk with my laptop, and normally I browse the internet and read a lot of articles and write articles for Candytech.
The laptop I have been using is just an old everyday family laptop that has served me well for more than five years.
It doesn't have a lot of storage space and hasn't had an upgrade. Sometimes it hangs when I open up too many Chrome tabs.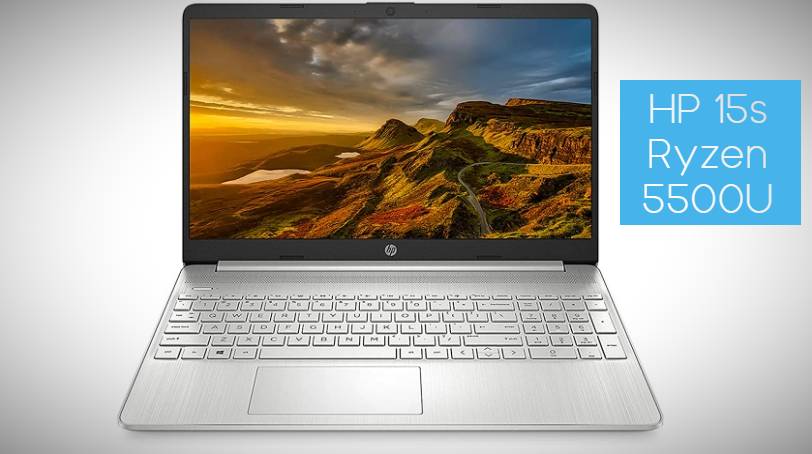 I needed a laptop that would last me longer and stay relevant for the next few years or so. AMD Ryzen 5000 series laptop processors are great and way better than the Intel 11th Gen.
Yes, I know the 12th Gen Intel processor is out, but there was no mid-range laptop available when I bought it.
So, I started to do some homework on what I needed for the next 5-6 years and stumbled upon the HP 15s powered by the latest Ryzen 5 processor.
This is a great affordable mid-range laptop with a beautiful display and AMD Ryzen 5500U processor, 8 GB of Ram, and 512 GB of internal solid-state drive storage.
Let's check out the detailed review of the 15.6 Inch HP 15S-EQ2144AU available for close to Rs. 49,990 currently.
The AMD Ryzen 5 5500U laptop comes with the latest processor and decent specs sheet to entice mid-range buyers.
Review HP 15S (Ryzen 5)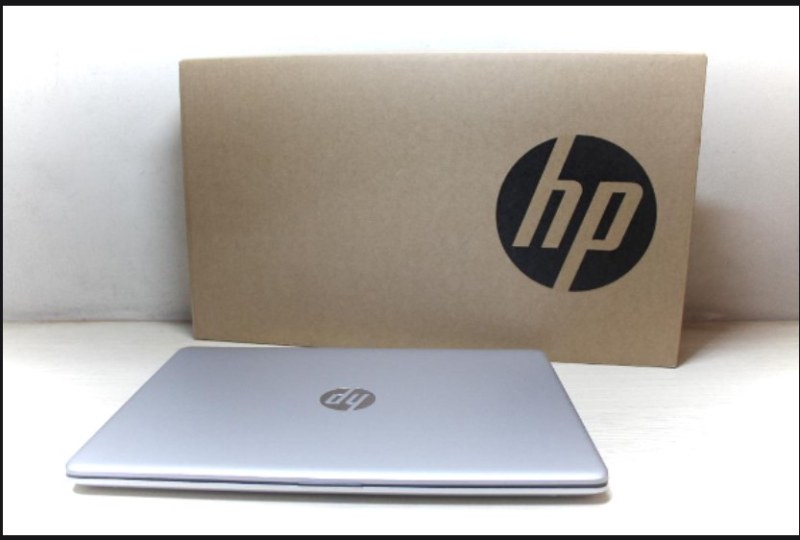 Unboxing:
The laptop comes in a rectangular cardboard box. It has an HP logo crafted in Silver color. The box contains the laptop, 65 Watt adapter (Gladly, laptop manufacturers are still giving adapters in the box), a user manual, and a warranty card. The Silver colored notebook looks sleek and slim with a logo at the center.
Key Specifications for HP 15s:
15.6 inches FHD display (1920*1080) pixels, 250 Nits, 45% NTSC color gamut
AMD Ryzen 5 5500U CPU – 6 Core & 12 Threads, 4.0 GHz Boost Clock.
AMD Radeon graphics
Windows 11 Home OS
8 GB DDR4 RAM (3200 MHz) expandable up to 16 GB
512 GB NVMe SSD storage
Keyboard with Numpad
Weight – 1.69 kg
Pre-installed MS office and Student 2019
720p HD webcam
3-cell 41 WHrs battery
Weight – 1.69 Kg
Thickness – 18 mm
Display:
HP 15S-EQ2144AU has a bigger 15.6 inches (39.6 cm) FHD (1920*1080p) micro-edge anti-glare display. Also, the laptop allows you to work in the dark with its 250 nits brightness and 45% NTSC color gamut.
I usually like to write articles in dim light or in a darker room, and till now, this affordable machine has not upset me with brightness or screen flicker. There are narrow bezels around the screen.
The colors are average, and if you are checking out some HDR content or vivid imagery, you can easily tell the difference compared to a more color-accurate notebook. For most basic tasks, this won't bother you.
Unfortunately, like smartphones, most laptops don't have an ambient light sensor to adjust the brightness as per the surrounding light, and you have to change it manually every time.
Processor & Performance:
I had opted AMD Ryzen 5500U version for me that comes with integrated AMD Radeon graphics. This combination works amazingly well and gives me a smooth and reliable working experience. AMD Radeon has seven cores count with 1800 MHz graphics frequency.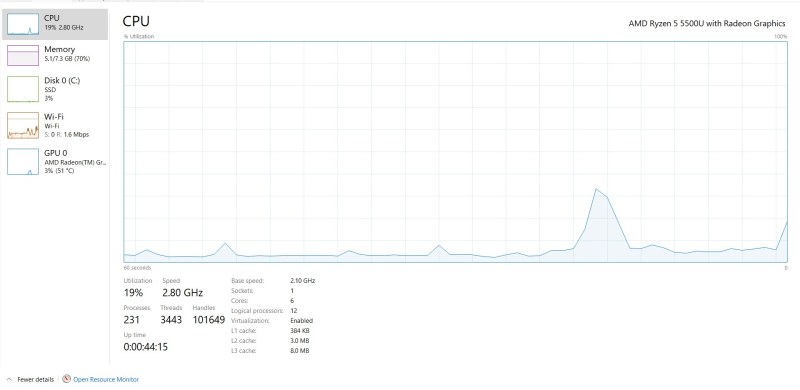 If we talk about Ryzen 5500U, the chipset has Hexa core architecture with 12 threads and 11 MB memory cache. Also, the CPU clocks at 2.1 GHz and can boost up to 4.00 GHz.
Ryzen 5500U is one of the best and faster processors and allows you to do creative work, video editing, and gaming with a great working flow. It offers excellent performance.
Storage and Memory:
The laptop has 8 GB DDR4 RAM with a 3200 MHz frequency. The company has used the Kingston memory. The 8 GB RAM in this price range is awesome, and it offers quicker operations.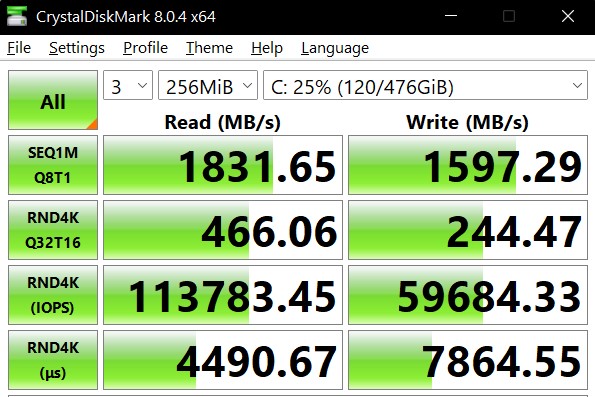 For storage, the laptop has a 512 GB Intel NVMe SSD disk. As shared above, I did the SSD read and write speed test and got a read speed of 1831 and a write speed of 1597 which is better than most SATA and several NVME SSD drives.
Battery:
The 41 Whr battery gives a decent backup, in fact, more than what I was expecting out of it. Also, the laptop gets fully charged within 2 hours.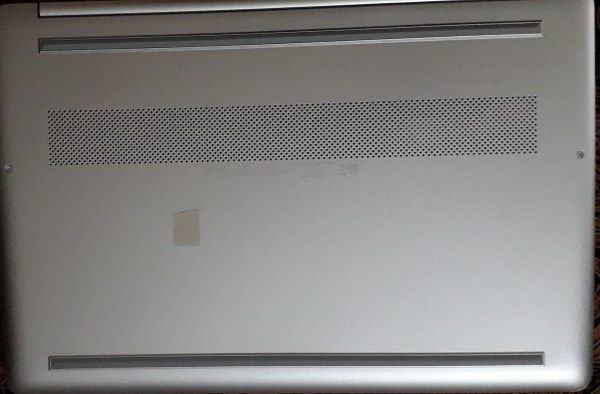 I had tested the battery when it was 100% charged by working on this laptop continuously for up to 5 hours of writing, and the battery fell to 35% after 4 hours; this is awesome. Doing basic tasks can last for 6 hours with ease if you are doing basic tasks.
Also, when I started watching a web series, the notebook was 65% charged, and after 3 hours, it was 30% remaining.
Considering that the battery capacity is not huge, only 41 Whr, the optimization is good, and the AMD Ryzen 5500U doesn't consume much power.
Speakers and Webcam:
The device has built-in dual speakers with Realtek audio support, placed above the keyboard. The audio is loud and offers above-average sound quality.
Moreover, the HP laptop has a 720p HD webcam with a built-in dual array digital microphone. I have done some video calls, and the video quality is pretty average could have been better.
Most affordable smartphones offer better front cameras; I am not sure why laptop manufacturers can't offer anything better.
Keyboard:
The laptop has a full-size standard keyboard with Numpad, and it also has a wide trackpad with multi-gesture features.
However, it does not have backlit functionality, which the company should include in this price range.
Rest the keyboard is excellent, and you can even work on it for hours, punching text to write long articles and reviews like this one.
Connectivity ports:
There are plenty of connectivity ports, and you can plug in USB type C gadgets or Type A gadgets with ease. My brother uses the MacBook Air M1 and always complains about the lack of USB Type-A ports.
Connectivity Options:
WiFi 5 – there is no WIFI 6 Support.
Bluetooth 4.2 (not the latest)
USB Type-C – Superspeed port with 5 Gbps Speed
2* USB 3.0 1 with 5Gbps throughput
HDMI 1.4b
SD card slot
3.5 mm combo headphone/ microphone jack
Performance Benchmark:
AMD Ryzen 5 5500U processor with six cores is one of the powerful budget chipsets that offer amazing performance.
Also, it has left behind many Intel high-end processors in benchmark scores. Let's have a look.
The AMD Ryzen 5500U is ahead of Intel 11th gen Core i5 and even the Intel Core i7 in the multi-core performance by a significant margin. However, the Intel Core i5/i7 leads in the Single-Core performance.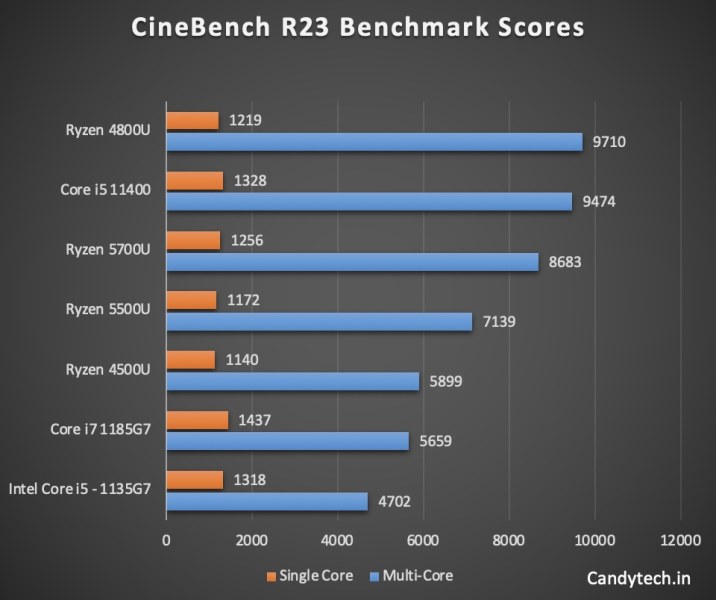 Considering that the AMD Ryzen 5500U comes with 6 Cores and Intel processors offer 4 Cores the laptop handles multi-tasking with ease. I can open up Photoshop, Office, Excel, and several tabs in Chrome all at once without any sluggishness. Since I started working on this new notebook, I have truly enjoyed my work.
Gaming Benchmark:
The laptop comes with an integrated AMD Radeon graphics 448SP which clocks at 1.80 GHz. It has seven cores and 448 shader units. The GPU supports Direct X12 and allows to use of up to 3 external displays. Let's have a glimpse at the gaming benchmark of Ryzen 5500U.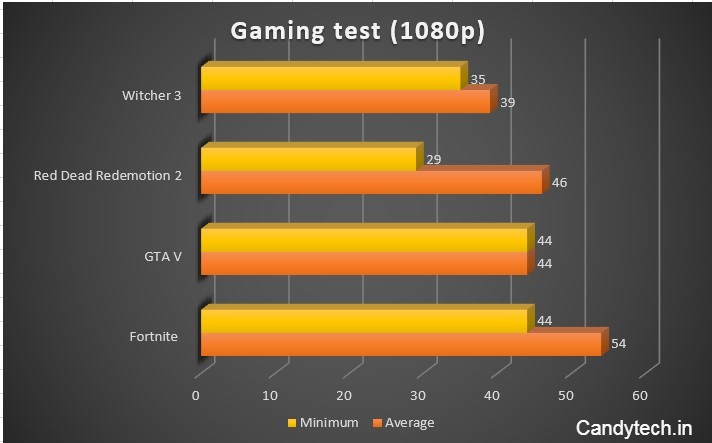 As you can see in the graph, it can reach up to 50 fps with low to medium settings with 1080p gaming. In addition, it allows you to play almost all modern games with medium settings. Not bad, considering it is not a gaming laptop. You can still enjoy some games if that's your poison.
I generally watch web series and spend my time on Social media, work on WordPress or do a bit of coding for which this seems to be appropriate.
Pricing and Availability:
I purchased the HP 15s (EQ2144AU) laptop for INR 49,800 including GST, from an HP retailer shop. The notebook is also available on online shopping sites with a discounted price tag.