Let's understand the difference between the Intel 12th Gen P-Series, U-Series, and H-Series processors. As we know that Intel has rolled out the new 12th Gen processors for laptops, and many upcoming Laptops will launch with these in the coming months.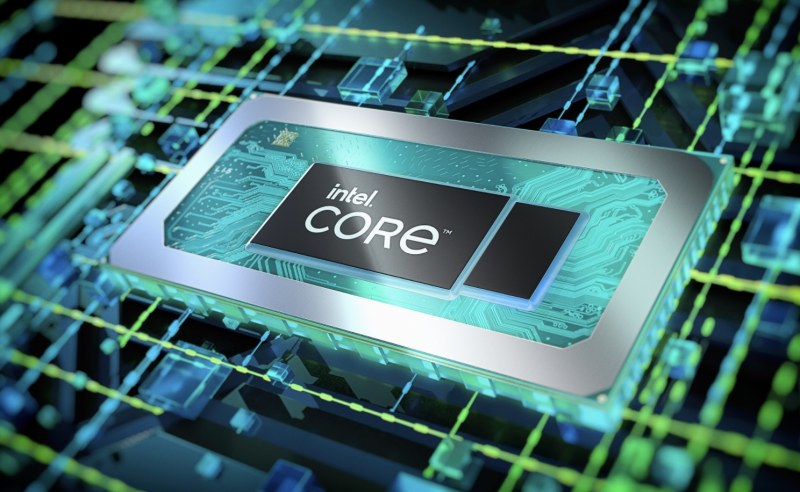 Differences between Intel 12th Gen P, U, H Series Processors
| | | |
| --- | --- | --- |
| Intel U Series | Intel P Series | Intel H Series |
| Ultra-Low Power (9 Watts) | Low Power (28 Watts) | Average Power (45 Watts+) |
| Suited For Thin Ultra-Books, Convertibles | Standard Work Laptops | Gaming and Work Stations |
| Decent Performance | Fast Performance | Fastest Performance |
| More Battery Life | Avg Battery Life | Low Battery Life |
The thin and lightweight Intel laptops will use either the P series or the U series, processors. In contrast, the gaming Laptops will have H Series processors. The P and U series have a lower TDP and offer better battery life, and require less beefy cooling solutions.
The Intel H series processors are for high-performance tasks such as Video Editing, Design, Photo Editing, and specific coding applications. The processors are more energy-consuming but can offer incredible performance in a small factor. Powering the new Dell XPS 15 and XPS 17 are the 12th Gen H series processors.
#1 Intel 12th Gen U Series Processors Explained:
The U series processors offer up to 29Watts of Turbo Power consumption and have a 9 Watts Base Power. The cache size on the U series is smaller than the P and H Series. However, these also come with a large number of cores.
For example, the Intel Core i7 1260U or 1250U comes with 10 Cores and 12 threads. There are two performance Cores and eight efficiency cores, a giant leap over the 11th Gen U series processors with just 4 Cores (i7). The i7 comes with a 12 MB cache and has a max turbo frequency of 4.7 GHz.
Even the Intel Core i5 1240U comes with 10 Cores and 12 Threads architecture. The processor has two performance cores and eight efficiency cores. The hybrid architecture of using performance and energy-efficient cores helps reduce overall power consumption and heat.
Check Below for Details of all the Intel 12th Gen U series Processors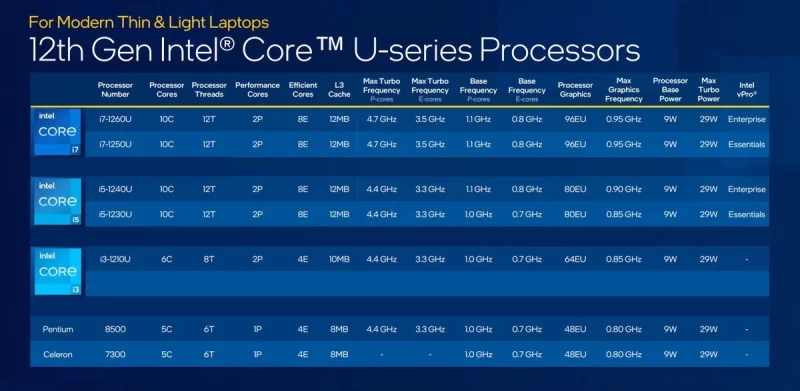 #2 Intel 12th Gen P Series Processors Explained:
Incomparison to the Intel U series, the new P series have a much higher power consumption and also offers more performance. The base power consumption is 28 Watts whereas it has 64 Watts turbo power consumption.
The Intel P series processors come with even more Cores. The Core i7 1280P has 14 Cores and 20 threads, it has 6P cores and 8E Cores, and a turbo boost speed of 4.8 GHz. Notably, the i7 1280P has a 96EU Graphics card, the same as the i7-1260U but a high clock speed of 1.45 GHz Vs. 0.95 GHz. The Core i7-1280P comes with a massive 24 MB cache and has a turbo boost frequency of 4.8 GHz.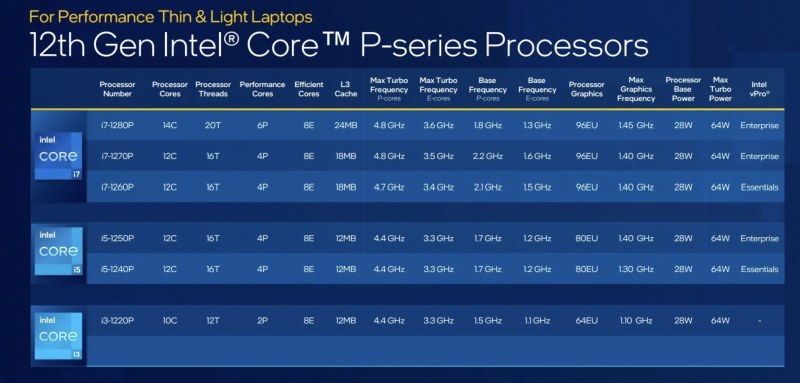 #3 Intel 12th Gen H Series Processors Explained:
Last we have the Intel H Series Processors that offer higher performance than the P and U series. Also, the processor has a base power draw of 45 Watts that can go over 115 Watts.
The Intel 12th Gen H series have processors like Core i9 -12900HK, Core i9 12900H, Core i7 – 12800H, etc. The Core i9 12900H processor comes with 14 Cores (6P+8E) and has 20 threads. There is 24 MB of L3 Cache and 5.0 GHz clock speed. The processor also comes with an iGPU with 96EUs.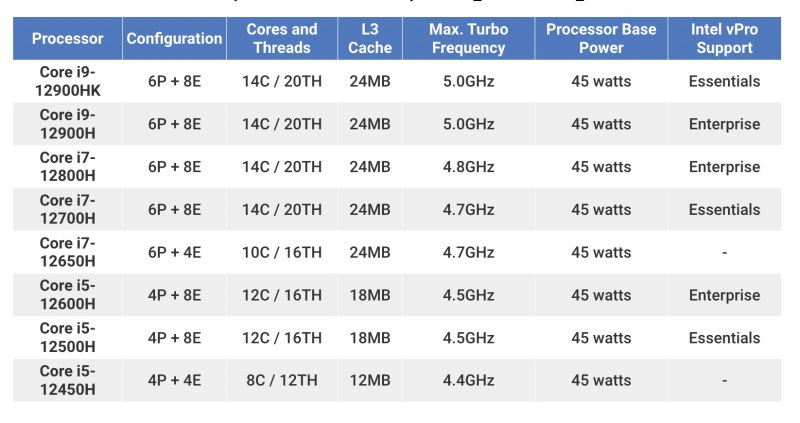 Intel 12th Gen Laptop Processors Vs. 11th Gen Processors
Some of the benchmarks shared by Intel for performance comparison with the 11th Gen processors:
Up to 70% faster in multi-thread performance.

Up to 30% faster photo editing

.
Approx 2x performance for 3D rendering.
Notably, the 11th Gen processors were mostly 4/6 Cores, but the 12th Gen has 14 Cores. The performance jump with the 12th Gen Intel processors is incredible, and in many years Intel has delivered such a performance boost.
Concluding Thoughts
The 12th Gen Intel P, U, H Series offers a lot more performance than the previous generation of Intel processors and is even ahead of rival AMD. The only issue will be thermals and how manufacturers can control the heat in compact laptop designs.
Stay Tuned to Candytech for more such informational articles – Follow us on Twitter to get the latest updates.
Also, Read: – About the comparison between Intel 12th Gen Vs AMD 6000 Vs Apple M1 Max.
Data Sources – Intel official