5 Best Affordable Gaming Keyboards in India (2020)
The article here gives you a quick option to choose the best and affordable gaming keyboards available in India.
If you have a budget of Rs. 1000 to Rs. 3000 then these are the best gaming keyboards for you.
We recently wrote about some of the premium mechanical keyboards that you can purchase if you have a higher than 5k budget.
Due to the import restrictions and increased GST and other taxes, there are very few good gaming keyboards available in the market at affordable rates.
We have tried our best to list some of the better gaming keyboards available for less than Rs. 3000.
For ease, we have also included the best buy links that we found online for these products.
Let's check out the gaming wired keyboards with specification details and price.
1. Night Hawk Nk102 Gaming Keyboard :
The Night Hawk gaming keyboard comes with an ergonomic design and even has a palm rest. It features a metallic look that adds charm to its appearance.
The beautiful keyboard has three lighting zones. The lightings toggled through the pause/break key. 
This device is not fully mechanical but is comfortable for typing, and the keys are also well spaced. It has a cap for the USB slot, which can be put on when not in use.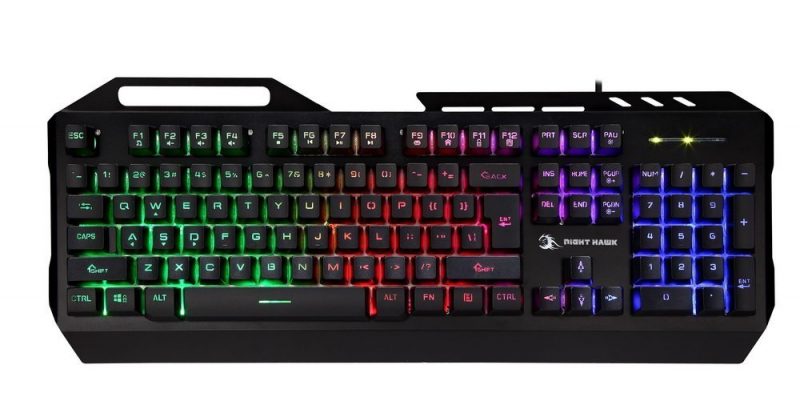 Key Specs for Night Hawk Nk 102 gaming keyboard
3 color Changeable backlit LED keys

19 anti-ghosting keys

Ergonomic design with good keys built.

Comfortable for a long-lasting gaming session

Durable

Contains USB cap to protect from dust

Weight – 1.10 kg

Price – ₹ 1,199
2. Amkette Evo Fox Fireblade Gaming Wired Keyboard :
The Amkette Evo Fox gaming keyboard comes with a backlit and space-saving Tenkeyless design. The keyboard has every feature that gives you a dominant performance in gaming.
The gorgeous keyboard has rainbow backlighting, which makes it look stunning. The print on the keys is embedded with an elevated non-erasable laser. It's made for gaming with a spill-resistant pattern, has a 1.5 m long braided cable with a magnetic ring. 
The device has a Windows Lock key and 12 multi-media keys, and a USB plug and plays setup.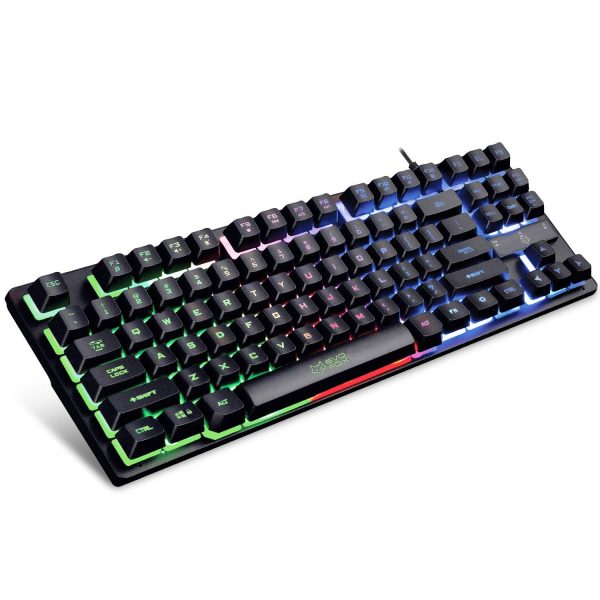 Key Specs for Amkette Evo Fox Fireblade Gaming Wired Keyboard
Attractive Rainbow backlighting 

19-key Anti-ghosting

12-multi-media keys

Windows Lock key

1-year warranty

Space-saving design

Weight – 492 g

Price – ₹ 999
3. Offbeat Slayer Wired Gaming Mechanical Like Keyboard :
The Offbeat Slayer gaming keyboard gives you the mechanical keyboard feel with its improved and smooth key touch. 
The non-conflict design allows you to touch multiple keys together, ensuring a rapid and responsive gaming experience. The keyboard has rainbow backlighting, which can be adjusted through the fn+ Up/Down arrow key. It allows disabling Windows key while gaming.
Furthermore, the keyboard comes with 14 multi-media keys that give more functioning endurance.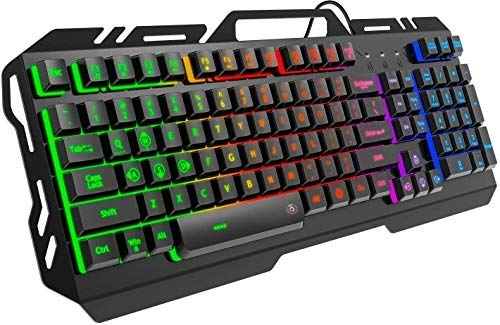 Key Specs for Offbeat slayer Gaming Wired Keyboard
Colorful Rainbow LED backlighting 

19-key Anti-ghosting

9 non-conflicting keys

12-multi-media keys

Ergonomic and spill-resistant design with crater architecture

Removable keycaps

Windows Lock key

1-year warranty

Weight – 350 g

Price – ₹ 999
4. ZEBRONICS Gaming Multimedia USB Keyboard & USB Mouse Combo :
The Zebronics gaming keyboard comes with such a design that does not make you feel fatigued even after long-lasting gaming sessions.
The transformer keyboard has backlit LED lights that allow you to play games comfortably in darkness.
The plus point for buying this keyboard is that you also get a gaming mouse at such a low price.
The gaming mouse comes with 7 LEDs with a compact and ergonomic design. It has dedicated DPI, backward, and forward buttons. The optical mouse has 6 buttons. The mouse has up to 3200 DPI. The device weighs 130g.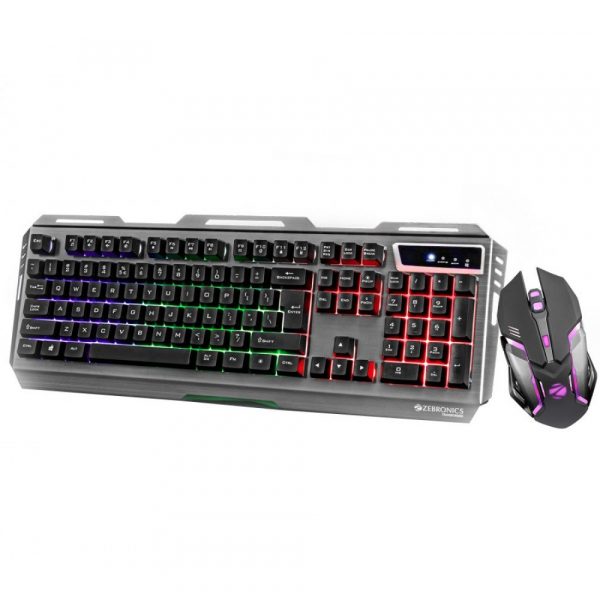 Key Specs for ZEBRONICS Gaming Wired Keyboard
multi-colour LED backlighting with 4 modes 

Integrated media control keys

12 multi-media keys

Ergonomic and compact design

Ambidextrous shape 

All keys enable/disable function

1-year warranty

1.8 m cable length with Gold plated USB

Weight – 678 g

Price – ₹ 1,299
5. Cosmic Byte CB-GK-08 Corona Wired Gaming Keyboard :
The Cosmic Byte gaming keyboard has multi-colour LED backlighting. The keyboard has such an attractive design.
The brightness of the device is adjustable with up to 4 levels. The keys are scratch-proof with good built quality.
You can use the device conveniently and with ease in the dark.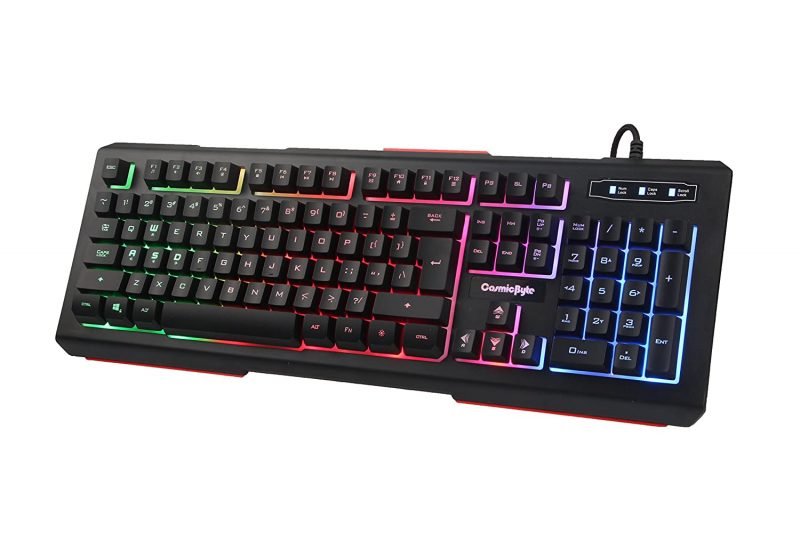 Key Specs for Cosmic Byte gaming keyboard
Multi-colour LED backlighting

4 levels of brightness adjustment 

19 anti-ghosting keys

Ergonomic and scratch-resistant design

1-year warranty

Weight – 900 g

price – ₹ 1,044
Concluding Thoughts
So, these are some good entry-level gaming keyboards that you can currently purchase in India. The Keyboards are excellent for casual gaming and even for typing.
However, if you are looking to get better at fast-paced games like CS: GO, Volarant, or PUBG, I will suggest that you get a good mechanical gaming keyboard.
Also Read: 
Why and Who Should Upgrade TO A Mechanical Keyboard (Buying Guide)
7 Best Mechanical Gaming Keyboards India 2020
7 Best Gaming Mouse for All Budgets to Buy in 2020
Written By – Heena Makwana, Edited By Kanuj Sharma
*Disclosure - Dear Reader, Independent, Unbiased Tech Journalism is getting harder. To keep the lights on Candytech.in really need your help. Share, Like,
Follow-Us on Social, Sign-up
, or buy products using our links to keep this small business alive. Thank You For Being A Reader!