If you are looking to purchase a mechanical keyboard for gaming or typing, I will help you pick an incredible keyboard.
The mechanical keyboards use Cherry MX key switches that give you ease and comfort while typing or gaming. The actuation force (force required to press the keys) is usually less than what you will experience on typical membrane-type keyboards.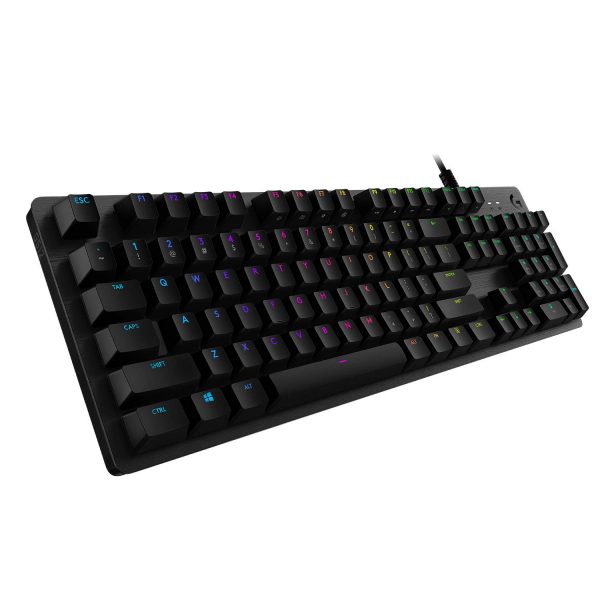 Types of Cherry MX Switches:
Cherry MX Blue Switches.
Cherry MX Brown Switches.
Cherry MX Red Switches.
Cherry MX Black Switches.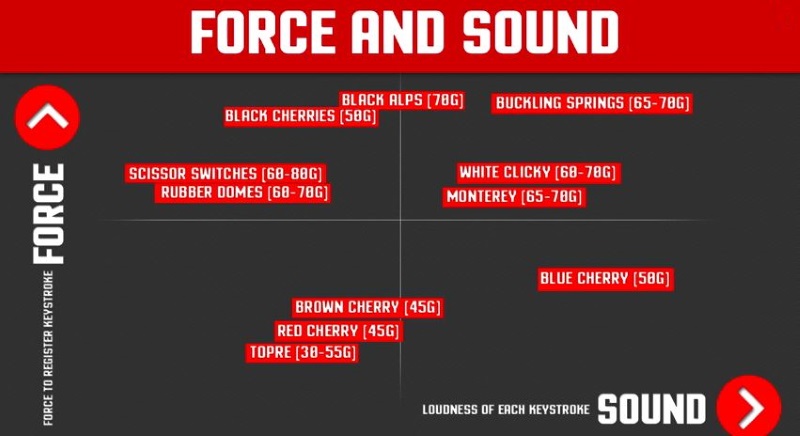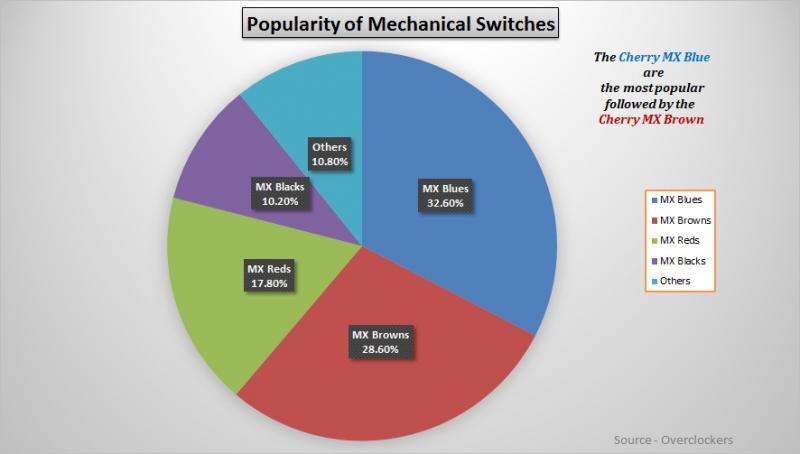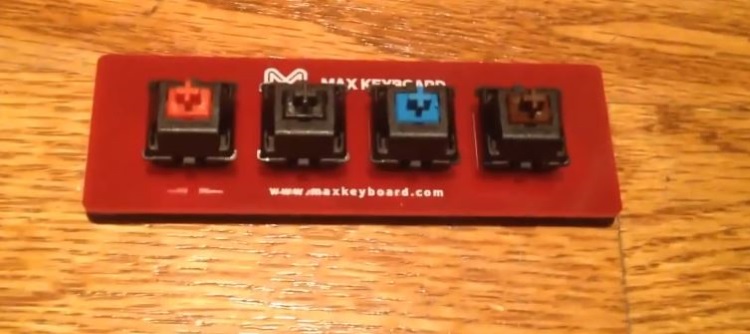 My Experience With Mechanical Keyboards
I have been using Mechanical keyboards for more than 20 years, the first Mechanical keyboard I bought was a TVS-E Bharat Gold.
I currently use the G.SKill KM 570 keyboard with Cherry MX Brown switches. The benefit of the MX brown keys is – a bit less noise, and it also requires less actuation force for typing.
You can also read my review of the G.Skill KM570 Mechanical Keyboard. Also, I have a Dell KM 717 and a Logitech MX Keys Chicklet type wireless keyboard.
Price Range Mechanical Keyboards
Many brands offer great mechanical keyboards at a different price range, and typically it starts from 5K.
Once you have used a mechanical keyboard, it is hard to go back to a normal membrane keyboard.
In this article, I have listed the seven best mechanical keyboards available for a reasonable price.
We have shared specs, details, features, and significant pros and cons to make your buying decision easier.
You can check the actual price of the particular device on Amazon as sometimes there is a slight fluctuation in the rates.
Let's start with the affordable Cosmic Byte Mechanical keyboard.
1). Cosmic Byte CB-GK-12 Neon Rainbow Backlit Mechanical Keyboard – Price Rs. 2390
Last on our list is an affordable mechanical keyboard from Cosmic Byte.
The Cosmic byte neon is the entry-level mechanical keyboard with a blue switch. The keyboard does not have keys from Cherry MX but has mechanical keys manufactured by a Chinese company.
However, the keys are decent.
The keyboard sports windows key lock, multimedia keys, and gaming mode. The RGB backlighting boosts the attractiveness of the machine, and it has ten backlighting effects and 3 level brightness adjustments.
It is a full-size keyboard with 104 keys with a braided cable.
The Cosmic neon mechanical keyboard is highly recommended for FPS gaming and is budget-oriented. Despite having a low price, the keyboard has an above-average build and feel.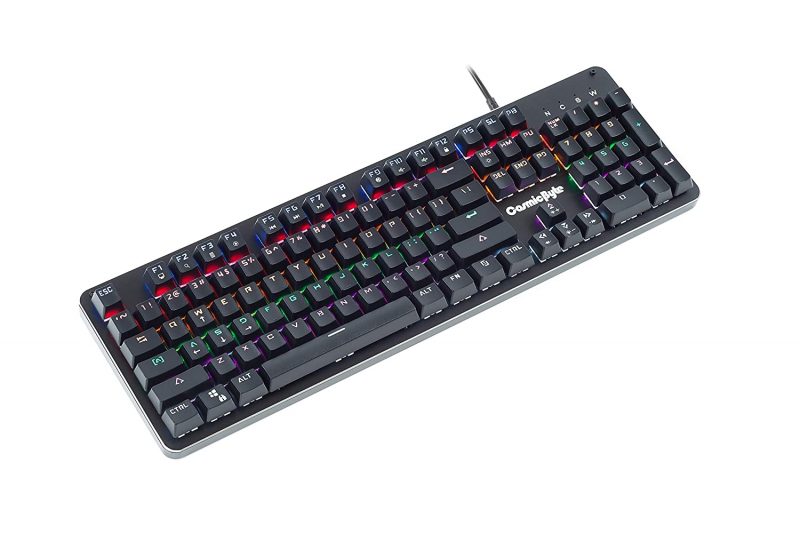 Specifications for Cosmic Byte Mechanical Keyboard
Rainbow RGB backlighting
Blue switch mechanism
Internet Hotkeys
Multi-media keys
Windows lock key
All keys are anti-ghosting
Scratch-resistant
Weight – 980 g
Price – ₹ 2,365
| | |
| --- | --- |
| PROS | CONS |
| Sleek and Slim | Low RGB Brightness |
| Rainbow Lighting Mode | Average Build |
| Soft Key Press | |
2). GAMDIAS Hermes M5 Wired Mechanical Gaming Keyboard – Price Rs. 4599
The Hermes M5 is a minimalistic mechanical keyboard with programmable lighting effects. This device is made to enhance your gaming experience.
The device does not have RGB backlighting, but the blue and white color keycaps are backlit. The keyboard looks incredible and unique in its ways.
It has six built-in lighting effects that add a personality of its own to this board.
The keyboard allows you to record your profile using function keys. The item has a brushed metallic finish with aluminum bezels.
If your budget is low and you want to have a mechanical keyboard, you may purchase it.
This keyboard comes with ergonomic keys with a fast performance at an affordable price.

Specifications for GAMDIAS Hermes M5 Wired Mechanical Gaming Keyboard :
5 profiles for programmable lighting effects
Six built-in lighting effects
Latest 32-bit Arm Cortex processor
Clear and fresh design
Weight – 797 g
Price – ₹ 4,599
| | |
| --- | --- |
| PROS | CONS |
| Affordable mechanical keyboard | It does not have RGB backlighting |
| Good built quality | |
| Satisfying clicky keys. | |
3). HP Omen Sequencer Optical Mechanical RGB Gaming Keyboard – Price Rs. 6799
Most of gamers search for keyboards that have quick responsive keys. The wish is fulfilled by the HP Omen gaming keyboard, as it delivers next-level responsiveness.
The board has optical-mechanical Blue switches with a 50g actuation force at 0.2 ms response time.
The keyboard stands out from other gaming laptops because five dedicated macro keys heighten the gaming experience. You can activate the gaming mode with a single keypress, and the volume roller bar allows you to play, pause, or mute easily.
The aluminum material makes the device sturdy and durable besides light-weighted.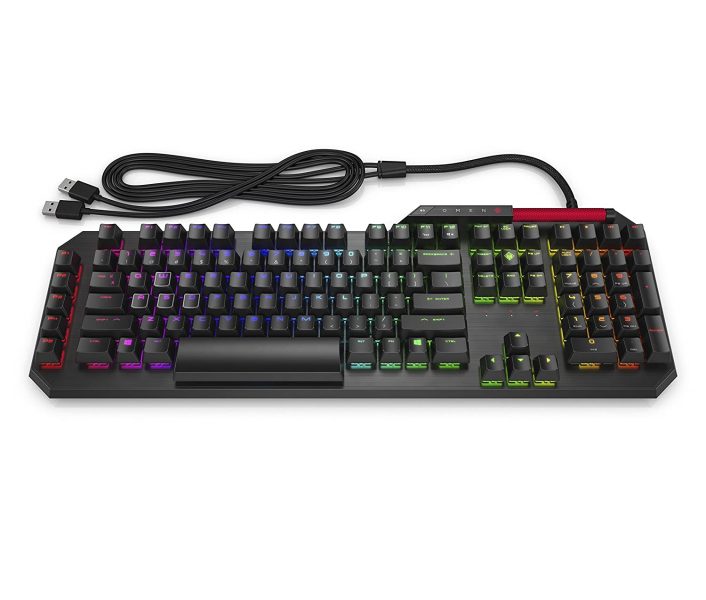 Specification for HP Omen Sequencer 2VN99AA Optical Mechanical RGB Gaming Keyboard
Customizable individual RGB backlit keys with 18.6 million colors
Unique media and control keys
N-key rollover with 100% anti-ghosting keys
Five macro keys
Quick response time of 2 ms with 50g actuation force
Built-in USB support
6.5ft braided cable
Weight – 0.83 kg
Price – ₹ 6,799
| | |
| --- | --- |
| PROS | CONS |
| Great response | No Home key |
| Good built quality and attractive design | No Wrist Rest |
| Customizable RGB backlighting | Slightly louder |
| Amazing features at this price range | |
4). XPG Summoner RGB Mechanical Gaming Keyboard: Price Rs. 9,890
XPG RGB mechanical keyboard arrives with the Cherry MX speed switches. You will get seven lighting modes with this astounding aluminum body keyboard.
It has 100% anti-ghosting keys and dual USB 2.0 Type-A ports. The Macro keys allow you to adjust the volume. For more entertainment, the multimedia keys and hotkeys are designed specially.
The XPG is a full-size keyboard with a key puller and 9 Red keycaps highlighting specific keys.
If you buy this keyboard, you will also get the detachable ergonomic palm rest with height adjustment, which gives you comfort in long-session gaming.
The keys are feather-light, and apart from gaming, you can even use them for typing and coding. There is a volume roller that is fun to use. Moreover, the RGB brightness is sufficient and is adjustable.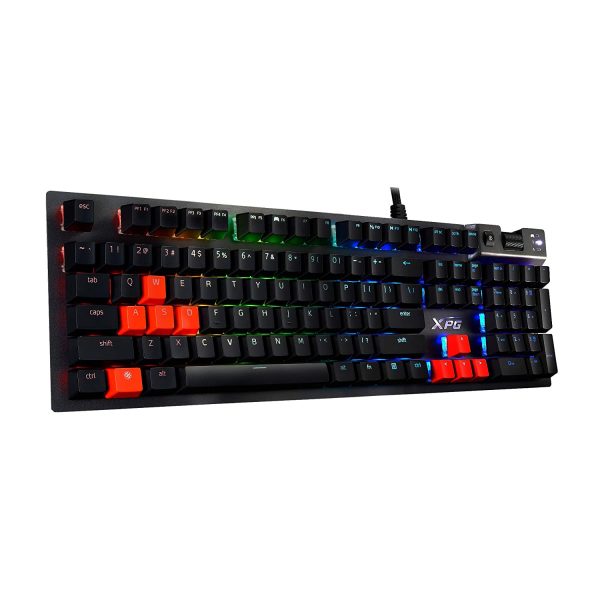 Specification for XPG Summoner RGB mechanical keyboard
Preset RGB backlighting
7 lighting modes
100% anti-ghosting keys
9 replaceable Red keycaps
Holds Macro keys
USB pass-through
Media control keys
Magnetic wrist rest
Weight – 951 g
Price – ₹ 9,899
| | |
| --- | --- |
| PROS | CONS |
| Cherry MX speed switches | Not fully compatible with macOS |
| Premium built quality | No software for controlling RGB lights |
| Soft and cushioned wrist rest | |
5). Corsair K68 RGB Mechanical Gaming Keyboard Price Rs. 11890
The Corsair K68 mechanical gaming keyboard has gold-contact Cherry MX key switches, which offer the ultimate experience for fast-paced gaming.
The keys are 100% anti-ghosting with a full key roll-over. Corsair makes excellent keyboards for gaming and reviewed the Corsair Strafe Cherry MX Brown RGB Keyboard.
The design for the keyboard displays glorious per-key RGB backlighting. It gives you unlimited custom lighting features, or you can use the pre-installed effects.
The Corsair utility engine software permits macro programming and powerful lighting outcomes. It has dedicated volume and multimedia controls.
Another highlight is this keyboard is dust and spill-resistant. The device has a removable palm rest for relaxing the palm during the game.
One of the most significant advantages of buying the Corsair keyboard is the presence of CUE software. The CORSAIR Utility Engine (CUE) enables macro programming and dynamic lighting effects.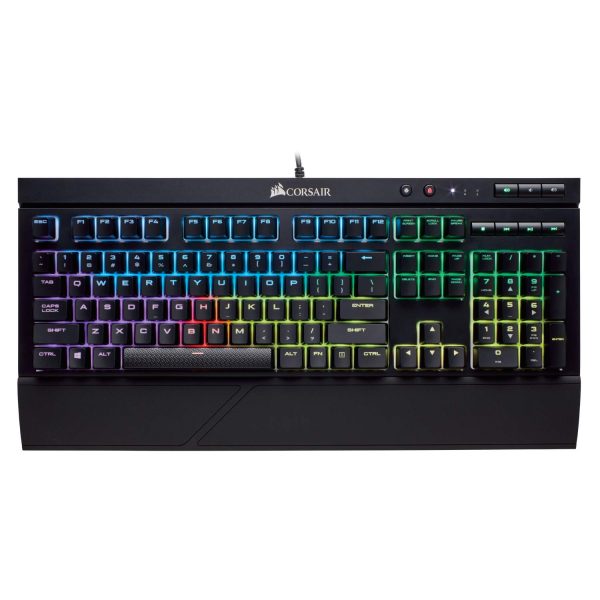 Specification for Corsair K68 RGB Mechanical Gaming Keyboard
Per-key RGB backlighting
IP32 resistivity
Removable palm rest
100% anti-ghosting keys
Durable
Corsair software-controlled Macro keys
Weight – 1.40 kg
Price – ₹ 11,499
| | |
| --- | --- |
| PROS | CONS |
| Awesome built quality | Comparatively small Window key |
| Spill and dustproof | Fragile palm rest |
6). Logitech G512 Mechanical Gaming Keyboard – Price Rs. 9300
The Logitech mechanical gaming keyboard has personalized lighting for each key with a customized lighting effect. Light sync supports an intensified gaming experience with about 16.8 M RGB.
It has a traditional GX Brown mechanical switch that offers appreciable actuation for an excellent typing experience. The board has a USB 2.0 pass-through port that allows you to charge any other device, or you can even plug your gaming mouse into it.
With this brand, you can get three Tactile, Linear, and Clicky switches options. The Logitech Gaming Software controls Fn toggle keys to perform media commands by default. The Logitech G Hub software enables game mode, lighting effects, and macro keys.
The keyboard is made from the highest grade Aluminium Alloy and comes with a robust build quality.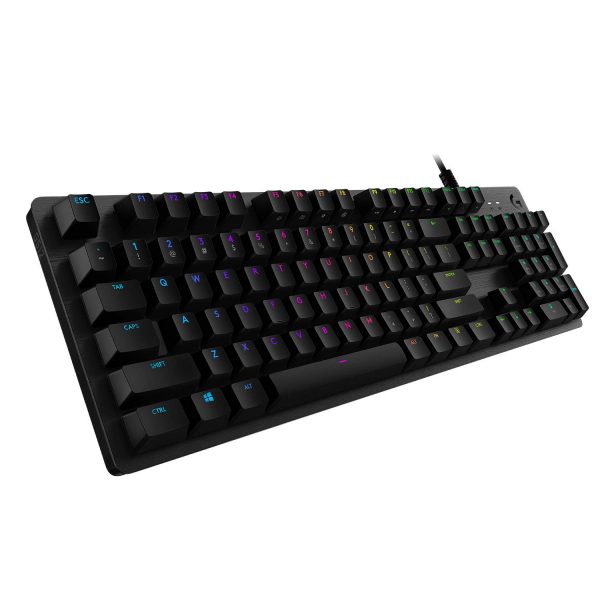 Specification for Logitech G512 Mechanical Gaming Keyboard
Personalized lighting for each key
GX Brown mechanical switch
USB 2.0 pass-through
Media and lighting controls
Game mode
Macro keys
Weight – 1.13 kg
Price – ₹ 9,359
| | |
| --- | --- |
| PROS | CONS |
| Great actuation pressure | Secondary characters on the keyboard are not well lit. |
| Sufficient RGB brightness | |
| Decent gaming keyboard | |
7). ASUS ROG Strix Scope RGB Mechanical Gaming Keyboard with Cherry MX Red Switches: – Price Rs. 13,990
If you are a gamer and want a great device to make your gaming experience delightful, then ASUS ROG Strix Scope gaming mechanical keyboard is an excellent choice.
The machine comes with the Cherry MX Red RGB switches that are German-made with micro-switches actuators.
The keyboard's design is solid with metal construction and an awesome keycap.
It is intended for FPS games because of the extra-wide Ergonomic, accurate control keys that never miss any clicks.
The Stealth key feature allows you to offer privacy by hiding all Apps and muting Audio.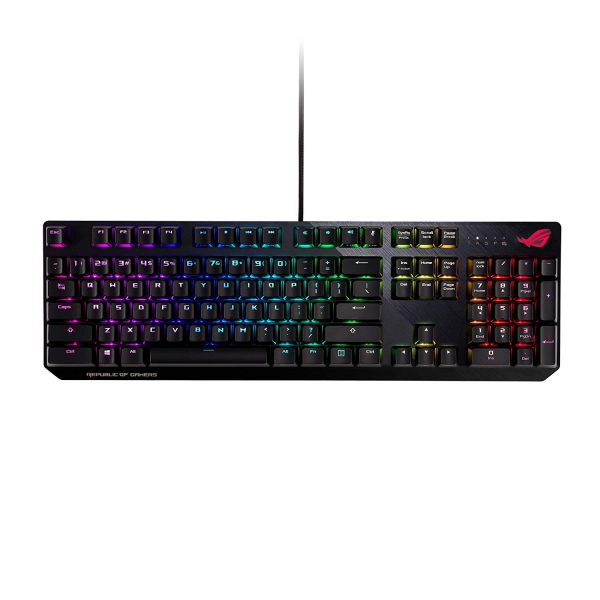 Specification for ASUS ROG Strix Scope RGB mechanical keyboard
Aura Sync RGB backlighting
2X wide ergonomic control key for FPS accuracy
Ergonomic design with Cherry MX Red switches
Quick Toggle shortcuts
Provides immediate privacy with a Stealth key
Height – 1.89 inches
Weight – 1.63 kg
Price – ₹ 13,950
| | |
| --- | --- |
| PROS | CONS |
| Good built quality | No Wrist Rest |
| Smooth and responsive keys | Expensive |
| Best choice for gaming | Not extremely comfortable |