Article is written in 2018, Updated in 2021
Corsair Says "Either top gamers should use the real mechanical keyboard or Nothing" and I agree with the above statement.
For casual gaming, you can use any mouse or keyboard but if you are serious about game-play and each win – you need a good gaming mechanical keyboard and a decent mouse.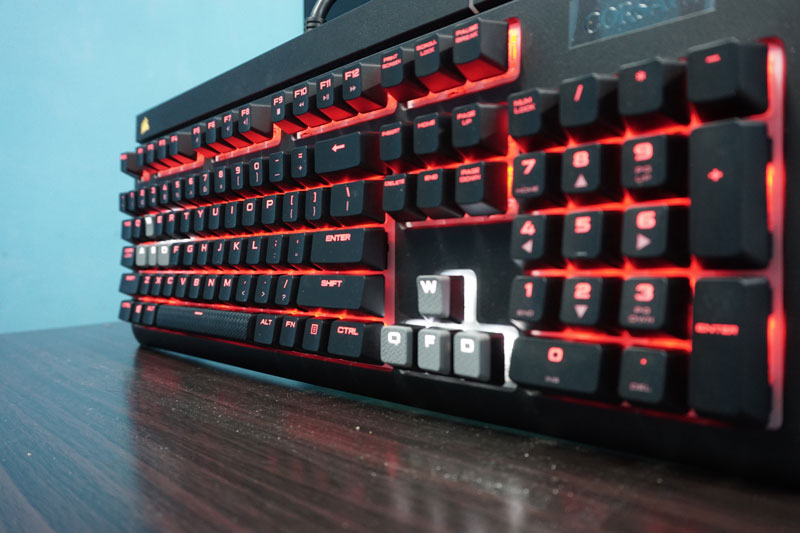 I have used the Corsair Strafe RGB Keyboard (Cherry MX Brown ) for last 15 days and it feels really good when compared to a normal keyboard, I was using the TVS E gold Keyboard some time back and then the Cooler master Rapid I 10 Keyless keyboard.
You can read my review of the TVS E-Gold Keyboard which is the cheapest mechanical keyboard in the world costs Rs. 1900 or $30.
We will look at and discuss the Corsair Strafe RGB Keyboard (Cherry MX Brown ) keyboard compared to that and here we will not compare it to my experience with the Cooler master Mechanical Keyboard.
If you are using a normal membrane keyboard and want to raise the bar and take your gaming to the next level this is the review for you.
If you already own some other mechanical keyboard and want to move to the Corsair RGB keyboard, I have covered a lot more details about the features in the video to help you make your mind. (Video Review is at the end of Post).
Unboxing
In the Box
STRAFE RGB Mechanical Gaming Keyboard
FPS & MOBA keycap sets, keycap puller
Quick start guide
Dimension and Weight
Dimensions: 448 (L) x 170 (W) x 40 (H) mm
Weight: 1.352 kg
Design and Build
The keyboard is heavy and I think is a good thing if you are planning to use it at home and not move it anywhere. Stays solidly fixed to the desk in spite of intense gameplay. The keys are rubber coated and feel great to type on. The cable is very thick and has 2 USB connectors which you will need to plug into your PC.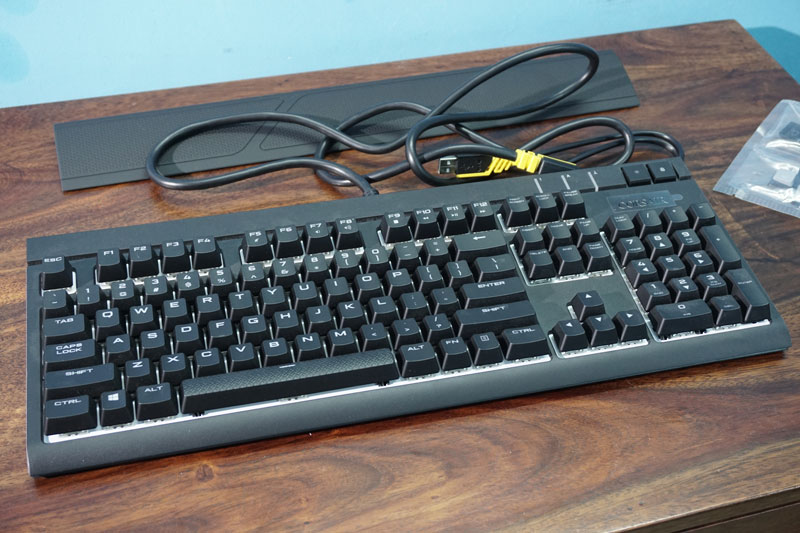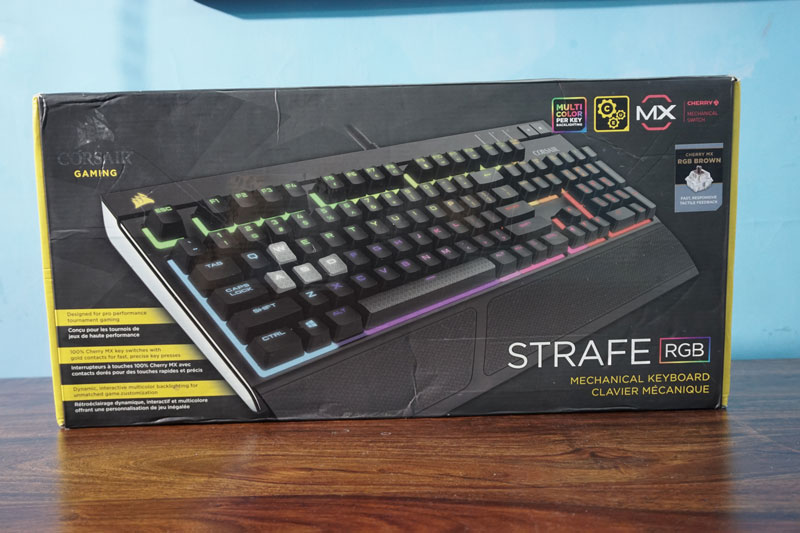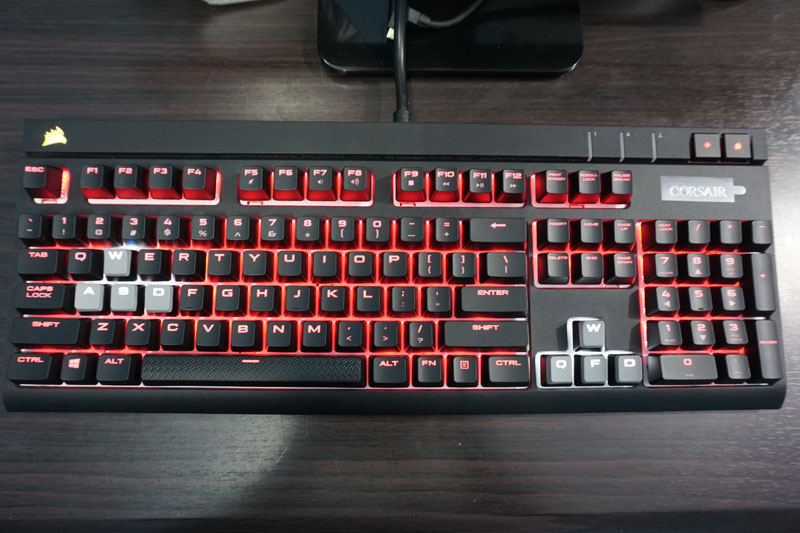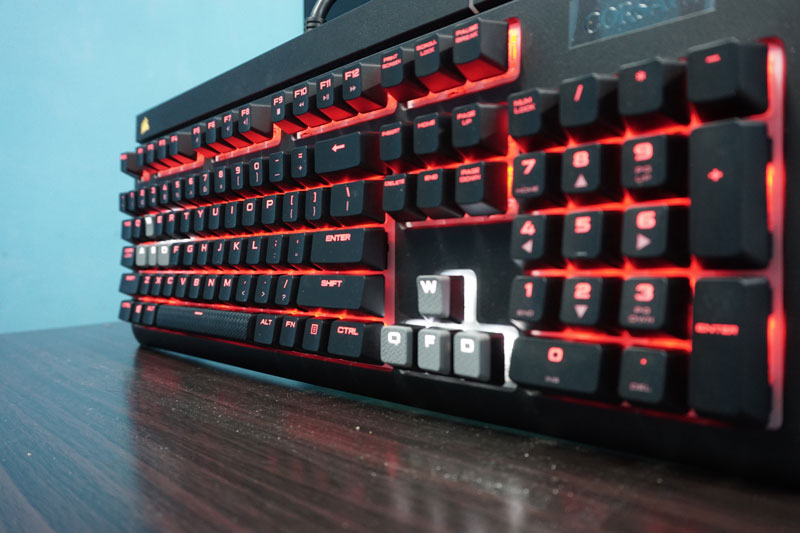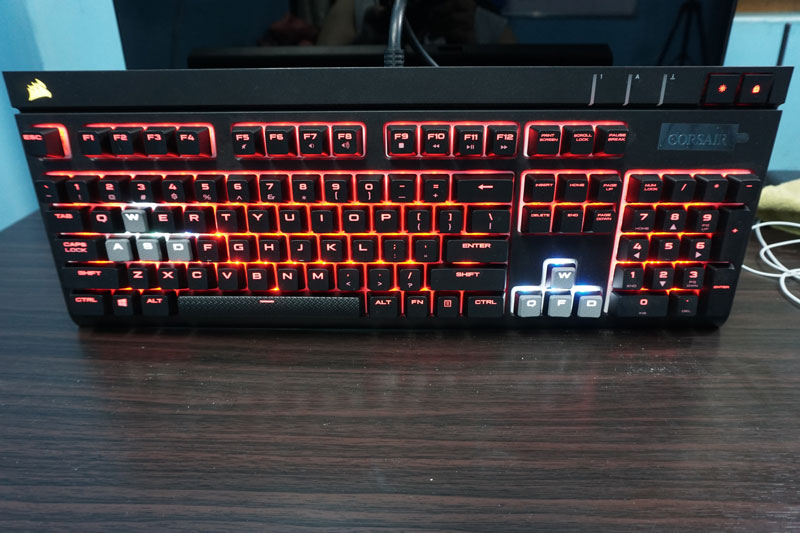 There are special FPS and MOBA keycaps given with the keyboard which I really liked due to the extra grip they provide compared to normal keys. After all, we use ASDW and the Arrow keys too often.
The Cherry MX Brown keys are not too loud and fairly good to type with, you can hear the tactile feedback and sound in the video review.
Corsair Strafe RGB Keyboard (Cherry MX Brown ) – Best Features
1). Extra FPS and Moba Key Caps – They provide extra grip and are a fantastic addition by Corsair for playing games. Easy to add and remove using the plucker.
2). Palm rest – Excellent Addition compared to other keyboards that don't come with the Palm rest. Helps to type and play games with ease.
3). RGB Lighting – Do they look amazing, absolutely stunning with different lighting effects like Spiral, Rain, Wave, and Ripple, really cool looking effects and fairly easy to set up.
4). Corsair Utility Engine Software – It is a 50 MB software that helps you play around with the RGB lights and set up a custom profile with the
5). Cherry MX Brown Keys – they offer good tactile feedback and the actuation force required to use these is less and your fingers will thank you for upgrading to a mechanical keyboard. They are not as Noisy as the Cherry MX Blue keys but yet have the best user experience. (Read about different Types of Mechanical Keyboard Keys)
6). Easy Access Multi-media Keys – With this Mechanical keyboard, you are not going to miss the multimedia keys to play music tracks and adjust volume settings.
7). Textured Space bar – Helps to play games and your thumb doesn't slip when pressing the space bar, saved me a couple of times in CS GO.
8). USB Port – There is a USB port at the back of the keyboard you can charge your Android phone with that or connect a mouse.
9). Sync RGB Corsair Mouse – You can even sync mouse lighting with this Keyboard if you have a Corsair RGB mouse attached to your PC.
10). Anti Ghosting – If you are in a habit of pressing more than 2 keys when gaming then anti-ghosting helps you overcome that issue the keyboard does not freeze as otherwise happens with normal keyboards.
I guess now we have a fair idea of the Corsair Gaming Keyboard lets check out the Video Review.
Video Review Corsair Strafe RGB Keyboard (Cherry MX Brown )
Please Like the Video and Subscribe to Candytech Channel for More Videos.
Concluding Thoughts
Review Corsair Strafe Cherry MX Brown RGB Keyboard – While it is a great gaming keyboard it costs a lot of money to buy one of these. In the Indian market, you can buy the Corsair RGB Strafe Keyboard close to 12 to 15K or more. In the US the Keyboard is currently priced at $160 which I think is a very fair price for the keyboard.
While there are a lot of things I liked there are a couple of things I would have liked Corsair to make better, keycaps are a bit higher placed and show the white plastic below the caps, keys are premium and well built but not like Das or Rapid I high end keyboards which offer just a little more cushiony feel.
Overall the keyboard is great for gaming and I really loved the lighting effects and using it in the dark. If you love the lighting effects and want the best grip for special keys this is a great choice.
You May Like to Watch – Should Writers and Programmers Buy a Mechanical Keyboard?