Oppo Enco M31 Wireless Earphones Review
Are you planning to buy a wireless earphone this Diwali? Then you must not miss the review of the recently launched Oppo Enco M31 wireless earphones.
The wireless earphones made its debut in India earlier this year on May 19, 2020. I bought these from Amazon, and these were not given to us by Oppo.
The earphones have been equipped with several stunning features that will leave you in awe of it.
Some of the interesting features include IPX5 certified water resistance, decent Audio output, AI-powered noise cancellation for voice calls, and above all, its economical price range, among others.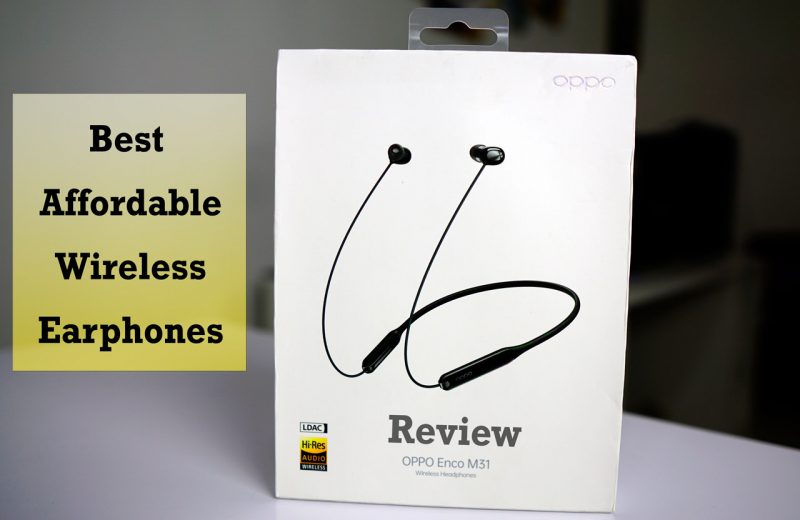 If you are on a budget, the earphones will be apt for you as they are available for just Rs 1999. The mere presence of LDAC will certainly bring a smile to your face because support for this codec remains missing in budget audio gear.
You can buy the product from the E-commerce website Amazon.
Here are some of the key SPecs of Oppo Enco M31:
Special features: AI Noise-canceling
Price: Rs 1999
Color availability: Black
Connectivity technology: Wireless
Package contents: Neckband, Additional Eartips 3 pair, Type-C Charging Cable and a Quick guide book
Item weight: 22 g
Rechargeable battery: Available
Headphones Form Factor: In-Ear
Item dimension in LxWxH: 14.5 x 2.9 x 12.7 Centimeters
Availability: Amazon
Price – Rs. 1999
Design – 9/10
When it comes to design, these come with a soft silicone neckband. The neckband has a soft feel to it and is not annoying in any way, even after prolonged usage.
You will also come across magnetized earbuds; therefore, when not in use, they will snap together, thus keeping them together.
It is worth mentioning that the rubber neckband ends in extended modules on both sides that will contain all batteries, electronics, and the controls are on the left unit.
It is an easy reminder that the left earbud has the volume controls so you can put the earbuds in the correct ear.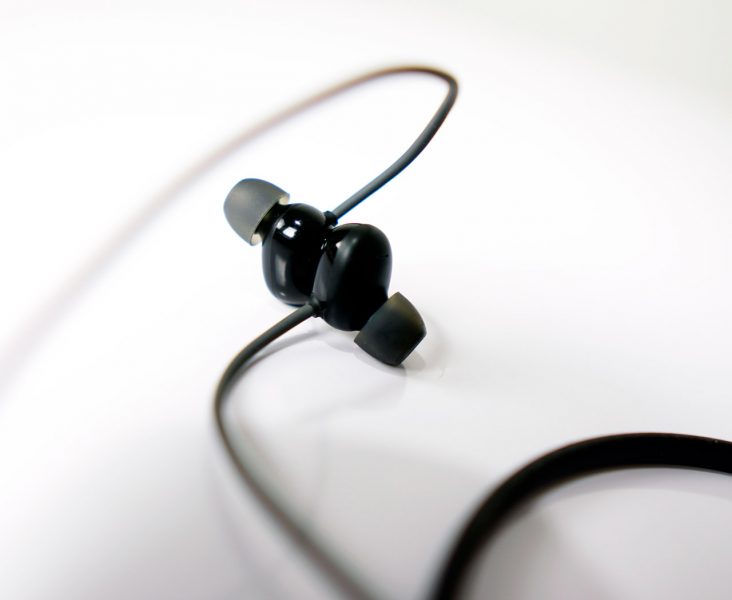 The cables come from both sides only to lead to the compact earbuds at the other end.
The earbuds are made from polycarbonate and also has a metallic outer surface. I have the black variant that comes with subtle grey wires.
Additionally, the green model turned out to be even gaudier, containing a bright gold pattern on the earbuds with similar yellowish gold cables and gold accents on the neckband.
It boils down to the personal choice of which color you may want to sport.
The wire connecting the buds to the neckband is non-braided, and I think it will give away in 2 years of daily use. The buttons on the controller have a chrome finish and are sturdy without too much play.
Meanwhile, I can certainly call the entire build quality robust.
The thing that will certainly impress you is that Oppo has included IPX5 water resistance under this price range. It will help in protecting the earphones from water and sweat.
Comfort – 9/10
When you examine the earphones in terms of comfortability, you will not face any issues on this front. The earphones are quite light in weight and offer a stunning comfort level.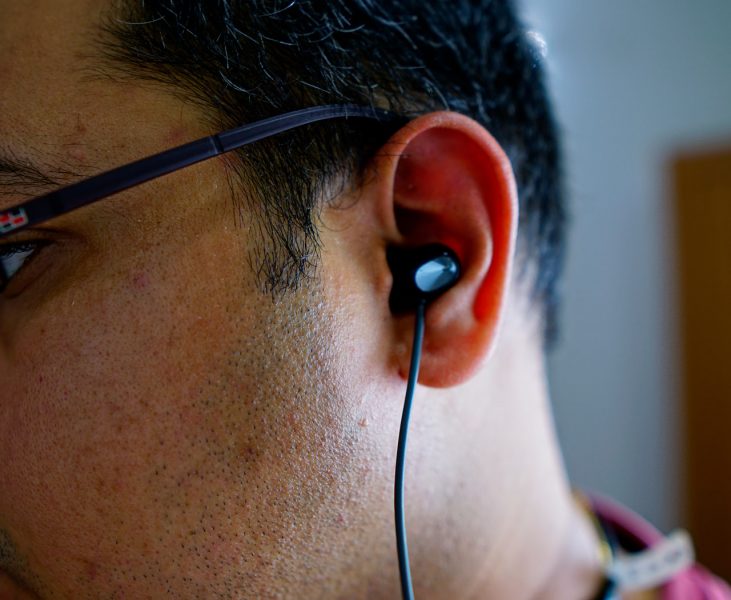 The silicon buds' quality is excellent, and they don't make you tired even after a couple of hours. Moreover, in north India's hot weather, I prefer to wear these in comparison to the over-the-ear full-size headphones due to heat and sweating.
The only discomfort is the difficult placement of controls at the neckband's internal side that you may find difficult to operate compared to cable-based controls.
Special Features: 8.5/10
Bass Mode: These come with a special bass mode that you can activate by double-pressing the power on/off button. I was not too fond of the bass mode as the bass becomes too overwhelming and drowns the rest of the frequencies.
These come with standard control with volume up and down buttons. Can double press to play the next song or the previous song.
The headphone turns off when the earbuds are touching each other and turn on and connect back to your phone once you move them apart.
Pairing is easy, and these connect effortlessly to your Android mobile. The range is not very long but can stay connected for 10 to 12 feet with ease.
Audio Quality – 9.3/10
The number 1 reason to buy these is the superior audio quality. I have used the Oneplus Bullet Wireless Z, and they don't sound as good as the Oppo Enco M31 for nearly all genres of music I tried.
The most encouraging reason that will prompt you to buy the earphone is the stunning audio quality.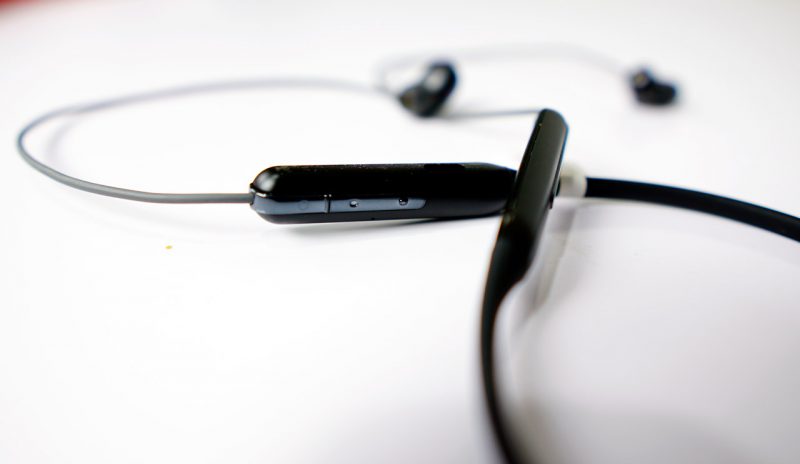 The earphones emerged as one of the best products in the wireless earphones category under this price range.
These offer remarkable audio in the sub 2k price range, and Oppo has really nailed the output on these.
It has managed to produce a clean, crisp, and attractive sound that celebrates in all parts of the frequency spectrum equally.
The balanced sound of the earphones blends well with almost all genres of content available.
You will find the earphones' bass to be attractive, warm that can pack an adequate punch to keep even the energetic electronic music genres feeling effective without spoiling the balance of other subdued genres.
You will notice that the earphones' mids are quite great, thus providing the instruments and vocals with equal poise. LDAC helps if you are listening to music files that are high bit rate.
Otherwise, the soundstage of these cover is much better than most TWS headphones, even in the 3 to 4k price range.
The earphones have emerged appropriate for things such as podcasts, movies, games, and audiobooks. I love listening to music on Spotify and also e-books on Audible on these.
You will find that the string instrument almost comes to life. The high-frequency extension has also emerged to be ideal with sound extending. The earphones have got outstanding imaging.
Meanwhile, the microphone is not really great. You will not find much bass in voices but plenty of hiss and sibilance. Additionally, the AI noise reduction failed to do much as there was still huge noise in the background.
Callers can hear a lot of background noise in the calls, and I don't think this AI is doing much to make the call experience better. If you want better call audio in a noisy background, look for Headphones with active noise cancelation.
Battery life – 8.8/10
Enco M31 has got excellent battery life. The manufacturer claims about 8 hours on LDAC and approximately 12 hours with SBC codec.
In my experience, it works 8 to 10 hours on mixed usage, and overall, is decent. It is not as good as the Oneplus Bullet Wireless Z but still is decent.
Also, I love that these come with a USB Type C charging port, and I don't have to hunt for the micro-usb charger for these.
The striking feature that will leave you happy is that the battery barely takes an hour to charge entirely.
Verdict: 9.1/10
You will find the M31 wireless earphones as one of the best sounding Bluetooth earphones available around.
If you want more battery life, you can pick the OnePlus Bullet Wireless Z, but the sound quality is no match for the M31.
Barring the noise reduction, average mic quality, Enco M31, s an excellent budget-friendly pair of earphones.
The build quality is also quite robust, sounds excellent, and has decent battery life.
Overall these are pretty good for the price, and you can buy these without straining your brain muscles anymore :).
If you are looking for ultimate sound quality and have a tight budget, look at the Raegr Air Beats 500 Wireless Headphones.
Co-Author – Renu Baliyan