In 2021 I finally transitioned from using wired headphones to wireless. The main reasons for switching to wireless headphones are the necessary improvements in the last three years.
The Improvements are as follows:
Better Sound Quality (support for more High-Quality Codex)
Improved battery life and less charging time.
Cost Reduction for high fidelity headphones.
So, I got these RAEGR Air Beats 500 Bluetooth headphones a couple of weeks back and have been using these since, along with Oppo Enco M31.
These are most suitable for day-to-day use, comfortable wearing, and have impressive sound and long battery life.
These come in two color combinations of Black/Red and Black/Green. I have got a black/green combo.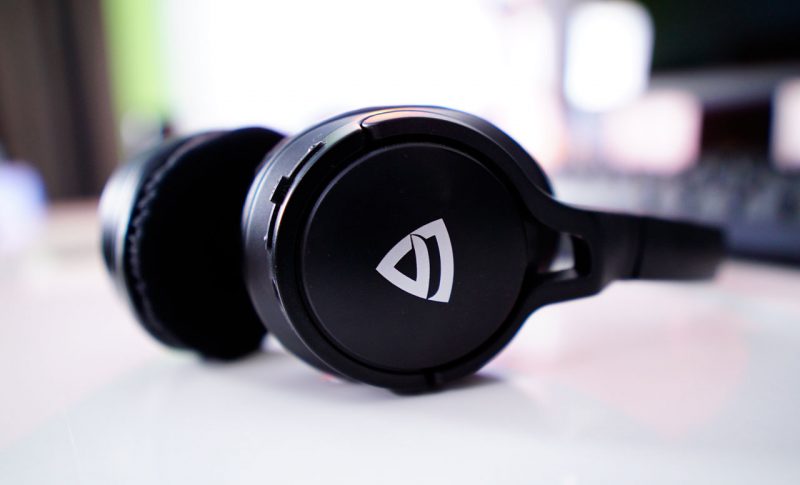 The headphones have a price tag of INR 4,999, but currently, are available at the discounted price of INR 3,599 on Amazon.
UnBoxing RAEGR Air Beats 500:
Thanks to RAEGR for sending these headphones, and they come with praiseworthy packaging.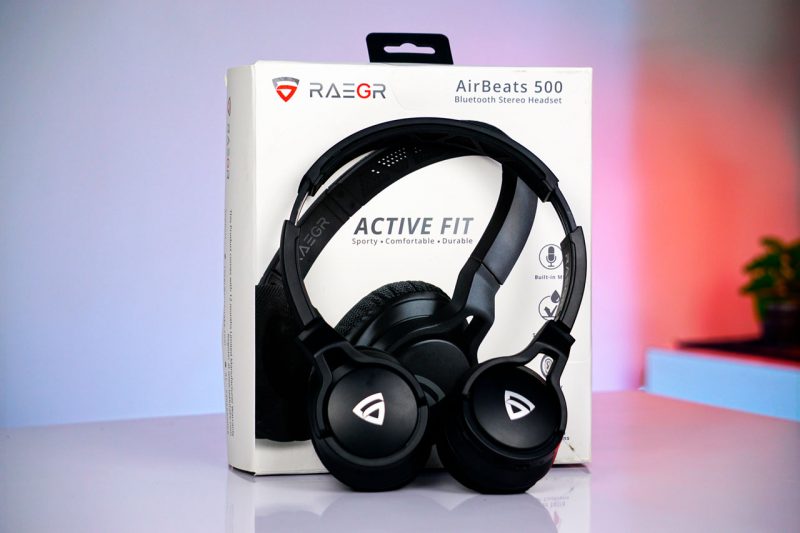 Some of the key features highlighted on the box are splashproof, passive noise cancellation, built-in mic, and free ear cushions
Once open the box, you will find the charging cable, an AUX cable, a set of extra interchangeable ear cushions, a soft carry bag, and mainly the headphone.
One of the noticeable things is the presence of another pair of interchangeable ear cushions. I can't remember if I ever reviewed any other pair of headphones that came with an extra pair of cushions. Good touch!
Key Specifications:
Cup Diameter – 44 mm
Bluetooth connectivity – 5.0
Operating Range – 10 meters
Package Content – Headphones, AUX cable, USB charging cable, carry bag, and an extra pair of cushions.
Microphone – In-Built
Charging Time – 2.5 hours
Resistance – IPX4
Original Price – INR 4,999
Discounted price – INR 3,599
Available on Amazon
Design and Build Quality:
The headphones are polycarbonate and come with a Matte Black Finish, making it lightweight.
The company Logo is on both sides of the cups, and the brand name – RAEGR is lettered inside the band.
It has a new design with a rubber belt on the top with airing holes. This is a good addition making the headphones comfortable as well as ventilated.
We can adjust the band's size by pulling the plastic slider, which is very easy to arrange and is a good fit for most people.
The headphones weigh just 140g, which is pretty light!
Experience, Connectivity, Call Quality
The replaceable ear-cups, are made up of fabrics that can soak the sweat. Unlike leather that I hate in the summers in north India, these have breathable fabric.
The cushions are soft and comfy. We can take them off easily, wash them when required, and put them back on. Also, we have two pairs of cups – one that is pure black and the other has the Green and black color combination.
You can sport any of the two based on the mood.
Also, you get a carry bag that is a good addition and thoughtful of the brand.
The headphones can swivel for an ergonomic fit. Also, you can put these in your backpack and carry them easily.
There are three buttons for volume raise/drop and play/pause on the bottom of the right cups.
The play/pause button is also used as the power switch.
Additionally, we have a 3.5 mm jack, a USB charging port, an LED indicator, and a built-in microphone for calls.
The buttons are easily noticeable and have a gentle click feel.
To switch ON the headphone, press the play/pause button for a long; the LED indicator will notify the status. The pairing is straightforward and quick in my testing.
We can use this headset to make or receive a call by using the play/pause button.
By clicking this button twice, you can call the last dialed number.
It does not have an active noise-cancellation feature but has some passive noise canceling. The headphones can muff some of the background noises, but not much.
The IPX4 waterproofing protects it from sweat or splashes.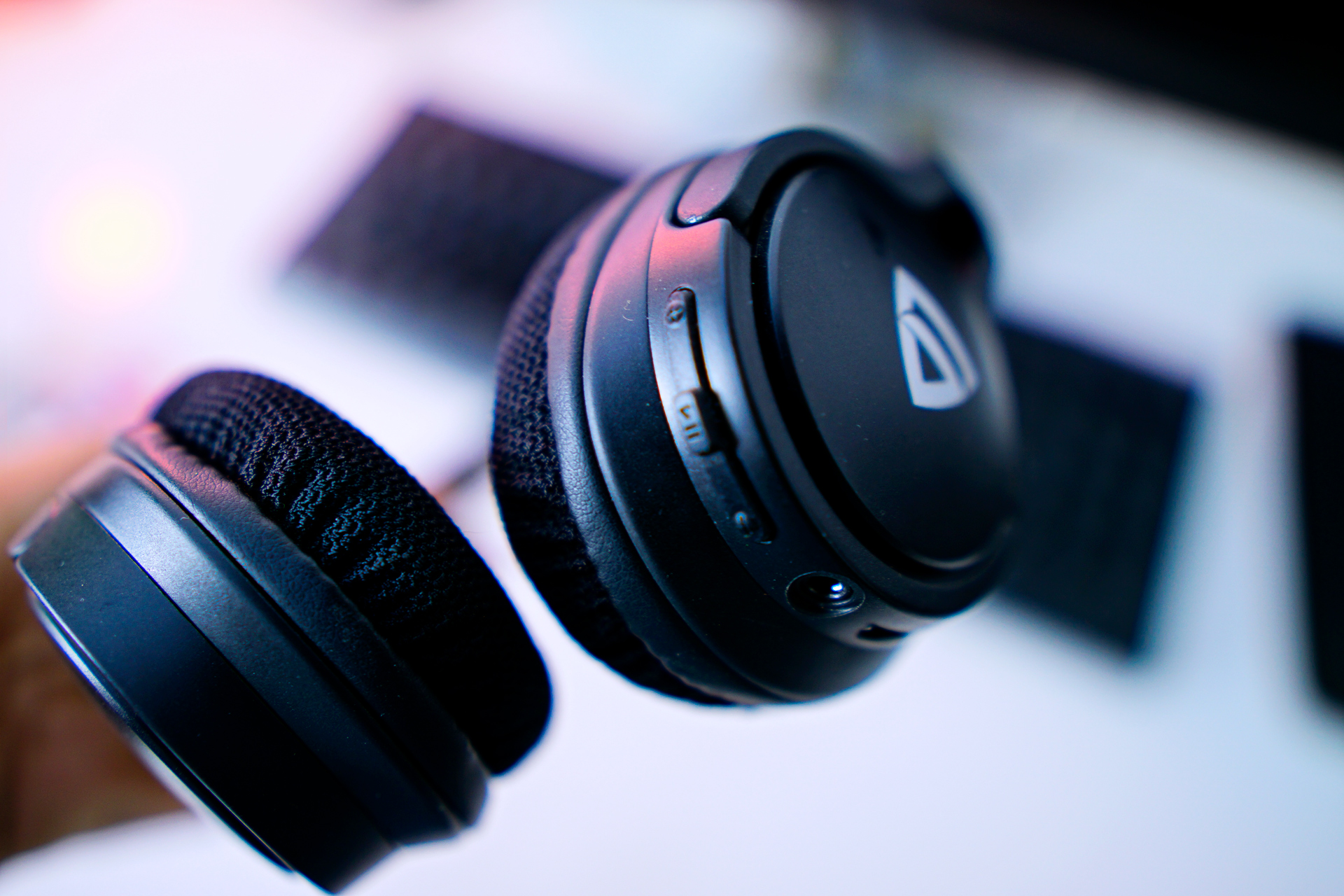 The headphones have up to 10 hours of battery life. I rarely used the AUX cable as these actually last very long.
You can use these as wired headsets too.
The Headphones are comfortable to wear, and the ear cups have sufficient cushioning. The well-thought headband with a rubber belt makes it ergonomic for long hours of music listening.
Connectivity is fast and reliable as these come with the Bluetooth 5.0 support, and I rarely saw any distortion or lag on these. Good for gaming too.
I will rate the quality above average for calls and had no issues taking occasional calls on these.
Special Feature – Multipoint Switch
If you listen to music on your laptop and get a call on your mobile, the headphones can automatically switch to the incoming call.
Battery Life
These come with 10 hours of battery life, but I think they lasted more than that. My usage is mostly music, paired with my Asus Rog Phone 3, and these lasted really long, more than the Oppo Enco M31.
However, these don't come with a USB type C port and have to be charged using the Micro-USB.
Sound Quality:
I love good music, and I write articles like this one all day. Music is something that keeps me going without getting tired. All sorts of music – Rock, English, Sufi, bhajans, Gazals, Punjabi, Hindi, or whatever is your poison.
I have a pair of wired Sennheiser Headphones that I like and the new Oppo Enco M31 that sounds better than the Oneplus Wireless Z.
I was not expecting much from the Raegr (as it is not a very popular brand), but boy-o-boy, these sounded amazing.
Unlike most wireless headphones with minimal sound stage, these can actually reproduce some of the Hi's and Low that even the Oppo Enco M31 misses despite having LDAC support. You may be aware not all music apps stream with LDAC support,
I have been a fan of OneMore Wireless headphones that came with Qualcomm's AptxHD, and believe me, they sound better than most headphones you will get in the Rs. 3000 range. (Hard to find any headphones with Qualcomm AptxHD support).
You will notice the wide sound stage of how well these affordable headphones can produce lows, mids, and highs.
Treble – Sufficient Treble to ensure that you don't miss on strings and guitar, not overwhelming or ear piercing.
The Bass is rich, clear, and loud. It is slightly overpowering, but when listening to party songs or music with thumps and beats, they go-to headphones.
The vocal has decent clarity but not the best that I have heard.
But overall, if you love modern, fast-paced music, these are superb for sound output.
The distortion is not there even at the loud sound.
Review Summary and Concluding Thoughts
Overall, these are pretty phenomenal for the price. One of the best wireless headphones that you can buy in Rs. 2000 to 4000 Price range. This is one of the headphones that I liked to use
Review Summary Score
Sound Quality – 9.4/10
Build Quality – 9.0/10
Comfort – 8.8/10
Wireless Range and Connectivity – 9.4/10
Battery Life – 9.6/10
Overall – 9.3 /10
Co-Writer – Heena Makwana