Gaming and Video Editing:AMD launched the AMD RX 460 almost 9 months back, and the graphics card is based on Polaris Architecture. While AMD has already launched the newer version of the AMD RX 460, the AMD RX 560.
There is still a shortage of the RX 560 in some of the countries due to cryptocurrency mining. While there are some discounts available on the AMD RX 460 as well as RX 470. We tested out both the graphics cards in detail. AMD RX 560 comes with same core technologies and architecture with a little boost to memory clock and Core Clock.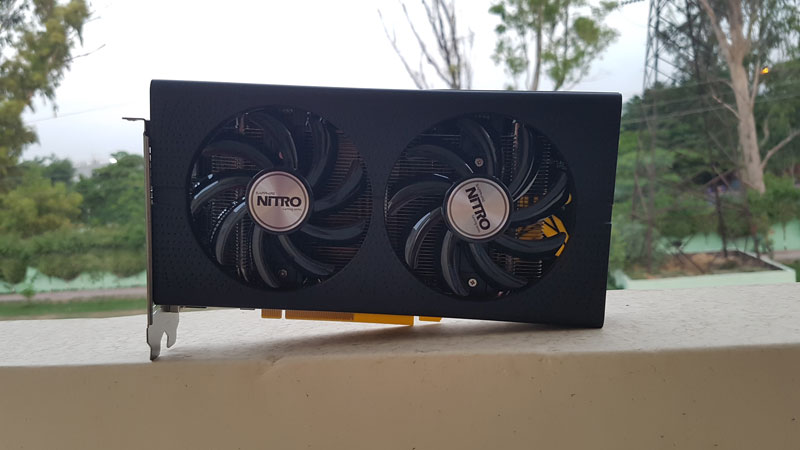 Also when the graphics cards are released drivers are not matured enough, and after a couple of months, they get matured, so the performance also improves over time. This review will also help to know about the performance of RX 460 with the latest Drivers.
The AMD RX 460 is priced close to Rs. 9,000 for the 2 GB VRAM version and there is also a 4 GB VRAM version which trades close to Rs. 11,000 in the Indian market.
AMD RX 460 comes with GCN 4 architecture and offers around 2.2 TFlops of graphics performance. The graphics card is available from different brands like Asus and Sapphire; we tested the 4 GB GDDR5 version of the Sapphire Nitro.
Sapphire Nitro AMD RX 460 (4 GB) Variant:
Let's have a closer look at the design of the Sapphire Nitro AMD RX 460 (4 GB).
Closer Look at AMD Radeon Nitro RX 460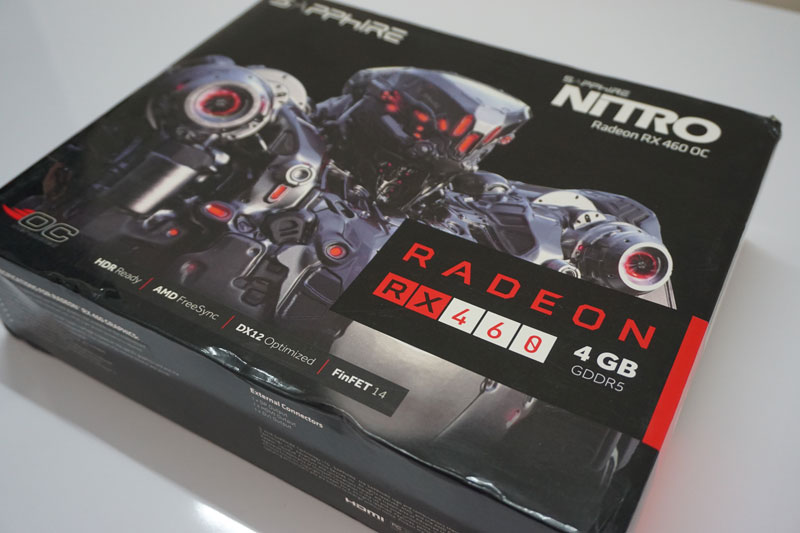 The back side of the card has the circuitry visible and is not covered by a back plate.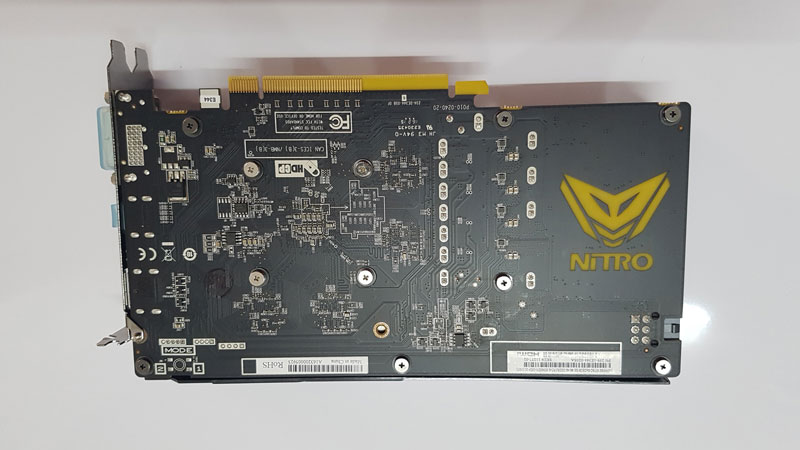 The Graphics card comes with Nitro Coolers with 90 mm fans to ensure higher airflow which in practical use keeps this card very cool and quiet. The graphics card fans come with dust repelling design and dual ball bearings for more silent operation.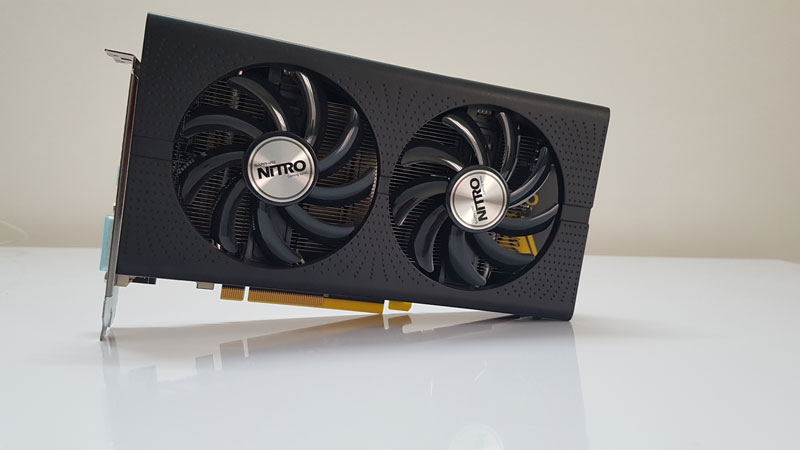 In This Review we will cover the Following:
Gaming Performance in various AAA titles
Performance comparison to AMD RX 470 and more graphics cards
Performance in Adobe Photoshop and Adobe Premier Pro
Synthetic benchmarks
Concluding Thoughts – Who should Buy the AMD RX 460
Key Specs For the Sapphire Nitro AMD RX 460 (4 GB).
Base Clock – 1175 Mhz
Boost Clock – 1250
Architecture – GCN 4 Polaris
Manufacturing Process – 14 Nm
Stream Processors – 896 Units
Memory Clock Speed – 1750 Mhz
Memory – 4 GB GDDR5
Memory Bus Width – (128-bit)
Power Consumption – 75 Watts
Recommended PSU Power – 450 Watts
Dual Nitro Coolers
DX -12 Support – Yes
PCI Express 3.0
Ports – HDMI x 1
Dual-link DVI-D x 1
Price – Rs. 13,000 $ 190 (Approx)
Installation and Software – Installation is simple, you will need to plug the card in the PCI-E 3 port in your motherboard and connect the 6 Pin Power connector to the graphics card power input. Plug the HDMI or DVI cable at the back of the graphics card.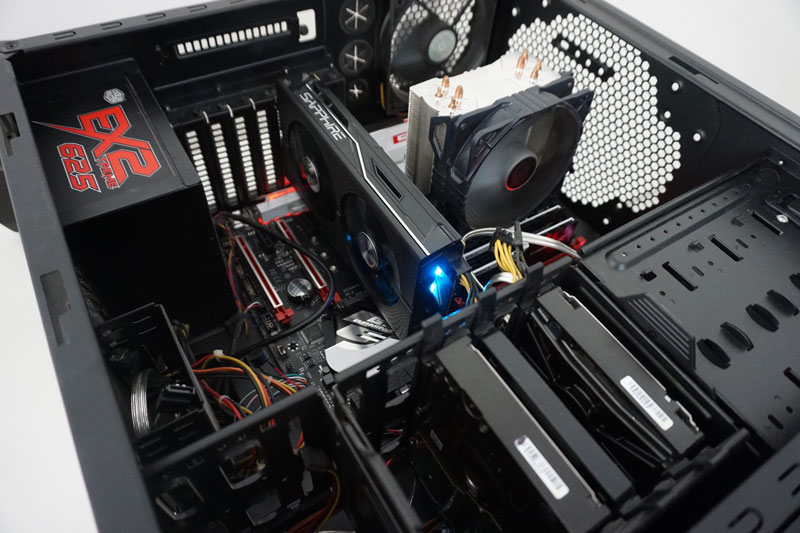 There is cool Blue Light for the fans, and at the back, there is a green light with Nitro Logo.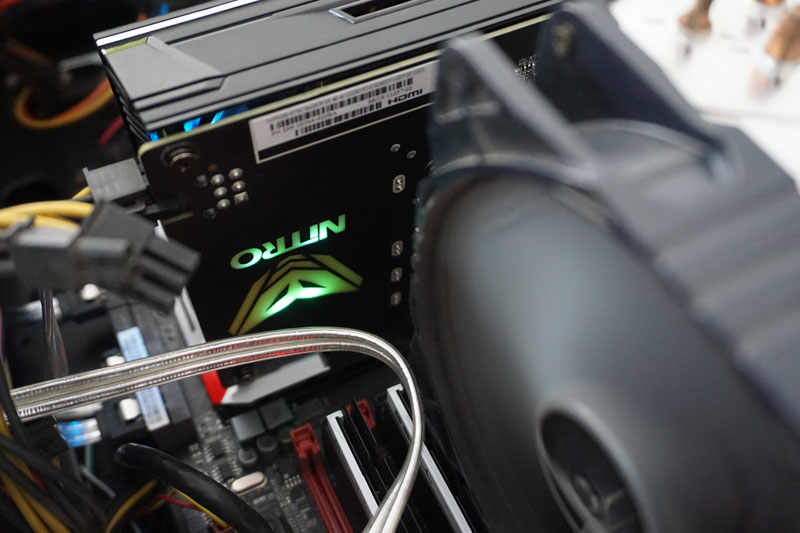 Download and Install the AMD Crimson software and latest drivers from the AMD Website. It may ask for a restart once the software is installed. If you have not done something out of the box, then it is time to game. Else repeat.
Before we dive to the benchmarks lets, have a look at the numbers for AMD RX 470 and RX 480.
Let's Compare the AMD RX 460 with it's elder siblings RX 470 and RX 480.
AMD RX 460 Vs RX 470 VS RX 480
Parameters
AMD RX 460
RX 470
RX 480
Stream Processors
896
2048
2304
Compute Units
14
32
36
Base Clock
1090
926
1120
Boost Clock
1200
1206
1266
Performance
2.2 TFLOPS
4.9 TFLOPS
5.8 TFLOPS
Memory Speed
1750 Mhz
1650 Mhz
1750 MHz
VRAM Size
2 or 4 GB
4 or 8 GB
4 or 8 GB
Memory Type
GDDR5
GDDR5
GDDR5
Memory Width
128 Bit
256 Bit
256 Bit
CrossFire
Yes
Yes
Yes
Manufacturing Process
14 Nm
14 Nm
14 Nm
GPU Power
75 Watts
120 Watts
150 Watts
Power Supply Reqd
450 Watts
500 Watts
550 Watts
Connector
6- Pin
6 Pin
6 Pin
AMD Free Sync Support
Yes
Yes
Yes
AMD Liquid VR
Yes
Yes
Yes
Support for DirectX 12
Yes
Yes
Yes
The AMD RX 460 is significantly less powerful when compared to both the AMD RX 470 and RX 480 GPU's.
Now Let's look at our system specs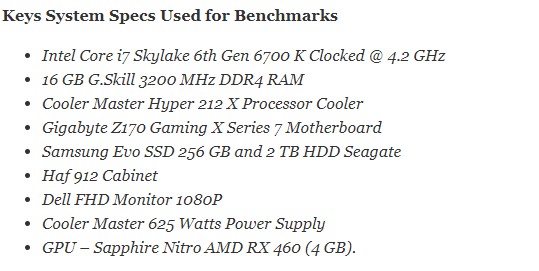 Most of the Gamers would not be pairing an AMD RX 460 with the Intel Core i7; it is more suitable to be paired with AMD Ryzen 1400 or with the Intel Core i3 processor. Ideally, you will pair a high-end graphics card with the Core i7. So you may experience slightly lesser FPS based on the System you are using along with the RX 460.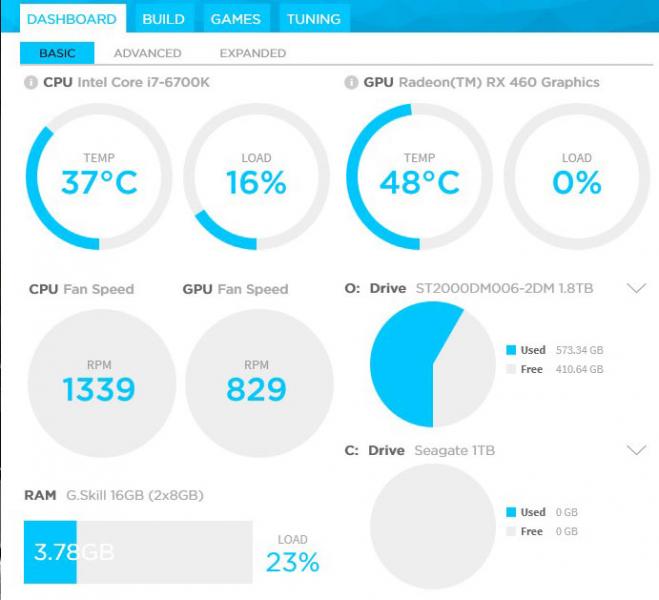 In this review, we tested the RX 460 on the Full HD Resolution 1920*1080 pixels. After we go through the gaming benchmarks will see if it is ideal for 1080P or 720P.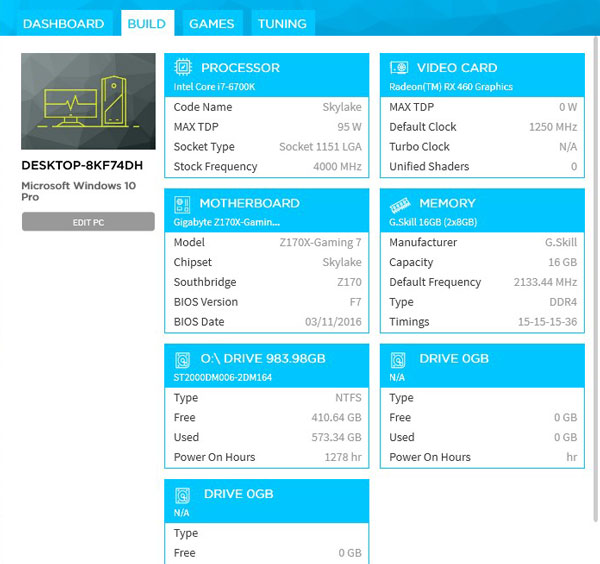 Gaming Benchmarks Sapphire Nitro AMD RX 460 (4 GB) Review
We have added AMD R9 280 OC edition (an old faithful friend) and the AMD RX 470 as well to see the relative performance of this starting range card.
Crysis 3 – Crysis 3 is one of the most cruel games for pushing the graphics card to limit. Sapphire Nitro AMD RX 460 (4 GB) scored 28 Avg FPS at very high settings in the game. If you would lower the settings from Very High the game is easily playable on 1080P.
Reading the Graphs
Green Lines – Avg FPS
Red Lines – Maximum FPS
Blue Lines Minimum FPS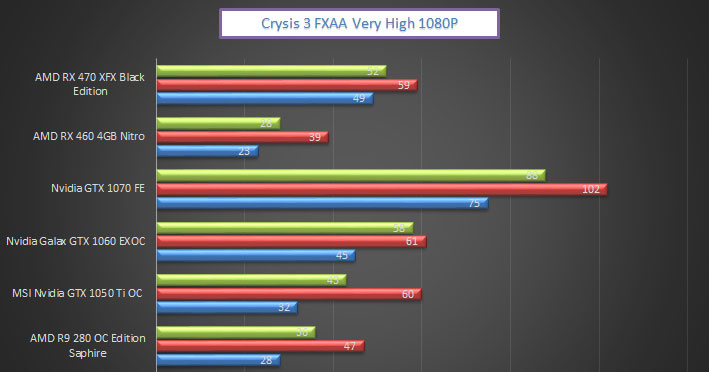 Battlefield 3 – In BF3 the Sapphire Nitro AMD RX 460 (4 GB) performed superbly, easily hitting over 50 FPS on an average though was slower than the AMD R9 280.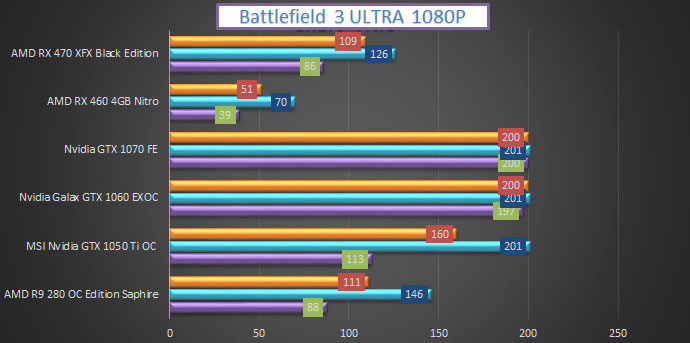 Battlefield 4 – It is a more demanding title and pushes the card a litle more. But the Sapphire Nitro AMD RX 460 (4 GB) easily managed to run over 39 FPS on an average.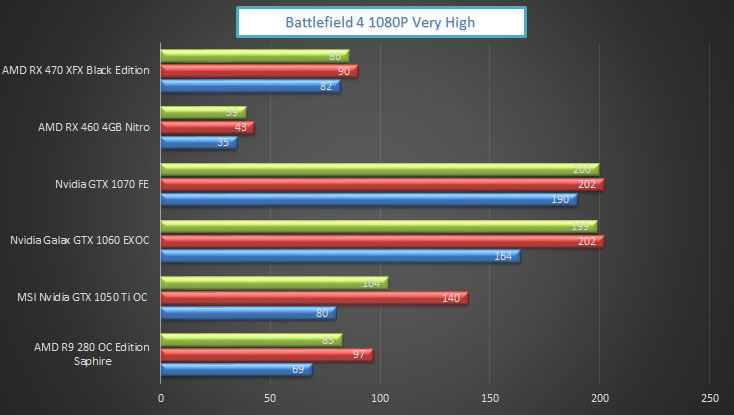 FarCry 4 – Our RX 460 sailed over 48 FPS easily in this game too keeping the settings at very high.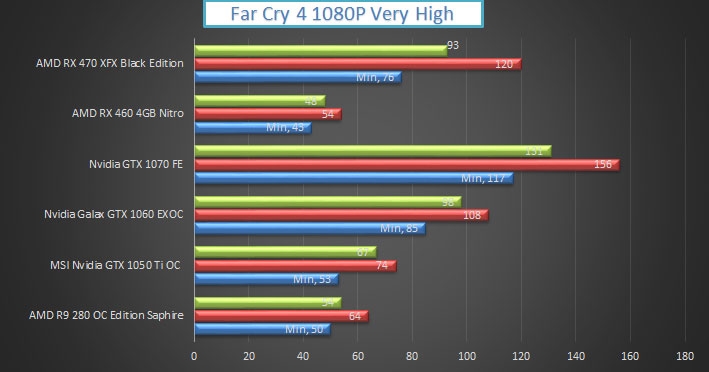 Fallout 4 – the game is not very taxing but requires a decent GPU. The AMD RX 460 performed to my expectations here, Avg FPS was close to 38 in this title.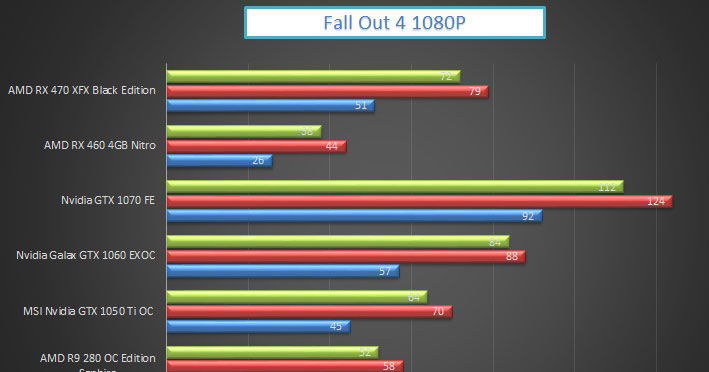 GTA V – GTA V was no exception, and we were able to do over 28 FPS in the game with the AMD RX 460, and when we lowered the settings a little bit, it sailed over 33 FPS with ease.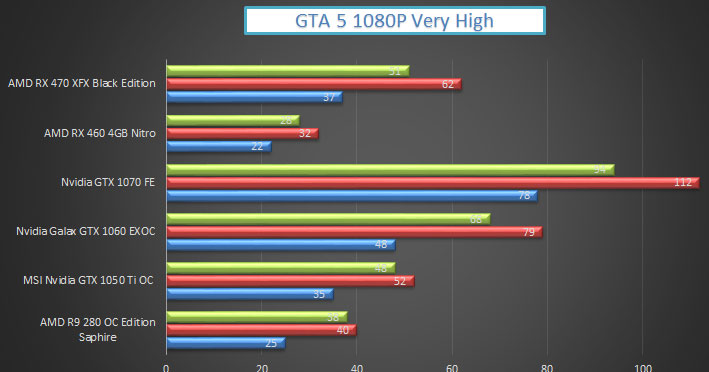 Witcher 3 – Last Game in the list is Witcher 3; The AMD RX 460 was able to manage 25 FPS on very high settings and 31 FPS in the High settings.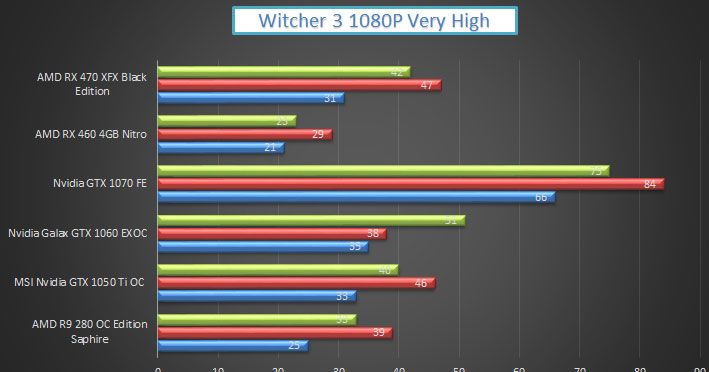 If you are buying the graphics card for playing some of the popular low GPU demanding games like Counterstrike GO then there are absolutely no worries even at 1080 P and very high or ultra settings.
CS: GO (Counterstrike) at Very High Settings
| | | | |
| --- | --- | --- | --- |
| | Min | Max | Avg |
| AMD RX 460 4GB Nitro | 170 | 225 | 189 |
| AMD RX 470 XFX Black Edition | 200 | 250 | 220 |
Synthetic Benchmark – Furmark
Next is the lone Benchmark Performance – Furmark, a punishing benchmark as far as the GPU performance goes. It measures FPS and provides an overall score for graphics performance. Furmark Score was 1123 for the AMD RX 460.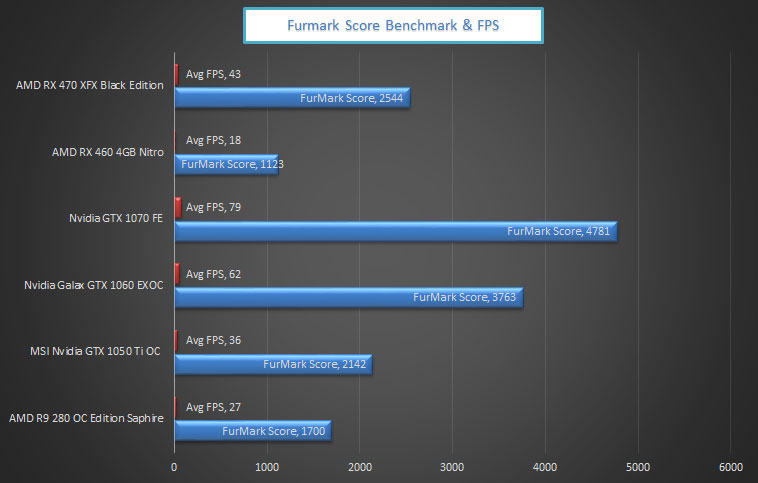 Adobe Photoshop And Premier Pro Performance
The Adobe Photoshop performance for the Sapphire Nitro AMD RX 460 (4 GB) was decent and was slightly slower compared to the AMD RX 470 and AMD RN 280.
Adobe Photoshop Image Rendering Test – Huge Image Benchmark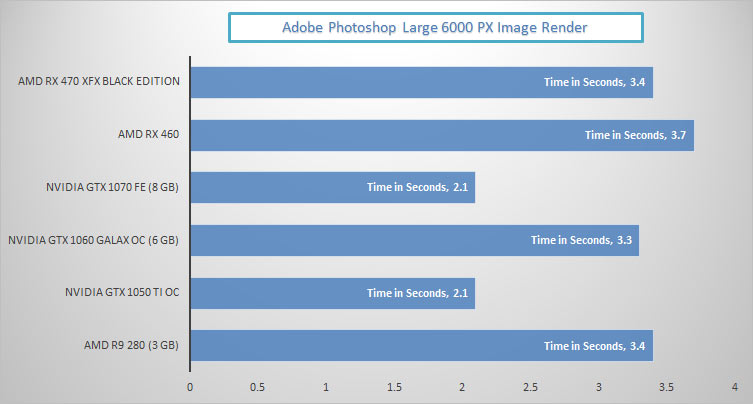 Adobe Premiere Pro Video Editing Test – AMD RX 460
The performance was surprisingly good for the budget card as it is not a slouch when it comes to video editing either. While editing a 1080P video, it took 161 seconds that is just 7 seconds more when compared to the GTX 1060. In this test, our old AMD R9 280 managed to push ahead by 6 seconds.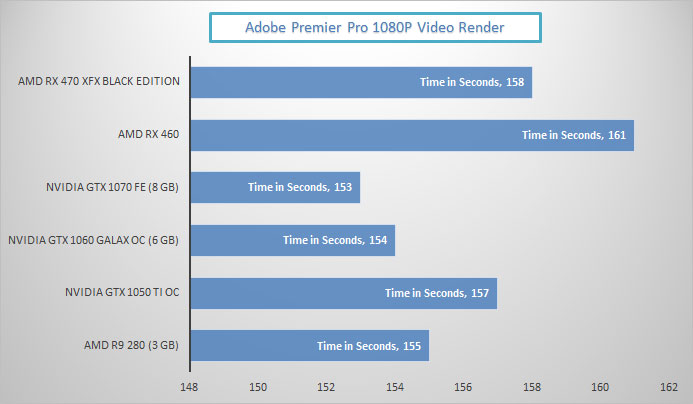 Temperature And Noise
Coming to the last part of our review but crucial for the folks living in hot countries. This is one thing which I really liked about this card, and even after pushing it in most of the graphics intensive games it stayed below 75 degrees Celcius and for most titles hovered around 70 degrees Celcius mark.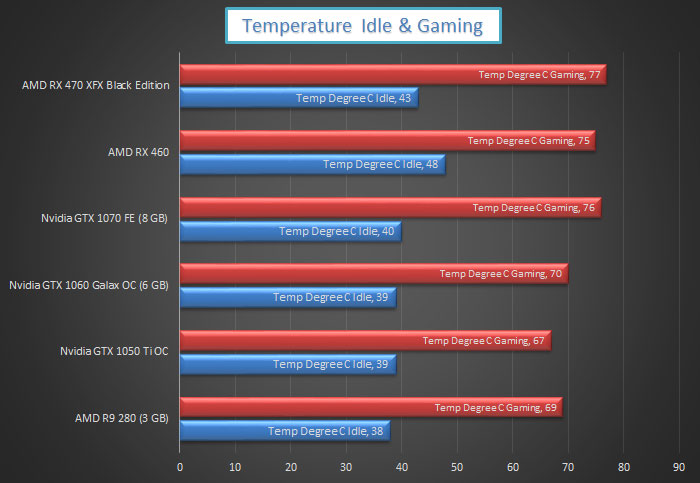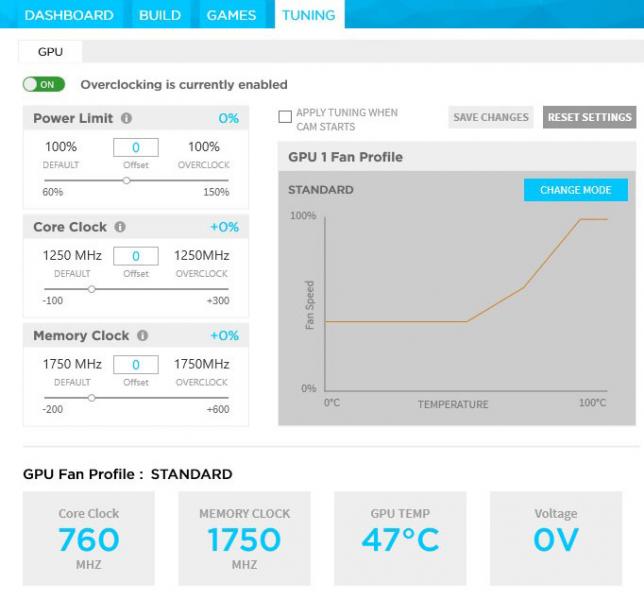 Concluding Thoughts Sapphire Nitro AMD RX 460 (4 GB) Review – IS the AMD RX 460 Good for 1080P or 720P Gaming?
A lot has changed in last three years in graphics card world the new generation of budget graphics cards are much better compared to what we had a couple of years back. The AMD RX 460 is a decent graphics card with good cooling, low noise and good gaming performance as shown by our benchmarks and testing.
The AMD RX 460 is a solid graphics card for 720P gaming, pair it with an Intel Core i3 or AMD RYZEN 1400 or higher, and you are set to rule the latest titles. It is an excellent upgrade for those who don't want to buy a new power supply or spend too much money on buying everything new in the rig.
Upgrade – If you have an old AMD R9 250 or 7850 or 7770, Nvidia GT 640 or GT 630 or something similar the AMD RX 460 can give your gaming experience a major boost. Roughly it can increase the gaming performance by 20% compared to the older graphics cards.
Competition – Compared to the Nvidia GT 1030 and GT 1040 it is the faster graphics card and the GT 1050, and 1050 Ti offers improved performance benchmarks when compared to the AMD RX 460.
4GB VRAM Vs 2 GB VRAM – The AMD RX 460 also comes in 2 GB VRAM, we have tested the 4 GB VRAM version. The 2 GB VRAM version also according to me can be ideal for gamers looking for a more pocket-friendly card as the price difference is close to Rs. 2500. For most cases, if you are gaming on 1600*900 or even 1080P can opt for the 2 GB VRAM version.
1080P or 720P Gaming Rig – As our testing reveals the Graphics card can play games at 1080P without much difficulty, but if you crank the game settings to very high or ultra it may not be an ideal choice. It will be prudent to buy an AMD RX 570 or GTX 1050 Ti for full-blown out 1080P gaming. For less graphics-intensive titles like CS: GO, DOTA 2 or League of Legends this can push the graphics to limits on 1080P. If you wish to have everything pushed to the limit, the RX 460 can do that easily on a 720p monitor and even on a 1600*900 resolution with ease.
AMD already has the newer version of RX 460 – AMD RX 560 which can be an ideal choice if you are buying a graphics card now, there is a boost regarding core clock speed and the memory clock speed.
Though if you are tight on budget or there is a lack of availability can go with either the 2 GB VRAM version of the card which can be an excellent bet for your gaming PC rig. You can also read the review of AMD RX 470.
Also, Read Our Review of
Nvidia MSI GTX 1050 Ti OC Edition or the Nvidia GTX 1060 Galax EXOC Edition.
Signing Off !!!