AMD Radeon RX 6700XT GPU – Launched with 12 GB VRAM and RDNA 2 Architecture :
04 March 2021 – Yesterday, AMD announced the launch of a new high-end graphics card – RX 6700 XT. The Radeon RX 6700 XT will be available for purchase at $479 (approx. INR 41,900, including GST). However, the Radeon RX 6700XT is available for Rs. 78,000 in the Indian market (April 22).
Moreover, the new AMD GPU will go on sale starting 18th March 2021 and will be available from several board partners.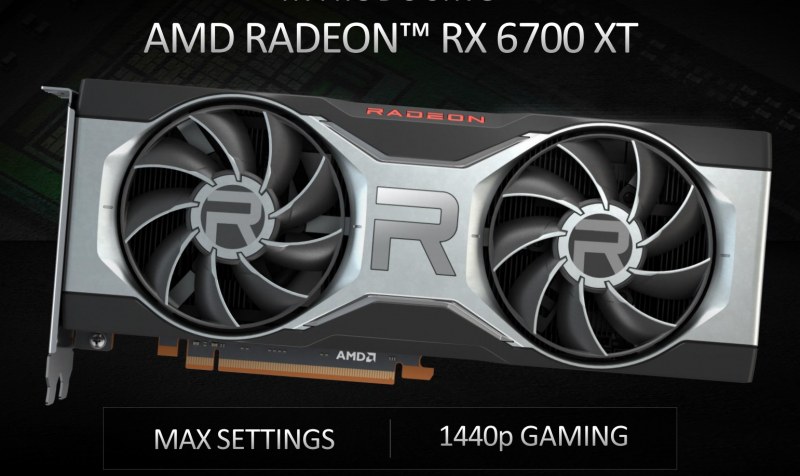 AMD has previously launched the top-of-the-line Radeon RX 6800XT, 6900 XT, and RX 6800.
The Graphics card will be available from various board partners, 40 different PC builders, and AMD.com. It will be available in a pre-built system like HP Omen 25L and 30L.
We will get four models: Phantom Gaming D, Challenger, Pro, and D custom models in stock and factory overclocked essences.
The biggest challenge for Graphics card companies is to ensure inventory for gamers. With Bitcoin prices sky-rocketing, miners are grabbing any graphics card on the market to mine the cryptocurrency.
Currently, scalpers and black marketers are hoarding and pushing the prices of GPUs to sky-high. We will have to wait and see if AMD can have better control over GPU stock for gamers.
Nevertheless, Let's look at the Specs and Performance of the AMD RX 6700XT.
Key Specs for AMD RX 6700XT
Power Consumption – 230 Watts
12 GB GDDR6 VRAM
40 Compute Units
Maximum settings up to 1440p resolution
Able to hit up to 360 FPS in the latest AAA games
Requires 8-pin and 6-pin connector
192-bit memory bus
Clocks at 2424 MHz
The AMD reference RX 6700XT comes with a two-fan cooler version, while other partners may deliver three fan designs.
The new AMD graphics card is based on the RDNA 2 architecture, offering incredibly fast performance in the latest AAA titles.
Notably, AMD is pitching the RX 6700XT as a 1440P gaming graphics card that can deliver over 144 FPS performance and is ideal for use with high refresh monitors.
Furthermore, the GPU has 12 GB GDDR6 VRAM and has a 192-bit memory bus-width. This is worth noting here that AMD is offering a lot of VRAM, and it is good for gaming at Quad-HD or even at 4K, but at the same time, they are bottlenecking the memory bus-width to 192 bits.
AMD is pitching the new Graphics card against the Nvidia RTX 3070 and the RTX 3060 Ti and claims that the GPU is faster than both these cards in several titles.
Interestingly, both the Nvidia cards come with 256-bit memory bus-width and can positively impact gaming performance.
AMD RX 6700 XT Benchmarks and Performance
Below is the benchmark graph – comparing gaming data of NVIDIA RTX 3060 Ti, RTX 3070, and the newly launched AMD Radeon 6700XT.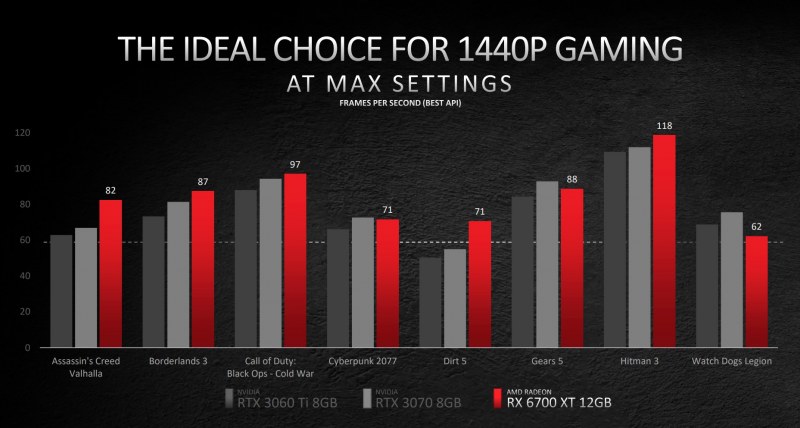 Based on the above graph, AMD RX 6700 XT looks good, but these are raw FPS numbers – these don't include the Ray tracing performance.
AMD mentioned the Ray tracing in the Keynote but didn't share performance benchmarks when the Ray tracing was enabled.
I am not sure, but the above graph will look different when the Ray tracing is enabled. Nvidia RTX 3070 can have a lead with Ray tracing enabled.
Secondly, AMD didn't touch upon performance in Adobe Premiere Pro, After Effects, or other 3D applications crucial for content creators.
It is odd; companies should start including such numbers in their keynotes, as they are aware that many content creators also look forward to purchasing their GPUs.
The AMD RX 6700 XT has a maximum TDP of 230 W which is higher than the 200 Watts used by the Nvidia RTX 3060 Ti and 220 Watts of the RTX 370.
Lastly, the new card is manufactured on the cutting-edge 7Nm manufacturing process.
Let's have a look at the comparison of the AMD RX 6700 XT Vs the new Nvidia Cards.
AMD Radeon RX 6700XT Vs Nvidia RTX 3060 Ti Vs Nvidia RTX 3070
| | | | |
| --- | --- | --- | --- |
| Graphics Card Specs | AMD Radeon RX 6700 XT | Nvidia RTX 3060 Ti | Nvidia RTX 3070 |
| Architecture | Navi 22 | Ampere GA 104 | Ampere GA 104 |
| Manufacturing Process | 7 nm | 8 Nm | 8 Nm |
| Base Clock | 2321 | 1410 | 1730 |
| Boost Clock | 2581 | 1670 | 1510 |
| Memory | 12 GB GDDR6 | 8 GB GDDR6 | 8 GB GDDR6 |
| Memory Bus | 192-bit | 256 Bit | 256 Bit |
| TDP | 230 Watts | 200 Watts | 220 Watts |
| PSU Reqd | 650 Watts | 600 Watts | 650 Watts |
| Price | 449 USD | 399 USD | 499 USD |