Asus 6Z India Launch India Flip Cameras, Price, Specs, Benchmark, Discounts
The Asus 6Z is the successor to the last year's best-seller Asus 5Z(read review). It is a flagship phone that comes with top of a line processor and blazing fast performance. The mobile was launched back in June and rivals the OnePlus 7 and the newly launched Redmi K20 Pro.
Also, I recently reviewed the Asus ROG Phone II.
Note* – Asus is not going to use the "Zenfone" word in its naming going forward due to a case filed by Zen Mobiles. It is a big blow to the brand. Nevertheless, Asus is now calling the Zenfone 6Z in India as Asus 6Z and the same name is used by the brand on Flipkart and other sales channels. I will also use the name Asus 6Z in this review.
Asus 6Z is available for purchase from Flipkart and it comes in 3 different variants:
Base Version – 6 GB Ram and 64 GB Storage – Rs. 31,999.
Mid-Version – 6 GB RAM and 128 GB Storage – Rs. 34,999.
Top Mode – 8 GB RAM and 256 GB Storage – Rs. 39,999.
Moreover, the price of OnePlus 7 in India is Rs. 32,999, Asus has kept it a bit lower.
The key highlight feature of the Asus 6Z is the motorized Dual flip cameras that enable you to click normal images and selfies with the same pair of cameras.
Flip cameras are not an entirely new concept. Back in 2014, Oppo launched the Oppo N1 (followed by the N3) with the motorized rotating cameras.
The only issue with such phones was the reliability of the motor and mechanism. Due to the moving parts, the failure rate was higher and it even has some impact on battery life.
Nevertheless, fast forward few years to 2019, and we are seeing many more motorized camera phones.
Mobile manufacturers are trying different approaches to make phones with a true full view bezel-less display without any notch.
I have been using the mobile for more than 10 days and so far it has been a good experience.
Let's talk about some of the highlight features that I liked in the Asus 6Z.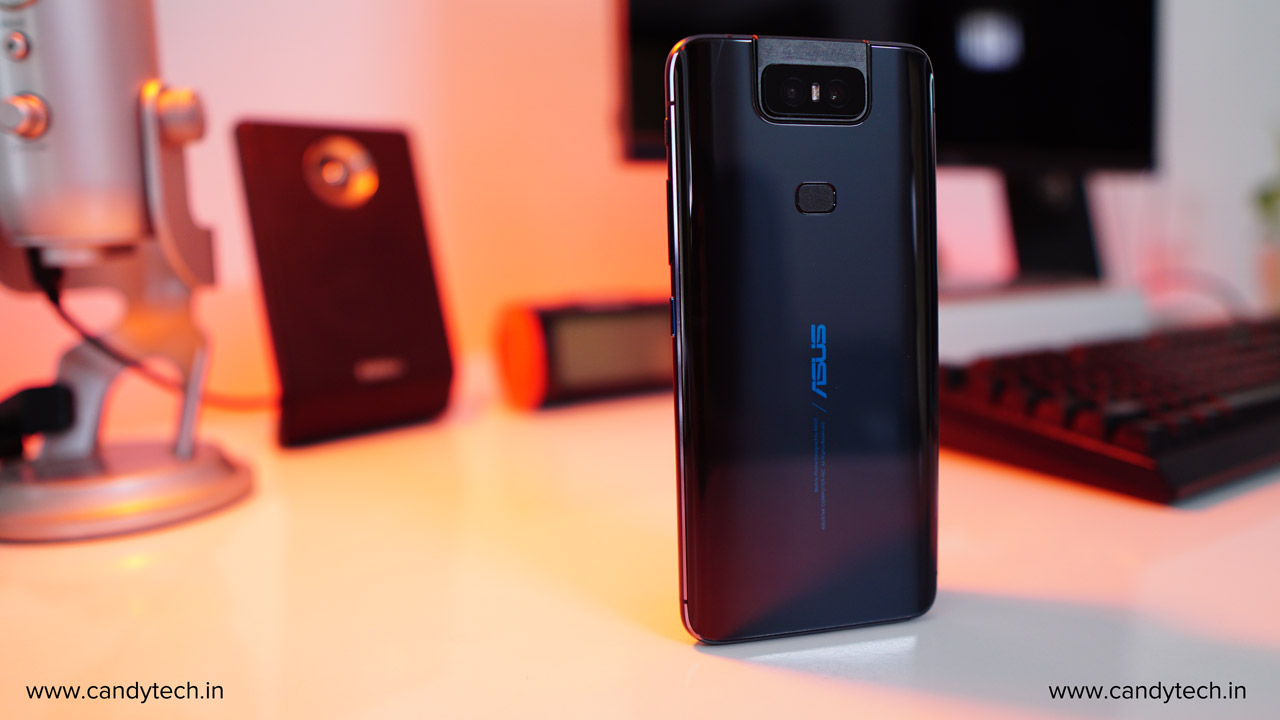 Highlight Features – Asus 6Z
Motorized Flip Cameras 48 Primary + 13 MP Wide angle

Qualcomm Snapdragon 855 Flagship Processor

Vastly Improved Zen UI With Android Pie.

5000 mAH Battery With Fast Charging support.

3.5 mm headphone jack.
Key Specs and features – Asus 6Z
The inclusion of the 3.5 mm headphone jack is a big plus for me as I still use audiophile-grade wired headsets from Sennheizer. Most high-end phones are skipping this.
Thanks, Asus for the inclusion.
In fact, brands are releasing overpriced wireless headphones (Oneplus Wireless Bullets 2, Airpods) to squeeze more profits from the sale of these accessories.
Nevertheless, a lot of people like wireless headphones and there is nothing wrong with that.
Motorized Flip Cameras
Let's first get the elephant out in the room.
The most impressive thing about the new Asus 6Z is the motorized camera mechanism that enables you to use the rear cameras as front selfie cameras.
Typically, we get better rear cameras on any phone and the front cameras are not as great.
The Zenfone 6Z overcomes this problem and since there are no front cameras this leads to cost-saving too.
There are two cameras present at the back, the primary camera comes with 48 Megapixel resolution and has the Sony IMX586 sensor with f / 1.79 aperture.
The second camera comes with a 13 Megapixel lens and has a 120° field of view (wide-angle camera).
The secondary camera comes with a much needed automatic distortion correction feature which is a lifesaver for wide-angle lens cameras.
The camera can record 4K videos with 60FPS and comes with EIS support. Surprisingly, there is no OIS support on the Asus 6Z.
There is portrait mode support, automatic panorama support that clicks images using the flip cameras.
You can even control the movement and angle at which the flip cameras are tilted to take some incredible shots and videos.
The great thing with this setup is the ability to record 4K videos using better cameras while facing the display which is not possible on other phones.
Also, the camera retracts back to its position when it detects a fall similar to what we have seen on the Oneplus 7 Pro.
The flip camera makes a little sound when retracting nothing alarming. Also, there is a slight camera bump which is not problematic if you are using the case.
Here are some of the Camera Samples that I have shot using the Asus 6Z.
Rear Camera Samples
Shot on the Wide Angle Camera in Low Light Shot on the Primary Camera – Better Quality than Wide Angle Shot in the late evening in low light Shot on the primary camera Shot on the wide-angle camera- More noise.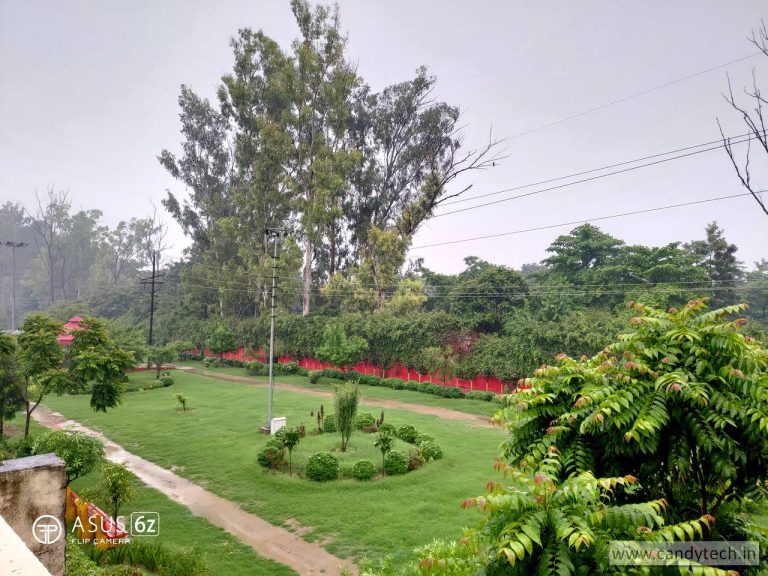 Good details and dynamic range in daylight
Good details and dynamic range in day light Panormic Shot on the Zenfone 6Z Motorized Camera Autofocus is fast and can click sharp images.
Selfie Camera
Low Light Primary camera Selfie Low Light Wide Angle Camera Selfie
Asus 6Z Camera Quality Summary
The primary camera is good in low light and daylight conditions.
You can switch to night mode to have better low light images.
Dynamic range is also good.
Wide Angle Camera is usable in decent light conditions and struggles in low light.
Automatic Motorized Panorama is fun to shoot.
You can click great selfies with 6Z.
Autofocus speed is fast and it is reliable.
4K Videos are sharp but slightly less stable due to lack of OIS.
Performance
The Asus 6Z comes with Qualcomm Snapdragon 855 Octa-Core Processor clocked at 2.84 GHz and has the Adreno 640 GPU.
Also, there are 6 or 8 GB of DDR4X Ram for quick multitasking.
The performance is blazing fast. I am using a Snapdragon 845 mobile as my daily driver, still, the 6Z feels a little bit faster.

There is no need to run the phone in silent mode as we are going to be the best when it comes to creating more content for the website.
The phone runs on the Asus Zen UI 6.0 along with the Android 9.0 Pie update.
There are no bloated Apps or UI issues.
Further, there is a massive 5000 mAH capacity battery which is more than any other phone in the premium segment. I was able to squeeze more than 1.5 days of battery life with mix usage.
The screen-on time is more than 7-8 hours with auto-brightness.
The battery life is unmatchable and I loved it on my 3-day outdoor trip. It lasts really long even after a lot of use.
There is Quick Charge 4.0 support and it comes with an 18 Watt Quick Charger.
Benchmark Scores
The Benchmark Scores for the 6Z are in line with what is expected of Snapdragon 855.
Antutu Score – 370,289
GeekBench Single Core – 3487
Geek Bench Multi-Core – 10,840
Gaming Performance
I played games like PUBG, Asphalt 9, and Fortnite on the Asus 6Z without any issues. It gets mildly warm after 30 minutes of gaming which is normal.
You can play most high graphics games on this beast without worrying about frame drops or heating.
Also, the battery drain during gaming is not too high, so it can last long.
Display and Design
The phone comes with an IPS LCD display panel with full view display and has a screen size of 6.4 Inches.
The display is not as great as the OLED panels on some other top-end devices but is acceptable.
Further, we are getting an FHD+ (2340*1080 pixels) resolution and there is Corning Gorilla Glass 6 protection.
The display offers 19.5:9 aspect ratio, 600 nits of brightness and even has 96% NTSC Color Gamut.
The maximum brightness is adequate and I have no issues reading text outdoors.
The phone has a full view display with a non-curved display panel with no notch or cutout camera holes.
The full view display is a big upgrade from phones with a notch or older 18:9, 16:9 aspect ratio devices.
The flip cameras rotate and sit on the top of the display when taking selfies or using it for face unlock.
The rear side design looks a bit weird as there is a large camera assembly cut out.
The whole thing flips and moves to the top, and also makes a little noise (motor noise).
It is the first generation motorized flip camera phone from the company and maybe next iterations may look even better.
The phone is a bit bulky and weighs 195 grams and is 9.7 mm in thickness.
I can't complain much because it comes with a massive battery. If you like thin mobiles, this may initially take time to adjust.
Other Features
Also, we have a fingerprint scanner at the back instead of the fancy in-display scanner on OLED display phones.
The fingerprint scanner is fast but has a horizontal orientation. A vertical positioning may have improved the ease of unlocking further.
I have used the phone with the JIO sim on a recent trip, but I was not impressed with the call quality. The voice from the earpiece is a bit robotic or unnatural on some of the calls.
I am not sure the reason for this, either the JIO network or it may have to do with the handset.
There is NFC support, USB Type C, Bluetooth 5.0 and even a dedicated micro-sd card slot.
Notification LED and Sound Quality
Notably, there is a notification led and a stereo speaker (with AMP) for better audio. Most mobiles are skipping the LED notification but not the 6Z.
Recent FOTA Update and Improvements
Asus has recently released the new FOTA update Version 16.1220.1906.167, and here are some of the improvements.
Improved Flip Camera performance.
Enhancement of Call Quality for better clarity.
Better 4K video recording and more stable EIS.
Longer Battery life with better power saving.
Mobile Manager and Clean-up system apps are now added to the launcher.
Major Pros – Asus 6Z
Blazing Fast Performance – SD 855 and 6 GB Ram.
Full View Bezel-less display with no notch.
Speaker Sound is loud and even audio from the headphone jack is superior.
Latest Stock Android Pie Experience With No Bloat.
Flip Cameras are fun to use, are excellent for selfies and other photos.
Can Shoot high-quality Vlogs using flip cameras.
Notification Led, Expandable Storage is a useful addition.
Great Battery Life and Fast Charging.
Superb Value for Money.
Major Cons
The Asus 6Z comes with an IPS LCD Panel an AMOLED Panel would have been a great addition.
The design is functional and utility-based, future iteration can be even better.
Reliability of the Rotating camera mechanism in the long run- Asus claims the rotating cameras can work for 100,000 times.
Fingerprint Scanner orientation could have been vertical.
Call QUality issues at times. I was not able to hear clear voice, slightly robotic voice.
The provided case is made of plastic – must use an aftermarket case.
Overall – Should You Buy the Asus 6Z?
The Asus 6Z has some minor flaws and despite them, it is a solid offering for the price. The biggest advantage is to click better selfies and make high-quality videos when using flip cameras.
The Pros easily outweighs the Cons for the device making it good upper mid-range phone.
Nevertheless, for the starting price of Rs. 31,999 it offers a lot and overall user experience on the device is great.
You should not worry too much about the cameras since they will only use the motor mechanism when you want to take selfies.
(I am assuming you don't take selfies 50 times a day).
The SD 855 offers top-notch performance and battery life is superb on this phone.
Overall in my brief usage of the device, I think it is a noticeable upgrade from older phones like Oneplus 5/6 and other 1.5-2-year-old mobiles.
Comparison with Rivals
The price for the Asus 6Z will be close to the Oneplus 7 but it is also fair to compare to the Oneplus 7 Pro as both come with pop-up/rotating cameras.
Comparison Of Asus 6Z Vs Oneplus 7
| | | |
| --- | --- | --- |
| Specs | Oneplus 7 | Asus 6Z |
| Processor | Qualcomm Snapdragon 855 | Qualcomm Snapdragon 855 |
| Display | 6.4 Inch OLED Panel FHD+ | 6.4 Inch IPS LCD FHD+ |
| In-Display Scanner | Yes | No |
| Cameras | Dot Notch camera | Flip Cameras |
| Battery Size | 3750 mAH With Fast Charging | 5000 mAH QC 4.0 |
| 3.5 mm Headphone Jack | No | Yes |
| Price | 32,990 | 31,999 |
Comparison Of Asus 6Z Vs Oneplus 7 Pro
| | | |
| --- | --- | --- |
| Specs | Oneplus 7 PRO | Asus 6Z |
| Processor | Qualcomm Snapdragon 855 | Qualcomm Snapdragon 855 |
| Display | 6.7 Inch OLED Panel QHD+ | 6.4 Inch IPS LCD FHD+ |
| In-Display Scanner | Yes | No |
| Cameras | Pop up selfie camera | Flip Cameras |
| Battery Size | 4000 mAH Warp Charging | 5000 mAH QC 4.0 |
| 3.5 mm Headphone Jack | No | Yes |
| Price | 49,990 | Rs. 31,999 |
Notably, Asus is also planning to launch the Max Pro M3 soon in the Indian market.