7 Best Selfie Smartphones with Good Front Camera (2017)
7 Best Selfie Smartphones with Good Front Camera 2017: Updated April 2017: In this list of best Selfie Smartphones with Good 8 /13/16/20 MP camera. We are looking at Mid Range smartphones in the Price range of Rs. 10,000 – 30,000. (Upto USD $500).
The smartphones have an excellent front camera with good resolution and lens, some of the smartphones boast of 13 MP and even 20 MP front camera for clicking good selfies, which you can share on Facebook, Instagram or Pinterest.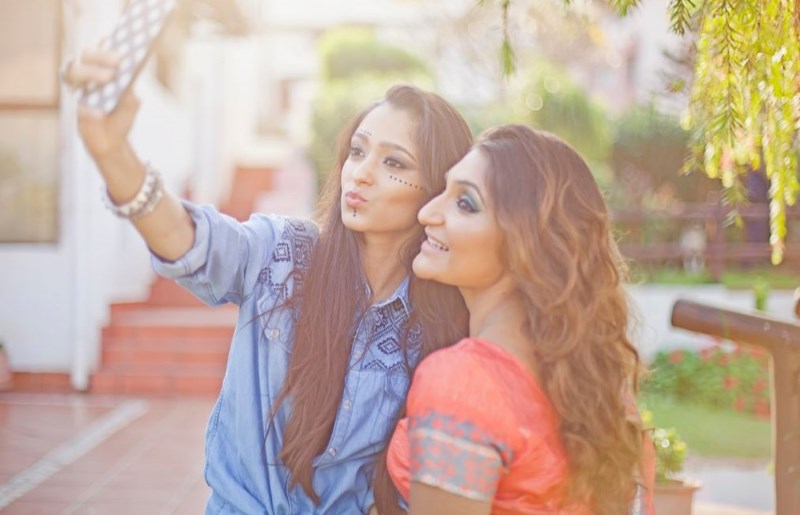 Let's begin with one of the most talked about and popular Selfie smartphone the Sony Xperia XA1 Dual.
Sony Xperia XA1 Dual is the latest smartphone from Sony released in April 2017 and is an excellent companion to click selfies as well other shots from the rear camera. The Sony smartphone has an improved 8 MP Sony Exmor camera lens which is capable of clicking really good photographs.
The Front camera has a 23-degree wide angle lens for clicking group selfies with ease. The smartphone is priced at Rs. 19,999 and is available from Amazon.
The Sony Xperia XA1 have a 23 megapixel rear lens which can capture details easily.  The Front camera also comes with a Superior Auto Focus lens sensor which helps to take clear images.
The smartphone other than being good at clicking selfies also has a decent rear 23 MP Camera which comes with 5X Digital Zoom,  HDR mode, hybrid Auto-focus for photography. The Auto-focus  system is much faster compared to a Sony C3 or C4 smartphone in the Sony XA 1. The rear camera lens has 24 mm wide angle and offers f/2.0 aperture for capturing great shots.
The smartphone is powered by Snapdragon Helio P20 processor (Mediatek) processor clocked at 2.3 GHz and has 3 GB RAM.  The screen size is 5.0 inches with HD display 1280*720 pixels resolution.  The internal storage is 32 GB which can be expanded to 256 GB using a micro-sd card.
The smartphone runs on the latest Android Latest Android Nougat 7.0 OS and comes with 2300 mAH battery which Sony claims to run for more than 1 full day. It also lacks a fingerprint scanner. Other features include NFC , USB Type and 4G VOLTE support. Overall a great selfie smartphone with a decent 23 MP rear camera.
It is the selfie King with a massive 13 MP front camera and an LED flash with Auto focus ability this smartphone can be used to take some of the best selfies.  It can easily click individual selfies as well as group selfies with ease.  You may like to buy a selfie stick for clicking some cool group selfies.
The HTC Desire EYE also has a 13 MP rear camera which also similar to the front Camera and has Auto-focus and LED flash with HDR. The Dual 13 MP front and the rear camera comes with tools for instantly editing your images and making them better. It is actually a costly smartphone currently priced at Rs. 33,200.
Each camera has a dual tone L.E.D flash with BIS sensor to adjust the light in the best possible way to click life like images.
HTC Eye software has really cool features once you activate the auto click mode, you only need to raise the smartphone and it will click the picture automatically. Face recognition and screen share enhance the video calls. You can in fact do group video calls using the HTC Desire Eye.
Another best feature is to use the front and rear camera simultaneously for clicking images and taking videos.
Crop Me In tool can help you take an image from the rear camera and front camera simultaneously and then you can superimpose the front camera image on the rear camera click.
Related Article – 7 Latest Android Smartphones With Quad HD Display (2K).
Face Fusion can be a fun feature for people looking to do some mixing, it can help you merge two photos and create a new face. The live makeup tool also can add up some make up before you actually click the selfie with your smartphone.
The smartphone has a 5.5-inch screen size and has a Full HD display. It is powered by Quad Core processor and has 2 GB Ram, runs on Android Kitkat and may most likely get the android Lollipop update.
The smartphone has 16 GB internal storage which can be expanded to 64 GB using a micro SD card.
It is currently priced at Rs. 22,000 in the Indian market.
Samsung launched the Samsung C9 Pro in the month of October 2016 in China and recently has launched the smartphone in India and some other global markets. Apart from having a great 16 Mega pixel selfie camera it is the first Samsung smartphone to come with 6 GB RAM. It is priced at Rs. 36,999 or $ 530.
The C 9 Pro comes with metal uni-body. It looks elegant, feels premium and is quite thin measuring just 6.9 mm. Thinner than an iPhone 6s.
The Samsung C9 Pro comes with a 16 MP, f/1.9 aperture front selfie camera and there is also a 16 Mega pixel rear camera. The front selfie camera is the best you can get on any of the Samsung smartphones out there. The lower aperture also helps in brighter selfie pictures. Although there's a learning curve for getting an ideal distance in order to achieve crisp shots.
The rear sensor is capable of getting detailed images using the PDAF which helps in faster focus.
The C9 Pro flaunts a 6 inch Full HD Super AMOLED display. It also features the traditional fingerprint sensor integrated within the physical home button.
The C9 Pro is powered by the Qualcomm Snapdragon 653 chipset along with incredible 6 GB of ram. It packs in 64 GB of internal storage and there is also a dedicated slot for storage expansion.
To power such a massive screen is a gigantic 4000 mAh battery which supports fast charging through the USB type-C port.
Unfortunately, it doesn't run on the latest Android N update and instead has Android M out of the box.
Vivo has recently launched one of the first Dual Front Camera smartphones, for the selfie enthusiasts. If you want to have a great DSLR like selfie with background blur the Vivo V5 Plus is the right choice.
Vivo V5 Plus comes with a 20 MP Sony IMX376, f/2.0 camera sensor along with an 8 MP camera sensor at the front. The rear has got a more traditional 16 MP f/2.0 camera.
The secondary camera up-front is used to sense the, "depth of field" which in return allows the user to focus on the subject and create a blur effect in the background. This happens by changing the aperture while taking the shot. There's also a feature which allows the user to apply the blur effect after taking the shot as well. Along with the bokeh effect, there's a Selfie Softlight/ Moonlight Selfie feature which brightens the photo in the low-light environment for detailed shots.
Apart from the amazing set of optics, Vivo also sports a respectable specs.
It comes with  a 5.5 inch FHD (1920*1080) resolution covered with 2.5 D curved glass and Corning Gorilla 5.0. The V5 Plus runs on Qualcomm Snapdragon 625 Chipset and 4 GB of ram. Supported by 64 GB of storage with no expand-ability option.
The Dual Selfi e camera mobile comes with 32-Bit Hi-Resolution audio and can amplify the output of your premium headphones.
The V5 Plus runs on Android Marshmallow 6.0.1 with FunTouch OS 3.0 skin on top. The skin is heavily inspired from iOS but still retains features from Android such as Split-screen mode, Eye protection mode.
There's a front mounted fingerprint sensor & the phone is powered by 3055 mAH battery which supports fast charging as well. The Vivo V5 Plus is launched in January 2017 and is priced at Rs. 27980 or $430.
HTC Desire 826 is another good smartphone from HTC's stable for clicking best Pro-Selfie shots.  The smartphone has an Auto focus ultra-pixel front camera.  The smartphone can be easily used with a selfie stick to take group selfies.
HTC Desire 826 does not have a front camera with higher MP but it has a camera lens which actually has bigger pixels to absorb more light and take clear shots. HTC claims that the front camera can capture 300% more light and is very effective to take good images in artificial light and low light surroundings.
Next time when you are in a restaurant or a pub with dim lighting; ultra pixel HTC Desire camera can capture those moments perfectly.
 The rear camera also comes with U-focus feature which can create a DSLR type focus on objects or people and blur the surrounding, before or after taking the images. HTC also has a great app known as Zoe which can make your photos and videos more lively you can download it from the Android play-store. In fact, your can use the ZOE app on Apple iPhone or other Android smartphones.
The rear camera is 13 MP and has Autofocus , HDR+ and Dual LED flash for clicking good low light images. The HTC Desire 826 has Full HD display with 1920*1080 resolution
Related Article – HTC Desire 826 Powered by Android Lollipop More details.
Sony has one of the best camera smartphones with Exmor R S lens made by SONY. The Sony Xperia XA Ultra was launched at the end of July 2016 in India and is latest addition to Sony's portfolio. It is no cheap selfie smartphone , priced at Rs. 29,999 at the time of launch.
The Sony Xperia XA Ultra comes with 16 MP front selfie camera and is one of the first smartphones to come with Optical image stabalization for front camera. OIS helps to reduce blur due to movement and can make the images much sharper.
If you observe the lens in the above picture it is not a small module like on most smartphones. The Front camera comes with a front flash for clicking images at night. There is gesture support too to click selfies by just raising your hand.
The rear camera on the smartphone is a 21.5 MP Sony Exmor RS lens , which also has Hybrid Auto-focus, OIS and Dual LED flash to click great images. The smartphone is powered by the mediocre Mediatek Helio P10 processor clocked at 2.0 GHz, and comes with 3 GB RAM and just 16 GB internal storage (can be expanded upto 200 GB using micro-sd card).
The smartphone has a large 6.0 inch display with Full HD resolution and is enhanced by Bravia Engine and XREALTY for great user experience. It runs on Android Marshmallow 6.0 and has 4G LTE support. The battery capacity is 2700 mAH, though Sony has optimized it well.
 You want a real selfie smartphone and other things are of least consideration, buy the Oppo F1 Plus. It has a 16 Mega pixel front camera which is even larger than the rear 13 Mega pixel camera.  Oppo calls the Oppo F1 Plus as the " Selfie Expert" smartphone. The initial reviews about the front camera are really positive and it is capable to do what the name suggest.
The Oppo F1 Plus is priced at Rs.  25,699 or $380.
The 16 MP front camera comes with ISOCell technology and a f/2.0 aperture lens which can absorb good amount of light to capture good selfies in the low light or artificial light conditions. The selfies taken have least amount of Noise and can also be enhanced using beautify mode and other software enhancements.
There is also soft light flash to make the selfies better in low lit conditions.
Other than having great camera capabilities the smartphone comes with 4 GB RAM and 2.0 GHz (Mediatek MT6755 Helio P10), Octa Core processor. The smartphone has 64 GB of internal storage and 2850 mAH battery capacity which is sufficient to last all day.
The design is sleek and you will love the 6.6 mm slim smartphone to hold and use. The screen size is 5.5 inches and comes with Full HD display with 401 PPI.  The Oppo F1 Plus runs on Android Lollipop 5.1 , have a fingerprint scanner and supports high speed 4G LTE data.
Bonus Addition – Asus Zenphone Selfie
7 Best Selfie Smartphones with Good Front Camera – The Asus Zenfone selfie is truly a dedicated smartphone to clicking selfies, crafted perfectly by understanding the needs of selfie lovers.
The Asus Zenfone Selfie is re-introduced by Asus in July 2016 and is available lot cheaper at Rs. 12,999 from early launch price of Rs. 16,999.
The Asus Zenfone selfie being a mid-range smartphone is packed with 13 MP front and rear camera. Both the cameras are illuminated by Real tone LED flash.Unlike other smartphones the Zenfone selfie comes with some useful features that make it convenient in many ways for taking selfies. The front camera comes with  f/2.0-aperture, auto-laser focus lens and Dual LED flash.
Zen motion [s] – Now taking the selfie is just a swipe away. Just draw an "s" on the screen when you are ready to take a selfie.
The real tone LED flash is a combination of white and yellow light that is claimed to generate more natural illumination, so this means your skin tone will appear more accurate
Selfie panorama – Never miss a friend from the frame, the Asus Zenfone selfie comes with a selfie panorama mode for taking 140-degree panoramic selfies that cover everything behind you.
Beautification mode – The phone also includes beautification modes that make real-time skin corrections which is like wearing a digital makeup, so there's no need for after shot corrections
The Smartphone includes a selfie swing which acts as a stand for placing the phone also it includes a shutter button at the back.
Other Key Specs – The smartphone is powered by the 1.5 GHz Qualcomm Snapdragon 615 MSM8939 Octa Core Processor, coupled with 3 GB of RAM. The Zenphone Selfie runs on Android Marshmallow 6.0 along with Zen UI. It is a Dual Sim 4G LTE smartphone and has a massive 3000 mAH Li-ion battery.
The smartphone has a 5.5-inch display with Full HD (1920*1080) resolution and is protected by the Gorilla Glass 4. The smartphone weighs 170 grams and has a thickness of 10.8 mm.
Bonus Addition – Best Affordable 13 MP Selfie Smartphone (Price Rs. 10,999 or $200)
7 Best Selfie Smartphones with Good Front Camera – If you are looking for a budget Selfie smartphone Infocus may have the right product for you.  It is not always necessary to spend large bucks to get what you want.Infocus has launched a 13 mega pixel front camera smartphone for just Rs. 8,999 or $140. The smartphone went on sale starting 21-Dec-2015.
The Infocus M 680 comes with a wide angle 13 Mega pixel front camera with f/2.2 aperture size, ideal for taking selfies and even group selfies at parties. The smartphone also boasts of a 13 Mega pixel rear camera with Auto-focus and led flash.
It is powered by the Octa – Core mediate 6753 processor clocked at 1.5 GHz, and also has 2 GB RAM essential for multitasking.  The smartphone other than having a good front camera also boasts a 5.5 inch Full HD resolution with 401 PPI.
The smartphone runs on Android Lollipop 5.0, with 16 GB of internal storage,  expandable to 32 GB using Micro-SD card.
The smartphone offers dual Sim 4G LTE support along with the native 3G and 2G. The battery capacity is 2600 mAH which is enough to last all day with mixed usage.  For the affordable sub $200 price the Infocus M680 offers plenty of features to talk home about.
Oppo F1s Selfie smartphone is the latest addition to this list. It was launched in November 2016. The new Oppo F1s comes with 4 GB RAM and 64 Gb internal storage. Oppo F1s brings an affordable smartphone to the battle of premium devices.
It is currently priced $280 (Rs. 18,799). The smartphone has got a 16 Mega pixel front camera with F/2.0 aperture which is supported by dedicated flash to ensure images in low light don't suffer.
The smartphone front camera comes with gesture support to take selfies by waving your palm you can capture a selfie and it also has a beautify feature to improve the selfies.
The rear camera is also decent with 13 Megapixels, f/2.2 aperture sensor which offers good performance in daylight as well as low-light conditions. This one of those smartphones which has the front camera with higher megapixel resolution compared to rear.
The smartphone comes with a premium build, I really liked the iPhone like feel with this smartphone. It is powered by the Mediatek 6750 64-bit Octa-Core Processor clocked at 1.5 Ghz and is accompanied by Mali T860 MP2 GPU. It runs on the Android Lollipop OS and Color OS 2.1
The Oppo F1S  Selfie has got 4 GB of RAM sufficient for gaming and multitasking.  The screen size is 5.5 inches and has an HD (1280*720) pixels resolution with 267 PPI but has 2.5D curve glass to improve the aesthetics. The smartphone comes with 64 GB of internal storage which can be expanded to 128 GB using a micro-sd card. There is a dedicated memory card slot.
It has got Dual sim support with 4G LTE and Volte support. The Oppo F1s also comes with a decent battery with 3075 mAH capacity to ensure you can work on this all day.
The Oppo F1S weighs 160 grams and has a low thickness of 7.3 mm.
Oppo F1S is a great looking metallic smartphone with a decent camera available at an affordable price.
Vivo's latest selfie smartphone beats them all in numbers with it 20 Mega Pixel front selfie camera. The 20 MP camera is from Sony IMX376 image sensor with f/2.0 aperture and 5P Lens. It comes with features like gender recognition, moon light flash which improves the images taken in low or artificial light and create a more professional looking image. The front selfie camera can record 2592 x 1944 pixel resolution videos at 30 FPS.
This smartphone comes with a 5.5 inches HD display. It offers 720 x 1280 pixels resolution at 267 ppi pixel density.
The Vivo V5 is powered by the snappy Qualcomm Snapdragon 652,  Octa core processor clocked at 1.8 GHz and there is 4 GB RAM to take care of multitasking. It is one of the gorgeous looking sleek smartphones with an extra-ordinary selfie camera.
The Vivo V5 runs on the Android OS, v6.0 (Marshmallow) along with the Funtouch OS 2.6. The mobile comes with 32 GB of internal storage which can be expanded up to 256 GB through micro-SD Card. There is a fingerprint scanner embedded in the Home Button which is fast. The smartphone comes with Dual Sim 4G LTE as well as VOLTE support.
The battery capacity is also decent with 3000 mAh battery, that can last all day with good amount of usage. The smartphone comes with 7.6 mm of thickness and weighs 154 grams.
There are some of the new smartphones launched though they are yet not available to purchase in most countries, though you can check these out too: Oppo F3 Plus with Dual Selfie Camera (recently launched in India), Gionee S9 (13 MP front selfie camera), and the Vivo X9 and X9 Plus with Dual Front Selfie camera. We will add these very soon to this list.
Thanks for reading the Article : – 7 Best Selfie Smartphones with Good Front Camera.
You may Also Like: 
You can Subscribe to our weekly Newsletter for Latest Articles: Subscribe Now