What are the Best FHD Display Mobiles, and Why You Should Buy One?
The Full HD (1920*1080) resolution is the most optimal resolution you can have on your next smartphone.
Most of the phones in the range of Rs. 7,000 to 10,000 have HD (1280*720) resolution. The phones over 10K are likely to have FHD display.
While the latest mobiles like Samsung Galaxy S8, LG G6 or  Google Pixel have either 2K ( 2560*1440) or higher resolution.
Does HD, Full HD or 2K resolution makes a difference?
Understanding FHD Display – The full HD resolution has more pixels per inch compared to an HD or lower resolution display. A 5-inch phone with HD display will have 293 PPI (Pixels per Inch), on the other hand, a Full HD mobile (with same screen size) will have 440 Pixels per Inch (PPI). Further, a 2K (2560*1440 pixels) smartphone display will have 587 PPI.
Better the pixels per inch, better is the text readability, video, image clarity. Beyond 400 PPI difference is less noticeable.
Lots of experts say an HD screen is enough or an FHD is enough, and human eye can't differentiate. There are counter views to this theory, which means that high-resolution displays are easier to read and text appears more clear. Also, there is no pixelation of text/images on higher resolution screens.
Is FHD Better Compared to HD? In my opinion, after using all three resolution on a mobile, the full HD looks better than the HD, and 2K make it a grade higher.
However, the Full HD resolution is recommended, the reading experience between a good quality FHD screen and a 2K screen is not that much for 5-6 inch phones. In case of large size monitors and TV's difference more noticeable.
But at the same time, there is no match for the Quad HD Displays used in phones like LG G6 and S8. These come with much superior display panels that offer higher resolution, brightness, contrast and very accurate color profile.
I don't buy the crap shared by many so-called researchers about human eye can't detect the difference between HD Vs. FHD or 2K display, my human eye can. 
While moving from an HD or lower resolution to FHD, you will find your reading experience becomes much better.
Let's Check out some of the Best Full HD (1920*1080) Display smartphones that You can buy currently.
Nokia 6
Price Rs. 14,999
The Nokia 6 is one of the top-selling smartphones from Nokia and comes with an excellent display for media consumption and reading.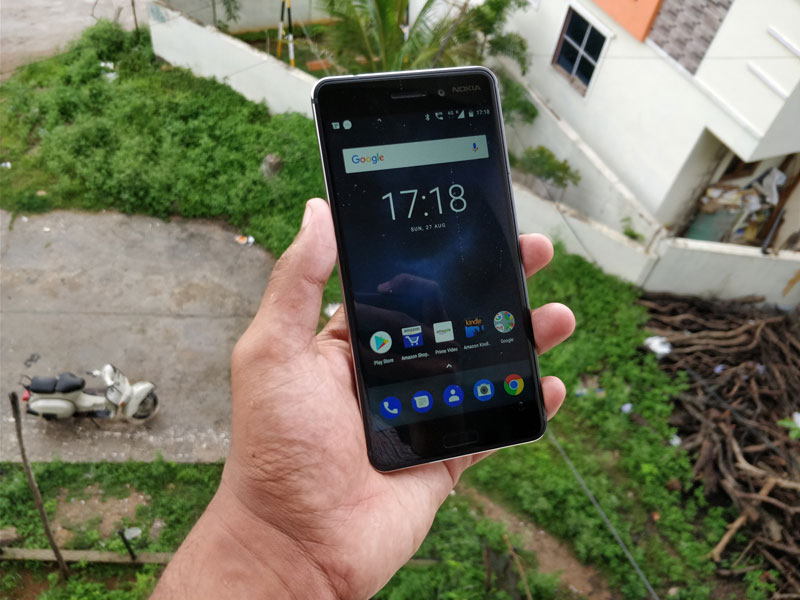 The Nokia 6 has a 5.5 Inch Display with Full HD Resolution (1920*1080) pixels, and offer 401 PPI. The display panel is IPS LCD and comes with a maximum brightness of 450 nits for a better outdoor legibility.
The Corning Gorilla Glass protects the screen, and also comes with the 2.5D curved glass making the display more aesthetic.
The mobile comes with a unibody metallic design with aluminum 6000-grade material construction, offering a robust and premium build.
Powering the phone is a Qualcomm 430 Processor clocked at 1.4 GHz, and it comes with the Android Nougat 7.1 OS. The phone offers a 16 Megapixel rear camera and an 8 Megapixel front selfie camera.
The Battery capacity 3000 mAH and the phone come with 32 GB of onboard storage that can be expanded further using micro-sd card. The Nokia 6 comes with NFC, Bluetooth, 4G Volte and Dual Sim support.
You can read More about the Nokia 6 Review Here.
PROS – Low Price – Great FHD Display, Ideal for gaming. 2. Full HD Display, Good battery Life.
CONS –  It is a bit bulky.
Related – All best Mobiles with 4 GB RAM in India
Lenovo Z2 Plus
Price Rs. 11,999
Lenovo Z2 Plus has the best processor under Rs. 12,000, and it comes with Qualcomm Snapdragon 820, same processor as Samsung S7 edge.
One would've never thought of getting Snapdragon 820 at this price. However, Lenovo has just made that possible after the recent price drop from 17,499 to 11,999.
The Z2 Plus comes with a compact and elegant design and offers a 5.0 Inch screen size. The phone looks boxier in appearance, as it has higher thickness due to a large battery.
The processor is coupled with 3 GB /4 GB of ram and 32 GB /64 GB of internal storage. Unfortunately, it doesn't support micro SD card.
The Zuk Z2 Plus is powered by a massive 3500 mAh battery pack which supports fast charging through the USB type C port.
It runs on Android Marshmallow 6.0 with ZUI 2.5 skin on top. Even though it runs ZUI in the back-end, Lenovo has tweaked the phone, especially for the Indian market. It comes with the Google Now Launcher.
There's 13MP with a f/2.2 aperture rear camera and an 8 MP, f/2.0 aperture, front camera. It does a pretty good job for its price but isn't ground-breaking as far as the camera quality is concerned.
The phone comes with a fingerprint scanner, 4G VOLTE, Dual Sim and steps counter.
We did a full review of the Lenovo Z2 Plus can read it.
Pros – Powerful processor, Compact design, Long battery life.
Cons – Average camera performance, No expandable memory.
Huawei Honor 6X
The Huawei Honor 6X was launched in Jan 2017 and comes with a 5.5 inch Full HD Display, with 403 PPI (pixel density). The display also has a 2.5D Curved glass coating for better usability.
Honor 6X has a robust metallic build and comes with a Dual Rear camera.
The 6X measures 8.4 mm in thickness and weighs 164 grams. The mobile is priced at  Rs 11,999 and offers a decent set of hardware. Powering the phone is the Huawei made Kirin 655 Octa-Core SOC, which has a maximum clock speed of 2.1 GHz.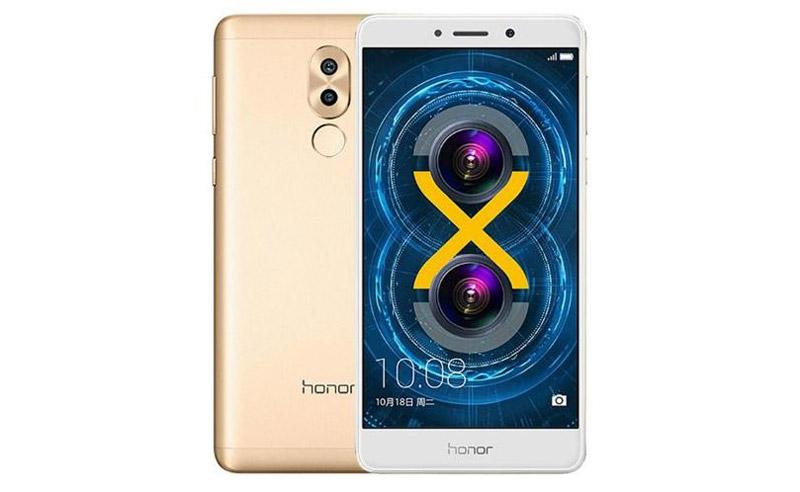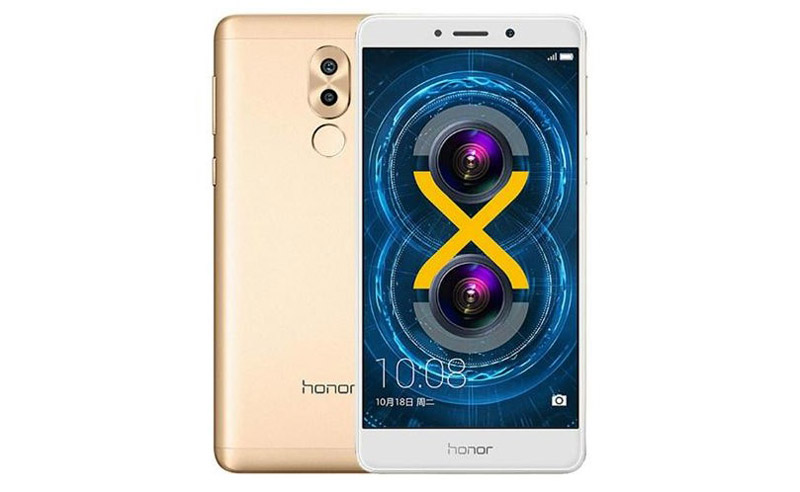 The Honor 6X offers the Dual rear camera, 12-megapixel lens along with a 2 MP shooter. At the front, it has an 8-megapixel selfie camera.
The device runs Android Nougat 7.1 with EMUI 5.1 on top of it. The battery is 3430 mAh sufficient to run all day.
The Honor 6X promises 4 GB of ram and also has a 64 GB internal storage, which can be expanded to 128 GB.
The metallic phone comes with a fingerprint scanner at the back.
The Honor 6x has a Dual SIM slot that supports both Nano and micro SIM cards. Also, both the slots support 4G connectivity.
Other features of this phone are smart PA audio, rear-mounted fingerprint scanner.
PROS – 1. Great Metallic Design, 4G Support. 2. Excellent Battery Life with huge 3430 mAh battery capacity, excellent display.  3. Dual Rear Camera Setup.
CONS – Design could have been better. 
Honor 6X it is an excellent performance mobile at a reasonable price, with 1920*1080 screen, excellent for reading, net surfing and watching movies.
No 5 on the list of 8 Best Full HD 1080P Phones is the Samsung J7 Pro. 
Samsung J7 Pro
Samsung J7 Pro is the latest mobile from Samsung that offers a great display, camera and battery life. It is an expensive phone and is priced at Rs. 20,990.
The Key Highlight of the Samsung J7 Pro is its excellent display which comes with a SUPER AMOLED panel. The Super AMOLED panel is superior to the IPS LCD display used in most phones and offers much higher contrast ratios and legibility.
The display apart from having more vivid colors also consumes less energy compared to IPS LCD panels.
The Samsung J7 Pro comes with a 5.5 Inch display and also has a 2.5D Curved glass that enhances its looks.
Apart from a stunning display, the J7 Pro has a massive 3600 mAH capacity battery which works all day. The battery can be charged quickly using fast charging technology.
Powering the J7 Pro is Octa-Core Exynos 7870 processor clocked at 1.6 GHz and also comes with the Mali T830 GPU. The phone has 3 GB ram and comes with 64 GB onboard storage, expandable to 256 GB.
The mobile runs on the Samsung Touch Wiz UI and has Android Nougat 7.0 OS. It also comes with a 13 MP rear camera having a f/1.7 aperture. At the front has a brilliant 13 MP selfie camera with a f/1.9 aperture.
The phone comes with a fingerprint scanner, Samsung Pay and also has the USB Type C Port. The J7 Pro comes with a glass back design and looks very premium.
PROS – Great Super AMOLED Display. Good Design and Camera. CONS – 3 GB RAM is Less. 
The No. 6 on our list is the Asus Zenfone 3.
Asus Zenfone 3
Asus Zenphone 3 is the most premium looking smartphone you can purchase if you have a budget close to Rs. 15K.  The Zenfone 3 has recently got a price discount of Rs. 6000 on Flipkart.
Asus Zenfone 3 comes with a very bright 5.5 Inch Full HD Display (1920*1080) pixels and has 401 PPi. There is 2.5 D Curve glass, and Zenfone 3 comes with over 75% screen to body ratio, and also has the highest display brightness of 600 nits.
The mobile comes with an exquisite glass back cover which makes it a head turner.
The Asus Zenfone 3 has a 16 MP rear camera for clicking detailed pictures.
The rear camera comes with Fast Hybrid Laser auto-focus system for capturing images. The front selfie camera is also honorable, with 8 MP resolution.
Powering the phone is the tried and tested Qualcomm Snapdragon 625 processor and Adreno 506 GPU. The phone runs on the Android Nougat 7.1 OS, along with the Zen UI.
There is 32 GB inbuilt storage which can be expanded to 128 GB with micro-sd card. The phone also comes with the Dual Sim, 4G Volte support along with the Fingerprint scanner at the back.
The Zenfone 3 comes with a decent 3000 mAH battery that can help you comfortably use the mobile for an entire day.
Pros  – 1. Full HD 1920*1080 IPS display, Excellent outdoor visibility. 2. Sleek Gorgeous Design. 3. Good Rear camera, 4K Video recording.
CONS – More Ram would have made it even better. 
Related –  7 Latest Android Phones With Quad HD Display (2K).
LG Q6
LG Q6 is one of the earliest mid-range phones that come with a bezel-less display panel.
The LG Q6 comes with a Full Vision display with Full HD+ Resolution (2160*1080 pixels) offering 441 pixels per inch screen density.  The display occupies the full front side, and it looks similar to the more expensive LG G6.
Powering the LG Q6 is the 8 Cores Qualcomm Snapdragon 435 processor and the Adreno 505 GPU.
The mobile has 32 GB of internal storage and comes with 3 GB of Ram. However, the LG Q6 misses on the Fingerprint Scanner.
The mobile comes with a 13 Megapixel rear camera with autofocus and LED Flash.
At the front, there is a 5 Megapixel shooter for clicking selfies. The phone comes with a 3000 mAH capacity battery that is sufficient to sail it through the day.
The LG Q6 runs on the Android Nougat 7.0 and with a few customizations from the LG UX.
PROS – Great Full Vision Display with FHD Plus resolution, Runs on Android Nougat 7.0, Easy to carry and use. CONS  – No fingerprint Scanner.
Related – 10 Best Android Phones Under Rs. 15,000.
PROS – Stock Android Experience, Good Camera. CONS –  Design and Looks could have been better.
Coolpad Cool 1 Dual
Cool 1 Dual (made by LeEco and Coolpad) is one of the smartphones offering Dual Rear camera set-up for an unbelievable price tag of ₹13,999.
The Cool 1 looks identical to LeEco smartphones because of the similar design, chamfered edges, mirror finished fingerprint sensor. It not only looks like LeEco phone but also runs LeEco software inside it. The phone comes with Android Marshmallow and EUI 5.6 skin on top.
There's a 5.5 inch Full HD IPS LCD display with a flat glass on top. It comes with the USB type-C port and fast charging support.
Speaking of battery life, it packs a massive 4000 mAH battery.
The phone is driven by Qualcomm Snapdragon 652 Octa-Core processor. It is one of the best processors for Full HD Gaming. Further, it is paired with 3 GB/4 GB ram and 32 GB/64 GB storage, respectively. Unlike Le2, this phone has a 3.5 mm audio-jack.
The main highlight for the Cool 1 Dual is its Dual 13 MP rear camera with f/2.0 aperture. The secondary rear camera lens is used to create a Bokeh effect as it scans the Depth of field and helps to change the focus from foreground to background whenever required.
The front has a traditional 8 MP selfie shooter.
Key Specs for Cool 1 Dual
Screen- 5.5-inch FHD IPS LCD display
Processor- Qualcomm Snapdragon 652
Ram- 3GB/4GB
Storage- 32GB/64GB non-expendable
Camera- Dual 13MP rear and single 8MP front
OS- Android Marshmallow with EUI
Connectivity- 3G/4G/LTE
Battery- 4000mAh
Pros – Powerful processor, Longer battery life, USB type-C with fast charging.
Cons – EUI needs some more refinements, No storage expansion, Average Camera.
Read More About the Cool 1 Dual. 
Xiaomi Redmi Note 4
Xiaomi has launched the Xiaomi Redmi Note 4 in the Indian market in late Jan 2017. There are 3 variants available for the Xiaomi Redmi Note 4, and all 3 comes with Full HD Display.
The Xiaomi Redmi Note 3 comes with a powerful & efficient processor that you can get in this price range; the Qualcomm Snapdragon 625 clocked at 2.0 GHz. It comes with Adreno 506 GPU which offers excellent performance for gaming.
The smartphone has got a mammoth battery with 4100 mAH capacity that can easily go on for 1-2 days.
The Xiaomi Redmi Note 4 has a 5.5-inch display with Full HD resolution (1920*1080 pixels),  offering 401 PPI. There is also a 2.5 D curved glass which improves the touch and feel of the display.
The Note 4 comes with Android Nougat 7.1 along with the Xiaomi MIUI 8.0.
Also, Xiaomi is rolling out a new software update, the MIUI 9.0, for the Xiaomi Redmi Note 4.
The Redmi Note 4 has Dual Sim Support and offers 4G LTE / VOLTE connectivity (works with JIO sim) along with 3G and 2G.  The Xiaomi Redmi Note 4 weighs 165 grams and has a thickness of 8.4 mm.
The Dual sim phone also comes with a fingerprint scanner at the back of the device for quick unlocking.
The Xiaomi phone has a 13 MP rear camera with fast auto-focus, and Dual Led flash, and there is a 5 MP camera on the front for taking selfies. It is one of the best mobiles to buy in 10k to 12K range.
PROS –Great design and build quality. Low Cost., Excellent Camera Quality, FHD Screen, Good Processor. CONS – Availability may be an issue.
You can read more about the Xiaomi Redmi Note 4, performance, comparison to Redmi Note 3 here.
If you have any questions or would like to add something to the above story, please share in comments below.
I think you should check out these two articles as well – 10 Mobiles Worth Buying for Rs 15000  &  10 Good phones under Rs. 20K