Highlights
Excellent Camera System
Best S-Pen with gesture controls
A pocket computer to play games and watch videos that offer an overwhelming experience
Note 20 Ultra comes with three memory options and a 120Hz refresh Rate
Samsung Note 20 – All Details, Specs, Features, Pros, and Cons
Samsung has recently launched the latest phones in the Note series i.e, Samsung Note 20 And 20 Ultra. The phones were unveiled on 5th August 2020.
The phones have a premium build, impressive looks, and a powerful Exynos processor.
Performance
The phones are powered by Samsung's Exynos 990 Octa-Core processor with a clock speed of 2.73 GHz and come with the Mali™-G77 MP11 GPU to handle the graphics-intensive tasks.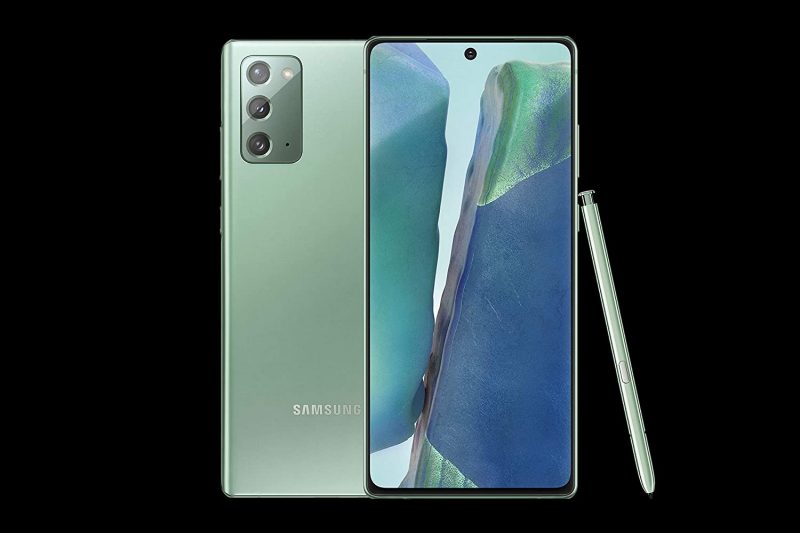 Note 20 runs on the One UI Based Android 10 Operating System.
The differentiating factor for the Samsung Note 20 is the S-pen. It gives you an incredible experience of a realistic pen as it consists of Bluetooth, gesture controls have a tip diameter of 0.7mm for precise work.
The Pen weighs about 3.04g and has a height of 105.08 mm.
Samsung Galaxy Note 20 Price and Availability
The Galaxy Note 20 is available in the mystic colors of Bronze, Green, and Gray. Presently, the phone price in India starts at about INR 77,999.
The Samsung Note 20 comes with a 6.7 inches Full HD flat Infinity-O AMOLED Plus display with 1500 nits maximum brightness offers good sunlight legibility.
It has 2400 * 1080 pixels resolutions, 393 PPI, 20:9 aspect ratio, 60Hz screen Refresh rate, and an ultrasonic fingerprint sensor.
The smartphone weighs nearly 192g and has 161.6 * 75.2 * 8.3 mm dimensions.
Fueling the device is a 4300 mAh battery with fast wireless charging support.
Note 20 arrives with two memory/storage variants of 8GB (LPDDR5) RAM/128 GB storage and 8GB (LPDDR5)/256 GB internal space.
For imaging, it comes with an advanced camera system.
The front camera comes with a 10MP and f/2.2 aperture for taking detailed selfies.
At the rear, triple cameras include a 12 MP Ultra-wide camera with f/2.2 aperture, a 12 MP wide-angle with f/1.8 aperture, and a 64 MP Telephoto camera with f/2.0 aperture.
There are camera modes that make photography easy for even beginners. It offers intelligent features like scene optimizer, shot suggestions, and flaw detection.
It has 3x Hybrid Optic Zoom and upto 30x super-resolution zoom. The Pro-grade 8K video (24 fps) intensifies the cinematic feeling.
Moving to the Note 20 Ultra offers some more goodies and is more expensive than the Note 20.
Samsung Note 20 Ultra – All Details, Specs, Features, Pros and Cons
Samsung Note 20 Ultra has a flawless design, squared corners, and a well-formed look from front to back.
It is available in three elegant colors of Mystic Bronze, Mystic Black, and Mystic White. Moreover, Note 20 Ultra comes with a Glass body.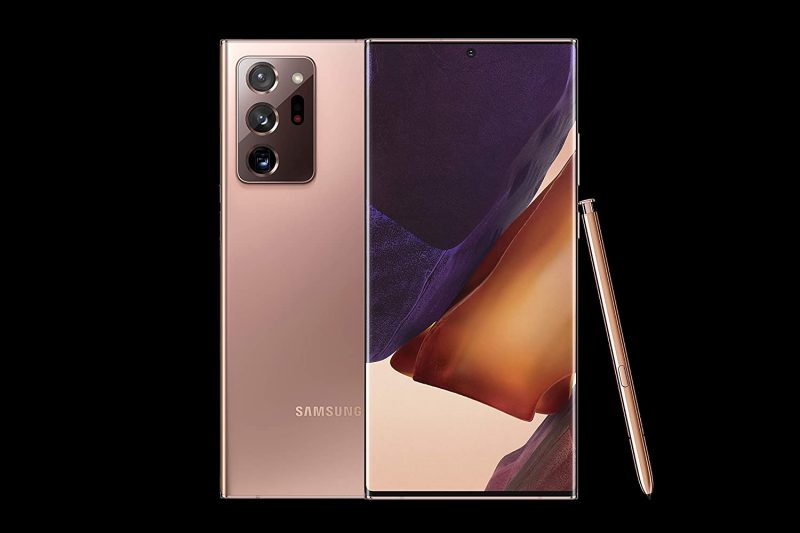 The phone price starts in India at INR 97,999 which goes up to 1,04,999 with different memory configurations.
The display on the Note 20 Ultra is significantly better than the Note 20. It has a 6.9 inches Quad HD+, Dynamic AMOLED 2x Infinity-O screen, with 3088 *1440 pixels resolution, 496 PPI, and 120Hz Refresh Rate.
The phone weighs about 208g and has a dimension of 164.8 * 77.2 * 8.1 mm. The S-Pen has a width of 4.35 mm. It contains a battery of 4500mAh.
As far as the memory is concerned it comes with Three memory variants likewise 12GB LPDDR5 RAM with 128 GB, 256 GB, and 512 GB of Internal Storage.
Let's discuss the camera features, including a front camera of 10MP (f/2.2 Aperture) similar to the regular Note 20.
It also has a triple rear camera system but better lenses than the Note 20.
There is a 12 MP Ultra-wide (f/2.2 aperture), and the second camera is a 108MP wide-angle with PDAF, OIS, and f/1.8 Aperture.
Lastly, we have a 12MP Telephoto camera (f/3.0 Aperture) and a Laser AF sensor.
The Note 20 Ultra also supports video recording up to 8K. However, the quality may not be as good as you may find on the regular 4k, 60 FPS shooting.
Furthermore, the device offers a 5x optical zoom and 50x super-resolution zoom.
Overall the Note 20 Ultra has many features like a better display and cameras that make it way better than the regular Note 20. Note 20 is cheaper, but the experience is far better on the Note 20 Ultra. If you are planning to buy an expensive phone, I suggest you go all out and pick the Note 20 Ultra.

Update – 13/Aug/2019
Samsung Note 10 and Note 10 Plus – India Launch, Specs, Price, and Features
Samsung Note 10/Note 10 Plus – All Details – At a sparkling event in New York, Samsung has launched the Galaxy Note 10 and Note 10 Plus. It is the first time that Samsung has launched 2 Note devices instead of one.
The Note Series differs from the Samsung flagship S10 and S10 plus, as it comes with a stylus for writing notes.
Samsung is holding an event in India on 20th August to launch the Note 10 / 10+ in Bangalore. The event is happening at 11:30 am and you can also catch the live stream here at Candytech.
I never found the S-Pen (stylus) useful, but many find it extremely convenient to use.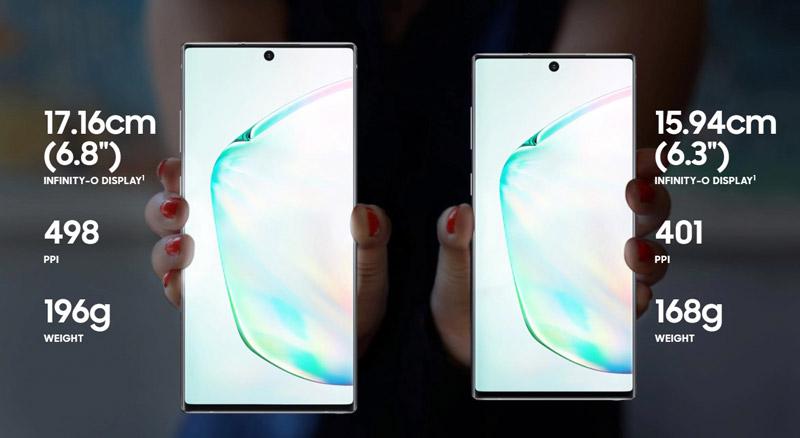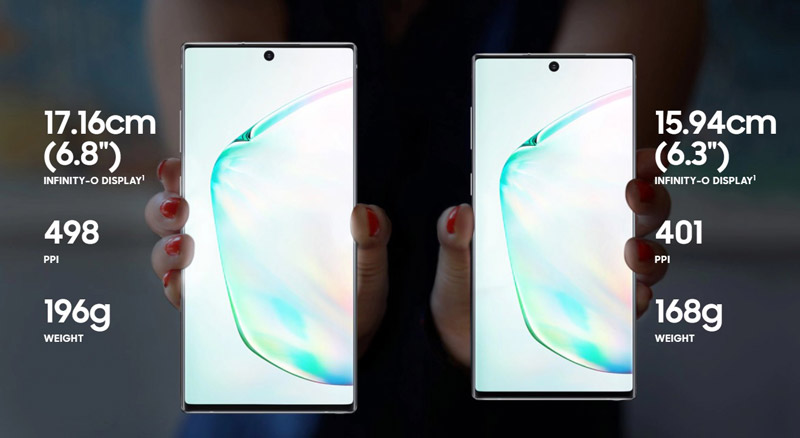 There are several new features and upgrades in the New Galaxy Note 10/10 Plus, that I will talk about a bit later, but first, look at the variants and pricing.
The Galaxy Note series is the creme-de-la-creme of the Android world and comes with ultimate specs that you can get on any Android phone.
The Samsung Note 10 comes in the following single variant:
8 GB Ram and 256 GB internal Storage – Price Rs.69,999 or $949.
There is a 5G version with 12 GB ram, which will launch in South Korea, and the price is currently unknown. Indian and global version of Note 10/Note 10 Plus comes with only 4G support. There is no 5G support.
The storage space on Note 10 is non-expandable; there is no micro-SD card slot on it.
The Samsung Note 10 Plus Variants –
12 GB Ram and 256 GB internal storage – Price Rs. 79,99 or $1099
12 GB Ram and 512 GB internal Storage – Price Rs. 89,999 or $1199
The storage is expandable up to 1TB using the micro-SD card slot. There will be a 5G variant that will launch in only South Korea.
Availability and Sale Date, Discounts, and Offers
Samsung Note 10/Note 10 plus is already up for pre-orders in India on Flipkart, and shipping will start on 23rd August 2019.
There are some exciting discounts and offers on S10/S10 Plus currently; the Flipkart listing shows 5% discounts using the Axis-Flipkart card. You can buy using an HDFC credit card and can get Rs. 6000 discount.
Further, you can pre-book the Note 10/10+ and get the Samsung Galaxy Watch Active for Rs. 9,999. The watch is otherwise available for Rs. 19,990.
Moreover, Samsung India has an India launch event for Note 10 where they may announce more discounts. I will update this article, and you can sign-up for my newsletter to get updates.
Both devices will be available in Auro Glow, Aura White, and Aura Black colors.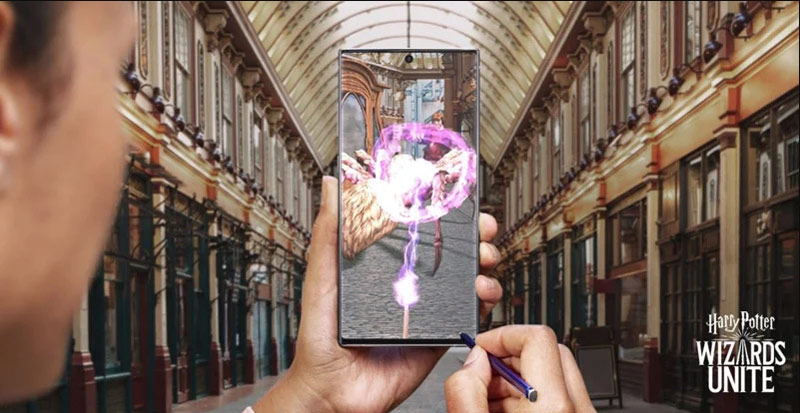 Top 10 Key Features of the Galaxy Note 10/ Note 10 Plus
1). Design
Note 10 is near bezel-less from all four sides. There is a tiny selfie camera at the top center, even smaller than the punch hole camera we have seen on the S10.
The sim card tray is housed at the top and can carry two sims or in the case of Note 10 Plus, you can use it as a hybrid micro-SD cardholder.
The display is curved at the sides, and the bottom side also has very thin bezels. There are highly polished metal sides that seamlessly merge into the glass back.
The phone is thin, has a 7.9 mm thickness, and curved edges improve the grip on the otherwise slippery glass back.
The backside has a vertically aligned camera assembly and a Samsung logo. Notably, there is no Bixby button on the side or a headphone jack at the bottom.
A USB-Type C port is at the bottom to charge the phone or listen to music, pairing it with type C buds.
2). Display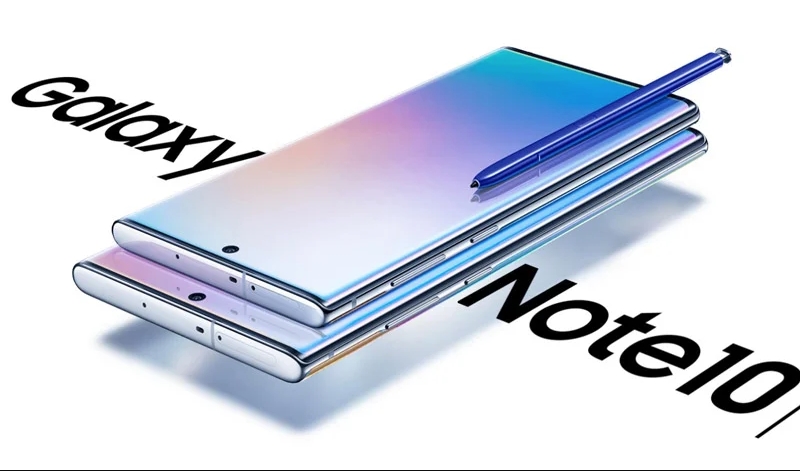 Undeniably, Samsung makes the best displays in the world. Even Apple buy it from them. Note 10 comes with a gorgeous 6.3 Inch Super AMOLED infinity-O display, as Samsung calls it.
Note 10 has an immersive display with FHD+ resolution (2280×1080 pixels, 401ppi) and HDR10+ support, and dynamic tone mapping.
On the other hand, the Note 10 plus is a step above, with its 6.8 inches, Quad-HD+ resolution display (3040×1440 pixels, 498 PPI).
Note 10 Plus has more pixels, but the FHD+ panel on Note 10 will help it save some battery in day-to-day use.
For the naked eye, finding a difference between the displays on both devices is tough.
If you pixel peeps, you may notice some difference in sharpness.
3). Cameras and Features
Rear Cameras
Triple Rear cameras are becoming a norm with most phones, and Note 10 is no different. There is a primary 12-megapixel camera with a variable aperture of (f/1.4-f/2.5). The camera can take great images in any lighting condition. The lens has OIS support and a 77-degree field of view.
The second lens also has 12 MP resolution, comes with an f/2.1 aperture, and is a telephoto lens with OIS and a 45-degree field-of-view.
Lastly, we have a 16 MP ultra-wide-angle camera with an f/2.2 aperture. It lacks OIS (optical image stabilization) and has a 123-degree field of view.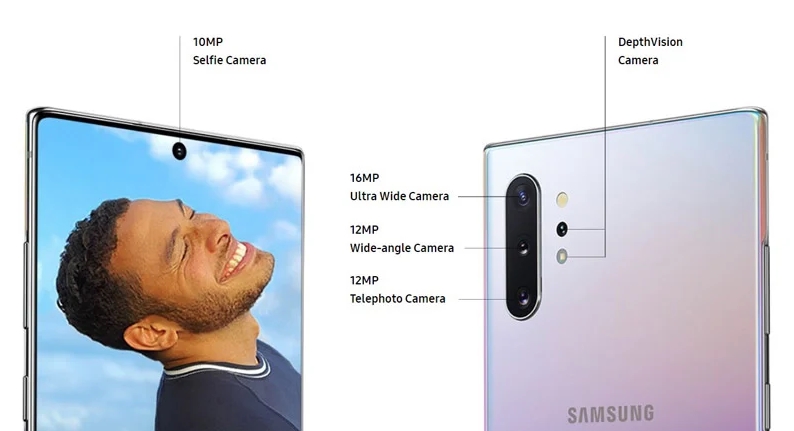 Note 10+ – Quad Rear Cameras
The Note 10+ has the fourth camera for depth sensing, and it helps you click 3D scans of objects. It is a VGA sensor that Samsung calls "Depth Vision."
Selfie Camera
At the front, there is a 10 Megapixel front camera with f/2.2 aperture, autofocus, and 80-degree-field-of-view.
While manufacturers like Xiaomi, Oneplus, and Realme are racing to 100 MP cameras on mobiles, Samsung is still not bothered to use a 48 MP lens.
Why? Because it doesn't make any difference to the image quality.
Special Camera Features of Note 10 and Note 10 Plus
Live Focus Support
Most mobile can click photos with background blur; on Note 10, you can even shoot videos with bokeh.
There are 4 presets, Blur, Big Circle, Colour Point, and Glitch, that you can use on videos and still imaging.
Three Cameras Offer Versatility
You can shoot portrait modes with excellent edge detection.
And good Night shots with the wide f/1.5 aperture and OIS support.
The ultra-Wide angle camera is particularly useful when shooting landscape images in daylight.
4K Videos and Editing
Samsung Note 10/10+ offers 4K Video recording support with incredible details and best-in-class stabilization.
You can even record the 960 FPS slow-motion videos.
The built-in Samsung Video editor App makes editing and sharing your videos fun.
It is one of the best video editing apps I have used on the mobile, which offers basic features and some special effects at the press of a button. Easy and intuitive.
4). Dolby Audio, Zoom-in Mic
There is a new Zoom-in Mic feature that can control the sound that you record. For example, if you are recording a singing performance, you can focus on recording the song and less on background noises.
There are Dolby Audio support and a pair of loudspeakers to enhance your music experience.
5). Performance
Powering the device is the Qualcomm Snapdragon 855 (For The US) Octa-Core Processor or the new Samsung Exynos 9825 (other countries), which are top-of-the-line chipsets.
To make gamers happy, Samsung has thrown in a thin vapor cooling chamber to ensure better thermal efficiency and less heating.
There is also a game mode that optimizes the Note 10 background processes and improves the frame rate in the games.
There is not going to be any issues playing PUBG or Fortnite at the highest settings.
6). Battery Life
The S-Pen takes some space in the Note series, but this year's removal of the headphone jack has helped Samsung squeeze in more battery capacity.
Note 10 has a 3500 mAH capacity, whereas Note 10+ has a 4300 mAH capacity battery.
The Note 10 plus supports up to 45 watts of charging, and the Note 10 offers upto 25 Watts but the supplied charger offer 25 watts maximum.
Both the devices support wireless charging – 12 Watts for Note 10 and 15 Watts for the Note 10 Plus.
7). S-Pen with Air Gestures
The S-Pen has stood the test of time and is still a major selling point for the Note series.
The primary function of taking notes is still there but with advancements. You don't need to open any app to take notes or can even convert handwritten notes to typed text, which makes it even more helpful.
Last year Samsung introduced the low-energy Bluetooth technology that converts the S-Pen into a remote to click pictures, open apps, and so on.
This year Samsung has added a 6-axis sensor (a gyroscope and accelerometer) into it.
The benefit is we can use motion gestures to wave it like a magic wand, straight out of Harry Potter movies.
Some of the things you can now do with the S-Pen Air gestures:
You can change camera Modes by pressing the S-Pen button and waving it left and right.
Move it up and down to change between the camera lenses.
Rotating it offers a zoom-in or zoom-out function.
Pretty nifty! There will be more additions happening to this from Samsung and third-party App developers.
8). Samsung One UI and Android Pie
Samsung has improved the user experience on its phone in the last 3-4 years.
The transformation from the Samsung Touch Wiz to the Samsung experience and now to the One UI is day and night.
The software comes with better icons fast and fluid UI.
Of course, Bixby and Google assistant are fighting to become your next companion.
9). Ultra-Sonic In-display Fingerprint Scanner
A fast ultra-sonic under-display fingerprint reader can quickly unlock the device.
Further, there is a fast face unlock, thanks to the front punch hole camera.
10). Samsung DEX
The Samsung DEX helps you use the Note on the large screen of your laptop or even pair it with a PC.
You can drop and copy files and edit them quickly.
What is the Difference Between the Samsung Galaxy Note 10 and Note 10 Plus
| | | |
| --- | --- | --- |
| Specifications | Galaxy Note 10 | Galaxy Note 10 Plus |
| Display Size | 6.3-inch Super AMOLED | 6.8-inch Super AMOLED |
| Resolution | FHD+ (2240*1080) | QHD+ (3040*1440 pixels) |
| PPI (Pixel density) | 401 | 498 |
| Battery Capacity | 3500 mAH | 4300 mAH |
| Charging Speed | 25 Watts | Up to 45 Watts |
| Rear Cameras | Triple Rear Cameras | Quad Rear Cameras |
| RAM | 8 GB DDR4 | 12 GB DDR4 |
| Internal Storage | 256 GB | 256 GB or 512 GB |
| Micro-SD card support | No | Yes, Hybrid |
| Weight | 168 grams | 196 grams |
Samsung Note 10 Vs. Note 10 Plus – Which is a Better Choice?
Based on the above details, you have a fair idea about the differences between the phones. You will get a similar battery life; Note 10+ can have slightly more.
The cameras are nearly the same; you are not missing much. Additional Ram or storage will not make any real-life difference in performance.
Notably, you have a higher storage option with the Note 10 and can even increase it to 1 TB using the Micro-SD card.
I am more inclined to pick up the Note 10 instead of the Note 10 Plus for its manageable size and ease of use.
The 6.8 inches, 198-gram phablet is a bit hard to carry around or use with one hand, for me, maybe not for you.
Buy it if you love the sizeable QHD+ display and can carry it. It is the quintessence of Android mobiles.
Should You Upgrade to the new Expensive Note 10 and Note 10 Plus?
Alright, Note 10 and Note 10+ are not affordable. You can buy a Honda Activa and still save money to buy a Redmi NOTE 7 Pro.
I know you already have a Hyundai Creta, so you are not worried about the price. It is an excellent upgrade for people using the Note 8 or Samsung S8/S9 series.
You may not find it a leapfrog update if you already have an S10 or a Note 9. Previous gen iPhone users will love the hardware but may take some time to adjust to the Samsung UI.