HP Omen is the premium Gaming laptop series from the brand and comes with top-of-the-line specs and the latest features.
In this article, we will check the latest 2020/2021 Omen laptops that come with either Intel 10th Gen / 11th Gen Processors or the AMD Ryzen 4000/5000 series processors.
There are two types of gaming laptops available from HP:
HP Omen (Premium High-End Laptops)
HP Pavilion ( Mid-range Gaming Laptops)
Let's check out the latest Omen series laptops with detailed Specs, features, Pros, and Cons, and buying advice.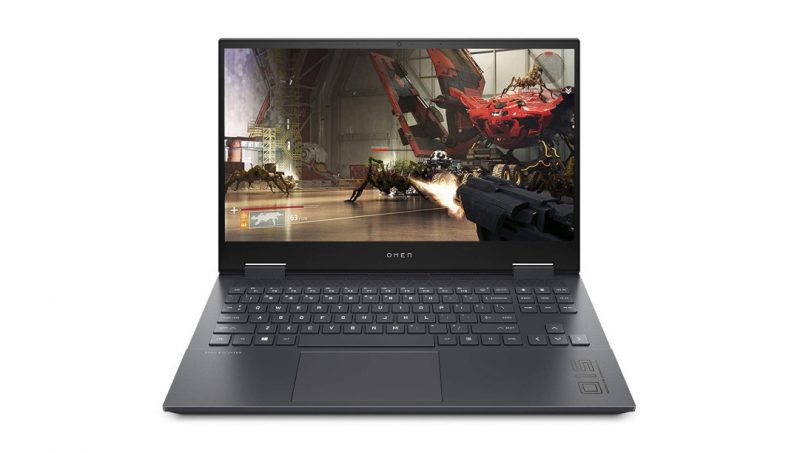 HP Omen Gaming Laptop
The HP Omen Gaming Laptop was first launched in May 2015 in India. It competes with the Acer Nitro, Asus Rog, Lenovo Legion, Dell G series, and MSI Gaming Laptop.
The new HP Omen laptops come with 15.6-inch screen size, and all the laptops have Full HD resolution (1920*1080) pixels. The company has not introduced the 17 Inch Omen series laptops yet.
Most of the new laptops come with NVMe SSD and with either 8 GB or 16 GB DDR4 ram.
The starting range of laptops is powered by the Nvidia GTX 1650 graphics card and goes up to RTX 3070 Max-Q of graphics cards.
Also, Ram is upgradable on these machines, and you can buy additional Ram and increase performance.
The Laptop price starts at Rs. 74990 and can go up to the Intel Core i7 laptop is also priced at Rs 1,80,990.
There are a couple of things good about the Omen series launch in India – we have got plenty of choices and really appreciate HP for sharing detailed specs like NTSC color, etc that make it easier for buyers to get the right version.
HP Omen 15 Inch – Design, Keyboard, Audio, and Features
All of these new HP Omen 15.6-inch models look the same and come with subtle looks that don't shout out that it's a gaming laptop.
The backside has a new color gradient logo that you will hate or love instantly. To me, it doesn't look bad.
HP has also refined the internal design, making the cooling solution a lot better than the last many iterations.
There is a full-sized keyboard with a number pad on the right side and
The laptop doesn't run too hot under load, which is an excellent achievement by the brand.
Let's start with the Intel Core i5 Models and then we will check out each new model.
All of these models come with Windows 10 Home edition and come with 1 year of warranty from the manufacturer.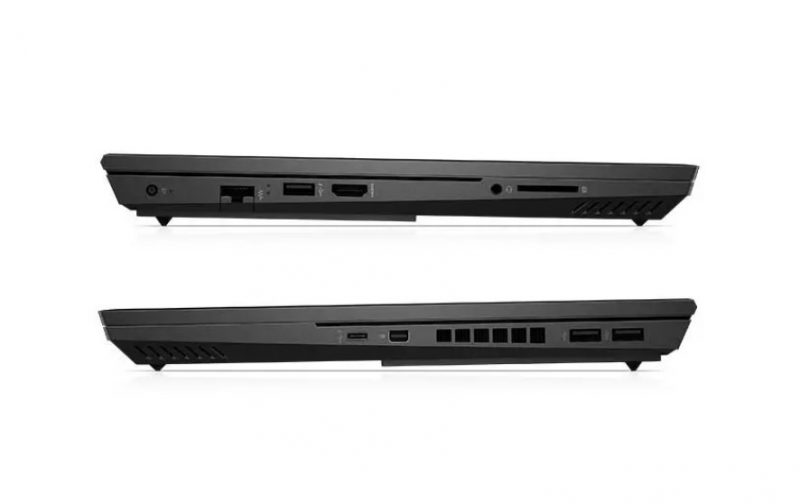 Posts include – 1 USB Type C; 1 USB Type-A ; 2 USB, 1 Mini DisplayPort; 1 HDMI 2.0a; 1 RJ-45; AC smart pin; 1 headphone/microphone combo.
Also, there is WIFI 6 support along with the presence of a 720p HD Webcam.
Note – Pricing on Amazon is up and down, so please check the prices before buying.
HP Omen – ek0015tx (Intel Core i5 10th Gen, and GTX 1650)
The base variant is the HP Omen – ek0015tx is available for a price tag of Rs. 79,999.
It comes with a polycarbonate chassis with pitch-black color.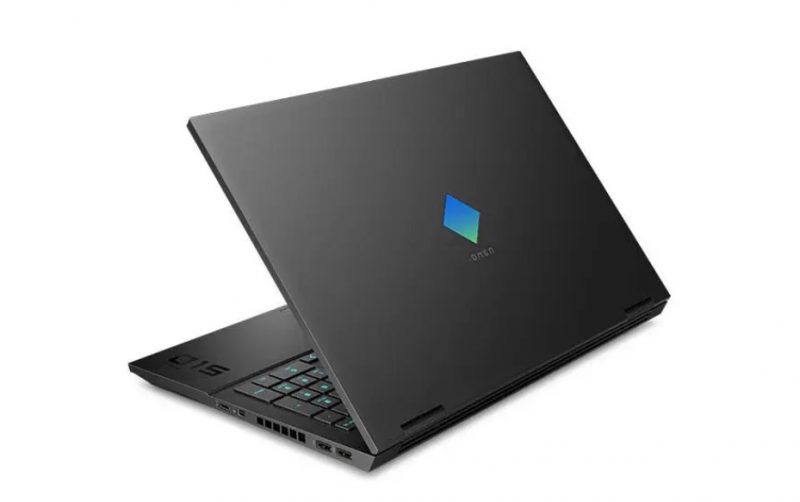 Powering the Omen is the10th Gen Intel Comet Lake Quad-Core, 5-10300H(2.5 Ghz base clock speed and 4.5 Ghz Boost clock speed, 8 M L3 Cache.
Additionally, we have 8 GB of DDR4 RAM (2933 MHz), single-channel (1*8).
Also, it comes with the dedicated Nvidia GeForce GTX 1650 with 4 GB GDDR6 VRAM.
For storage needs, there is 512 GB PCIe NVMe M.2 SSD.
The laptop has a 15.6-inch Full HD (1920*1080) pixels IPS anti-glare display that comes with a 60 Hz refresh rate, 250 nits brightness, and 45% NTSC color gamut.
For a great audio experience, Omen comes with Bang & Olufsen dual speakers. Lastly, it comes with 150 Watts power adapter and also has a 52,5 Whr battery capacity.
The laptop is not so heavy and weighs 2.36 Kg, and measures 2.35 cm in thickness.
Thoughts – The GTX 1650 is a basic entry-level graphics card that can allow you to game at medium and low settings in demanding titles. There is no HD to store games, and the display is passable. You can expand the ram at a later stage, and the Intel 10th Gen processor is ideal for gaming.
HP Omen Powered By Ryzen 4600H, Nvidia GTX 1660 Ti (Recommended)
Powering the HP Omen is the AMD Ryzen 5-4600H, 6-core processor (3.0 GHz base clock speed, up to 4.0 GHz boost clock speed, with 8 MB L3 cache).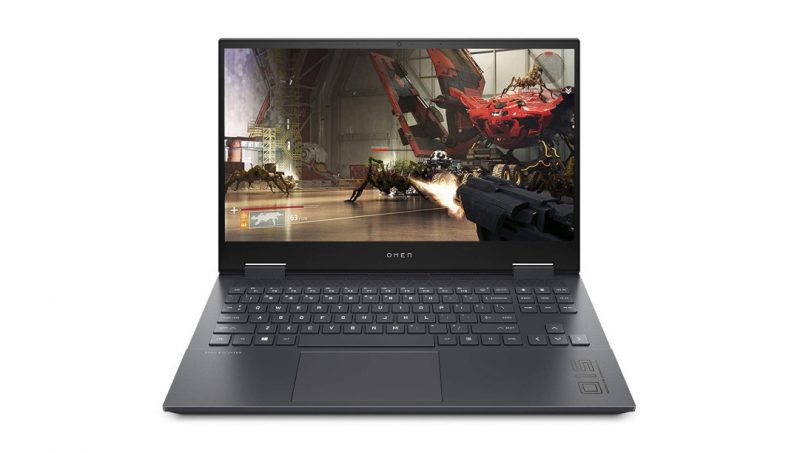 The laptop comes with a 15.6 inch IPS display with a 60 Hz refresh rate, 250 nits brightness, and 45% NTSC color gamut.
There is 8 GB of DDR4 Ram (3200 MHz), 512 GB of NVMe SSD and it runs on the Windows 10 Home edition.
It weighs 2.35 Kg and comes with a 70.9 Whr battery capacity.
The laptop with model name – 15-en0002AX comes with the Nvidia GTX 1660Ti (6 GB VRAM) and is available for Rs. 92,990 online.
The Nvidia 1660 Ti is an excellent Graphics card and if you are getting a laptop with it under Rs. 100,000, is an incredible deal.
HP OMEN
– 15-ek0018tx (Intel Core i7 10th Gen, and GTX 1650 Ti)

HP Omen 15-ek0018tx will cost you Rs. 100,990. The laptop comes with Intel Core i7-10750H Processor (with a 2.6 GHz base clock and up to 5 GHz Boost, 12 MB L3 cache, 6 cores). This is a big upgrade in comparison to the earlier two models that came with Quad-Core Intel Core 5 processor.

There is 8 GB DDR4 RAM will ensure the system does not falter in multi-tasking.

The Nvidia Geforce 1650 Ti with 4 GB (GDDR6) dedicated VRAM makes sure that you can easily run Battlefield 1, Wither 3, or the GTA 5 with ease.

The laptop comes with 1 TB PCIe, NVMe SSD, and has the same display, battery capacity, and other details as the above-mentioned two models.

Thoughts: The presence of Intel Core i7 ensures that you get everything done faster than the i5 model, including a tiny boost in FPS.

For gaming, you won't find too much increase in performance but if you are a creator (video editing, photoshop, other adobe products) will see a significant boost in performance.

Also, for compiling large code or programming you may find the 6 core Intel i7 is a better option.
HP OMEN – Ryzen 5800H, RTX 3060 (15-en1036AX) – Recommended
Price – Rs. 1,19,900
This is the latest model of HP Omen and we highly recommend this machine over the other models.
This model comes loaded with the 5th gen AMD Ryzen 7 5800H. It clocks at 3.6 GHz and can boost up to 4.4 GHz. It has 8 cores and 16 threads with 16 MB L3 cache memory.
Further, it pairs 16 GB DDR4 SDRAM with 3200 MHz frequency. For storage, it has TB PCIe NVMe TLC M.2 SSD.
Furthermore, we are getting a 15.6-inch FHD+ display with a 144 Hz refresh rate and 72% NTSC color gamut that is excellent for gaming and content creation.
To carry out graphical intuitive tasks, it packs a dedicated Nvidia GeForce RTX 3060 GPU with 6 GB GDDR6 VRAM.
The RTX 3060 is pretty close to the RTX 2070 and in this price range, this is an excellent offering from HP India.
HP OMEN – Ryzen 5800H, RTX 3070, 165 Hz Refresh Rate – Recommended
Price Rs. 167,990
Also, there is another excellent option available for a slightly higher price. The ultimate Omen 15 with the RTX 3070 (8 GB GDDR6 VRAM).
It runs on the same processor as the above-mentioned machine (AMD Ryzen 5800H, and offers incredible performance for both gaming and content creation.
The display on this machine is also much better than all of the above Notebooks. It has a 15.6-inch QHD(2560 x 1440) IPS, Anti-glare Display, and also has a 72% NTSC Color gamut and above all a 165 Hz Refresh Rate.
The panel is bright and offers a 300 Nits brightness and also has a 3ms response time.
The laptop comes with a 70.9 WHr Battery capacity that is sufficient to last for more than 6 hours.
HP OMEN – 11th Gen i7-11800H, RTX 3070 (16-b0370TX)
Price – Rs. 1,79,999
We get this model loaded with the advanced and powerful Intel 11th gen Core i7-11800H processor.
It clocks at 2.30 GHz and can boost up to 4.6 GHz. Also, it has 8 cores and 16 threads architecture with 24 MB L3 cache memory.
The laptop comes with the same QHD display (2560*1440) pixels, 165 Hz, 100% DCPI Color Gamut, and a 3 ms response time.
On the graphics side, it comes with the latest and most powerful Nvidia RTX 3070 GPU (Max-Q) with 8 GB VRAM.
Further, it pairs 16 GB DDR4 (3200 MHz) RAM and 1 TB NVMe PCIe SSD storage. Also, the Notebook has a massive 80 Whr battery that can easily last for 6 to 7 hours for general purpose usage.