Latest Microsoft Surface Laptops and Tablets – Buying Guide and Advice
Microsoft has launched the following new devices in India recently with Windows 10 Pro.
Microsoft Surface Go 2 (Surface Tablet)

MS Surface Laptop Go

Microsoft Surface Book 3 (Convertible Notebook)

Microsoft Surface Laptop 4 (Latest Edition)
The devices are built to offer versatility, portability, and speed. These new additions will allow users to be more productive.
The gadgets are intended for students and professionals working from home due to the pandemic.
Let's check the specification, price, and availability details for newly launched Surface books.
Microsoft Surface Laptop Go (12.4 Inches):
Microsoft has added a new model to the Surface lineup by launching Microsoft Surface Laptop Go in India. The laptop comes with a non-detachable keyboard unlike, that of the Surface Go tablets.
It is the lightest and most affordable Surface laptop.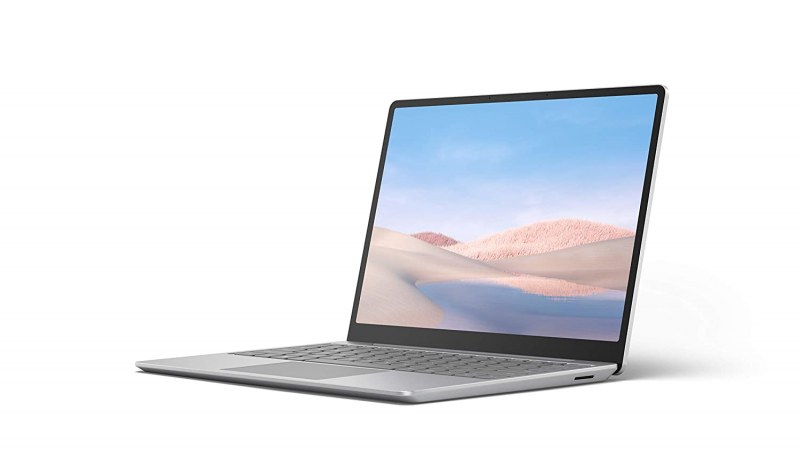 Specification details of Surface Laptop Go:
The Surface Laptop Go sports a 12.4 inches touchscreen PixelSense Display with 1536 * 1024 pixels resolution. It has a 3:2 screen ratio. It runs on Windows 10 Home (S-Mode) OS.
Powering the laptop is a 10th Gen Intel Core i5-1035G1 processor – 4 cores/8 threads with a maximum turbo frequency of 3.60 Hz. It has been loaded with an integrated GPU. 
The device arrives with up to 16 GB LPDDR4X RAM and up to 256 GB SSD storage. It has a full-size non-backlit keyboard. The Surface Go laptop supports fast charging, and the battery claims to last up to 13 hours on a single charge.
Moreover, it includes a 720p HD (f/2.0) web camera, OmniSonic speakers with Dolby Audio, and one Touch sign-in with fingerprint reader power button. However, the base model does not support a fingerprint sensor.
The ports include – USB Type-C, USB Type-A, 3.5 mm headphone jack, and a Surface connect port. It supports Wi-Fi 6 and Bluetooth 5.0 LE.
The lightest Microsoft laptop weighs only 1.11 kg and has a thickness of 15.69 mm.
The laptop is available in Platinum color with a starting price of INR 63,499 for the base model. You can buy the Surface laptop from online and offline platforms.
It will be available with a no-cost EMI option for up to nine months with INR 8000/month.
Price Summary:

8 GB RAM/ 128 GB storage – INR 85,199

8 GB RAM/ 256 GB storage – INR 92,999

16 GB RAM/ 256 GB storage – INR 1,10,999
Microsoft Surface Go 2 (Tablet – 10.5 Inch)
We don't have much choice when it comes to high-end tablets. Either you can buy the iPad (iPad Os) or the Samsung Galaxy Tab (Android). The Microsoft Surface Go 2 brings more choices to consumers looking for tablets to runs on Windows.
The Surface Go 2 comes with Windows 10 S Mode. The S-Mode offers heightened security but comes with some limitations, like using Windows Powershell or installing third-party apps that are not available in the Microsoft Windows Store.
The Surface Go 2 has a similar design as its predecessor, although the new model comes with slim bezels.
The full HD PixelSense display measures 10.5 inches with 1920 * 1280 Pixels resolution and a 3:2 aspect ratio. The 3:2 aspect ratio is excellent for working on Microsoft Office Apps.
The tablet comes with options for Intel Pentium Gold 4425Y chipset OR the 8th gen Intel Core M3 processor at the processor side. This is not comparable to the iPad Air's A14 that can blow socks off these Intel processors.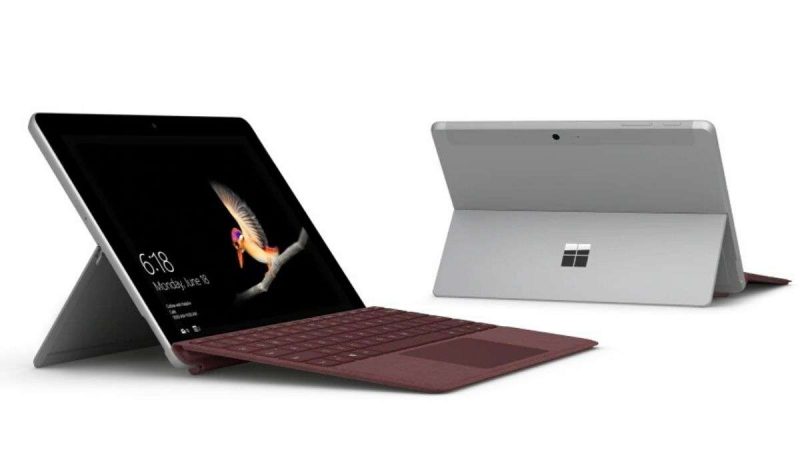 You can buy it with either 4GB or 8GB RAM, and storage options are 64 GB or 128 GB. The storage expansion up to 1 TB is possible with a microSD card slot.
The battery claims to work for up to 10 hours and up to 64% enhanced execution on the top variant.
The tablet has a 5 MP front camera that you can use for video calls.
The surface tablet comes with an 8 MP rear camera ideal for imaging and comes with a special App that enables scanning documents.
The product is paired with a Surface Pen that is ideal for creative professionals or even writing notes.
It has 2W stereo speakers with Dolby Audio premium support.
The Surface Go 2 weighs 544 g without the keyboard cover.
The Type Cover and accessories are personalized with Black, Platinum, Poppy Red, and Ice Blue.
Pricing for Surface Go 2:
| | | |
| --- | --- | --- |
| Price | RAM / Storage | Processor |
| ₹ 42,999 | 4 GB / 64 GB | Intel Pentium Gold 4425Y |
| ₹ 47,999 | 4 GB / 64 GB | Intel Core M3 |
| ₹ 42,999 | 8 GB / 128 GB | Intel Pentium Gold 4425Y |
| ₹ 63,499 | 8 GB / 128 GB | Intel Core M3 |
According to the company's official website, the Surface Go 2 will be available from online retailers like Amazon, Flipkart, and Paytm Mall.
Also, Read About – Top 10 Tablets that Are Worth Buying 
Microsoft Surface Laptop 4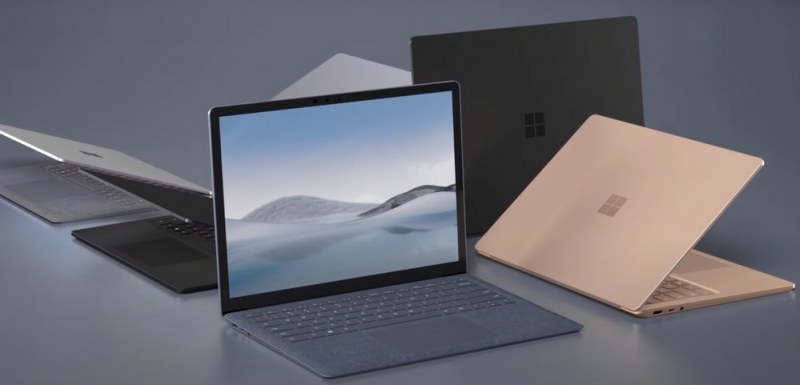 After a month of global launch, Microsoft has launched the Microsoft Laptop Surface 4 in India.
The design of the Notebook is similar to the previous version and it is available in Platinum and Black colors with Alcantara or Metallic build.
There are two models offered by the company – 13.5 inches and 15 inches with a 3:2 PixelSense touchscreen display.
The firm states that the smaller model has productivity and portability, whereas the 15 inch is good for multi-tasking.
The latest Microsoft laptop comes with two processor configuration:
Intel 11th Gen Core i5-1135G7 – clocks at 2.40 GHz and has a maximum frequency of 4.20 GHz. It has 4 cores and 8 threads with 8 MB cache memory and is based on the 10 nm SuperFin manufacturing process.
The 13.5-inch model is available with a Tiger Lake processor and has a starting price of INR 1,51,999.
AMD Ryzen 4000 series offers two models with Ryzen 5 4680U – 2.1 GHz base clock and 4.0 GHz maximum turbo boost. It has 6 cores and 12 threads. This model is available with a starting price of INR 1,02,999 (13.5 inches).
Another, Ryzen 7 4980U clocks at 2.0 GHz and can be boosted up to 4.4 GHz and has 8 cores/ 16 threads.
This particular variant is available in India with a starting price tag of INR 1,34999 (15 inches).
These processors are manufactured on the 7nm process based on the Renoir architecture. These chipsets are specially built for thin and light laptops.
Furthermore, the laptops are backed by Radeon Graphics for handling graphic-intensive tasks.
Moreover, you can buy the Surface Book with up to 16 GB of RAM and up to 512 GB of SSD storage.
It has Omnisonic speakers supported by Dolby Atmos.
Additionally, there is a microphone array and an HD front webcam with low-light capability.
We have got a standard backlit keyboard with a large trackpad.
The Notebook also supports Windows Hello Face authentication.
For connectivity, it supports WiFi 6 and Bluetooth v5. The port section includes USB Type-C, USB Type-A, and a 3.5 mm headphone jack.
The Intel variant is claimed to deliver 17 hours of battery life, however, the AMD version is said to deliver 19 hours of battery life but in practical usage, we may not get more than 10 hours from both variants.
The Microsoft Surface Laptop 4 is available online as well as offline.
Which Surface Book 4 To Buy?
The Intel i5 model is expensive but comes with 16 Gigs of Ram, but considering the higher price, I will suggest you opt for the AMD Ryzen models that offer excellent performance and are also cheaper.
You can buy the 13.5-inch model if you need more portability (1.26 Kg weight) and want to do lighter tasks.
The 15-inch model is best suited for heavy workloads, but considering the bigger display, it's not too heavy (1.54 Kg).
Buy from Amazon (Intel i5 11th Gen)
Check Price Amazon (Ryzen 4680U Model)
Buy from Amazon (Ryzen 4980U Model)
Microsoft Surface Book 3 (13.5 and 15 Inch Laptop):
Surface Book 3 comes with a detachable 2-in-1 form factor. The Notebook is available in two different sizes of 13.5 inches and 15 inches.
The 15-inch version comes with a dedicated GPU and is ideal for content creators and professionals needing more computing muscle.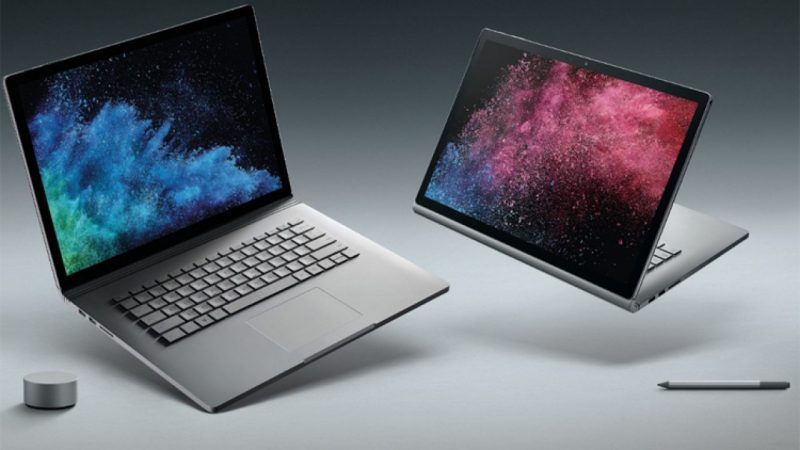 The device is designed for professionals and developers.
The thin and light laptop is configured with 10th gen Intel Quad Core i5-1035G7 or Core i7-1065G7 processor chipset. It runs on Windows 10 Pro and comes preloaded with Microsoft 365 apps.
The 13.5-inch model comes with the NVIDIA GTX 1650 or the GTX 1660 Ti.
The 15 inches model offers up to Quadro RTX 3000 graphics card.
Microsoft claims that Surface Book 3 gives 50% more performance than its predecessor.
Aforementioned, the laptop comes with 13.5 inches or 15 inches high DPI Full HD PixelSense display.
The 13.5 inches model has 3000 * 2000 pixels resolution, while the high variant boasts 3240 * 2160 pixels resolution.
The battery life for the 13.5-inch form is up to 15.5 hours, and it weighs 1.64 kg. The 15-inch model claims to have a lifespan of up to 17.5 hours and measures 1.9 kg of weight.
We can configure the Surface Book 3  up to 32 GB ram and storage up to 1 TB Nvme SSD.
The ports for both the models include 2 * USB 3.1 Gen 2 Type-A, 2 * Surface connect ports, USB 3.1 Gen 2 Type-C.
The machines feature a 5 MP front camera and an 8 MP rear camera with a field stereo microphone.
Pricing for Microsoft Surface Book:
RAM / Storage

GPU
Price

13.5 inches model

8 GB / 256 GB ( Core i5)

GTX 1650
₹ 1,56,299

16 GB / 256 GB (Core i7)

GTX 1650
₹ 1,95899

32 GB/ 512 GB (Core i7)

GTX 1650
₹ 2,37,199

32 GB/ 1 TB (Core i7)

GTX 1650

₹ 2,59,299

15 inches  model (Core i7)

16 GB / 256 GB

GTX 1660 Ti
₹  2,20,399

32 GB/ 512 GB

GTX 1660 Ti

₹  2,66,499

32 GB / 1 TB

GTX 1660 Ti

₹ 2,86,199

32 GB/ 512 GB

Quadro RTX

₹ 3,21,899

32 GB/ 1 TB

Quadro RTX

₹ 3,40,399
Undoubtedly, the Surface Book is an excellent machine. One of the finest Windows laptops that you can purchase and rivals the Dell XPS series.
However, the pricing for the new Surface Book looks ridiculously high in India. Even in comparison to the Apple Macbook Air and Pro M1 that comes with the new cutting edge Apple silicon chip.
The Microsoft Surface Book 3 is meant for content creators and comes with 16 gigs of Ram and Nvidia GeForce GTX 1660 Ti Max-Q, Intel Core i7 processor.
Also Read:
Microsoft Surface Mobile – Dual Screen, SD 855, 6 GB RAM (Next Level)
7 Best Business Laptops for Office Work And Coding (2021)
Latest Dell XPS Laptops – 13, 15,17 (2020) – Specs, Price, Features, Buying Advice
Latest HP Envy Laptops (13, 15 Inch)- Intel Core i5, Core i7, Ryzen)
Written By – Heena Makwana and Edited By Kanuj Sharma