Mobile Processor Benchmarks – Antutu and GeekBenchMark Comparison
Antutu and Geekbench are the most commonly used benchmarks and we have benchmarked all modern mobile processors to have a relative performance comparison.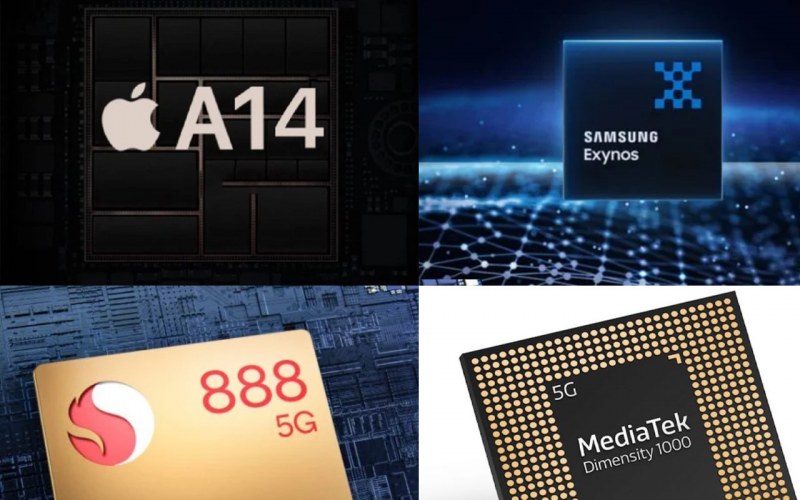 Why Should You refer to Benchmark Scores?
Benchmarks are an excellent way to have a relative performance measurement of mobile processors.
When buying a new smartphone we check various things like a battery, camera, processor, ram, etc. Another thing we must check while purchasing a phone is processor benchmark scores.
Because the overall performance of the phone mainly depends on the processor and amount of Ram.
Beyond 6 GB ram, you may not see much benefit but a faster processor means that the mobile will not get outdated soon.
Typically, battery life or performance are two major reasons that force users to upgrade to a new phone. The battery can be replaced but performance on mobile can't be enhanced.
So before buying a phone always look at the performance and ensure you are getting a fast phone.
Antutu Benchmark
Antutu benchmark is a tool that allows you to check the overall performance of your device. Antutu Benchmark measures the CPU as well as the GPU performance of the phone.
Finally, after running the benchmark we get a final score that tells us about the relative performance (combined for CPU as well as GPU ) for the smartphone.
Geek Benchmark
Geek Benchmark offers two different scores – Single Core and Multi-Core. The single-core performance tells us how the processor does in tasks that use a single core of the processor.
Modern processors have 4,6, or 8 cores and the multi-core test shows us the performance of the processor when it uses all its cores.
Faster Single-Core scores indicate how snappy the processor is and the multi-core scores showcase the ability of the processor to do multiple tasks at the same time.
There are several processors in the market from different manufacturers into three categories:
High-end
Mid-Range
Low-End
Let's get started with a High-end processor:
High-End Processors
Top of the line flagship processors that you will find in Android or iOS phones offering blazing fast performance.
Some of the fastest Processors in the World Currently:
Apple A14 – A14 chipset is the latest and most powerful processor launched by Apple. It is fabricated on a 5nm process and offers unmatched power and efficiency. The A14 chipset is 16% faster than its previous version and can be featured in the iPhone 12 series.
Apple makes custom processors for the iPhones and is based on the ARM architecture. They use bigger caches and are expensive made from cutting edge manufacturing process that is usually a cycle ahead of the Snapdragon or Exynos processors.
Qualcomm Snapdragon 888 – The best and the fastest processors for Android mobiles are made by Qualcomm. Recently, Qualcomm launched its powerful Snapdragon 888 processor fabricated with a 5 Nm process.
Samsung Exynos 2100 – Exynos 2100 is giving a tough fight to Qualcomm's topmost Snapdragon 888 chipset. The Exynos also uses the same 5nm process. It will launch on 12 January 2021 by Samsung and will be used in the S21 Series along with the SD 888.
Dimensity 1000 – Dimensity 1000 is a powerful processor fabricated on a 7nm chipset by MediaTek. It is not exactly in the same class as the above 3 but is still a fast processor and worth mentioning. It is featured in Xiaomi phones like Redmi Note 10.
On 20 January 2021, MediaTek launched its two powerful processors that are MediaTek Dimensity 1100 and MediaTek Dimensity 1200 processors for the next-gen 5G phones. Below are some of the key highlights and details for these processors.
MediaTek Dimensity 1200
MediaTek Dimensity 1200 is the most powerful processor among all MediaTek processors which is fabricated on a 6nm chipset. Soon, we will be going to see this processor in Realme X9 Pro and some other upcoming smartphones.
MediaTek Dimensity 1100
Like its big brother(Dimensity 1200), It is also a powerful processor fabricated on a 6nm chipset but in the performance, the Dimensity 1100 is slightly week than the Dimensity 1200 processor. We also going to see this processor in some upcoming smartphones.
Hisilicon Kirin 9000
Hisilicon surprised the world by launching its flagship Kirin 9000 processor which is fabricated on a 5nm chipset, We may see this powerful processor in upcoming phones. It is the most powerful processor launched by Hisilicon ever.
Ranking of Mid-End Processors according to their Geekbench score(Single-core):
Apple A14 – 1602
Apple A13 – 1355
Qualcomm Snapdragon 888 – 1136
Exynos 2100 – 1109
HiSilicon Kirin 990 – 777
Apple A14 leads the charts when it comes to Single-Core performance. Even the A13 that was used in the iPhone 11 is ahead of all other processors.
Samsung Exynos and SD 888 are very close together, whereas Huawei needs to do some catching to get into the same league as the biggies.
GeekBench Single-Core Score High-End Processors
GeekBench Multi-Core Score High-End Processors
The A14 also dominates the Multi-Core benchmarks but the gap is very less when compared to the SD 888 or the Exynos 2100. The Apple A13 and the Snapdragon 865 is also not far behind.
Antutu Benchmark Scores for High-End Processors
The Antutu benchmark paints a bit of a different story than what we have seen with the Geekbenchmark. The Snapdragon 888 and the Exynos 2100 leads the charts and are way ahead of the Apple A14.
Mid Range Processors
Let's check out the Mid-range processors that are excellent for gaming, multi-tasking, and are crazy fast.
Snapdragon 765 – Among Mid-Range processors, The Snapdragon 765 is the most powerful processor fabricated on a 7nm chipset its clock speed is 2.3GHz. The Snapdragon 765 is featured in Oneplus Nord, Vivo X50 series, Vivo V20 Pro, and some more phones.
Qualcomm has an excellent line-up of Mid-Range processors Snapdragon 750G/720G/730/845. But MediaTek Dimensity 720 is also following Qualcomm with less difference.
Dimensity 720 – Dimensity 720 octa-core processor fabricated on a 7nm chipset providing 2GHz clock speed. The Dimensity 720 Processor is featured in a smartphone-like Realme V5, Oppo A72 and many more phones use this processor.
In the Mid-Range currently, Qualcomm and MediaTek are ruling and most phones sold in the market have either of the two processors.
The Top 5 Mid-Range Processor according to their Geekbench 5 score(Single-core):
Snapdragon 765 – 673
Snapdragon 750G – 622
Snapdragon 730 – 544
Snapdragon 720G – 571
Dimensity 720 – 519
GeekBench Single-Core Score Mid-Range Processors
GeekBench Multi-Core Score Mid-Range Processors
The SD 765G leads the charts for multi-core performance, followed by SD 750G, SD 730, Dimnesity 720, and Helio G90.
Antutu Benchmark Scores for Mid-Range Processors
In Antutu Benchmarks as well, the SD 765 shines ahead of rivals followed by the MediaTek Helio G95 that offers excellent graphics performance.
Entry Level Processors
The Entry Level Processors are basically used for budget or affordable phones. According to the given graph, we see that the performance of the Exynos 9611 and Helio G85 processor is the best among all.
Helio G85 – Helio G85 featured in Vivo Y17, Oppo A31, Motorola G8 Power Lite like smartphones. The processor is fabricated on a 12nm chipset. It is a 2.3GHz octa-core processor.
Exynos 9611 – With the negligible difference with Helio G85, the Exynos 9611 is also the best Entry level processor with a 2.3GHz clock speed. It is fabricated using the 10 Nm process.
In the Entry Level Processors, there are other chipsets is also present like Snapdragon 460, Helio P35, Snapdragon 439, and Helio P22.
The ranking of the according to their Geekbench score(Single-core):
Helio G85 – 361
Exynos 9611 – 332
Snapdragon 460 – 255
Snapdragon 439 – 177
Helio P35 – 170
GeekBench Single-Core Score Entry Level Processors
GeekBench Multi-Core Score Entry Level Processors
In the multi-core performance, the SD 460 leads the charts along with the Helio G85 and the Exynos 9611.
Antutu Benchmark Scores for Entry Level Processors
In the Antutu Benchmarks, the Helio G85 leads, followed by the Exynos 9611 and the Snapdragon 660.
So that's all about the processor benchmarks, and if you have any observations or suggestions then you can share them with me in the comments below.
Overall Processor Market Share
Overall – MediaTek sells the highest number of Processors in the world and has a 31% market share. Qualcomm has a 29% market share, followed by Samsung, Apple, and HiSilicon – each having 12% of the slice.
*Mobile Processors Market Share Data is based on Counterpoint research Q3 2020 data. 
| | |
| --- | --- |
| Company | Share |
| Apple | 12% |
| Qualcomm | 29% |
| Samsung | 12% |
| MediaTek | 31% |
| HiSilicon | 12% |
| Unisoc | 4% |
Co-Author – Ayush Sharma
Also, Read: 
Apple M1 Vs Intel 11th Gen Vs AMD Ryzen 4000 (Laptops Processors Comparison)
Snapdragon 888 Vs SD 865 Vs A14 Vs Exynos 2100 – Comparison (Specs, Benchmarks, Speed)
Snapdragon 865 Vs 855 Plus Vs 855 Vs 845 Vs A12 Vs A13 Vs Kirin 980 Vs 990 (Benchmarks)