The Nvidia GTX 1060 was unveiled by Nvidia hurriedly on 7th July 2016. The best part of the new graphics card is the India Price Rs. 22,900 (Zotac Mini GTX 1060). Nvidia has shared the price of the graphics card on the Nvidia India Facebook page and so it is a confirmed news that it is priced cheaper than the AMD RX 480 (4GB version) (priced at Rs. 24999 in India). 
The Graphics card comes as the mid-tier gaming solution and will compete with the AMD RX 480. As per Nvidia press release information it is 10 to 15% faster compared to the AMD RX 480. Globally the Nvidia GTX 1060 is priced at $230 to $249 ( Rs. 16000) in US and other countries. Read Detailed Review – Review Galax Nvidia GTX 1060 EXOC : Superb Performer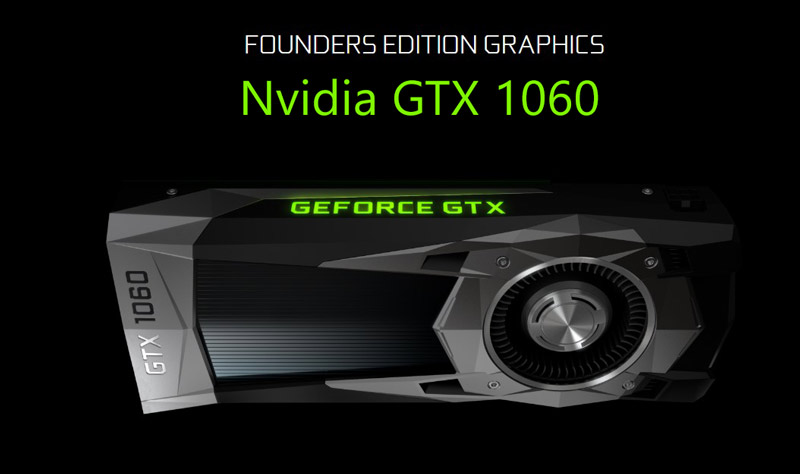 The pricing is not competitive in India when compared to US but reasonably better when compared to the AMD RX 480 price in India.
Nvidia has done better this time for the pricing what we were expecting from AMD at the RX 480 launch . AMD disappointed Indian PC Gamers with the astronomical price tag.
They reduced the price by Rs. 2,000 after a lot of hue and cry and we also sent email to AMD on India pricing.  AMD RX 480 went on sale on 29 June 2016 and Nvidia did not waited long to share the news about the GTX 1060.
It is a brilliant strategy by Jen Hsun Huang, to unveil it as early as possible.  Many Gamer's would go with the Nvidia card over the AMD at least in India, considering price difference.
The Nvidia GTX 1060 is based on the Pascal architecture similar to the Nvidia GTX 1080 and the GTX 1070 graphics cards. It is manufactured from 16nm manufacturing process. The GPU is actually smaller compared to the GTX 1070 and uses the GP 106 architecture compared to the GP 104 used in the GTX 1070.
The Nvidia GTX 1060 comes with 1,280 CUDA cores (half the number of the GTX 1080), a boosted clock speed of 1.7 GHz and as per my conversation with Nvidia India they have stated it can easily overclock above 2.0 GHz which looks impressive.
The Graphics card have 6 GB of GDDR5 memory  which comes with 192 Bit of memory bus and a resulting 8 GB /s of memory bandwidth.
The Nvidia GTX 1060 has a very low 120W TDP and comes with a single 6 pin connector. Nvidia has recommended a 400 Watts quality power supply which will be sufficient to run the GTX 1060. On the safer side a 500 Watts will be an ideal scenario. Gone are the days when PC gamers use to buy the 700 Watts PSU to run the AMD R9 290X for the same performance.
The GTX 1060 has  five display outputs: HDMI, DVI, and a trio of DisplayPorts. Stats aside the graphics card promises to meet the performance target of the Nvidia GTX 980 which is an insanely fast GPU.
The Graphics card comes with a base clock of 1506 and a boost clock of 1708. The graphics card comes with support for the Vulcan API as well as the DirectX 12.
The graphics card promises a VR ready gaming experience and if you are planning to add a VR headset to your gaming RIG in near future it can be a really companion.
KEY Specs Comparison Nvidia GTX 1060 Vs 1070 Vs 1080
| Graphics Card | Nvidia GeForce GTX 1080 | Nvidia GeForce GTX 1070 | Nvidia GeForce GTX 1060 |
| --- | --- | --- | --- |
| Graphics Core | GP104 | GP104 | GP106 |
| Manufacturing Process | 16nm FinFET | 16nm FinFET | 16nm FinFET |
| Transistors | 7.2 Billion | 7.2 Billion | TBD |
| Base Clock | 1607 MHz | 1506 MHz | 1506 MHz |
| Boost Clock | 1733 MHz | 1683 MHz | 1708 MHz |
| FP32 Compute | 9.0 TFLOPs | 6.5 TFLOPs | TBD |
| CUDA Cores | 2560 CUDA Cores | 1920 CUDA Cores | 1280 CUDA Cores |
| VRAM | 8GB GDDR5X | 8GB GDDR5 | 6GB GDDR5 |
| Bus Interface | 256-bit bus | 256-bit bus | 192-bit bus |
| Power Connector | Single 8-Pin Power | Single 8-Pin Power | Single 6-Pin Power |
| TDP | 180W | 150W | 120W |
| India Launch Date | 10th June 2016 | 10th June 2016 | 19th July 2016 |
| Launch Price | Rs. 63250 | Rs 40800 | Rs 23000 |
Update 25-July 2016
Nvidia has launched the new Nvidia GTX 1060 graphics card on 19th July 2016 in India and the card is now available for purchase. Nvidia promised that the graphics card will be as fast as the GTX 980 and the benchmark results show that it is nearly as fast as the GTX 980 in most gaming titles. It is a good thing to keep promises.
The Graphics card is significantly faster when compared to the Nvidia GTX 970 and more importantly when compared to the AMD RX 480.
Gaming Benchmarks Nvidia GTX 1060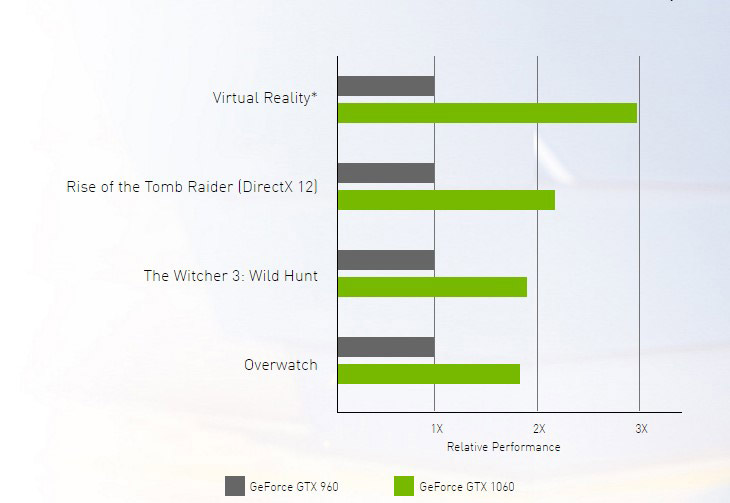 The early benchmark performance for the Nvidia GTX 1060 suggests that the graphics card is 3X faster than the GTX 960 in the VR performance while it is 2X faster than the GTX 960 in the gaming performance in Tomb Raider and close to 2X in the Witcher 3 and Overwatch.
Gaming Benchmark Nvidia GTX 1060 and AMD RX 480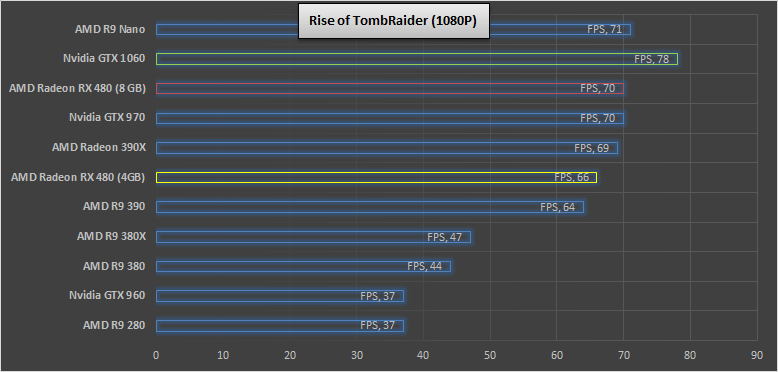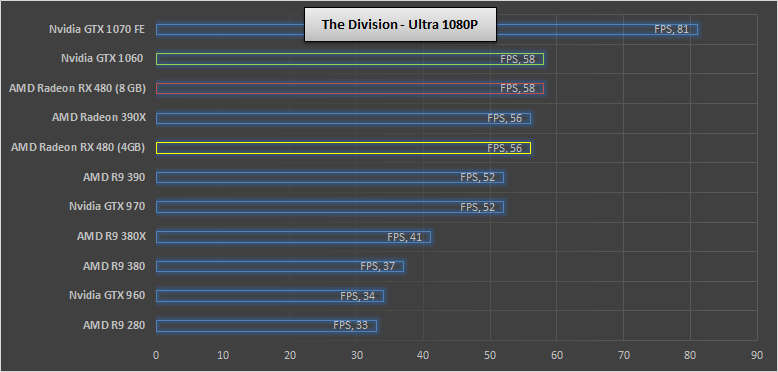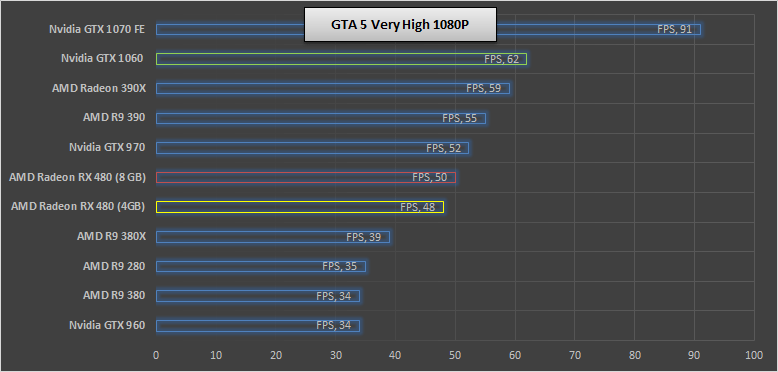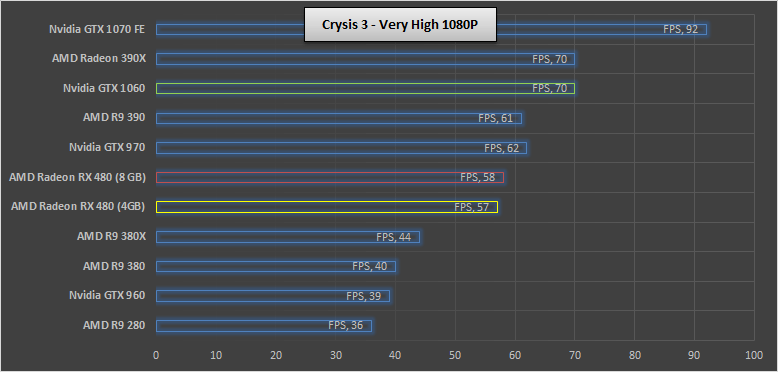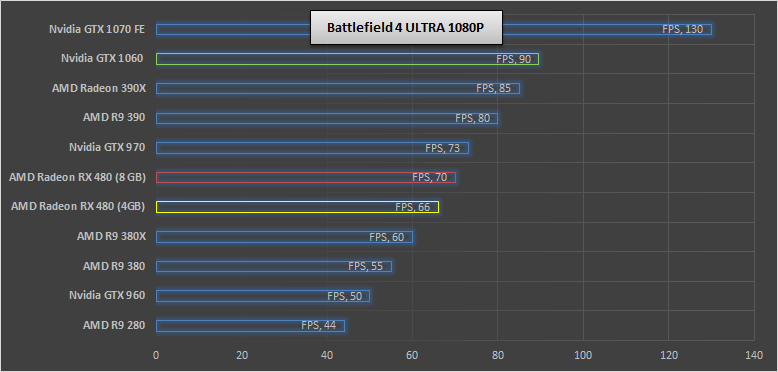 Data Source – hardware Canucks, Techpowerup, Tomshardware, Pc perspective. 
The early benchmarks show that the Nvidia GTX 1060 is about 10% faster compared to the AMD RX 480 , which is a good thing for the Nvidia GTX 1060.
The concern areas are support for SLI which is not there in case of Nvidia GTX 1060. You cannot run it in SLI, Nvidia says the best way to run the mid range GPU's are single card solution and SLI is meant for enthusiast level performance cards. Personally I would buy a single fastest card and think this is a good approach for most Gamers in India. But since when having more choices bad, I don't really understand Nvidia's point to remove support for SLI. The AMD RX 480 offers support for crossfire and the Dual RX 480 are as fast as a single GTX 1080.
DX12 and Vulcan API based Games performance difference RX 480 and Nvidia GTX 1060
With some of the benchmarks showing a lead for the AMD RX 480 (8 GB version) and a possibility that the RX 480 may actually do better in future can be really confusing for Gamers looking to buy the GTX 1060. For now the GTX 1060 is 8-10% faster in the DirectX 11 games and that is a fact and what happens in future , happens in future and we never know how optimized the games and drivers are for AMD and Nvidia when new PC gaming titles come in 2017. Going by the past Nvidia is not going to lose. The tomb raider with DX 12 also proves that the GTX 1060 is quite faster and performs better in the Game.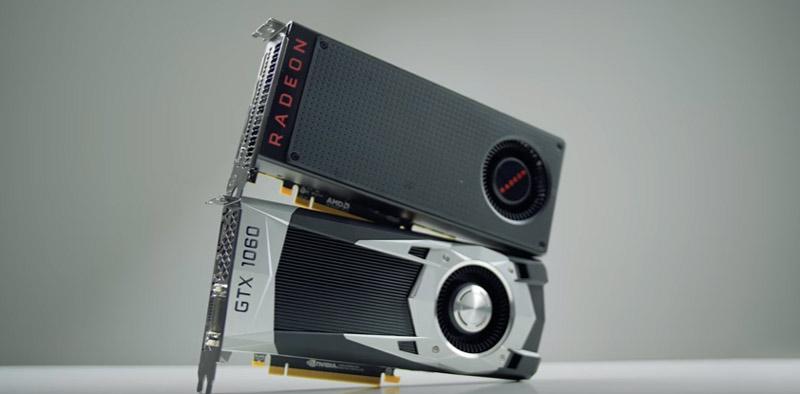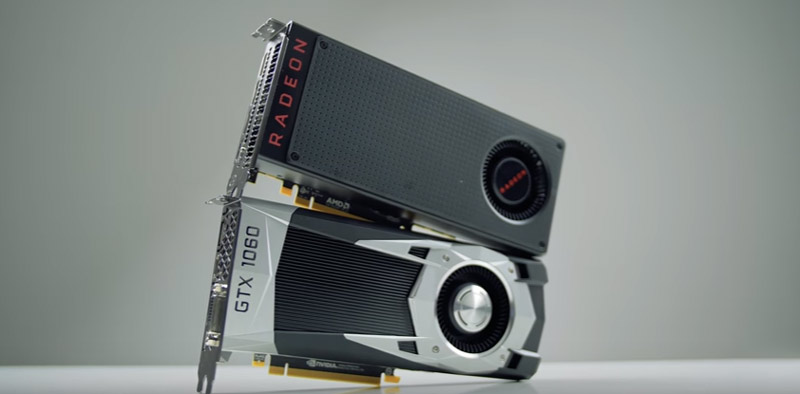 Hitman and Ashes of Singularity ran better on DX 12 with AMD RX 480 when compared to the Nvidia GTX 1060.
Brands for Nvidia GTX 1060 in India 
Zotac Nvidia GTX 1060 – There are 2 cards available from Zotac the Amp Edition and the smaller Zotac Mini. Both are bit short on my expectations but priced low. The Mini being an under-performer and fit for people with small cabinets. The AMP edition as per the early reviews and user feedback runs a bit hot around 80 degree C , I prefer the more expensive better cooled graphics card plus additional room to overclock. Zotac Mini is priced at Rs. 22999 and the Zotac Amp Edition is priced at Rs. 25,999.
Zotac Amp Edition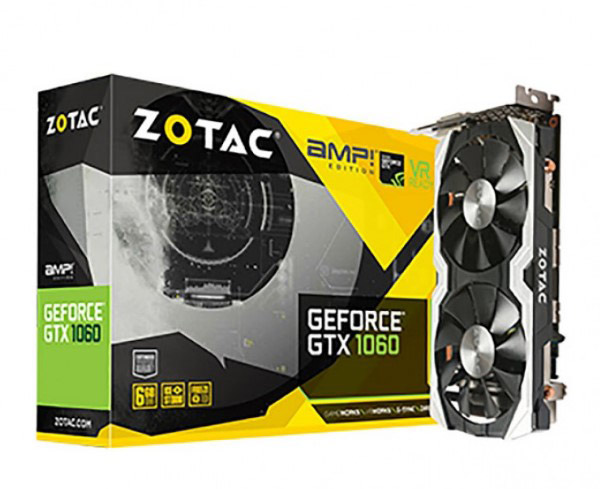 Zotac Mini GTX 1060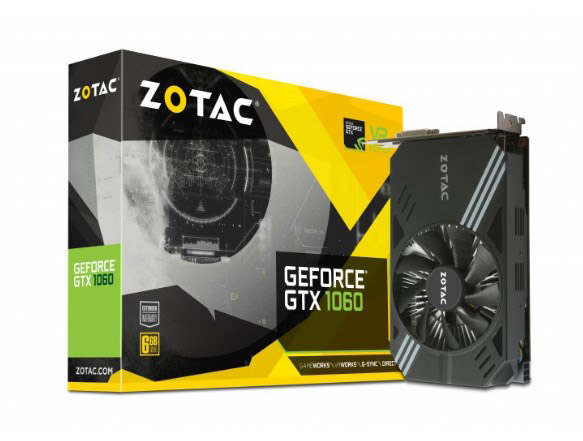 MSI Nvidia GTX 1060
MSI has two graphics cards the MSI Armor with standard sized Cooler and Priced at Rs. 26999. The GPU has a Boost clock of 1759 MHz.  On the other hand there is the MSI Gaming X which comes with larger coolers and is very similar the GTX 1070 they have launched earlier. The graphics card is priced at Rs. 27,300 in the market and has a 1809 MHz (OC Mode). It can easily clock above 2000 MHz and those coolers are capable to run it without getting heated.
MSI Armor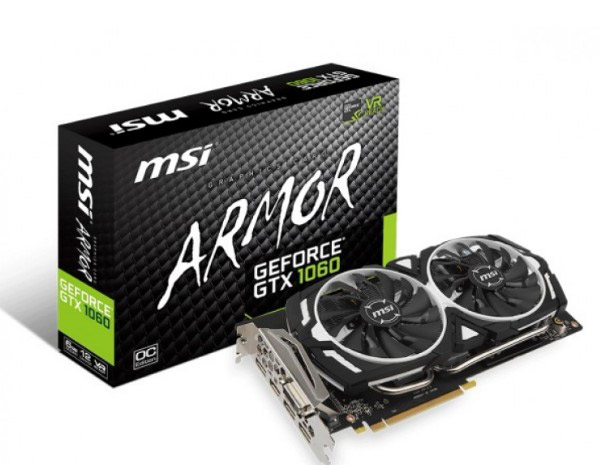 MSI Gaming X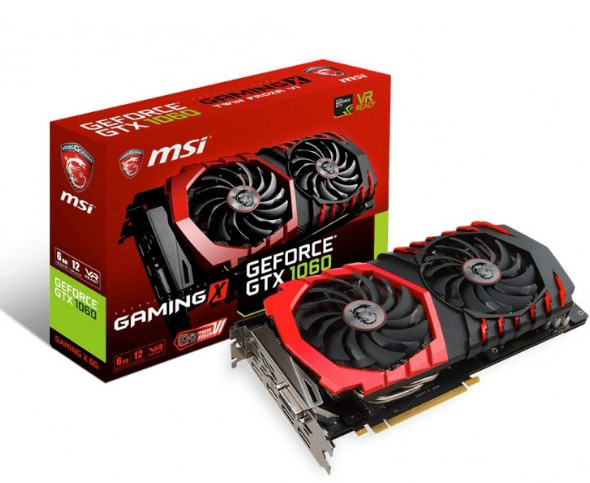 Galax Nvidia GTX 1060 
The Galax card is also quite affordable and as per the media release they have sent us it is priced at Rs. 23600 in India. The graphics card comes with Boost Clock (MHz) 1759.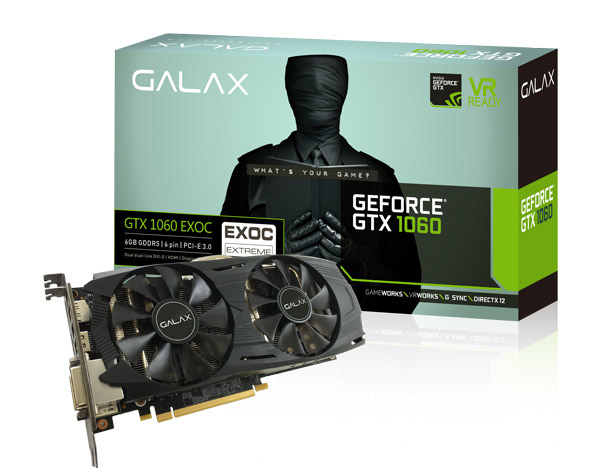 Asus Nvidia GTX 1060
The Asus Nvidia ROG STRIX-GTX1060-6G-GAMING is probably the most expensive of the lot and can set you back by close to Rs. 28,000 as per the initial retail price information.  The availability is yet scarce and may take some time to reach more retail and online stores. The graphics card is quite long and measures 11.73 inches, you may have to check your case dimensions before buying it.
The graphics card has a boost clock of 1746 in the OC mode. Asus is expected to launch more models for the GTX 1060 in the market. We will update the article as they are launched.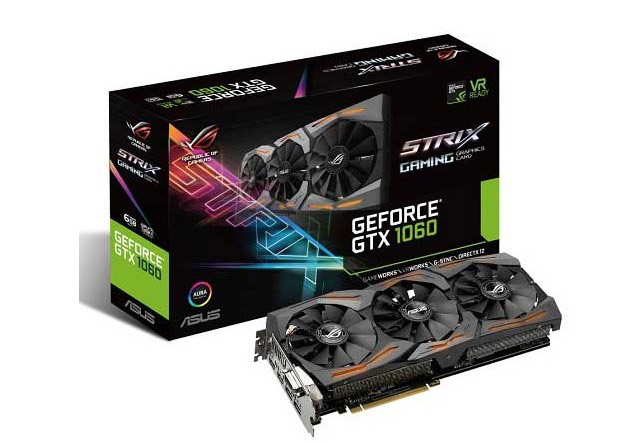 Gigabyte G1 Gaming  Nvidia GTX 1060
Gigabyte is yet to share the retail price for their G1 gaming graphics card but we can expect it to be Rs. 25k to 27k for the Indian market. The graphics card has a very decent boost clock of 1847 Mhz and it comes with an 8 pin connector unlike most GTX 1060 which come with 6 Pin connectors.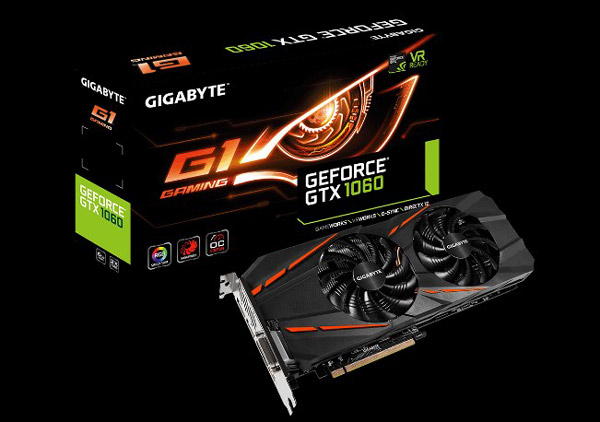 The brand choice for you can vary based on your previous experience with the brand or based on the service that brand offers. The price can also vary if you are buying it in different Geographic regions. Share your thoughts about the brand below or if you have any queries.
Nvidia GTX 1060 Cards initially were priced at 28k to 29k on Amazon, now got a price drop.
Related – AMD RX 480 Gets a Price Cut in India.
WHY Nvidia GTX 1060 Looks a Better Deal than RX 480 In India 
Nvidia GTX 1060 Specs Details Price India – The one major reason is AMD just got the pricing wrong and by a mile in India. They were just selling the RX 480 at a price similar to Nvidia GTX 970 and the RX 480 offers very similar performance when compared to the GTX 970.
The addition of GTX 1060 at a price which is Rs. 3,000 less than the AMD definitely makes Nvidia a winner as far as pricing goes. Nvidia GTX 1060 benchmarks are yet not available but Nvidia has hinted that the Graphics card will be a close match for the Nvidia GTX 980 and will be around 10% faster compared to the AMD RX 480.
Price to Performance is Better Than AMD RX 480 in India
In addition to that it has support for VR-WORKS which is similar to the Nvidia Gameworks program. The graphics card will have better support and performance for many games with optimizations done by game developers aligned to the Gameworks and VR-Works.
AMD RX 480 also get some of the negative reviews for high PCI E power usage and high temperature and noise levels compared to the rivals. AMD may have to re-look at the pricing strategy in India and lower the price further.
Purchase Decision AMD RX 480 and Nvidia GTX 1060 India
It is not an easy call and there is no clear winner as far as both the cards are concerned and their International pricing is considered.
The price difference between both the cards AMD RX 480 (8GB ) and Nvidia GTX 1060 is close to $50 to $70. Most reviewers in US and other markets are recommending to get the RX 480 if you wish something cheaper and the GTX 1060 if you want additional 10% performance and want to pay additional $50 for the card.
Indian pricing scenario is very different and hence my recommendation. I called up some of the key retailers in Lamington road Mumbai to have a pricing comparison for both the cards and here are some of the findings.
The AMD RX 480 8GB version is selling at Rs. 28,000 (Sapphire) while the Nvidia GTX 1060 Zotac Amp Edition is available for Rs. 24,999. The cards from Asus and Gigabyte were not available even the MSI GTX 1060 Gaming X which is priced close to Rs. 27,000 was not available. Likely they will reach the retailers in couple of days.
With the current pricing the Nvidia card available for a lower price , it is difficult to buy the AMD RX 480 even the lure of having an 8 GB VRAM card is strong. But again the GTX 1060 performs better and is cheaper in India currently, and should be considered.
Nvidia is also likely to launch a GTX 1050 , GTX 1060 Ti as well as flagship 1080 Ti in fall this year.
You May Like to Read: 
Related Posts From Candytech