There are several power banks in the market you can choose to buy but if you are looking for a genuine power bank that you can rely on for a longer period of time the Adata PT 100 is a good choice.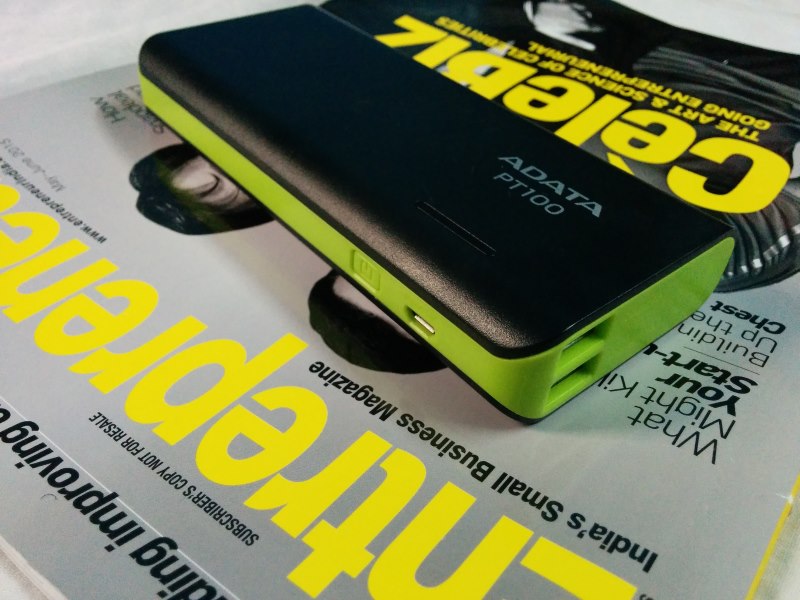 The Power bank has 10,000 mAH capacity and offers quick charging to your smartphone and we observed after using it for 2 weeks that the charge is consistent and is a pretty reliable device.
The Adata PT-100 is currently priced at Rs. 1250 on Flipkart and on some other major e-retailers.
Adata has a much better consistency and overall build quality when it comes to gadgets like SSD and power banks and has a history of the delivery value for money high-performance products.
Adata is a Taiwanese memory and storage manufacturer found in year 2001, by Simon Chen. It has core competency in making DRAM, USB Drivers, Powerbanks, Solid State drives, digital frames and memory cards. It has operations in Europe, Asia and America.
Design and Looks for the Power Bank
The power bank is more rectangular and has a black and green color with blue led light. The power bank is not small in size in fact it is long and measures close to 14 cm the width and height are low compared to some of the other 10,000 mah power banks.
Here are a couple of pics for you to visualize the Power bank better.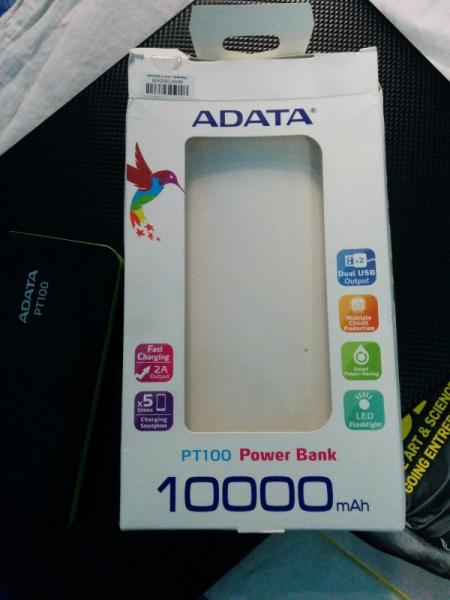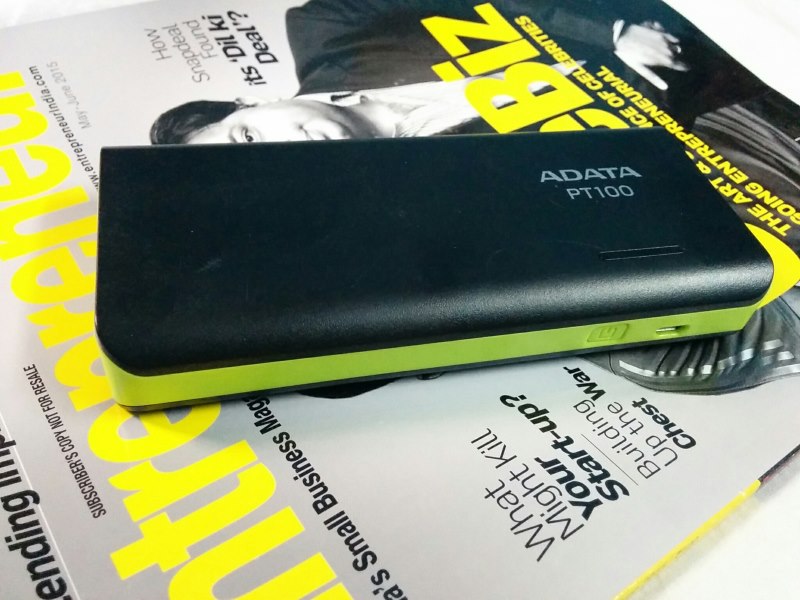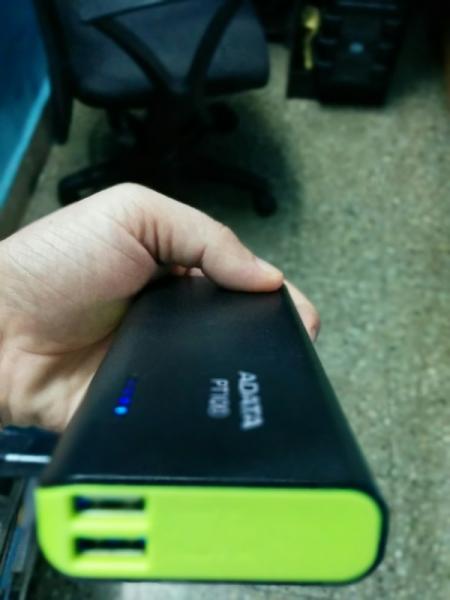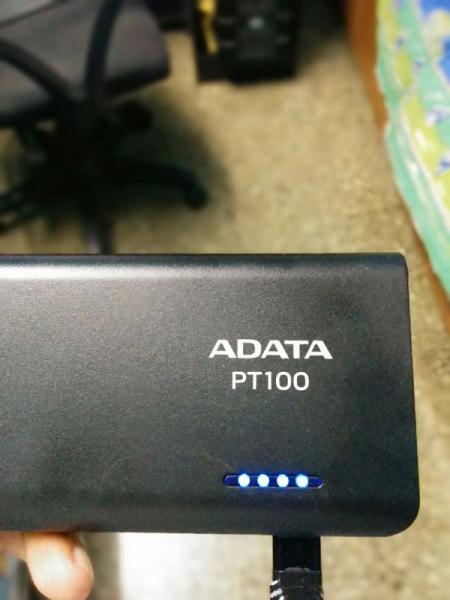 When we opened the packaging we really liked the finish and design of the Adata power bank. It has a no-nonsense clean design and it does what it says.
The PT100 has power on Indicator Led at the top which tells you when the power is on and charging is in progress.
There are 2 USB ports and you can charge two smartphones simultaneously using the Adata PT100, the USB ports have 5V/1A and 5V/2.1 A specifications.
The input port that is required to charge the Adata PT-100 requires a normal 5V/2A charger. The model we used is Adata PB-PT100-BG AD 10000 mAh.
The size of the Power Bank is
140*63*21.5 mm
The weight is 285 grams
The package we got had the power bank, Micro USB cable which is rather short, and a user manual.
Performance Adata PT-100 PowerBank
The power bank takes about 6-9 hours for charging fully we charged 2-3 times and was quite consistent in terms of charging. The Adata Power bank boasts an LED power display that shows you how much power remains in the charging device. This lets you plan ahead and charge the power bank well in advance.
We used it to charge the Google Nexus 5 and a Motorola Moto G 2nd generation and we were able to charge the smartphone 3-4 times once the Power bank had 100% charging.
The performance was pretty good and consistent, there was no sudden loss of charging with the power bank which has been observed with some of the low-cost power banks earlier.
The charging speed is also good it offers fast charging with 2A output and we were able to charge the Google nexus 5 in 2.4 hours from 3% to 100%.
The Dual USB output is quite handy you can use two devices simultaneously, if you have an iPod or a music player you can charge it with your smartphone. The power bank also has a flashlight which can come in handy in case your smartphone is totally out of charge and you need a torch.
The Adata PT 100 comes with multi-circuit protection which helps prevent damage to your smartphone battery by regulating the current and voltage.
The Multiple Charge Protection Offers
Overcharge protection
Over-Discharge Protection
Over Current Protection
Short Circuit Protection
Over-voltage protection
Verdict – Adata 10,000 mAH PowerBank – Should You Buy It
Overall the PT-100 has decent performance and looks good, for those who want to have a great backup for their smartphones can buy it. It is a little bulky for frequent travelers who want a compact power bank otherwise we find the performance at par/better compared with other power banks. Adata also offers a 1-year warranty on the power bank.