Top 10 Two-Wheeler Electric Companies: Go Green – Go Fuel Free
Electric Vehicles are going to be very popular in the near future as petrol prices are skyrocketing and the need for cleaner energy is paramount.
Another major benefit of electric vehicles is the low running cost compared to petrol.  Also, there are minimal moving parts so there is less maintenance required.
For city driving, nearly silent electric two-wheelers are going to be massively popular in the coming years and several companies are already doing R&D in the field and have launched some offerings in the market.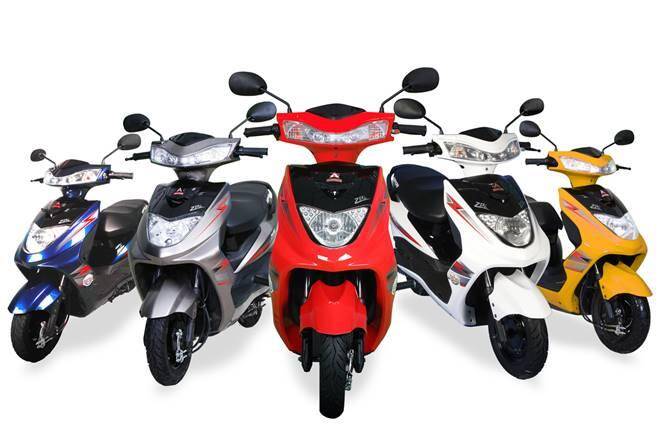 Once there is a shift to electric vehicles we will also see many positive changes in the environment due to the reduction of harmful gases from internal combustion engines.
The Future is Electric !!!
Let's Check out the Top 10 Two-Wheeler Companies that are going to make it big in the next decade.
1) Ather Energy:
Ather Energy is an Indian-based electric vehicle company established in 2013 by Tarun Mehta and Swapnil Jain. Its headquartered in Banglore, Karnataka.
This electric vehicle corporation manufactured two electric scooters – Ather 450X and Ather 450 Plus.
It also organized the electric vehicle charging infrastructure – Ather Grid.
2) Revolt Motors:
Revolt motors is a startup, which was founded by the Indian-based mobile manufacturing company Micromax's co-founder Rahul Sharma. It is headquartered in Gurgaon, Haryana.
The company revealed its first electric bike – RV400 – India's first AI-enabled electric motorcycle.
The firm has a production plant in Manesar, (Gurgaon) which can charge about 1.2 lakh bikes at a time.
3) Bajaj Auto:
It is an Indian multi-national two-wheeler and three-wheeler company established 75 years ago, on 29th November 1945 in Rajasthan.
The founder is an Indian Auto legend – Mr. Jamnalal Bajaj.
The headquarter for Bajaj Auto is in Pune, Maharashtra.
The company launched its first electric scooter Chetak, (named after the iconic Bajaj Chetak from the 90s) on 16th October 2019.
The scooter production started in the Chakan plant in Pune on 25 September 2019.
The electric scooter by Bajaj was initially unveiled in Pune and Banglore in January 2020.
4) Yo-Bykes:  
ElectroTherm Ltd. – the conglomerate becomes the first company to launch the electric bike in India under the brand name – Yobykes.
Mr. Mukesh Bhandari is the founder, Chairman, and CTO of Electotherm.
In 2006, the first electric two-wheeler was introduced by the company. Presently, the company sells four electric two-wheeler models in India – EXl, Xplor, Electron ER, and Spark.
All these scooters are manufactured in the plant located in Gujrat.
5) Ampere:
Ampere is the oldest one in offering battery-based two-wheelers in India. It was founded back in 2008 and is one of the startups by Women entrepreneurs.
The founder of the company is Ms. Hemalatha Annamalai from Tamil Nadu. The company has a headquarter in Coimbatore.
The company has tied up with Greaves Cotton in 2018.
The electric vehicle company mainly manufactures scooters.
The electric two-wheelers available in India are Magnus60, V48, ZealEX, Reo Elite, Magnus, and Reo Plus.
6) TVS Motor Company:
TVS is an Indian multi-national motorcycle company founded in the year 1978.
Its founder is T.V. Sundaram Iyengar, and the headquarters is in Chennai, Tamil Nadu.
TVS Motor is the second largest two-wheeler exporter in India it exports bikes to over 60 countries.
Recently, the company has launched an electric scooter named iQube in New Delhi.
In the future, we can see many new electric models as per the firm.
7) Hero Electric:
Mr. OP Munjal and his brother founded Hero Electric in 1956 in Ludhiana, Punjab.
Hero initially started making bicycles and became the largest bicycle maker in the world.
Gradually, it started Hero MotoCorp – which ruled over India with its bike and scooters.
It is the largest bike manufacturer in India.
In 2000, Hero started producing electric two-wheelers, and in 2007, established Hero Electric as a separate company.
The company has unveiled many two-wheelers – bikes and scooters in India to date.
It is said that in 2021-22, the firm will add 7 new electric scooters.
8) Okinawa Autotech:
Okinawa electric two-wheeler company has a manufacturing plant in Bhiwadi, Haryana.
It was a startup that came into existence in 2015 and the founder is Mr. Jeetender Sharma.
Currently, it operates 74 dealerships and aimed to open 450 over the next three years.
The company manufactures electric scooters and bikes. It launched 6 scooters and planning to reveal 7 new models in India soon.
Some of the known Okinawa bikes are – Okinawa Praise, Ridge Plus, Lite, Dual, R30, and i-Praise.
9) UltraViolette AutoMotive:
UltraViolette is an Indian-based startup electric bike manufacture founded in 2015 by Narayan Subramaniam.  The company is backed up by TVS Motor Company.
The headquarters is in Bengaluru, India, and the brand is an innovator in sustainable mobility and energy infrastructure.
The company launched the Ultraviolette F77 bike, which is said to be the first Indian electric sports bike.
This electric two-wheeler is designed with advanced engineering principles and simulation, batteries, and a multi-level safety system.
10) Gemopai Electric:
The co-founder of this electric two-wheeler company is Mr. Amit Raj Singh and Mr. Kshitij Kumar.
The company came into operation in India in 2018.
Gemopai is a joint venture of Goreen E-mobility and Opai electric – the largest electric vehicle producer in the world.
Besides, the company manufactures electric cycles, scooters, and bikes with Li-ion swappable batteries.
It currently sells three two-wheeler electric vehicles named – Miso, Ryder, and Astrid Lite in India.
11). BMW Motorrad:
BMW is a German Automobile MNC known for making incredible luxury cars and motorcycles. 
The company headquarters is in Munich, Germany. It was founded on 7th March 1916 (almost 105 years ago) by Camilio Castiglioni, Franz Josef Popp, and Karl Rapp. 
The motorcycles are manufactured under the brand named BMW Motorrad. The company has recently stepped forward in electrification and urban mobility by announcing the launch of the BMW CE 04 electric scooter in the Indian market by this year. 
The electric scooter costs $11,800 or close to Rs. 8,00,000 ( you can buy a Maruti Vitara Breeza in this budget). The scooter claims to have 120 km/hr of top speed and a 130 Km range.
The bookings are already started and according to reports nearly 100 customers has pre-booked the electric scooter.
Ola Electric:
Ola Electric Mobility is an Indian electric two-wheeler company. It is located in Tamil Nadu and headquartered in Banglore.
It was founded in March 2019 by Bhavish Aggarwal by buying the parent's company's stake in Ola electric.
The manufacturing setup is located in the Pochampalli town in Krishnagiri district of Tamil Nadu whose construction began in February 2021.
The company has launched its first two-wheeler electric scooter named Ola S1 on 15 August 2021.
There will be two models available in 10 elegant colors – S1 and S1 Pro. The launch price is close to Rs. 1 lakh and there is a strong interest shown by early adopters and enthusiasts for the OLA scooter.
The pre-orders are already started and are being scheduled for delivery for the customers, that are going to pre-order by October 2021.
You can pre-order the Ola electric scooter from the official website of the company – Ola Electric
Simple Energy:



Simple Energy two-wheeler electric scooter company is also an Indian electric vehicle company based in Bengaluru.

The startup was founded by Suhas Rajkumar and incorporated in 2019.

The company has launched its first electric scooter Simple One in India on August 15, 2021. In the first phase of the launch, it will be available in 13 states.

The company said that these electric scooters are manufactured in India, and they will bring high-quality made-in-India products for the people.

Besides, the company also shared details for the charger – Simple loop. It will be a deployed pan India to offer better-charging infrastructure. The company has plans to deploy 300+ charging stations in the country in the coming months.

To make the charging station more convenient and easy to access, Simple Energy is partnering with shopping malls, restaurants, hotels, etc.
The Simple One electric scooter can be pre-booked from the company's official website – Simple Energy   
Thanks for reading the article – Share your thoughts in the comments below and let us know which Electric Scooter you are most excited about?
Also, Check Out
6 Best Drones Worth Buying in India (Legally) | 2021
10 Best Wireless Headphones For Running and WorkOuts (2021)
10 Best Robotic Vacuum Cleaners To Buy In India (2021)
Top 10 New Laptops Launched in India
Written By Heena Makwana and Edited By Kanuj Sharma