Choosing The Best Graphics Card For a Budget of Rs. 12,000 to Rs. 14,000.
If you are looking for an entry-level graphics card to play games like PUBG, GTA 5 or the latest Assasin's Creed title here are some of the good graphics card options for you.
Recently, Nvidia launched the new RTX series with super expensive RTX 2080, and 2080 Ti. However, they are yet to launch anything for the budget segment.
So the best choice for us currently is the 10 series from Nvidia or the RX 500 Series from AMD Radeon.
In this article, I will just stick to discussing two graphics card that is perfect for a budget of Rs. 12,000 to Rs. 14,000.
If you have a higher budget you can refer to Best Graphics Cards Price under Rs 20000 or can refer to the Best Graphics card in the 5k-10k range.
The top 2 graphics cards that currently offer great performance for the price are the Nvidia GTX 1050 Ti and the AMD Radeon RX 560 in the sub 15k price range.
Let's first talk about the AMD Radeon RX 560, and then we will check the Nvidia GTX 1050 Ti.
AMD Radeon RX 560 (4GB)
The AMD Radeon RX 560 is available for Rs. 11,300 to Rs. 13,000 in India. There are different brands that are offering the GPU – MSI, Asus, Sapphire, Gigabyte.
The prices are more or less the same with a slight difference.
The Graphics card was originally launched in April 2017 and is still the latest card you can buy from AMD's stable.
It is based on the 4th Gen GCN architecture and has support for DirectX 12 and Vulkan API.
Key Specs for the AMD RX 560
Compute Units – 14/16
Stream Processors – 896/1024
Base Frequency – 1175 MHz
Boost Frequency – 1275 MHz
Max Performance – 2.6 TFlops
VRAM – 4 GB GDDR5
Memory Interface – 128 Bit
Memory Bandwidth – 112 GB/s, 7 GBPS Speed
4K and H.265 Support – Yes
AMD CrossFire Support – Yes
Multi-Monitor Support – Yes
PSU Required – 450 Watts
Also, Read How Much VRAM is required 2GB or 4GB.
The Graphics card also supports AMD Liquid VR technology, Free Sync.
Also, it comes with a new improved driver environment as well as the Radeon Adrenaline software.
As shown in the above pictures, we have AMD RX 560 from Sapphire and MSI, and there are others available from Gigabyte and Asus.
You can get a single Fan Cooler RX 560, or even with a Dual Cooler.
Considering this is not a very high-end GPU, even a single Cooler is sufficient to keep the temperatures in check, and offer great performance.
Also, you won't need a big space in your cabinet when adding a single cooler card.
You can buy the RX 560 for playing any modern game such as PUBG, and can easily have 60 FPS on the medium settings. Or even if you want to play DOTA 2 or the CSGO it is superb.
Next, let's have a look at the GTX 1050 Ti before we see the gaming benchmarks.
Nvidia GTX 1050 Ti (4GB)
The Nvidia GTX 1050 Ti is available starting at Rs. 12,000 and up to 16000 from different brands. You can get both the single cooler, or a slightly more expensive, Dual Cooler GTX 1050 Ti.
The GTX 1050 Ti is slightly older in comparison to the RX 560 and was originally released in October 2016. It has Pascal architecture. The graphics card is super energy efficient and needs a small 300 Watts PSU to work.
There are several brands offering the GTX 1050 Ti (pre-overclocked), such as Zotac, Gigabyte, Asus, MSI, Galax, XFX and so on. I have done a detailed Review of the MSI GTX 1050 Ti and found it be great for Gaming at 1080P resolution.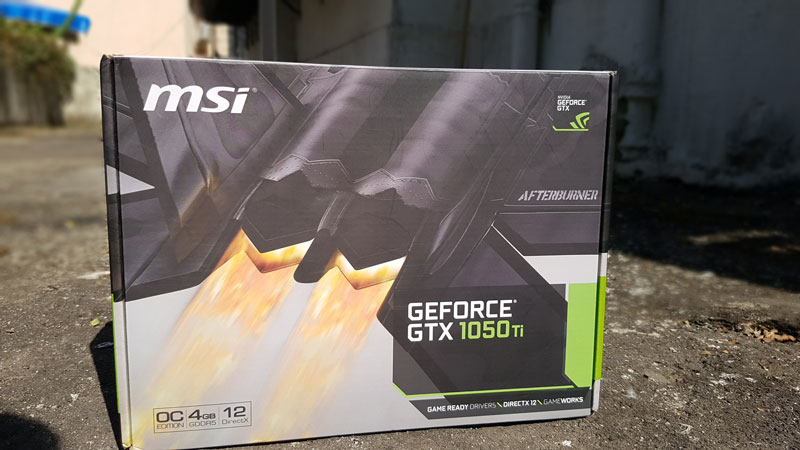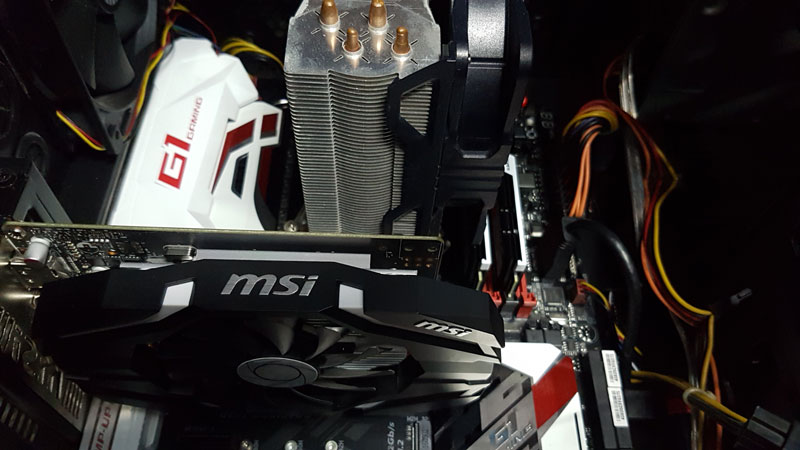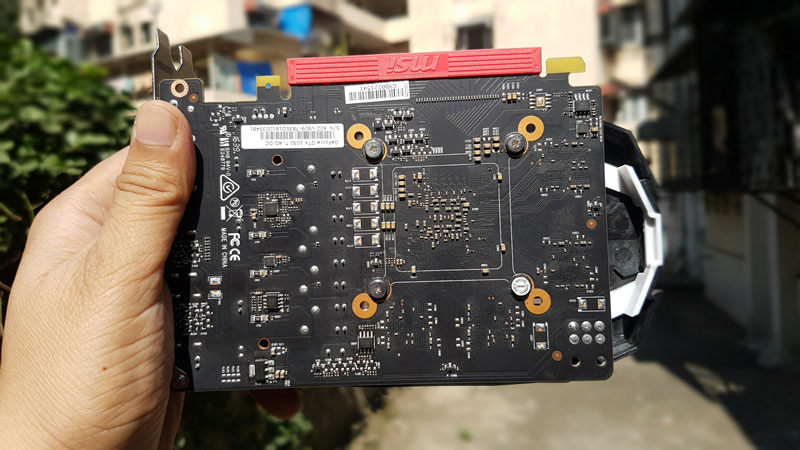 Key Specs for the Nvidia GTX 1050 Ti
Base Clock – 1290 Mhz
Boost Clock – 1390 Mhz
Nvidia Cuda Cores – 768 Units
Memory Clock Speed 7008 MHz
Memory – 4GB GDDR5
The Memory Bus Width – (128-bit)
Power Consumption – 75 Watts
Recommended PSU Power – 300 Watts
DX -12 Support – Yes
G-Sync & V-Sync Support – Yes
Nvidia SLI or VR support – NO
Price – Rs. 12,500 (Approx)
Aforementioned, you can easily play games in the 1080P resolution with High or even Ultra settings depending on the graphics requirement of the games.
Also, if you want to work on Adobe Premiere Pro or Photoshop, the card is fast and will help you reduce your editing time.
If you wish to check the benchmark scores of the GTX 1050 Ti in detail can check the detailed review.
Before getting to the Conclusion. Let's look at some other essential requirements.
PC Monitor Resolution – Suitable for 720p/1080p Gaming for high/ultra settings.
Most of you would be using a 720P or a 1080P monitor and both these cards are excellent for gaming on these resolutions.
Power Supply
The PC power supply is another important requirement which we need to factor in when buying a new GPU.
Both of these cards work with a PSU with 450 Watts and are quite energy efficient. The 1050 Ti can even work with a 300 or 350 Watts PSU.
Compatible Motherboards
These graphics cards can work with any motherboard which comes with PCI-E 3.0 support and even is backward compatible with PCI-E 2.0 ports.
How to find out if your motherboard is compatible with the GPU?
You can go to the board manufacturer's website and see if the board has the above-mentioned ports.
Compatible Processors
You can easily run the GPUs with any of the latest Ryzen processors, or the Intel Core i3 or higher, without bottlenecking the performance.
Ram, OS Required
Ideally, you should have 8 GB of ram, but things may work out even with just 4 GB. You can use any DDR3 or DDR4 Ram.
The graphics cards support Windows 7,8, 10, so that shouldn't be an issue.
Best Brands to Consider when Buying the Nvidia GTX 1050 Ti or AMD RX 560
Most of the Brands making GPUs are mature and offer quality products, but if you want my suggestion I will pick Sapphire, Asus, Gigabyte or MSI.
After-sales service is also important if you have a service center of any brand in your city, prefer that brand.
Gaming Performance Benchmarks GTX 1050 Ti Vs AMD RX 560
| | | | |
| --- | --- | --- | --- |
| Resolution 1080P Avg FPS | Nvidia GTX 1050 Ti | AMD RX 560 | % Faster |
| War Hammer 40000 | 59 | 53 | 11% |
| Hitman DX 12 | 71 | 63 | 13% |
| Doom | 84 | 76 | 11% |
| Tomb Raider | 66 | 57 | 16% |
| BattleField 1 | 70.3 | 64 | 10% |
| Witcher 3 | 67 | 60 | 12% |
| Aggregate | 69.55 | 62.17 | 12% |
Data Source – Tom's Hardware
Based on the above benchmark scores the Nvidia GTX 1050 Ti is about 12% faster in comparison to the RX 560 in most of the titles.
However, there can be exceptions like the Divison, where the RX 560 matches the performance of the 1050 Ti.
Overall, the GTX 1050 Ti wins with ease.
Conclusion Best Graphics Card for Rs 13000
In conclusion, Both the cards are good for the current price.
These are not affected by the crypto-currency mania, and the prices are not inflated.
Also, you may be able to buy a used card from OLX or Quickr, which can also save some bucks.
Clearly, the Nvidia GTX 1050 Ti offers slightly better performance but can be expensive at Rs. 1000. Also, Nvidia has recently launched the GTX 1630 close to 15k in the Indian market. The new GTX 1630 offers a similar performance as a 1050 Ti and is based on modern turning architecture.
But I think if you can stretch your budget a little bit for the GTX 1050 Ti you will have a more future-proof card.
Also, Nvidia has slightly better and faster support for drivers. They release game-ready drivers as soon as any new game hits the market.
On the other hand, if you want the AMD RX 560, it is also decent considering it is available for a slightly lower price.
Lastly, Flipkart and Amazon usually, don't offer a good price for PC hardware and it is better to buy from Md-computers, ABGBP, or even in retail stores.
Thanks for reading the article, you can ask any questions or share insights in the comments, and I will definitely revert to it.