If you are looking for the best microphones for making Youtube Videos, recording Podcasts, streaming, recording lectures, or even singing, we have hand-picked these high-quality mics to suit your needs. These are the latest Mics available online and offline in India.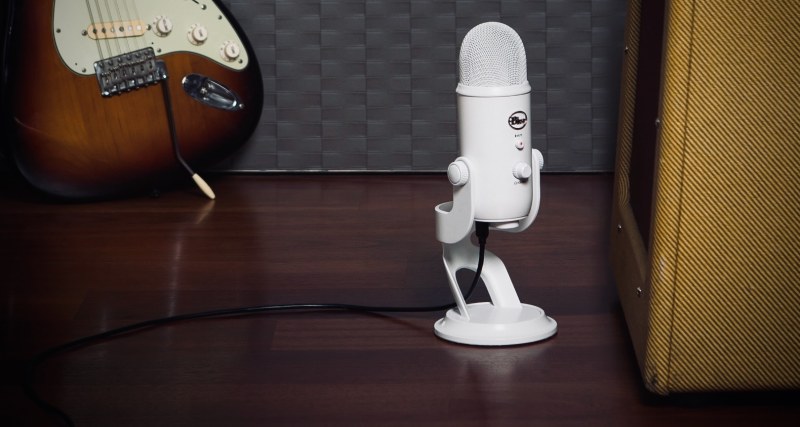 Many people are confused about which type of mic you should buy and what purpose. Let me give a brief idea about this from my last six years of using different mics.
Let's check Out Best Microphones for Youtube, Singing, Recording Vocals, and Streaming in India (2022)
Condenser USB Mics -( Big-size mics you see for recording and voiceovers).
Lapel or Lav or Collar Mics – ( Tiny collar mics used for interviews and outdoor recordings).
Boom or ShotGun Mics – ( These are typically used in filmmaking or even Youtube videos when you don't want the mic visible in the shot)
XLR Vocal Microphones (Needs an XLR amplifier to work) Usually seen in concerts, singing, and vocal recording.
I hope you have got the idea of which mic to use for what purpose. Before using these mics, I used to think having just one mic was enough. No, not at all, mate; we need different mics for different situations.
The benefit of a condenser microphone is the very high-quality sound (much better than the Collar Mics). You don't need any stands or separate recording devices with Boom mics. The XLR Mics are excellent for audio but need an amplifier and a complex recording setup.
The condenser mics come with a USB cable that you plug into your PC or Laptop, and you are good to record without much hassle.
1. Fifine K670B USB Microphone with Headphone Monitoring – Price – ₹ 4,290
Let's start with one of the most affordable, high-quality mics, Fifine.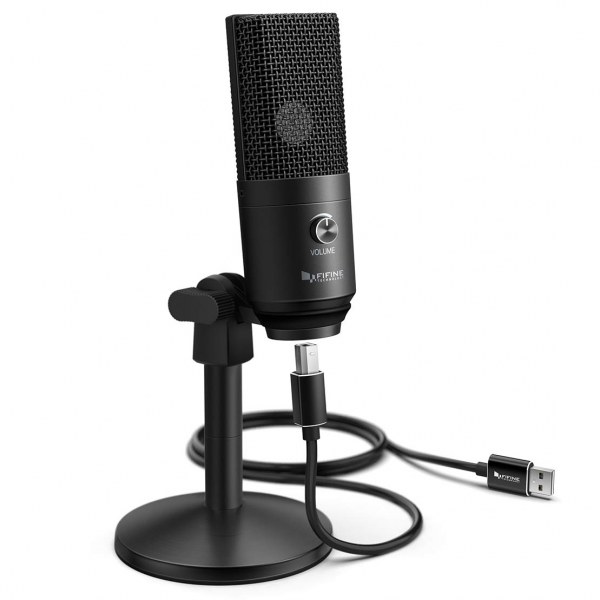 Key Specifications:
16 mm diaphragm
Cardioid Unidirectional polar pattern
Built-in headphone out
Vocal mic with Blue LED
Pluggable USB cable
Connectivity – Auxilliary, USB
Compatibility – Windows and macOS
The Fifine USB microphone comes with a 3.5 mm headphone monitoring jack. You can plug in headphones to monitor the audio levels.
The USB mic offers precise capture with its cardioid polar pattern. It has 16 mm of the diaphragm. The mic can catch the high frequency and moving content effectively. It delivers a clear sound.
The built-in headphone gives you monitor playback, latency-free for real-time playback and multi-tracking.
The plug n play USB connectivity gives quality sound capture. It measures 6.56′ in size. The USB cable is double shielded, which lessens interference.
The detachable metal construction desktop stand is adjustable accordingly.
The stand height is adjustable for ease of recording, and it is not too big or bulky, weighs 684 grams.
2. Blue Snowball iCE USB Mic for Recording and Streaming on PC and Mac – Price – ₹ 4,999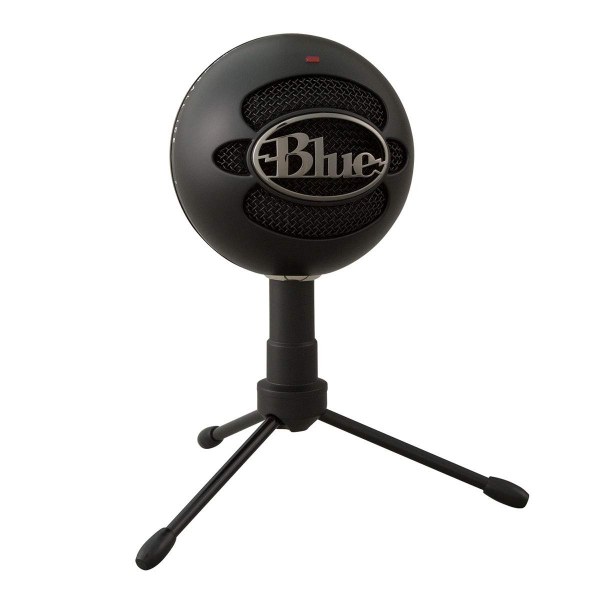 Key Specifications:
Delivers crystal clear sound
Cardioid pick-up unidirectional pattern
Retro and stylish design
Adjustable Desktop stand
Supports USB Mini 5 pin B
Plug and play
16-bit Depth
Connectivity – USB
Blue is an excellent company, and they make high-quality Audio mics. The Blue Snowball has been there for many years and has been a starter microphone for many people.
The condenser capsule delivers crystal clear sound. It features audio quality light years ahead of your built-in computer microphone.
The cardioid pick-up pattern catches a clear and focused sound. It is an excellent device for streaming, podcasting, and Skype calls.
It is stylish with a retro design inspired by classic recording equipment. The adjustable desktop stand allows you to set the sound source as per your need.
You can start your recording quickly with plug n play technology.
The mic is suitable for all sorts of recordings and easy to operate. (Can use for Voiceovers, Streaming, Video calls and online meetings, lectures, etc.).
The mic is not huge and weighs around 460 grams.
More extensive mics like Blue Yeti have better sound but are challenging to manage on a desk.
The Blue Snowball microphone is available in two color options – Black and White.
3. HyperX SoloCast – USB Condenser Gaming Microphone (HMIS1X-XX-BK/G): – Price – ₹ 5,790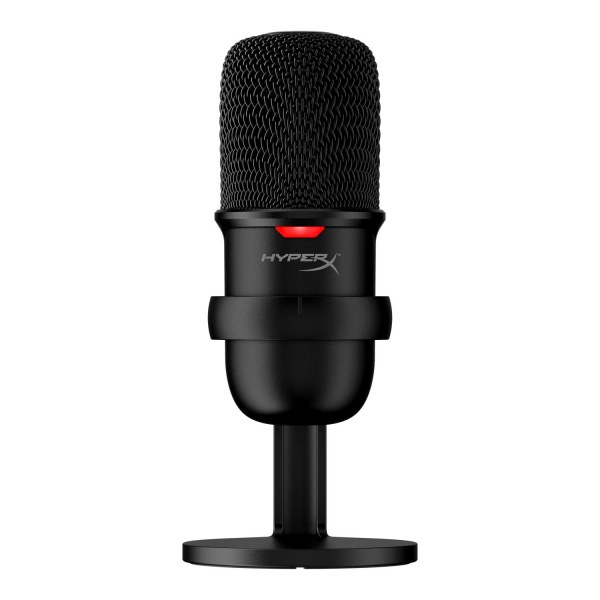 Key Specifications:
Cardioid polar pattern
Tap-to-mute sensor with LED status indicator
Multi-device compatibility
Designed like a Boom arm
Plug-n-play
Adjustable stand
If you are on a budget and want the best mic for recording voiceovers, streaming, or gaming – Hyper Solo cast is the best choice.
It provides excellent sound quality. The plug n play makes the microphone simple to use. The device has fascinating features – a tap-to-mute sensor and LED mute indicator.
It has a flexible and adjustable stand compatible with almost all boom arms. So, you can mount or keep it on your desk.
The mic is certified by TeamSpeak and Discord. It has compatibility with OBS, XSplit, and Streamlabs OBS.
The HyperX mic weighs just 243 grams, and I love the compact design and low weight. Even for office calls, if you need better audio, this is the mic that will not get in the way.
This HyperX microphone works excellently for the streamers.
4. Samson Technologies C01 Large Diaphragm Vocal Condenser Microphone (XLR) – Price – ₹ 6,099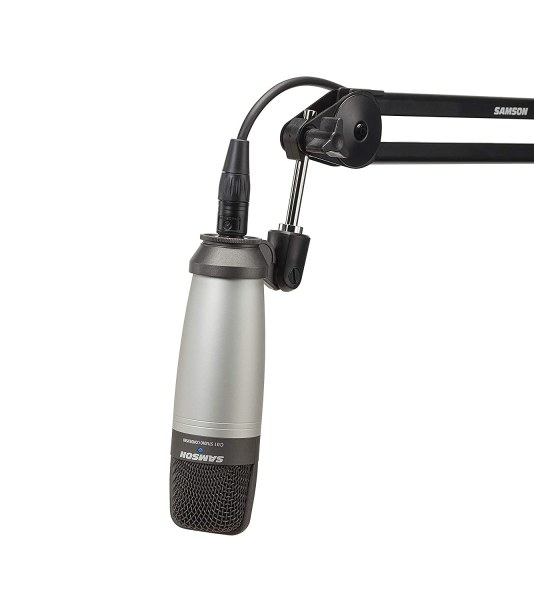 Key Specifications:
Cardioid pick-up pattern
19 mm diaphragm
Heavy-gauge mesh grill
Gold plated XLR connector
Smooth and flat frequency response
Blue LED indicator
Swivel stand mount
If you want to record professional-grade voiceovers or sing along with guitar or piano, this is the mic that can get you the right sound quality.
The Samson large diaphragm microphone comes with a unidirectional polar pattern. It has a 19 mm diaphragm.
The Microphone comes with an XLR output, and you will need an XLR amplifier to capture the audio. You can buy the Behringer U-PHORIA and XLR recorder.
Using this is not very difficult – You have to plug XLR cable in the mic and in the amplifier and then can get the output to your PC or Mac using the USB cable. The only addition here is the amplifier that will enhance your audio quality significantly.
This Microphone is fabulous for recording vocals, acoustic instruments, and an overhead drum mic. The condenser microphone is accurate with detailed and smooth sound quality.
The XLR connector is gold-plated. It has a heavy mesh grill screen with a blue LED indicator.
5. AKG P120 – High-Performance (XLR Microphone) – Price – ₹ 6,999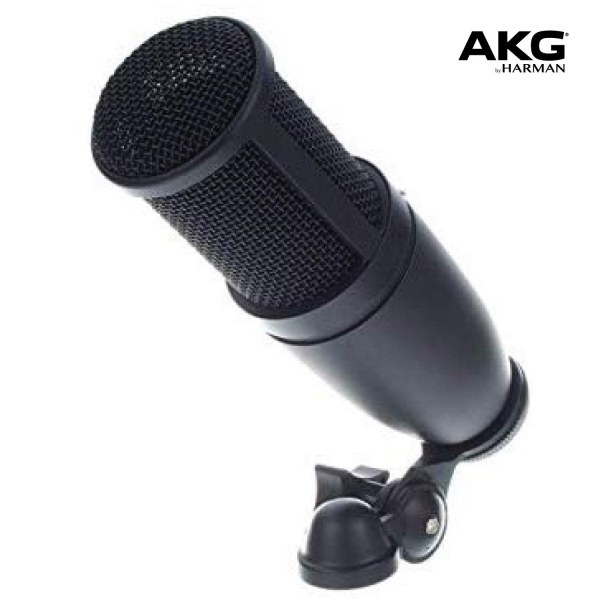 Key Specifications:
low-mass diaphragm
20Hz – 20KHz frequency response
150 dB max SPL
24 mv/pa
Cardioid polar pattern
dent-resistant stainless steel grille
The AKG P 120 microphone is also an XLR condenser microphone (you will need a separate amplifier to make it work).
The Microphone is suitable for recording very high-quality voiceovers or recording vocals or singing.
The mic has a low-mass large diaphragm that delivers an excellent sound quality.
The 2/3 inches cardioid polar pattern capsule offers a stable response with an exceptional transient.
It can withstand high SPLs – can manage everything from vocals to drums. At home, this device can give you a pro studio performance.
The bass roll-off switch and 20 dB pad come with many more options.
6. Audio-Technica AT2020 Cardioid Condenser Studio (XLR Microphone) – Price – ₹ 8,979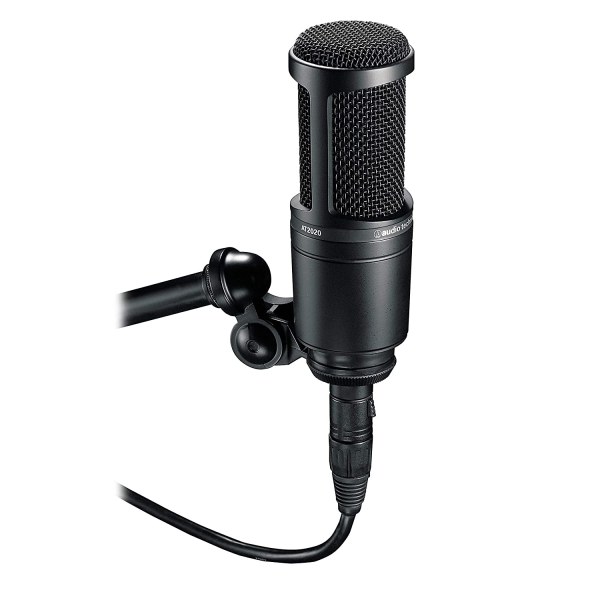 Key Specifications:
Custom-engineered low-mass diaphragm
Handles high SPL
3-pin XLRM connector
Cardioid polar pattern
Pivot and threaded stand mount
48 DC power requirements
Suppose you want to up the sound quality a little more. In that case, you can get the Audio Technica AT2020 Microphone with a high-quality amplifier like the Focusrite Scarlett Solo (3rd Gen) USB Audio Interface.
The Audio-Technica microphone offers an excellent sound quality with a cardioid condenser microphone. This device has side-address studio condenser microphone technology that gives an outstanding performance.
The high SPL management with a broad and excellent dynamic range makes it even more versatile. The custom-engineered low-mass diaphragm offers extended frequency response and better transient response.
The cardioid polar pattern decreases the sound pick-up from sides and rear. It improves the isolation of the desired sound source.
The threaded pivot stands securely attaches for simple and accurate placement of your Microphone.
7. Blue Yeti USB Mic for Recording and Streaming microphone (Midnight Blue) – Price – ₹ 10,999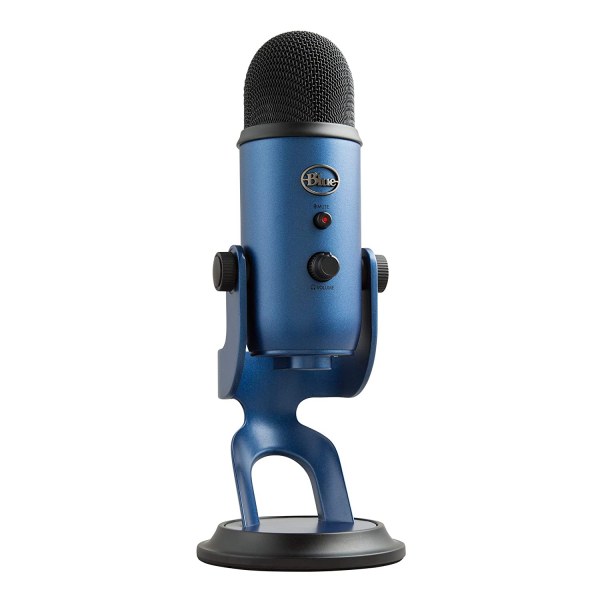 Key Specifications:
Custom three capsule array
Four pick-up patterns – Cardioid, Omni, bidirectional, and stereo
Legendary Blue broadcast sound quality
Plug n play
Unique adjustable design
Onboard audio controls
Yeti is the world's number one USB microphone for recording and streaming.
You want the best Audio Quality without getting into the hassle of buying an XLR Mic with an amplifier; the Blue Yeti can deliver exceptional sound.
I have been using the Blue Yeti for my YouTube videos and have no complaints about sound quality or working even after 5 years.
The classic audio gear inspires the stunning design. It offers unique color options to choose from.
It comes with a three-capsule array that produces clear and powerful sound quality for youtube, game streaming, podcasting, conference calls, and of course, music.
The Blue's Legendary broadcast quality sound offers the professional difference for recording, streaming, or building your audience.
The mic has headphone volume, pattern selection, instant mute, and microphone gain onboard audio controls. The adjustable design captures the accurate sound source that optimizes the sound quality.
The no-latency technology monitors real-time mixed with the computer sound to stream an excellent sound.
The only Con, I can say, is the big and bulky size; otherwise, it is an exceptional microphone.

Best Lavalier (Lapel) Collar Mics For Making Youtube Videos
Lapel mics are excellent for a lot of scenarios. If you are outdoor, these are excellent to reduce the noise from Wind and surroundings.
Also, you can make indoor videos by plugging these directly into your smartphone or DSLR/Mirrorless camera.
The sound quality is decent for most Youtube videos, but the condenser mentioned above, mics are a better choice if you are looking for exceptional sound quality.
Let's check out the best Lapel (Lavalier) Collar Mics Available in India:
8). Boya BYM1 Omnidirectional Lavalier Condenser Microphone – Price – ₹ 721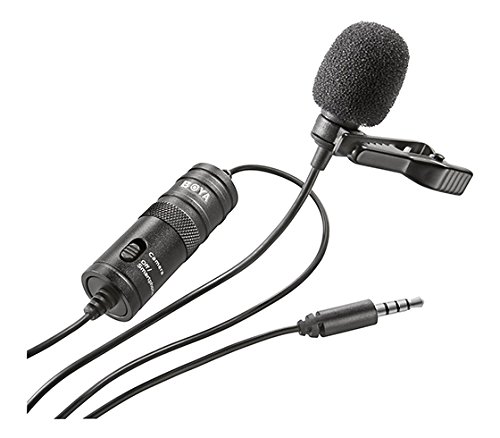 Key Specifications:
Auxillary connectivity technology
Omni-directional Microphone
Clip-on mic
20 ft audio cable
3.5 mm jack
Battery-powered
Frequency range – 65 Hz- 18 kHz
Weight – 110 grams
Get the clear audio for your perfect video with Boya BYM1 omnidirectional lavalier condenser microphone. This smartphone is specially designed for smartphones, DSLR, Camcorders, and PCs.
In addition, the Microphone has an Omni pick-up pattern for comprehensive 360-degree coverage.
The lapel microphone is small and lightweight, so it's easy to carry everywhere.
You will find no hassle to clip as you just have to clip the mic on your outfit, start recording the audio and give a fabulous punch to your video.
Moreover, this condenser microphone has a long 20 ft cable, making it easy to connect to your camera or smartphone.
9). JBL Commercial (CSLM20B) Lavalier Microphone – Price – ₹ 950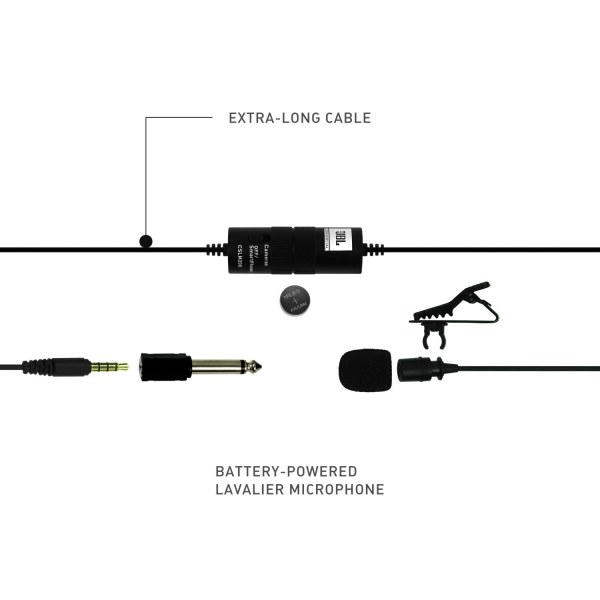 Key Specifications:
3.5 mm TRRS jack
Omnidirectional pick-up pattern
Used with amplifiers
6 meters cable
LR44 battery
Tie clip and windshield included
Weight – 49 grams
The JBL commercial battery-powered lapel microphone comes with an easy mount clip, that offers great flexibility to the working professionals, content creators, and presenters.
Additionally, this lavalier microphone has excellent speech clarity. It has a 360-degree omnidirectional audio pick-up to capture audio wherever required. The 6 meters cable is quite enough for most users.
This condenser lavalier microphone is compatible with smartphones, DSLR cameras, tablets, and mixer amplifiers.
10. Maono AU-100 Condenser Lavalier Microphone – Price Rs. 749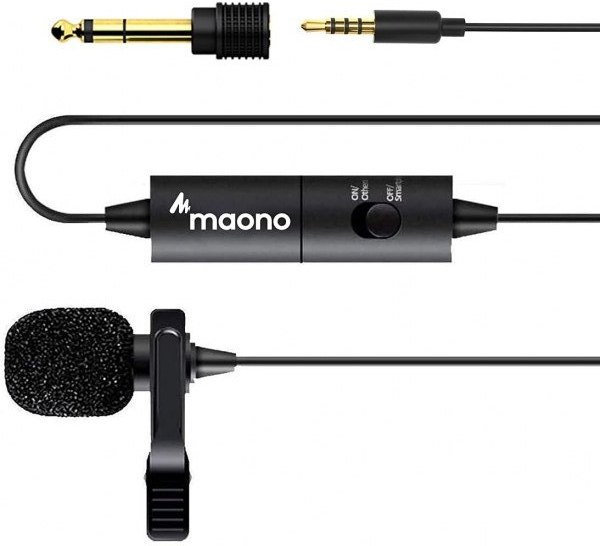 Key Specifications:
Omnidirectional condeser
Frequency range – 15 Hz to 18 kHz
Multiple noise cancellation structures
3.55 mm TRRS jack
6 meters cable length
Mini metal clip
Battery-powered
Weight – 60 grams
The Maono AU-100 condenser lavalier microphone has a premium noise cancellation structure that offers you a more realistic sound quality.
The anti-interference shield cable decreases the loss and current noise in Sound Transmission Engineering, and the copper microphone capsule reduces the Static electricity generated by friction. Both these together work to give you crystal clear audio.
Furthermore, it is convenient to use with one key switch and is easy to clip. The lightweight and compact design makes the Microphone more portable and can be carried easily wherever needed.
This Microphone is especially suitable for laptops, PCs, and smartphones and works with cameras and recorders.
It is advisable to download Open Camera or ProMovie to record with Android devices.
Concluding Thoughts: Best Microphones
You should buy a condenser microphone (shared in this article) for the following purposes:
Recording Voice Overs (For Youtube Videos or professional work)
Recording Lectures
For Giving online Lectures and classes
For Singing, Streaming, or recording Podcasts or Audio Books.
These are not suitable for recording outdoors or in films where you don't want the audience to see your Microphone.
I hope now we are clear about the Pros, Cons, and specific uses of different Microphones.
Written By – Heena Makwana, Edited By Kanuj Sharma