My Experience With Mirrorless Cameras
Update 23/Apr/19 – Best Mirrorless Cameras In India 2019 – I started my journey with the mirrorless camera back in 2016 when I purchased the Sony A6000 from the Fort Area, in Mumbai.
Canon and Nikon were popular back then, but a good old friend forced me to get the Sony A6000. And boy it was one of the best purchase decisions, I took back then.
It was a bit expensive for my budget but the additional money spent is worth it. Learning how to shoot with DSLR camera takes time, patience and more importantly watching lots of tutorials and practice.
Also, if you can learn how to use the Lightroom or Photoshop, it is an added advantage. I mostly create videos for Youtube using my mirrorless camera and also click tons of product images.
You can check my videos and pictures in our review section. (Most of these are clicked using the Sony A6000.)
I am an aspiring photographer/ video maker and also keep track of all the latest updates on DSLR and Mirrorless cameras and write about these whenever something new comes up.
So Which One was the First Mirrorless Camera?
Talking about the history of mirrorless cameras, their existence dates back to 2004 when the first mirrorless camera hit the market. It was an Epson R-D1. Also, Leica and Panasonic later followed the suite by launching their Leica M8 and Lumix DMC-G1 cameras respectively.
How is a mirrorless camera different from a DSLR?
Let's talk about the mirrorless cameras; these are a type of digital cameras that don't come with an optical mirror. Unlike DSLR cameras which come with an optical viewfinder, a mirrorless camera has an electronic viewfinder to display what the image sensor sees.
Conventional DSLR cameras come with an optical viewfinder which displays whatever the camera image sensor sees. But what a mirrorless camera does is, it uses a single and removable lens, along with an electronic digital display system.
Elimination of the moving mirror causes mirrorless cameras to be smaller, lighter and quieter than the DSLRs. Also, the former uses contrast-detect autofocus, rather than phase-detect autofocus which the DSLRs use.
Below is an Excellent Video from Sony Explaining the Difference Between Mirrorless and DSLR.
Which brands should you consider?
There are plenty of brands. However, Sony, Panasonic, Fujifilm, Olympus are some of the most prominent brands that manufacture mirrorless cameras. Interestingly, brands like Nikon and Canon whose main department is DSLRs also have some mirrorless cameras in their portfolios.
This article is helpful for people who want to buy their first mirrorless camera and also for content creators looking to make Youtube videos.
Best mirrorless cameras between the 30K-50K price range
11. Panasonic Lumix DMC-G95
Panasonic has launched the new Lumix DMC-G95 mirrorless interchangeable lens camera and it is likely to make its way to India soon.
The camera along with the 12-60 mm OIS lens (f/3.5-f5.6 aperture) costs $1199 in the US and will be available in India for approx Rs. 83,000.
The G95  comes with a new 20.3 Megapixel Digital Live MOS Sensor powered by the Venus Engine.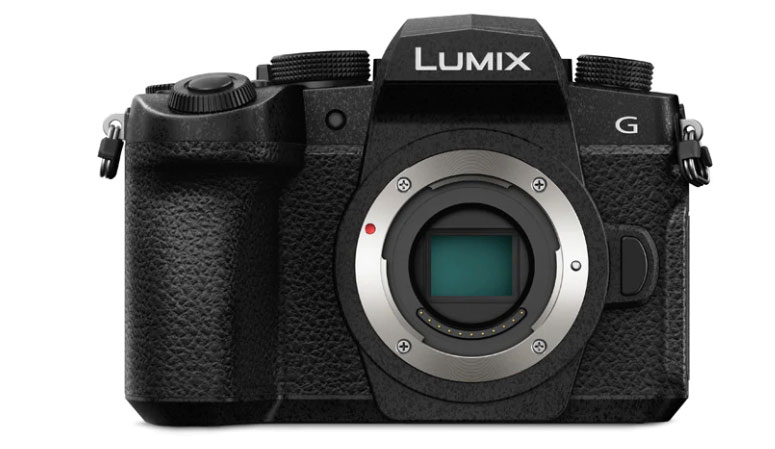 The camera comes with the ISO range of 200-25,600, has 9 FPS burst mode, 49 Autofocus points, and a maximum shutter speed of 1/4000.
The camera offers 4K video recording at 30 FPS and has support for 120 FPS slow-motion at 1080P. Further, it comes with a 4:2:0 , 8 Bit color depth for capturing videos.
The camera also has 5 Axis in-body stabilization along with support for stabilization in the lens.
The improved stabilization features make it ideal for hand-held videos and V-logs even without the need for buying a gimbal. A nifty feature missing from the popular Sony A6400.
Further, the camera comes with a fully articulating touch screen with the 3-inch size and 1.24K dot resolution making it easy to watch yourself when filming alone.
Furthermore, it has Bluetooth, WIFI for syncing media to your phone or computer and also comes with a mobile application.
Lastly, the Lumix G95 comes with rugged design with a magnesium aluminum frame and weather sealing.
10. Fuzi X-T30
The Fuzi X-T30 is the successor to the Fuzi X-T20 and rivals the new Sony A6400 mirrorless camera.
Similar to Sony A6400 the X series also comes with the APS-C sensor and is a mirrorless camera.
The Fuzi X-T30 costs Rs. 74,999 for the body only, Rs. 94,999 with the 18-55mm lens and, Rs. 99,999 with the more versatile 18-135 mm lens.
Free - Get Similar Articles in Email
The X-T30 comes with a new and improved 26.1 MP sensor and has an X-series Quad-Core processor for faster image processing.
The camera can record 4K videos at 30 FPS, 120 FPS slow-motion videos at 1080P and also comes with a built-in WIFI and Bluetooth.
The camera has a hybrid-AF system and comes with 425 Focus points and even has the EYE Autofocus feature.
Further, the camera comes with a 2.36 million dot resolution OLED EVF, with 3 Inch Tilting display which can be useful for vlogging.
The camera looks very stylish and retro with the dual tone color scheme and is even highly portable weighing only 383 grams.
It is a tough choice leaving the Sony A6400 with exceptionally fast Eye tracking for a Fuzi.
9. Panasonic Lumix G7 4K (Made for 4K Videos)
Panasonic is a well-known brand in the world of imaging. It has some top-notch products on the market, including outstanding video cameras.
Panasonic Lumix G7 comes with a 16 MP Digital Live MOS Sensor and Venus Engine image processor. Its quad-core CPU makes it possible to process signals with a high speed of 8fps on AFS mode and 6fps on AFC mode. The maximum ISO value for the camera is ISO 25600 which is impressive.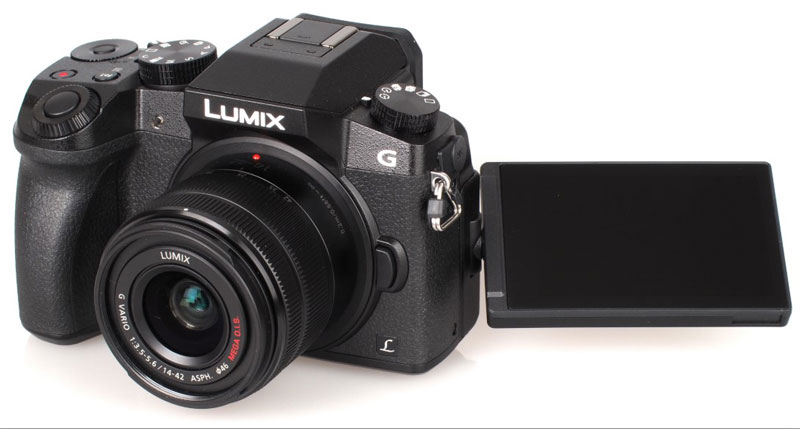 The camera comes with a 14-42mm lens kit and can shoot 4K videos with a frame rate of 30fps. Add a prime lens to this camera and you can shoot incredible 4K footage with this Panasonic. It is not waterproof so you need to be cautious when using it in the rough weather.
4K Photo Function – This is a really interesting feature. Lumix G7 features a 4K Ultra HD video technology using which a user can pause the video to extract the photo with resolution up to 8 MP.
Also, Lumix G7 features 3.5mm Microphone Socket, and Wi-Fi for wireless connectivity, along with the ability to shoot Time Lapse videos. Also, it has a built-in pop-up flash. The camera is currently available for Rs. 53,000 along with the 14-42 mm lens.
Key Specs for Lumix G7
16 MP CMOS sensor
4K video capture up to 30fps
4K Photo mode with the Pre-Bust mode
Wi-Fi for transferring photos
Auto, 160, 200, 400, 800, 1600, 3200, 6400,12800, 25600 ISO settings
49 Focus Points
Fully articulated 3" LCD touchscreen
USB 2.0 and HDMI port
8.Sony Alpha A5100 (Affordable 1080P Video Camera)
Sony Alpha A5100 sports a 24.3 MP APS-C CMOS sensor along with Bionz X processor and comes with Sony E lens mount type.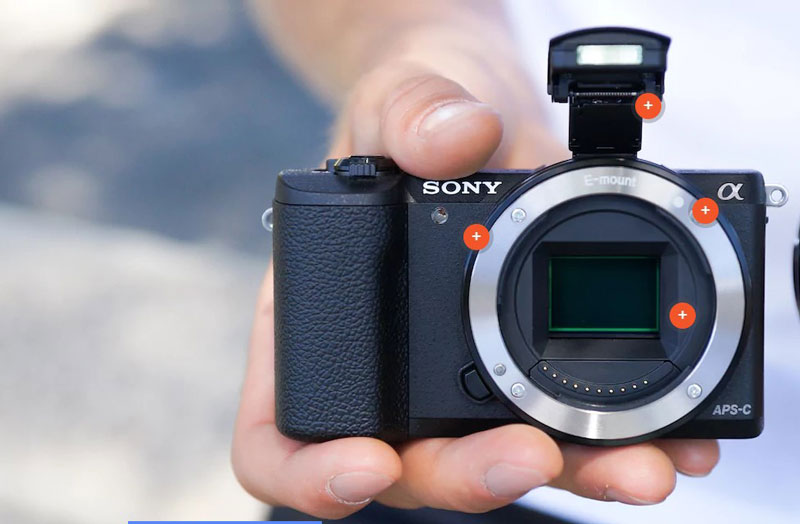 It has a 3" touchscreen LCD monitor which can be flipped in an upward direction at 180 degrees and can be used for taking selfies.
Talking about the camera's video recording capabilities, it can shoot Full HD (1080 x 1920) videos at 60p. Whereas, its continuous drive for still photos is up to 6fps.
The Sony Alpha A5100 boasts of various autofocus modes such as Single, Continuous, Face Detection, and Phase Detect to name a few while having 179 focusing points.
Also, it features various photography modes like aperture priority, shutter priority, and manual exposure mode and is equipped with an inbuilt flash. The camera doesn't support an external flash.
Sony Alpha A5100 costs Rs. 39,990 for the Body + 16-50 mm Power Zoom Lens.
Key Specs for Sony Alpha A5100
24 Megapixel APS-C CMOS sensor
Bionz X processor
3" touchscreen LCD monitor tilt-able to 180 degrees
FHD (1080 x 1920 pixels) video at 60p
Continuous drive of 6fps
179 Focus points
Auto, 100-25600 ISO range
Built-in wireless connectivity
USB 2.0 and HDMI ports
400 Shots battery life
7. Panasonic Lumix G5W
This is a much cheaper option in comparison to the Lumix G7 and comes with only 1080P video recording support. Panasonic G5W comes equipped with a 16.05-megapixel sensor and Live MOS image processor Venus Engine. It has a burst shooting rate of 6fps.
The camera comes with a 14-42mm lens kit and 45-150mm lens and is available for a price of Rs. 42,000 on Amazon. The camera can record videos in MP4 or the modern AVCHD format
Apart from taking photos, it records excellent videos at an FHD (1920 x 1080) resolution at 60fps. Panasonic has a working ISO range of 160-12800.
Additionally, the camera features a 3" touch-screen LCD with Touchpad AF control. This feature allows the user to move the autofocus area across the frame using the finger while the shot is being framed through EVF.
Key Specs for Panasonic Lumix G5W
16 Megapixel Live MOS sensor
3-inch touchscreen LCD with 920k dots and Touch AF control
Full HD 1080/60p video recording
6 FPS continuous shooting and 3.7 FPS with AF tracking mode
320 Shots battery life
6. Sony Alpha A6000
My favorite, the Sony Alpha A6000 is one of the highest selling mirrorless cameras around. It is priced at Rs. 47,990 for the camera body and 16-50 mm Power Zoom lens.
The Alpha A6000 comes with a 24.3 MP APS-C sensor and features hybrid autofocusing and continuous shooting at speed of up to 11 frames per second. The camera also has a new-generation RGB color filter that helps in increasing the light collecting efficiency significantly.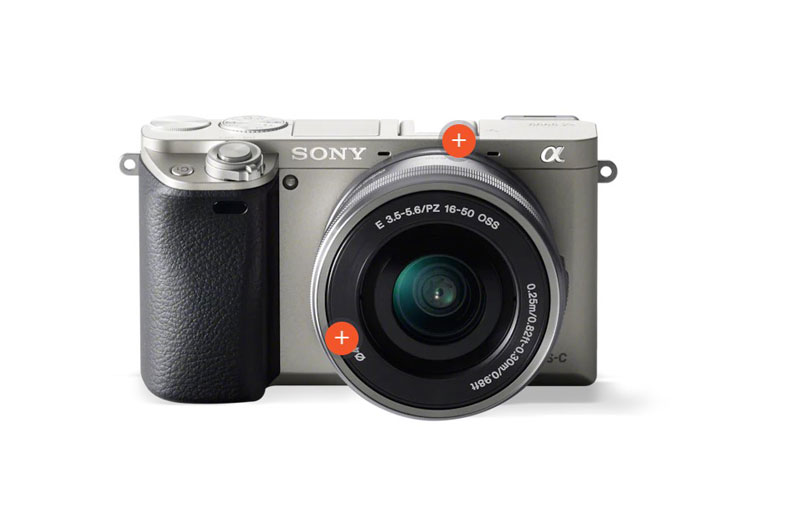 Also, it has 100-25600 ISO range along with Auto ISO option. For autofocusing, there are various modes such as Single, Continuous, Face Detection, Multi-area and so on.
The camera features manual focusing and has 179 focusing points, along with a 2x digital zoom. Additionally, a 3" LCD screen without touch input is there having 921,600 screen dots.
One of the downsides of this very capable camera is its ability to shoot video in Full HD only. There is no 4k mode. Also, 2 more issues  Sony Alpha A6000 can shoot at a maximum resolution of 1920 x 1080 at 60p.
Although the video resolution is not of the level of 4K, the videos are sharp and have amazing details. The camera comes with connectivity options such as USB 2.0, HDMI along with built-in wireless capabilities.
The battery life on the A6000 is average, better to have a second battery for the camera, also the display is non-touch and can't rotate 180 degrees.
You can check some of the videos here, I have shot with this camera.
Key Specs for Sony Alpha A6000
24 Megapixel APS-C CMOS sensor
3" tilting LCD display
Bionz X image processor
Continuous drive of 11 fps
179 Focus points
Full HD video recording at 60p
USB 2.0 and HDMI ports
Built-in Wireless connectivity
360 Shots battery life
CAMERAS IN 50K-80K RAGE
5. Fujifilm X-A5
Fujifilm is a highly recommended brand that produces some really high-quality imaging products including the mirrorless cameras.
The Fujifilm X-A5 comes with a 24.2 megapixel APS-C CMOS sensor and a newly developed XC 15-45mm F3.5-5.6 power zoom lens with optical image stabilization. The ISO on the camera ranges from 200-12800 apart from the Auto ISO option.
It features 91 focus points, whereas there is no image stabilization in the camera itself. The camera has all the common features such as aperture priority, shutter priority, and manual exposure mode along with a built-in flash.
Moreover, the camera has a continuous drive of 6 frames per second.
Most important of all, the camera can record 4K (3840 x 2160) videos at a low 15fps while Full HD videos can be recorded at 60 fps. You can use the 60 FPS mode to record slow motion videos using this but the super slow motion like we have in phones like Samsung S9+.(960 fps).
Key Specs Fujifilm X-A5
24 Megapixel APS-C CMOS sensor
180-degree tilt-able touchscreen LCD
15-45mm F3.5-5.6 OIS Power Zoom Lens
4K video @ 15p, Full HD video @ 60p
Auto, 200-12800 ISO
91 Focus points
USB 2.0 and HDMI port
450 Shots battery life
4. Sony Alpha A6300 (For 4K Videos and Wild Life Photography)
The Sony Alpha A6300 is another mirrorless camera from Sony is available for purchase at a price of Rs. 74,990 for the Body + 16-50 mm kit Lens and Rs. 98,990 additionally with 18-135 mm Zoom Lens. There are some upgrades in comparison to the A6000 and A5100.
The camera comes equipped with a 24.4 MP APS-C Exmor CMOS sensor which develops excellent photos along with the company's BIONZ X image processor.
Importantly, Alpha A6300 features a 4D FOCUS system that possesses 425 phase detection AF points and is capable of shooting at a rate of 11fps with exposure tracking and continuous autofocus. Its ISO ranges from 100-51200.
Moreover,  the Sony Alpha A6300 is a highly capable camera when it comes to videography. It can shoot 4K UHD (3840 x 2160) videos at 30p, and FHD videos at 120p. So you can record slow-mo videos with ease at 120 FPS and also record sharp 4K vidoes which is not possible on a A6000.
The camera boasts of a tilt-able 3" LCD monitor, and for connectivity, the camera has NFC and Wi-Fi onboard. Whereas, it carries USB 2.0 and HDMI ports.
Key Specs for Sony Alpha A6300
4 MP APS-C Exmor CMOS sensor
4K UHD (3840 x 2160) at 30p
BIONZ X image processor
3" tilt-able LCD screen
4D FOCUS with 425 phase detection AF points
Continuous shooting at 11fps with continuous AF and exposure tracking
100-51200 ISO range
Wi-Fi and NFC
USB 2.0 and HDMI ports
400 Shots battery life
3. Olympus OM-D E-M10 III (For Youtube Videos)
Olympus is yet another brand in the list that makes brilliant mirrorless cameras and shares the market with other rivals. In fact, it is the perfect rival to the Sony A6000 or the A6300 and the benefit of buying this is comparably cheaper prime lenses from Olympus. Also, it has some features that are not present on the A6000.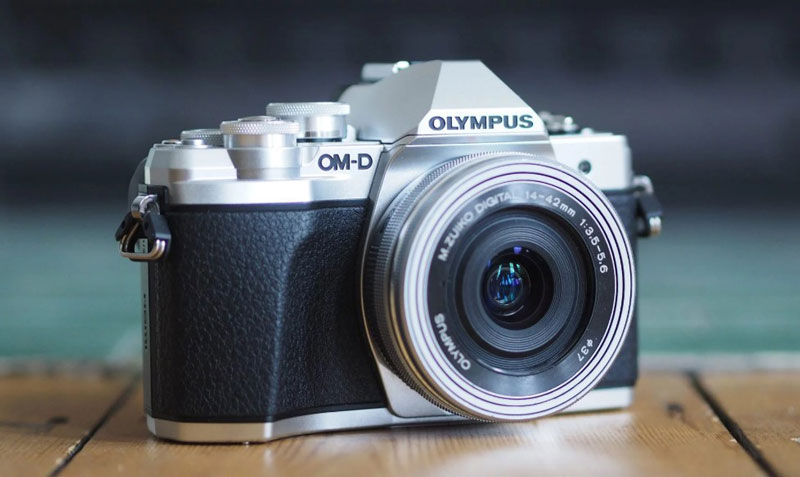 The Olympus OM-D E-M10 is a classy-looking mirrorless camera. It comes with a 16-megapixel Live MOS sensor coupled with Olympus TruePic VIII processor.
One of the best things about the camera is that it has a built-in 5-axis image stabilization. Moreover, the camera has 121-points contrast-detect autofocus system capable of shooting up to 4.8 FPS with AFC.
Videography wise, the camera can capture 4K UHD videos at 24p and 30p while HD (720p) videos can be shot at 120fps making them slow-mo videos. The camera is available for Rs. 67,000 for the body only and comes with a 14-42 mm lens for Rs. 81,000.
Key Specs for OM-D E-M10 III
16 MP Live MOS sensor
5-axis image stabilization
3" rotating touchscreen LCD
4K UHD video recording at 24p and 30p
HD video recording at 120 fps
121 AF points
Auto, 200-25600 ISO range
Continuous drive of 8.6 fps
Micro USB and HDMI port, built-in wireless connectivity
330 Shots battery life
2. Canon EOS M50
Sony and Panasonic have embraced the mirrorless cameras for long, its time that Canon also jump on the bandwagon.
Recently in July 2018, Canon introduced the new EOS M50 mirrorless camera in India. The camera is available for Rs. 56,000 on Amazon India for the Body as well as the 15-45 mm STM lens.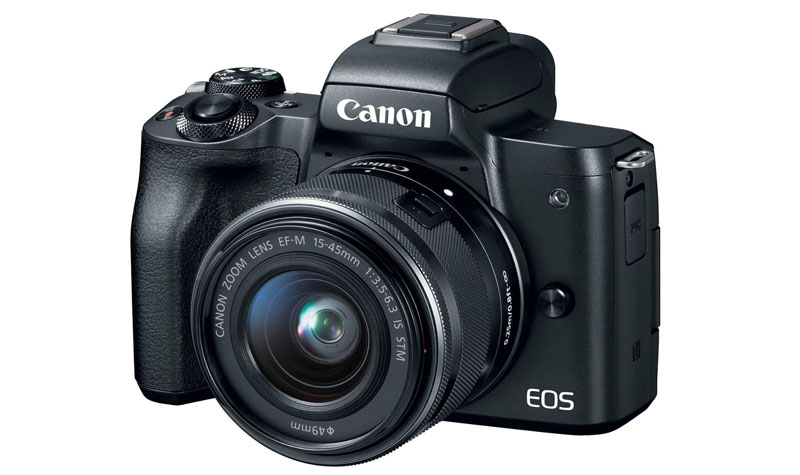 The camera has an ergonomic grip and is lightweight (weighs less than 400 grams) along with the Kit lens.
The EOS M50 comes with a new 24.1 MP CMOS (APS-C) sensor with an ISO Range of 100 – 25600. Also, it comes with an Electronic View Finder and has a touch screen to assist with focus.
More Importantly, the EOS M50 is capable of recording 4K videos and even has support for HD 120 fps slow-motion videos.
Also, we get the modern connectivity options such as NFC and WIFI to transfer the images quickly to a laptop or Mac.
You can even use the Canon EOS M50 with the Canon Connect App to click images using your smartphone and quickly transfer them to view them on the high-resolution screen.
Overall you get great video and image quality with the EOS M50 and you will love the super fast dual focus which is super fast.
It is a great camera and comes with the ease of use that only Canon offers and in my opinion is a great beginner level camera.
You can throw in a fast prime lens and you can click some amazing shots with this Canon little master.
Cameras over 80K
1. Pentax Q7 (Buy it For Vlogging)
The third model with a Q-mount, Pentax Q7 is the first camera from the company to feature 1/1.7" sensor. The camera comes with a 12-megapixel BSI CMOS camera sensor fitted in its sturdy alloy build made out of magnesium.
It comes with an ultra wide 5-15mm lens that can shoot at a wide angle and the large aperture also ensure your footage is amazing even in the low light conditions. You can buy it for 90k with the 15mm lens
The camera has a sensor-shift type image stabilization and comes with different autofocus modes such as contrast detect, selective single-point and face detection.
The Pentax Q7 features a 3" fixed LCD screen which doesn't have touch input. The camera has a continuous drive of 5 frames per second.
Talking about its video features, it can record Full HD videos at 30 frames per second. Also, there is a speaker and microphone with support for mono audio. For connectivity, the camera has USB 2.0 and HDMI ports.
Key Specs for Pentax Q7
12 Megapixel BSI-CMOS sensor
3" fixed LCD monitor with 460,000 dots
Continuous drive of 5 fps
Full HD (1920 x 1080 ) video recording at 30 fps.
Time-lapse recording (3 sec. to 24 hr.)
USB 2.0 and HDMI
250 Shots battery life.
Sony Alpha A6500 (Bonus Addition)
Sony Alpha A6500 is another mirrorless camera with E-mount and is the better version of Alpha A6300 model.
It features a 24-megapixel APS-C CMOS sensor and comes with the capability to shoot stunning 4K videos. Also, it gets burst speed of up to 11 fps with continuous autofocus.
The camera has 5-axis stabilization and comes with autofocus modes like Multi-area, Single, Continuous, Face Detection and so on. Its ISO ranges from 100-25600.
Most interesting of all the features is the camera capable of focusing on 425 AF points. This allows for a better and more accurate focusing on the subject in frame.
Sony Alpha A6500 can record 4K UHD videos at 30fps, and full HD videos at 120fps.
The camera comes with built-in wireless capabilities, along with USB 2.0 and an HDMI port for connectivity. The camera is available for Rs. 43,500 with the 16-50mm lens on Amazon.
Key Specs for Sony Alpha A6500
24 MP CMOS sensor
4K UHD video recording at 30fps
425 Focusing points
3" Tilting LCD touchscreen
100-25600 ISO range
5-axis image stabilization
Built-in wireless connectivity
USB 2.0 and HDMI ports
350 Shots battery life
So, these are some of the best cameras I would suggest you check out if you are planning to buy a DSLR or a Mirrorless Camera. Also, I am planning to add some more cameras to this list soon.
Let me know in comments which is the camera you are planning to buy and in case you need some more advice.
Thanks for Reading the Article. Have a Great Day.
Co-Author – Prateek Sharma
Also, Read: 
Canon EOS 6D Mark II Launched in India Price Rs 1.33 Lakh
Further Reading and Resources:
Sony Mirrorless Cameras, Panasonic, Pentax