Sony Digital Vlog Camera ZV-1 (More like a Point and Shoot)
For V-loggers, Sony launched a vlog camera this year(2020) in August – Sony Digital Vlog Camera ZV-1. It is one of the easiest to use cameras for filming videos. No hassle of interchangeable lenses, you get good out-of-camera video and audio quality.
The Sony ZV-1 is an excellent camera to churn out quick Youtube Videos.
The camera comes with a 20.1-megapixel Exmor RS CMOS camera sensor fitted.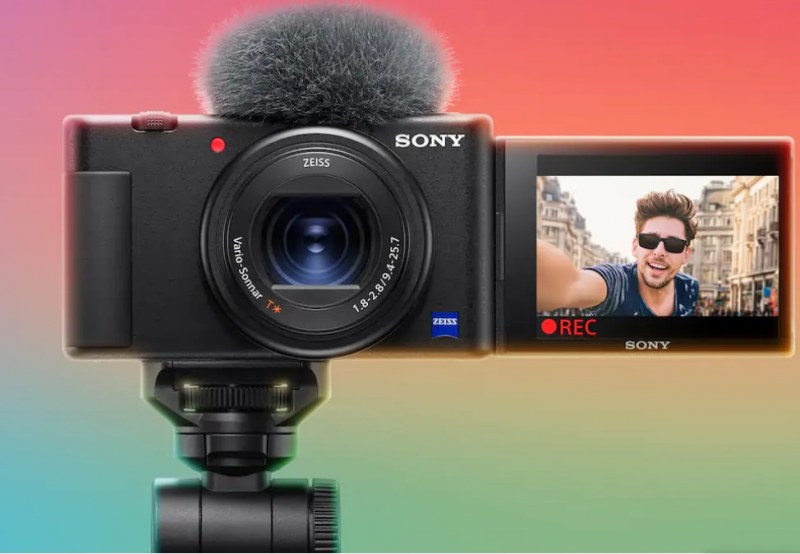 The camera has a sensor-shift image stabilization and comes with different autofocus modes such as contrast-detect, selective single-point, and face detection.
The ZV- 1 features a 3" LCD screen that doesn't have touch input. The camera has a continuous drive of 5 frames per second.
Talking about its video features, it can record 4K videos at 30 frames per second. There is also eye auto-focus for the videos, so you are not out of focus when moving around.
Also, there is a speaker and microphone with support for decent audio.
For connectivity, the camera has USB 2.0 and HDMI ports. Sony also has image edge software that is easy to use and can help transfer footage and capture videos and images.
Key Specs for Sony Digital Vlog Camera ZV-1
20.1 Megapixel Ex-CMOS sensor
3" fixed LCD monitor with 460,000 dots
The continuous drive of 5 fps
Full HD video recording at 30 fps.
Time-lapse recording
USB 2.0 and HDMI
260 Shots battery life.
Price Rs. 67,999
Sony Alpha A6000
The Sony Alpha A6000 is one of the highest-selling mirrorless cameras around. It is priced at Rs. 53,990 for the camera body and 16-50 mm, 55-210 lens.
The Alpha A6000 comes with a 24.3 MP APS-C sensor and features hybrid autofocusing and continuous shooting at a speed of up to 11 frames per second.
The camera also has a new-generation RGB color filter that helps in increasing the light collecting efficiency.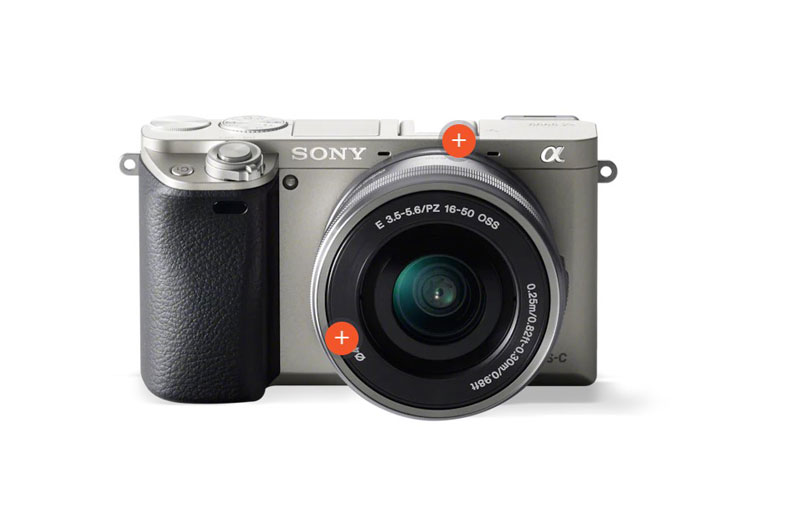 Also, it has a 100-25600 ISO range along with the Auto ISO option. For autofocusing, there are various modes such as Single, Continuous, Face Detection, Multi-area, and so on.
The camera features manual focusing and has 179 focusing points, and 2x digital zoom. Additionally, a 3" LCD screen without touch input has 921,600 screen dots.
The camera is excellent for shooting still but lacks 4K videos.
One of the downsides of this very capable camera is its ability to only shoot video in Full HD.
There is no 4k mode. Also, 2 more issues Sony Alpha A6000 can shoot at a maximum resolution of 1920 x 1080 at 60p.
Although the video resolution is not of the level of 4K, the videos are sharp and have amazing details. The camera comes with connectivity options such as USB 2.0, and HDMI along with built-in wireless capabilities.
The battery life on the A6000 is average; better to have a second battery for the camera, also, the display is non-touch and can't rotate 180 degrees.
You can check some of the videos here, I have shot with this camera.
Key Specs for Sony Alpha A6000
24 Megapixel APS-C CMOS sensor
3" tilting LCD
Bionz X image processor
The continuous drive of 11 fps
179 Focus points
Full HD video recording at 60p
USB 2.0 and HDMI ports
Built-in Wireless connectivity
360 Shots battery life
Best Mirrorless cameras – 50K to 80K in India
Sony A6100 (Good for 4K Videos)
In 2014, Sony launched its A6000 mirrorless camera which was very successful then, and in 2019 launched the next A-series camera – Sony A6100.
The A6100 camera comes with amazing features. So, let's have a look at whether the camera is suitable for you and worth your money or not.
First of all, the camera comes with an elegant body design with a good grip for holding.
The total weight of the camera is only 396 grams that makes it lightweight and easy to carry while traveling/Shooting.
However, it still comes with a smaller battery similar to A6400 but smaller than the a6600.
The camera lacks in-body stabilization but you can always use Sony APSC lenses that offer stabilization.
The camera comes with a 24MP lens, an APS-C CMOS sensor with 125 native interchangeable lenses, and a 1440K dot electronic viewfinder.
The camera lacks the weather sealing on the more expensive Sony a6400.
For video shooting, it supports 4K UHD (3840*2160) video resolution at 30p and FHD at 120p.
It offers shutter priority, Aperture priority, manual exposure mode, custom white balance, center-weighted, built-in flash, and external flash.
The camera's price is Rs 64,990 for the body only in India.
Key Specs Of Sony A6100
24 Megapixel APS-C CMOS processor.
Comes with a 3-inch tilting screen.
Bionz X processor.
16-50mm kit lens.
1440K dot electronic viewfinder.
4K video @ 30p and Full HD video @ 120p.
425 phase-detection AF points.
Support continues shooting at 11p.
ISO range is 100 – 32000 (expandable to 51200).
Micro USB and Micro HDMI Port support
Wireless connectivity support.
396 gram (lightweight).
420 shots per battery charge.
Canon EOS M6 Mark II
The Canon EOS M6 Mark II comes with a 32.5 MP high-resolution APS-C sensor suitable for capturing spontaneous and planned decisive moments with superior resolution images.
To produce high-quality images and fast operation, The DIGIC 8 Image Processor is used to ensure your photos, 4K, and FHD videos look sharp and lifelike with minimal noise or grain.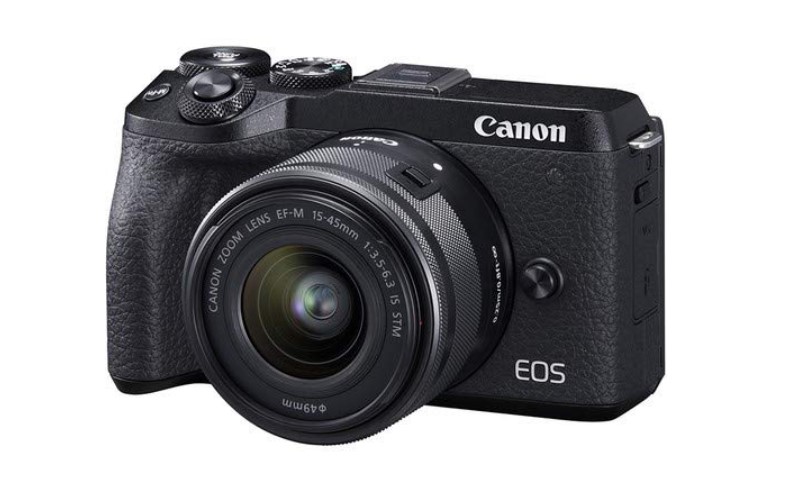 It has an eye detection feature that works both in still and video, and promptly starts focusing on the subject's eye with AF tracking also, its EV-5 feature allows shooting where the subject is not visible to the human eye(in low or no light conditions).
This mirrorless camera allows you to shoot high-quality 4K 30p/25p video and also supports continuous AF in videos using the dual pixel AF system, and enables you to capture 120p high frame rate movies in full HD.
it has an ISO range of 100 to 25,600, which means you will get clearer, sharper & low noise images even when shooting handheld.
For easy sharing, it comes with built-in WiFi. So that users can transfer video and photos directly to their compatible smartphone with the help of Canon's camera connect app.
Additionally, you will stay connected with your smart devices if your camera goes into the auto power-off mode with the help of Bluetooth connectivity.
It is a good camera for vloggers because of its lightweight, articulate screen and compact size. The camera is available online for Rs 75,490.
KEY SPECS FOR Canon EOS M6 Mark II
Compact and lightweight.
32.5megapixel APS-C CMOS sensor.
Comes with the DIGIC 8 Image Processor.
Able to record 4k videos.
Fast and accurate autofocus.
180-degree tilt LCD touchscreen
100-25600 ISO range.
Also good in low light imaging.
Comes with WiFi and Bluetooth connectivity.
410 Shots battery life.
Best Mirrorless Cameras 80K to 1 Lakh
Sony A6400
Note – The Sony A6400 was launched on 8 February 2019, and it is very similar to the Sony a6100 but comes with some minor upgrades.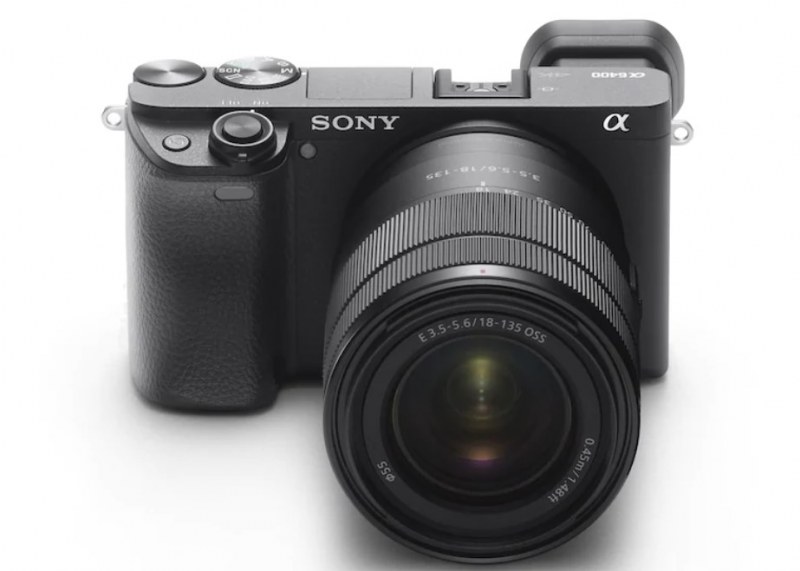 The weight of the A6400 is 7 grams greater than the A6100, which cannot create any major impact.
Weather sealed body can allow the user to not worry about dust and water. Also, if you shoot outdoors or plan to take the camera for landscape or wildlife photography, I suggest you buy the more expensive a6400 over the a6100.
Lastly, the electronic viewfinder on the a6400 is much better than the a6100 as it comes with a 2359k dot Electronic viewfinder instead of a 1440k dot viewfinder on the a6100.
The price of the A6400 camera and the kit lens (16 to 55 mm) is Rs 86,990 in India.
Key Specs of Sony A6400
ISO range is 100-32000 (expandable to 102400).
2359K dot electronic viewfinder.
403 grams (lightweight).
410 shots per battery charge.
Notably, Sony has recently launched the Sony ZV-E10, but it is currently not in stock in most shops I checked.
Olympus OM-D E-M10 III (For Youtube Videos)
Olympus is another brand on the list that makes brilliant mirrorless cameras and shares the market with other rivals.
It is the perfect rival to the Sony A6000 or the A6300, and the benefit of buying this is comparably cheaper prime lenses from Olympus.
Also, it has some features that are not present on the A6100.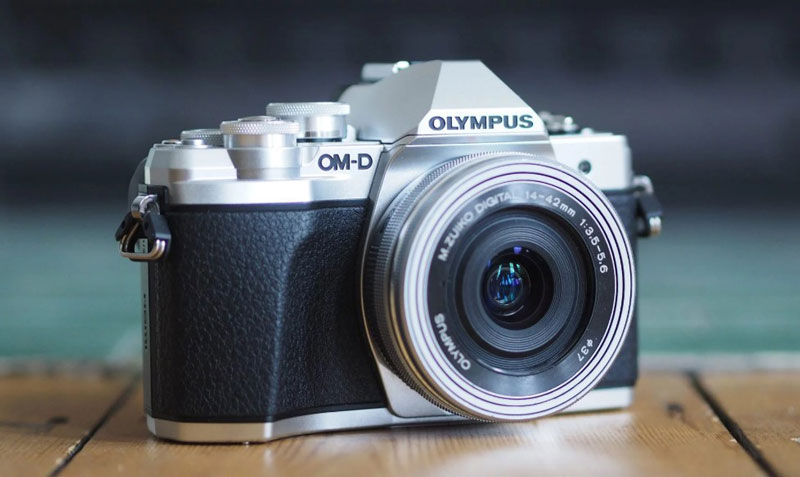 The Olympus OM-D E-M10 is a classy-looking mirrorless camera. It comes with a 16-megapixel Live MOS sensor and an Olympus TruePic VIII processor.
One of the best things about the camera is that it has a built-in 5-axis image stabilization (usually not in similar price cameras). Moreover, the camera has a 121-point contrast-detect autofocus system capable of shooting up to 4.8 FPS with AFC.
Videography-wise, the camera can capture 4K UHD videos at 24p and 30p, while HD (720p) videos can be shot at 120fps, making them slow-mo videos. The camera is available for only Rs. 67,000 for the body and comes with a 14-42 mm lens for Rs. 83,990.
Key Specs for OM-D E-M10 III
16 MP Live MOS sensor
5-axis image stabilization
3" rotating touchscreen LCD
4K UHD video recording at 24p and 30p
HD video recording at 120 fps
121 AF points
Auto, 200-25600 ISO range
The continuous drive of 8.6 fps
Micro USB and HDMI port, built-in wireless connectivity
330 Shots battery life
Also, Read – 7 Best Microphones for Youtube, Singing, Recording Vocals, Podcasts, and Streaming
Panasonic Lumix DMC-G95
Panasonic has launched the new Lumix DMC-G95 mirrorless interchangeable lens camera, and is likely to make its way to India soon.
The camera and the 12-60 mm OIS lens (f/3.5-f5.6 aperture) cost $1199 in the US and will be available in India for approximately Rs. 83,000.
The G95 comes with a new 20.3 Megapixel Digital Live MOS Sensor powered by the Venus Engine.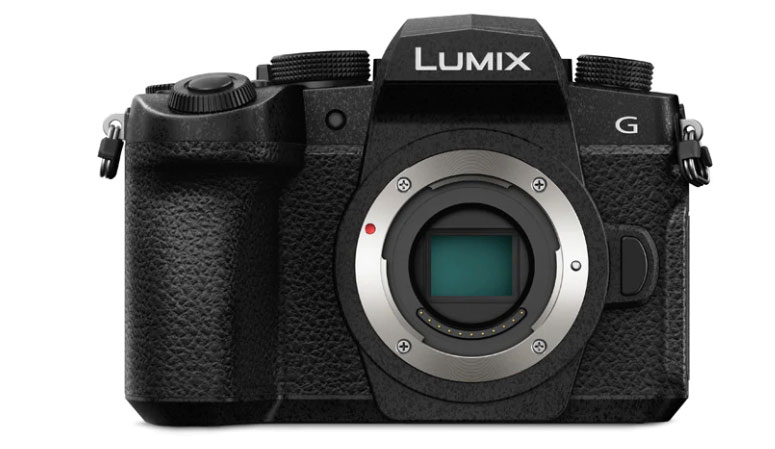 The camera has an ISO range of 200-25,600, 9 FPS burst modes, 49 Autofocus points, and a maximum shutter speed of 1/4000.
The camera offers 4K video recording at 30 FPS and supports 120 FPS slow-motion at 1080P. Further, it comes with a 4:2:0 8 Bit color depth for capturing videos.
The camera also has 5 Axis in-body stabilization and support for the lens's stabilization.
The improved stabilization features make it ideal for hand-held videos and V-logs, even without the need to buy a gimbal. A nifty feature missing from the popular Sony A6400.
Further, the camera comes with a fully articulating touch screen with 3-inch size and 1.24K dot resolution making it easy to watch yourself when filming alone.
Furthermore, it has Bluetooth, and WIFI for syncing media to your phone or computer, and it also comes with a mobile application.
Lastly, the Lumix G95 has a rugged design with a magnesium-aluminum frame and weather sealing.
Click Next Below to Check Out 5 More Best Mirrorless Cameras