Looking for the best headsets with a Mic for Online classes, Gaming, or Office calls to use with your Gaming PC, Laptop, or Mobile? We have some of the latest headphone suggestions for you.
Gaming headphones are available for Rs. 1000, 2000, 3000, or higher. Also, some headphones offer a subdued design, making them ideal for online classes/meetings and official video calls.
I understand that sometimes we need just one headphone to do it all – Gaming, movies, music, online classes, and office calls. We have some suggestions for you too.
There are several headphones with Mic that you can purchase to improve your gaming experience.
Some of these are excellent for enhancing your PC or Laptop gaming experience. For mobile gaming(PUBG, COD Mobile), I suggest you get a TWS or lightweight wired earphones with Mic.
Multi-player games like CS:GO, Valorant are no fun without co-ordinating attacks along with your teammates. Having good headphones is really crucial to hear the enemy's footsteps and the mic is essential to speak to the teammates.
You can even buy the below-mentioned headsets for use with smartphones but look at the connector if these come with a separate wire for the Mic or if the headphone has a USB connector.
Let's Check out the Best Gaming Headphones Worth Buying in India
Cosmic Byte GS410 Headphones with Mic – Price – Rs. 999
Ideal for Gaming – The Cosmic Byte gaming headphones are entry-level headphones. It's suitable for playing games and listening to music.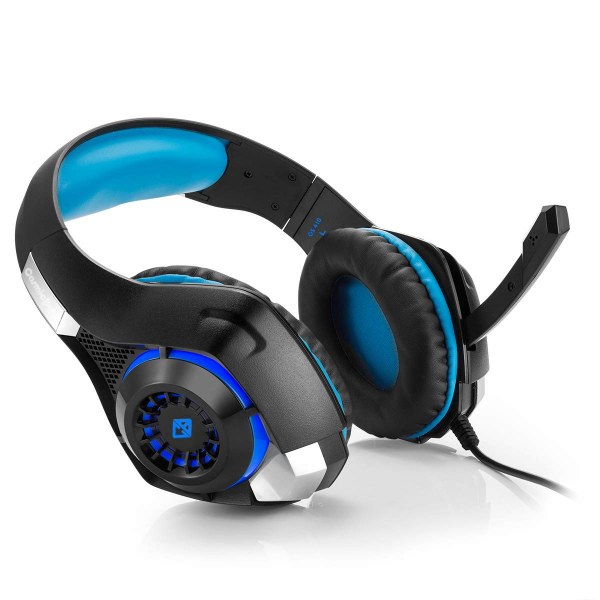 The headphones come with a soft cushion head pad and earpad. The length-adjustable headband comes with hinges. The gadget is built to give you clear sound and deep bass for the real gaming experience.
These are some of the most affordable yet decent-quality headphones that you can purchase to improve your gaming experience. The headphones are the best gaming headsets that you can find under Rs. 1000.
The smart features include in-line Remote Control for sound and mic. The manageable microphone offers unrivaled sensitivity with clear audio.
Key Specification:
Deep bass
Adjustable mic
Lightweight and affordable.
Soft and comfortable ear cushions.
In-built remote control
Single 3.5 mm jack.
15 Hz to 20 kHz frequency range.
Impedance: 32 ohm
Weight: 360 g
Dimension: 215 * 210 * 90 mm
Price: ₹ 999
EKSA E900 Wired Stereo Gaming Headphone – Price – Rs. 2050
Ideal for Gaming – The EKSA E900 wired gaming headphones offer an immersive gaming experience for high-end games with high-quality speakers of 50 mm. This speaker can present a clear treble and surprising bass.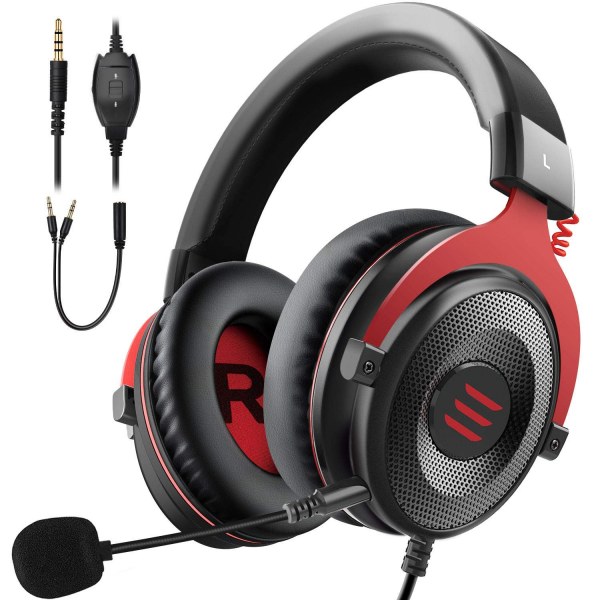 The high-sensitive noise-canceling microphone comes with Omni-directional noise reduction technology and has one key mute function. The mic allows having live talk during the talk without any distractions.
The headphone has a stylish design with resolute construction. The metallic headband is adjustable easily and has thick memory foam cushion ear-cups with the perfect fit.
Key Specification:
50 mm high-quality speakers.
Adjustable noise-canceling microphone.
Great bass and treble.
Ergonomic design.
Retractable band and breathable ear pad.
Durable
in-line audio control.
Weight: 500g
Dimension: 23.2 * 20 * 9.4 cm
Price Rs. 2050
Redgear Comet 7.1 Gaming Headphone – Price Rs. 1999
Redgear Comet 7.1 over-ear wired gaming headphones give you immersive and enjoyable audio for your gaming sessions.
The gaming headphone comes with a cool look with RGB lightings and is available for Rs. 1999. The virtual 7.1 surround sound system, 50 mm drivers deliver balanced and crystal clear audio.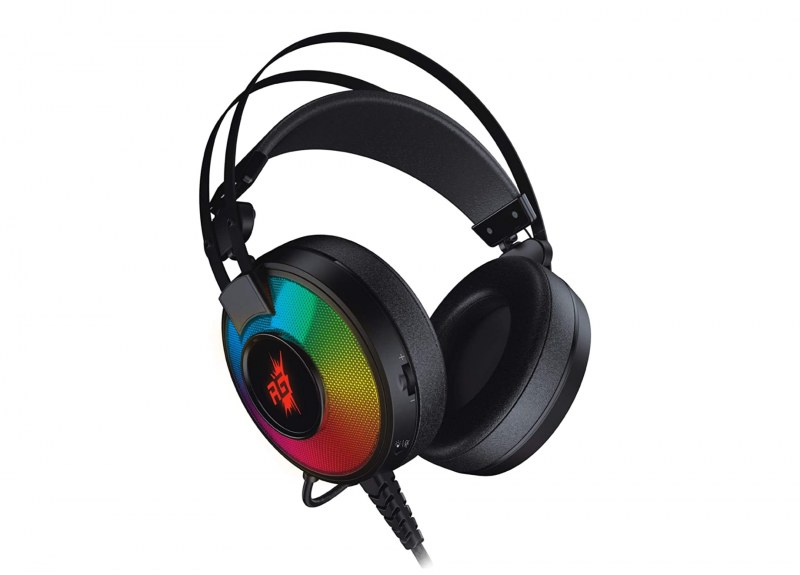 The gaming headphones feature passive noise cancellation – helps you focus on the game, as it reduces environmental disturbance. You can easily hear enemy footsteps and also communicate with your teammates clearly for better gaming outcomes.
Additionally, the device has 7 LED modes to choose from according to your mood. It has an ergonomic design with an adjustable headband. They are comfortable for long gaming sessions.
Key Specifications:
over-ear design with adjustable headband
50 mm drivers
7.1 virtual surround sound technology
7 LED modes
Noise cancellation enable
Frequency range – 20 Hz – 20 kHz
Connector type – wired
Ergonomic design
Customization drivers
Easy and simple controls
Weight – 526 grams
Price Rs. 1999
Redgear Cosmo 7.1 USB Headphone – Price – Rs. 1999
Ideal for Gaming – The Redgear Cosmo wired headphones permit you to hear the game sound more precisely and without interruption.
The headphones intensify your gaming action by allowing you to easily hear the footsteps and sounds to improve your game.
The adjustable and noise-canceling microphone can be used as per your gaming need to talk to your teammates to make the gaming tactics.
You can take it off when not in use, allowing you to use the headphones to listen to music.
Gamers demand cool gadgets, and Cosmo fulfills this by offering them stylish and charming headphones. It has amazing RGB LED light effects on the ear-cups and tip of the microphone.
The audio control unit comes with total sound command. It allows audio control by the fingertips.
Key specification:
Attractive and stylish design with RGB lighting.
Clear and accurate sound
Detachable microphone with noise-canceling convenience.
Durable
Comfortable and soft padding for a long gaming session.
Weight: 608 g
Dimension: 237 * 112 * 217 mm
Price: ₹ 1,999
JBL Quantum 100 Wired Over-Ear Gaming Headphone – Price Rs. 2399
The JBL Quantum 100 has a minimalist design, doesn't shout gaming, and can be used for music, online classes, or office calls without looking odd.
The JBL Quantum wired gaming headphones let you listen to the tiniest movement in the game, to defeat your enemy before they even see you.
The Quantum Sound Signature makes it possible for the gamer to be further competitive.
The headphones come with an understated design and can even pass on as music headphones or you can even use these for online lectures and video calls.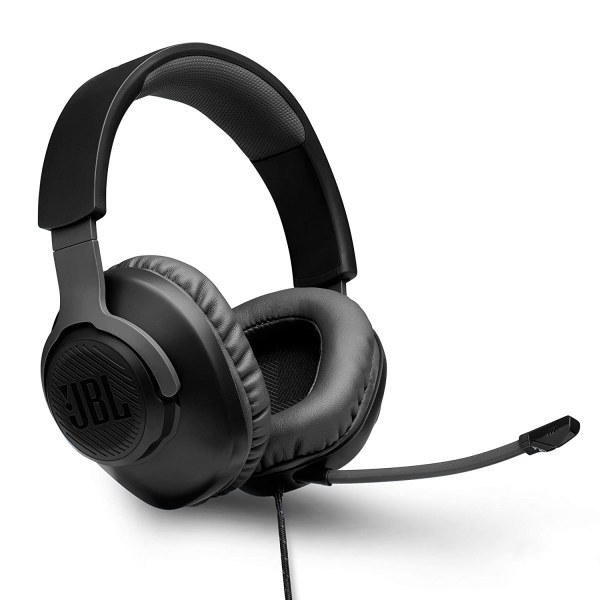 The gadget offers full compatibility with the native sound surround. It delivers the most realistic audio.
The microphone features a voice focus directional boom mic with a mute option. The mic is detachable, so you can keep it aside when not in use.
The high-grade building material provides comfort with its soft cushions and a lightweight headband during long gaming sessions.
Overall excellent build quality, sound, and decent mic make this ideal for the price.
Key Specification :
40 mm dynamic drivers to deliver JBL Quantum Sound Signature.
Detachable Voice Focus directional boom mic with a mute trait.
20 Hz to 20 kHz frequency response.
Impedance: 32 ohm
Weight: 220 g
Dimension: 23 * 25 * 10 cm
Price: ₹ 2,399
Cosmic Byte Equinox Europa 7.1 Gaming Headset – Price Rs. 2499
The Cosmic Byte Equinox Europa offers flawless gaming audio with striking Spectra RGB software-controlled LED lightning.
These look pretty aggressive and come with a soft cushion headband that allows long-hour gaming without discomfort.
The dual-driver system and Surround sound effects with Equalizer deliver HD quality audio. This feature will give you an enjoyable experience.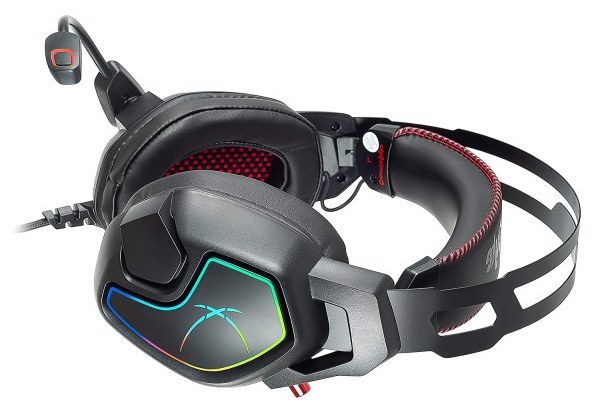 It comes with ENC technology, that reduces the ambient noises so you can clearly communicate with your teammates.
The on-cable control allows you to control everything on the headsets, from LED lighting to volume and ENC microphone.
Key Specifications:
Dual driver system
7.1 surround sound technology
20 Hz – 20 kHz frequency range
LED effects
Inbuilt noise cancellation chip (ENC)
Auto-adjustable headband
Mic On/Off
On cable controller
Weight – 600 grams
HyperX Cloud Stinger Headphone – Price – Rs. 3490
The HyperX Cloud Stinger Core gaming headphones are for gamers who want excellent sound quality. This headphone provides all the features that you want in a premium headphone.
These are ideal for gaming and listening to music; some folks can even use these for online classes.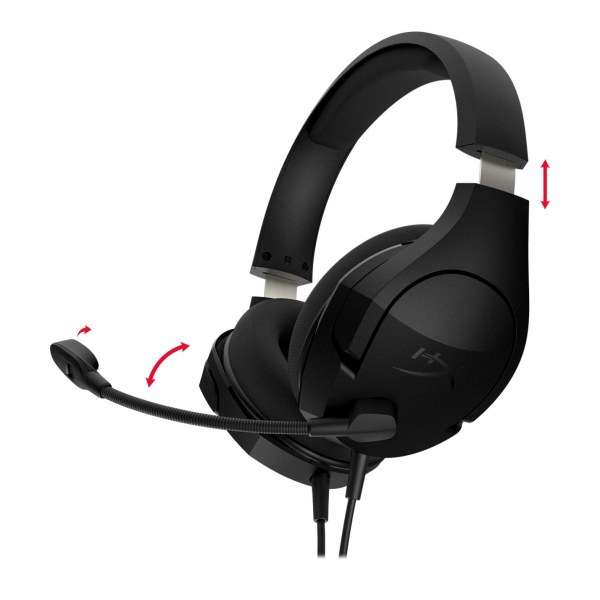 The amazing gadget is designed with great sound quality, comfort, convenience, and reliability. The built-in audio controls are handy to use. For the comforts of the ear, it has soft cushioned earpads.
The detachable microphone has a noise-canceling service. These are also ideal for office calls or online classes if you are not looking for minimal design.
The headphones are lightweight and have a broad headband. These are a bit large but are very comfortable to wear for long gaming sessions or calls.
Key Specification:
40 mm dynamic drivers.
20 Hz to 20 kHz frequency range.
In-line audio control.
Noise-canceling adjustable mic.
Durable and adjustable steel slider.
Multi-platform compatibility.
Weight: 213 g
Dimension: 18.08 * 17.73 9 * 8.18 cm
Price: ₹ 3,490
HyperX Cloud Core + 7.1 Gaming Headphone – Price – Rs. 6490
Ideal for Gaming and Music, Personal Video calls – HyperX is well known for its gaming headsets. The company has launched its new HyperX Cloud Core wired gaming headset and is available on Amazon India at INR 6,490.
The Cloud Core's digital signal processing sound card delivers virtual 7.1 surround sound with an immersive audio experience.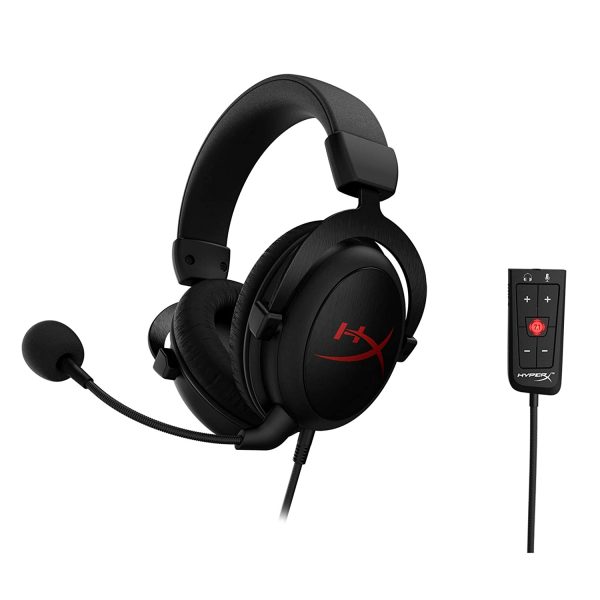 The USB advanced audio control box is easy-to-use, can access mic volume conveniently, headset volume, and mute the mic without going into the system menus. It is compatible with PC and PS4 and can connect through a 3.5 mm jack with Xbox one, Nintendo Switch, and mobile.
The built quality is premium, with a stiff and comfortable aluminum frame to handle the daily wear and tear. The TeamSpeak certified noise-canceling mic is detachable and gives voice clarity during the live chat with your gaming partners.
These are not too flashy; you can even use them for Google Meet/DUO/Zoom/Facetime and more software for official video calls and meetings.
Key Specification :
40 mm drivers with enhanced bass.
Light-weighted with a soft and comfortable cushion.
2.4 GHz gaming-grade connection.
Virtual 7.1 surround sound.
Convenient and advanced audio controls.
Multi-platform compatibility.
Durable
USB Connector, 3.5 mm headphone connector.
Weight: 356 g
Dimension: 195 * 148 * 96 mm
Price: ₹ 6,490
Logitech H111 Wired Headphone – Price – Rs. 795
Ideal for Office Calls and Online classes – The Logitech H111 wired headphones deliver excellent audio for office calls and online classes. Also, you can use these for Gaming if you are looking for a lightweight headphone that doesn't shout gaming.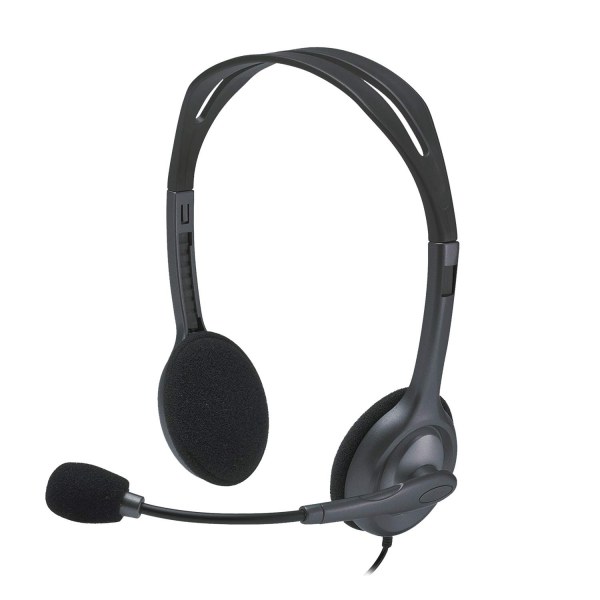 The robust and lightweight headphones come with a flexible headband with a wide range of adjustments. The cushions offer you a long duration of comfort with their ultra-soft foam.
The detachable rotating microphone features good voice captures and reduces background noise via its noise-canceling trait. The 3.5 mm jack is compatible with almost all the systems at your home.
KEY SPECIFICATION:
Sturdy and light-weight
Sound clarity is good
Detachable microphone with noise-canceling utility.
Long-lasting
Soft-padding for long gaming and online class sessions
Weight: 136 g
Dimension: 165.1 * 699 * 165.1 mm
Price: ₹ 795
Sennheiser PC 8 Headphone With Mic – Price – Rs. 2,399
Ideal for Office Calls, Music, and Online Classes – The Sennheiser over-ear headphones offer an immersive experience and are good for listening to music or doing Google meet or Zoom calls. These are ideal if you are open to spending a little more than the Logitech H111.
Its sound clarity is remarkable, which lets you use it for online classes and VOIP Calls.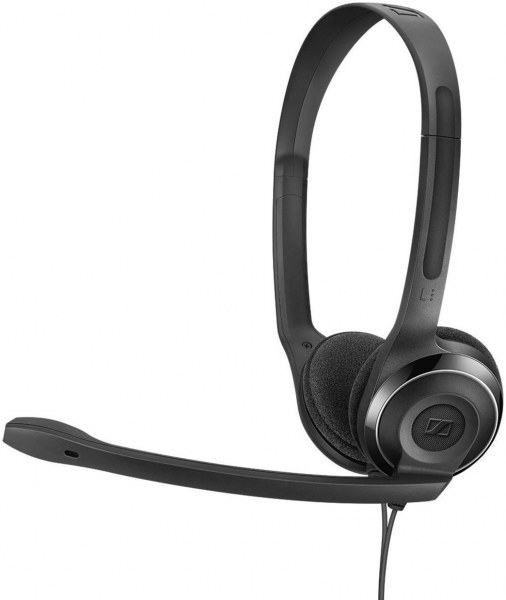 Sennheiser is the brand chosen by many recording artists. The PC 8 USB plug n play featured headset has compatibility with any PC or Mac, laptops, and desktops.
The headphones are lightweight and comfortable to wear for long hours. The double-sided pattern has soft pads to give rest to your ears. The superior sound quality provides a sublime musical experience.
The noise-canceling microphone enables you to attend office meetings and online classes without disturbing or profound background noise.
Don't expect too much from Noise-canceling if you want a better Noise-canceling headphone, can have a look at these – 8 Best Hi-Res, Over-Ear, Wireless Headphones With ANC For Audiophiles.
The convenient in-line buttons enable volume and mute controls.
KEY SPECIFICATION:
Notably Light-weight
Effectual sound clarity
Durable
Microphone with noise cancelation
Handy controls
Double-sided design with soft padding
Weight: 84 g
Dimension: 210.8 * 635 * 243.8 mm
Price: ₹ 2,399
Concluding Thoughts
These are some of the best headphones you can buy online or offline. Also, let us know if you want any suggestions or are considering any other model you wish to buy or want some advice on.
Also, you can check out some of our top articles on headphones.