Lava 4G Connect M1 feature phone allows you to make 4G Voice calls. If you are using a Reliance Jio 4G sim probably you may want a smaller feature phone for making calls and staying connected on social media.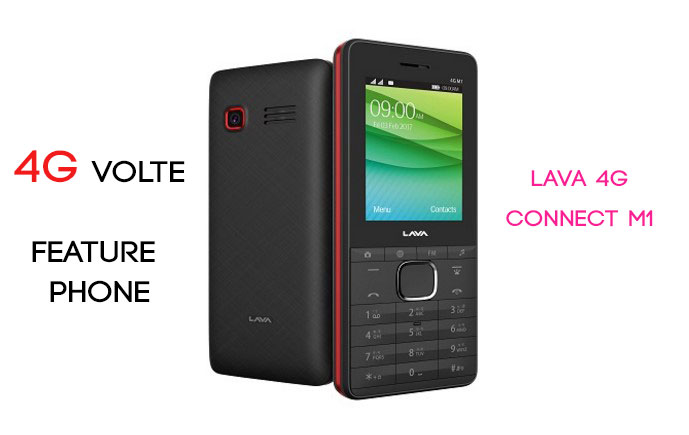 The Lava 4G Connect M1 is one of tge earliest feature phones to offer 4G VOLTE connectivity.
The smartphone is intended for rural smartphone buyers who mostly want to make calls and occasionally use data.
Unlike most feature phones the  Lava 4G Connect M1 offers better specs.
It is powered by a 1.2 GHz Quad Core processor (unknown) and coupled with 512 MB Ram and a VGA camera. There is 1750 mAH battery which can last long considering it has a non touch small display.
The smartphone apparently don't run on the Android OS and does not have a front camera.
Commenting on the launch, Gaurav Nigam, Head – Product, Lava International said, "At Lava, we strive to think ahead of the curve w.r.t product innovation and the launch of Lava 4G Connect M1 is a step forward in this direction. The launch of this smart feature phone, we believe, will create possibilities for users as they will now be able to consume digital content and even do digital transactions. Furthermore, a sizeable segment of feature phone users in India who use their phone to only make calls will now be able to access the internet; to their advantage; and that too at affordable price."
Specs for Lava 4G Connect M1
Processor – 1.2 GHz Quad core Processor
Display – 2.4-inch screen
Battery – 1750 mAh battery
VGA Camera
Storage – 4 GB ROM expandable up to 32GB
RAM  – 512 MB RAM
Connectivity – 4G with VoLTE, 2G and 3G
Bluetooth and WIFI
Facebook lite pre-installed
Box speaker with K class amplified
Lava 4G Connect M1 is priced at Rs 3330 which seems to be high considering there are many android 4G phones available from JIO, Intex and Swipe in 3K to 4K price range.
Reliance JIO is also coming with a feature phone with 4G VOLTE and would be priced at Rs 1299.
That kind of pricing can help adoption of 4G devices in the rural and low end segments. But the above 3K price is a dicey move by Lava and may find very limited takers.