HP Envy Series – Latest Laptops, Specs, Price, and Buying Advice – HP has launched Envy Series in India in a bid to expand its laptop portfolio in the country.
We have got 3 different types of laptops :
13.3 Inch Touch Screen (x360) laptops
13.3 Inch Non-Touch Screen Envy laptops
15 Inch Extreme Performance Notebooks
We'll check all of the latest offerings from HP, grab a coffee, and read through.
The HP Envy 15 and 13 are premium laptops that compete with the likes of Dell XPS 13, Macbook Pro 13, and XPS 15.
Let's Have a look at the new HP Envy Notebooks that are worth buying:
The HP Envy X360 is available both with Intel 11th Gen and AMD Ryzen 4000 series.
The Intel version comes with better single-core performance whereas the AMD Ryzen offers more processor cores and is better at multi-tasking.
HP Envy x360 – Powered By AMD Ryzen
The AMD Ryzen based x360 comes with a model number – HP Envy – 13-ay0045au and it is a best seller Notebook from the company in the 70k to 1 lakh price segment.
The x360 laptops come with a touch screen and have a 360-degree hinge to use as a tablet.
The Laptop is convertible and comes with a 13.3-inch touch-enabled display panel and an 88 percent screen-to-body ratio, 400 nits brightness, and a color-accurate display.
Powering the HP Envy x360 is AMD Ryzen 4000 series mobile processor with Radeon Graphics.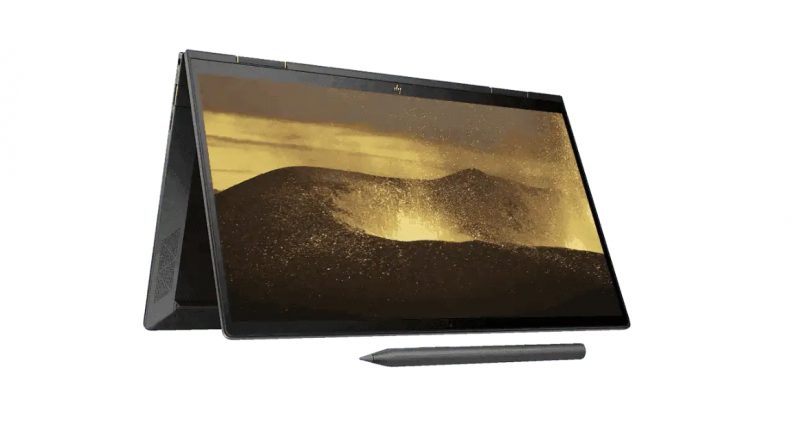 It has the Ryzen 4500U – 6 Cores processor that comes with a max Boost clock speed of 4.0 GHz.
Additionally, you will get 8 GB of DDR4 RAM and 512 GB of storage.
The keys in the backlit keyboard remain illuminated for easy viewing in dark conditions. There is a pre-installed Windows 10 and office 2019 lifetime edition.
The presence of Bang and Olufsen audio technology can deliver a clear, sharp, and straightforward sound for your PC.
You are allowed to keep things confidential with its unhackable camera shutter and dedicated microphone mute button.
The laptop comes with a 51 WHr battery size that can offer up to 8-10 hours of usage in real life.
In terms of connectivity, the laptop comes with Bluetooth 5.0 and Wi-Fi 5 for connectivity options.
You will receive a 1-year warranty. The price of the notebook is Rs 73,999.
The HP Envy X360 is an excellent machine with a great keyboard, bright and color accurate display, fast performance, Good Battery life & Portable – ideal for professionals and students. Hard to find so many qualities in most laptops. Only Con is that we can't increase the Ram.
HP Envy X360 – Ryzen 4700U, 16 GB Ram
In case, you need more power and want to do some heavy work in photoshop, design, or coding – we have the AMD Ryzen 4700U powered Envy X360.
It has the same design and features like the above-mentioned model but comes with the following upgraded specs.
Firstly, we have got the AMD Ryzen 4700U – 8 Core processor that comes with 4.1 GHz Boost clock speed and 8 MB cache.
Also, we are getting 16 GB of DDR4 Ram with a 3200 MHz clock speed that ensures that we have excellent multi-tasking capability.
Also, if you want your laptop to be future proof then can opt for this variant. The Notebook is available for purchase for Rs. 1 Lakh.
For most people the Ryzen 4500 U variant is more than sufficient for doing all sorts of work but if you need a more powerful machine then can opt for the 8 Core Ryzen 4500U version.
Next, we have the 11th Gen Intel processor-based versions of HP Envy x360. There is a base model with Intel Core i5 and a premium model with Intel Core i7.
Notably, the Intel models are available in the golden color whereas the Ryzen models are available in the black color option.
Both Intel and AMD Models have the same design, battery capacity, display, ports and other specs, apart from the processor.
HP Envy x360 – Powered By Intel 11th Gen Processor
The HP Envy x360 (Model no: 13-bd0004TU) is a convertible laptop with 13.3 inches screen size. The laptop is available with a price tag of Rs. 84,990.
It has a touch-enabled display and a 88% screen-to-body ratio. The 360-degree flexible hinge allows you to turn it as per your requirement. It comes with a rechargeable MPP2.0 Tilt Pen.
The machine is driven by the latest Intel 11th Gen Core i5-1135G7 that clocks at 2.40 GHz and have a maximum frequency of up to 4.20 GHz.
It has 4 cores and 8 threads architecture with an 8 MB smart cache.
It runs Windows 10 Home operating system and comes with the MS office 2019 pre-installed.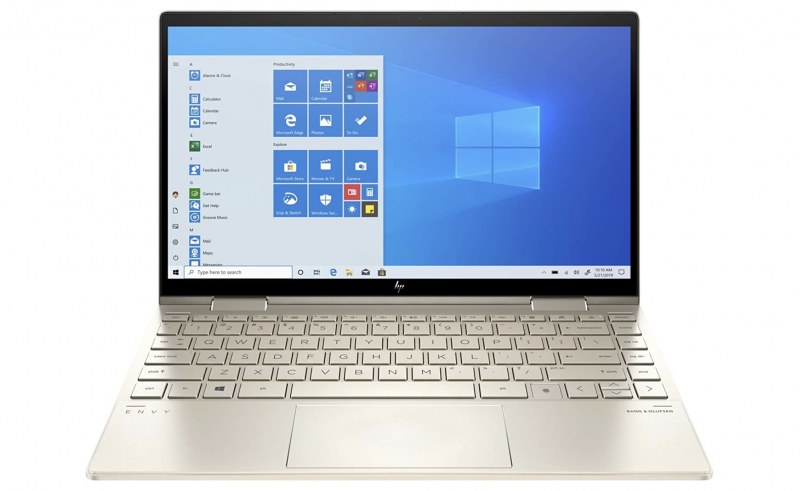 Additionally, it pairs 8 GB DDR4 (3200 MHz) RAM. For storage, it has 512 GB PCIe NVMe TLC M.2 SSD.
It has an integrated Intel graphics card.
The HP convertible notebook has a full-size backlit, pale-gold keyboard. It has a dedicated Mute mic button with an on/off LED indicator and a fingerprint reader. The beautiful and stylish laptop weighs 1.32 kg and measures 306*194*16 mm dimensions.
Moreover, for wireless connectivity, it supports WiFi 5 and Bluetooth 5.0. The port comprises – 2* USB 3.0, combo jack, and microSD card reader.
The 51 WHr battery is claimed to have a lifespan of over 10 hours on a single charge.
It has an HD web camera with a privacy shutter and an integrated dual array digital microphone.
PROS
Sleek design with a sturdy look
Great performance with voice control
Light and thin professional laptop
CONS
Considering the price the Ryzen 4500U model seems to be a better deal, the rest is your choice.
HP EnvyX 360 – Intel 11th Gen Core i7, 16 GB RAM
This is the souped-up version of the Envy X360 with the Intel Core i5. The only difference we have here is the upgraded processor and more ram.
The laptop is powered by the 11th Gen Intel Core i7-1165G7 with 4 Cores and a boost clock speed of 4.7 GHz and 12 MB Cache.
The laptop comes with the Intel Iris Xe Graphics and offers overall excellent graphical and single-core performance.
The Intel i7 11th gen is crazy fast when it comes to loading Applications or doing tasks that utilize fewer cores.
Also, we have got 16 GB DDR4 Ram with 3200 MHz clock speed that speeds up things further.
The laptop is available for Rs. 99,990, the same as the AMD Ryzen 4700U version.
Since there is no price difference and both are super fast machines pick the one that best suits your needs. For multi-threaded applications, Ryzen with 8 Cores is better for most general tasks the i7 is ahead.
HP Envy 13 – The 13 Inch Powerhouse (Non-Touch)
The Envy 13 runs on the 10/11th Gen Intel Core i7 U and G (power efficient) series Processors. Unlike the X360 series, these come without a touch screen or a 360-degree hinge.
Also, since these are thin and lightweight ultrabooks, they come with the power-efficient NVIDIA GeForce MX350/MX450 graphics card.
HP Envy 13 Specs and Features
You will get a 13.3 diagonal Full HD bezel-less display that comes with 400 nits of max brightness and has a 100% sRGB color gamut.
The display is decent on these HP 13 machines and better than most laptops you will find in this price range.
The dimension of the notebook is 30.65 x 19.46 x 1.69 cm.
At 1.3 kg, the Laptop is relatively light in weight and allows you to carry it anywhere with you.
When it comes to battery, Envy 13 offers a 3-cell 51 WH Li-ion battery. Battery capacity is not huge, but considering the power-efficient processors, you can get over 8 hours of battery life.
You will get 8GB DDR4 RAM and 512 GB on both the lower variants, whereas the top variant gets 16 GB of Ram.
I believe the Ram is soldered, and it will be impossible to increase it in the future.
The audio of the notebook is handled by Bang & Olufsen with HP Audio Boost 2.0.
When it comes to webcam, you will get a wide version HD camera along with a camera shutter and integrated dual array digital microphone for better audio.
The keyboard of the notebook is full-size, natural silver, and backlit.
Furthermore, The connectivity options include Wi-Fi 6 (better and faster than the WIFI 5) and Bluetooth 5.
Envy 13 – Variants
HP ENVY Laptop – 13-ba0003tu (Core i5, 10th Gen)
It is the starting variant and is available for Rs. 70,990.
Powering the laptops is the 10th Gen Intel Core i5-1035G1 (1.0 GHz base frequency, Boost clock up to 3.6 GHz, 6 MB L3 cache, 4 cores) processor along with the Intel UHD graphics.
The laptop comes with 8 GB Ram and 512 GB SSD Storage. Considering the price it won't hurt to go with the Ryzen 4500U based x360 version unless you hate the touch screens.
The only pro here will be the added battery life as the touch screen machines tend to eat more battery.
HP ENVY Laptop – 13-ba1018TX (Latest)
It is the top variant and is available for Rs. 109,990.
Powering the laptop is the 11th Gen Intel Core i7-1165G7, Quad-Core processor offering up to 4.7 GHz Boost clock speed, and 12 MB L3 cache.
Additionally, we have got the dedicated Nvidia MX 450 graphics card (2 GB VRAM) that can offer better performance than the integrated card in most of the above-mentioned Notebooks.
Furthermore, we have got the 16 GB DDR4 Ram with 2666 MHz and a 1 TB Nvme SSD. Also, HP claims that the IPS display on the new i7 model has up to 1000 nits of peak brightness.
The laptop is available for Rs. 10,000 higher with a graphics card but without a touch display. I think it will be better to opt for the touch screen version (x360).
HP and its weird laptop naming … God save writers like me.
Next, we have the most powerful HP laptop that you can buy.
HP Envy 14 and Envy 15 – 2021
HP has launched two new laptops in India powered by the new Intel 11th gen Tiger Lake processor. Both the laptops are upgradeable to Windows 11 though presently loaded with Windows 10 operating system.
The laptops are designed for creators, programmers, and working professionals.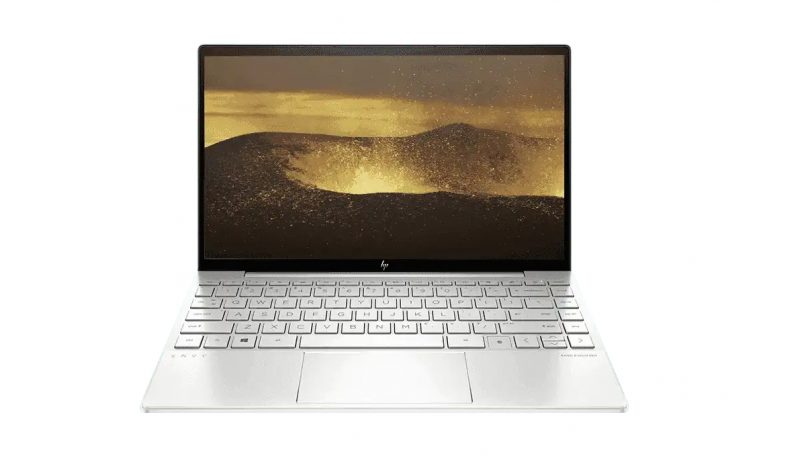 Let's dive into the specifications and features offered by the HP Envy laptops:
Firstly, we will discuss the specification details that differ in both newly arrived notebooks.
HP Envy 14 (2021) Laptop:
Powering the HP Envy 14 is the Intel 11th Gen Core i7 processor, which is paired with the NVIDIA GeForce GTX 1650 Ti graphics card for a better visual experience.
In addition, it packs up to 16 GB DDR4 RAM (3200 MHz), as well as up to 1 TB PCIe NVMe TLC SSD storage.
Envy 14 has a sleek design, and it weighs 1.49 kg also measures dimension 313.1*224*17.9 mm.
Further, it packs a 4-cell 63.3 Whr battery and supports fast charging.
It offers a battery backup of up to 16.5 hours as per HP.
HP Envy 15 (2021) Laptop:
Envy 15 is powered by a powerful 11th Gen Intel core i9 processor.
To handle intensive graphic tasks, it has NVIDIA GeForce GN 20 E3 graphics card. Moreover, it pairs up to 32 GB DDR4 (3200 MHz) RAM and up to 2 TB PCIe NVMe SSD storage.
It measures 2.14 kg of weight and 357.9*236.8*18.45 mm in dimension.
Moreover, the notebook comes with a massive 6-cell 83 Whr battery that delivers up to 16 hours of battery life, also supports fast charging.
Let's dig out the similar functions of both Envy 14 and Envy 15 Tiger Lake laptops:
One of the key highlights of the laptop is its excellent display. The display is color accurate with 100% sRGB, 16:10 aspect ratio, and up to 400 nits peak brightness.
The Envy 14 has a 14-inch FHD (1920*1080) display panel, whereas the Envy 15 comes with a 15 inches screen size.
The ports section in both the HP devices includes – ThuderBolt 4, 2* USB Type-A, HDMI 2.0, microSD card reader, and a headphone/microphone combo. For wireless connectivity, they support WiFi 6 and Bluetooth 5.0 version.
The laptops have a 720p HD webcam with a privacy shutter and a fingerprint reader. Furthermore, they come with dual speakers, supported by Bang and Olufsen.
Additionally, the classy notebooks comprise a full-sized backlit keyboard. The touchpad supports multi-touch gestures.
Pricing and Availability:
HP Envy 14 (2021) will be available to purchase with the starting price of INR 1,04,999 whereas, the HP Envy 15 (2021) has the starting price of INR 1,54,999.
Both the models will have a Natural Silver color and will be available online.
HP Envy 15 (2020) – For Content Creators and Professionals
It is worth noting the company's latest Envy 15 laptop features up to a 10th Gen Intel Core i7 H-Series processor, Nvidia GeForce Graphics, and 16 GB of DDR4 memory, among others.
Meanwhile, HP Envy 15 (ep0123TX) is available for Rs 1,26,999.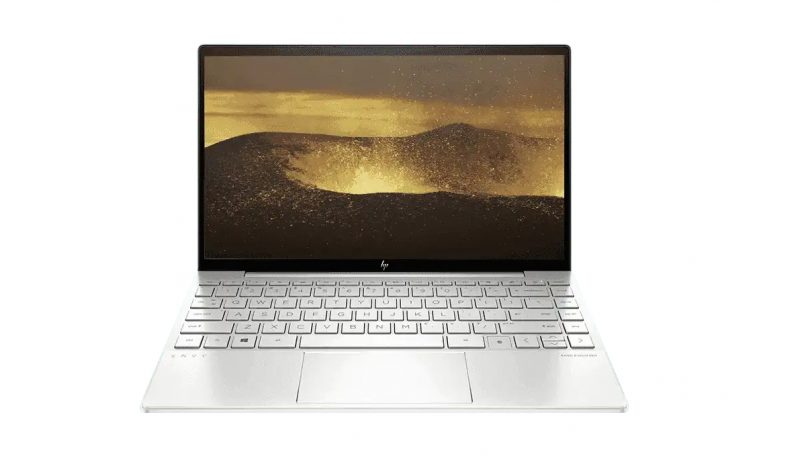 HP ENVY Laptop – 15-ep0123tx
The second laptop is available at Rs 1,26,999 currently and was launched for nearly 25k more.
Under the hood, we get the 10Gen Core i7 10750H (6 Core and 6 Threads, up to 5.0 GHz clock speed) with 16 GB of DDR4 RAM (2933 Mhz) and 1 TB of NVme SSD storage.
The Laptop comes with Nvidia GTX 1660Ti Max-Q with 6 GB of GDDR5 VRAM.
The bright and Full HD (1920 x 1080) 15 inch diagonal, the micro-edge display will offer you more screen space to easily work and share your creations.
The display comes with WLED-backlit, 300 nits of max brightness, and has 72% NTSC color gamut or nearly 100% sRGB color space.
So the display is decent on the HP Envy and is among very few laptops that come with a color-accurate display panel.
HP Envy 15 is available with a 64-bit version of Windows 10 Home pre-installed.
The audio is taken care of by dual Bang & Olufsen speakers with HP Audio Boost 2.0.
The cool grey keyboard is backlit and island-style.
The Laptop has an 83WH Li-ion battery, which is pretty large and will ensure that you get over 8 hours of battery life with ease.
When it comes to connectivity options, it includes Wi-Fi 6 AX 201, Bluetooth 5, two super-speed USB type-C ports, one microSD card reader, a full-size HDMI port.
You will get a 1-year warranty and weighs 2.14 kg.
Also, you get an in-built Alexa.
The HP Envy 15 is a decent option, and considering it is far cheaper than the Dell XPS 15 may be attractive to buyers looking for a killer deal.