Online Video Editors are new compared to the PC/Mac-based software that has been available for ages.
In this article, we will explore the benefit of using an online video editor over standard software for video editing.
Disclosure – This is a Brand Story.
I have been using Adobe Premiere Pro and Apple Final Cut Pro X for almost seven years. I have made several videos for my Youtube Channel or the Social Media Handles using them.
Also, in the past, I have tried less complex software like Filmora 9 by Wondershare that even does a good job.
But I always wanted to try an online video editor and see if it can save time on certain projects.
I recently tested the InVideo Video editor and was impressed by some of the features that I will share in detail subsequently.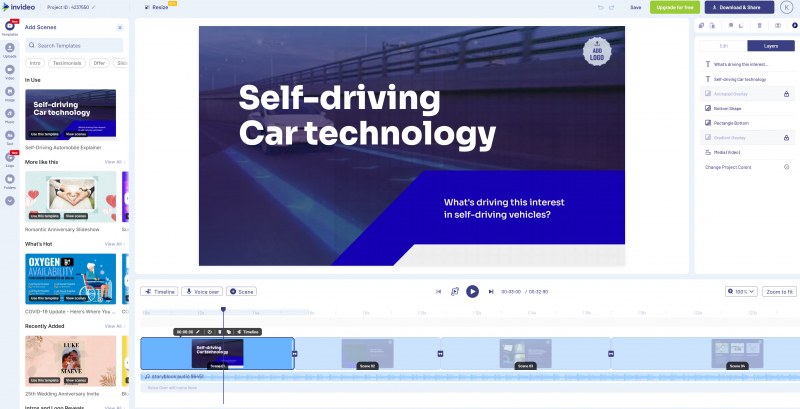 Also, will share the experience What is it like to work on projects using an Online Video Editor?
And I'll also try to explain the key features, Pros, and Cons of using it Vs popular PC software.
Invideo Review – An Online Video editor for Quick Videos
Sign up Process
Step 1 – Visit https://invideo.io/
Step 2 – Click on Sign up.
Step 3 – Fill in the required details like Name, Mobile No, Email ID, and Password.
You don't need to pay anything for the Free plan and not even have to share credit card details to get started.
They also have paid plans for more advanced users.
Features & Templates
You can easily create professional videos for social media sharing using Invideo.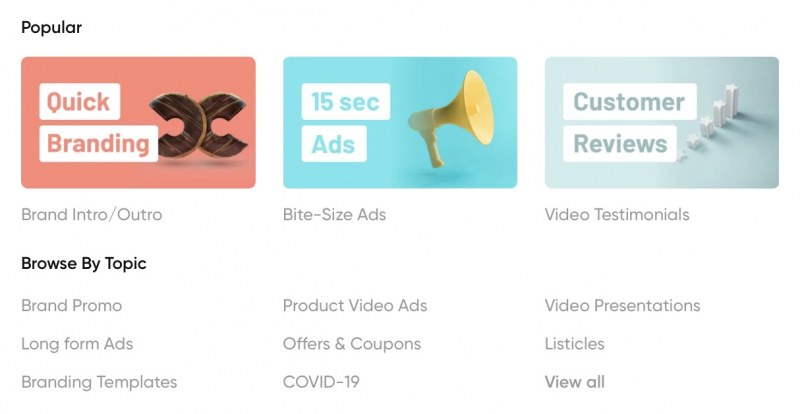 Invideo has several premade templates for various categories like Brand, Products, Ads, Presentation, Offers/Coupons, COVID-19, Invitations, Motivational quotes, Webinar promos, Bite-size ads, Video testimonials, Greetings, Listicles, and Snackable videos.
Furthermore, you can also convert text to video for your social media platforms.
Talking about its feature, it includes Animation, Voice-over/Audio, Collaboration Tool, Brand overlay, Split/Merge, Text to Video conversion, Video editing, like many more features.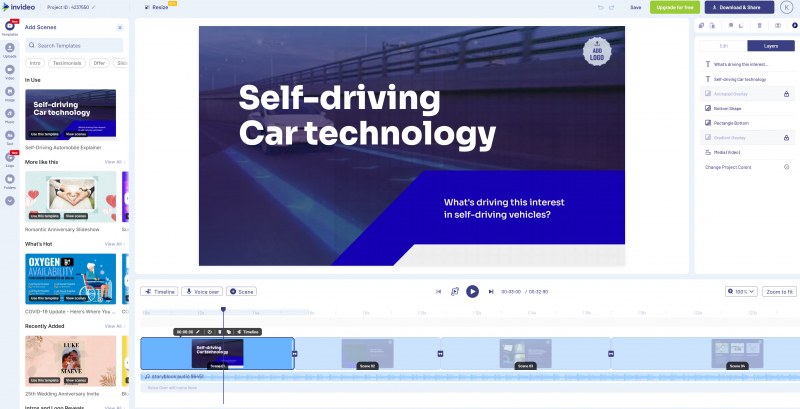 Pre-made Templates
I think the biggest advantage of using the Invideo editor over others is the Pre-made video templates. You can quickly use a template, add images and your text and export the video for sharing on Social Media.
This is a big time saver for many folks who don't want to spend all day creating a small video clip that has text animation, transitions, and background music.
You can even record voice-over for these videos and make them more professional.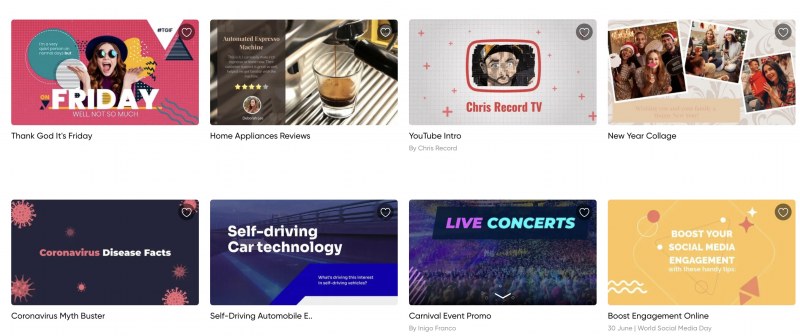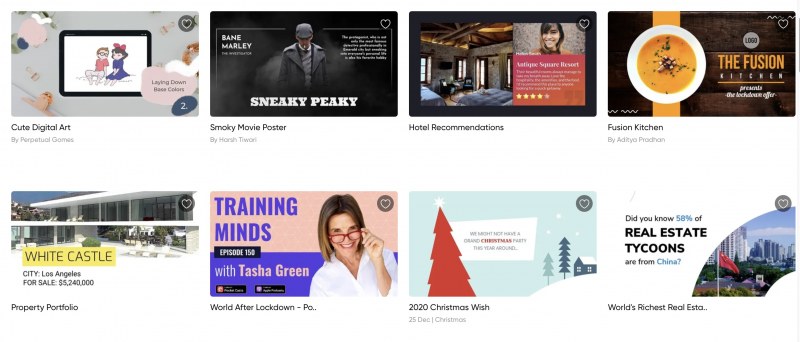 Let's have a look at the process to make a video:
How is the process to make a professional video?
Step 1 – Select the type of template and the dimension of the video like Wide(16:9), Square(1:1), and Vertical(9:16).

Step 2 – You can pick up any pre-made template that you think will make your work easier for creating the video.
Besides, if you want you can even start from scratch and quickly add images and text as per your preference.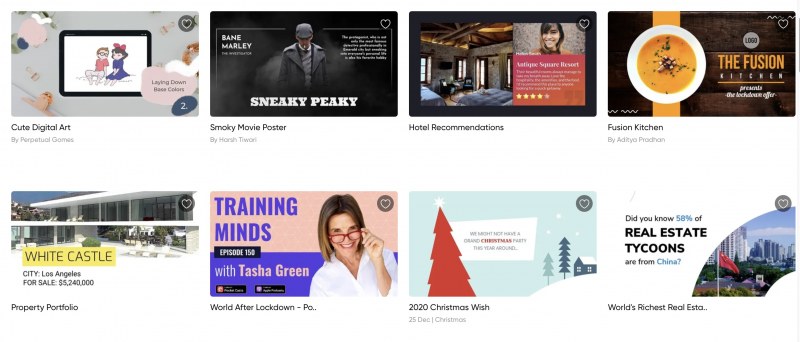 Step 3 – (i) There is also a media library that you can access to find related images & videos from millions of photos & videos available.
This makes the process easier as with most offline editors you have to separately search and download stock images and videos.
You can also upload your images and videos to include in your projects.
(ii) You can also add music, Text/Font, Animated effect, and stickers in your video using the intuitive video editor.

Step 4 – After finishing editing, you can export your video download it to your laptop by clicking download & share as shown in the figure below:
Note – Exporting process takes time based on the duration of your video. I think it was slightly more than what I would have liked.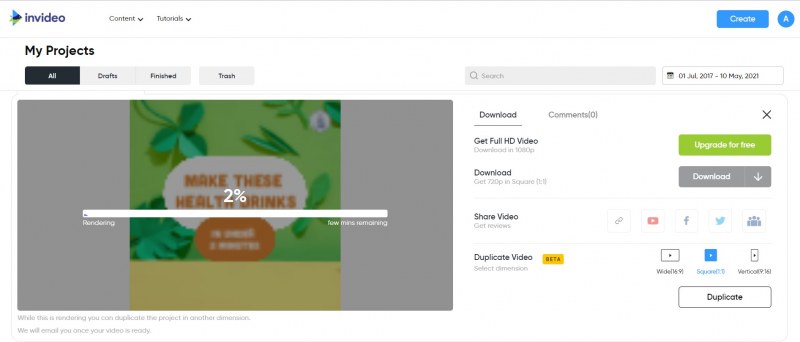 Pricing
In my opinion, the pricing by the invideo is good for the features they are offering. The overall pricing details and their respected features are shown in the figure given below:
If you are freelancer, or having a small bussiness or Youtuber then its free or Business version will be more than sufficient for your needs.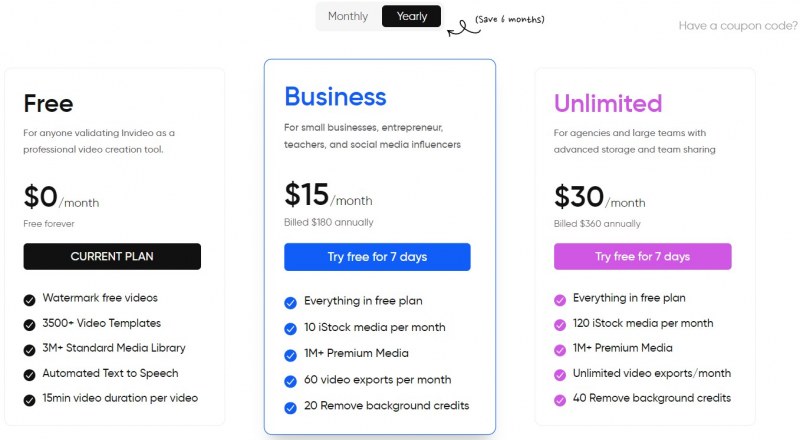 Let's check out some of the Pros and Cons for Invideo Editor:
Pros
The user interface is intuitive and easy to use.
You can make videos in any language.
A large number of Pre-made template options.
Text to Speech converter.
Free Version comes without ugly watermarks.
Cons
The exporting process takes very long.
Not suitable for very complex timelines.
No 4K video exports.
Conclusion
Should You Opt for an Online Video Editor or Buy a Software like FCPX or Premiere Pro?
It depends on your needs and budget. Let me explain in detail.
The key issue with using Apple's Final Cut Pro X is that you need a powerful Macbook or iMac to run it; you can't run this software on any non-Apple machine unless you are building a Hackintosh.
Apple products are expensive, and if you are looking to make casual videos to share on social media, you may not want to invest in an expensive Apple computer.
Also, the Final Cut Pro X is available for $300 or close to Rs. 24,990 in India, which is a lot of money.
On the other hand, we can use Adobe Premiere Pro on any Windows machine, and you can get a monthly subscription from Adobe for $20 or Rs. 1675 in India.
If you are working on a slightly complex timeline or adding some effects, Adobe Premiere Pro can take a lot of processing power to run fast.
I have an Intel Core i7 based PC with Nvidia GTX 1660, 32 Gigs of Ram to make sure that things don't slow down when running Premiere Pro. The overall cost of building the PC is $2000 or Rs. 142,000.
Also, both the Adobe Premiere Pro and FCPX have a steep learning curve and are meant for film-grade videos of longer duration.
What if you don't want to commit so much money to videos at the moment? You want to make shorter videos – presentations, product Ads, social media videos, or just editing videos shot on mobile.
You can then opt for an easy-to-use online video editing software.
Leveraging cloud computing for video editing also saves you on expensive hardware purchases.
Key Benefits of Online Video Editors (Invideo)
Easy to Learn and Use.
Good for making Simple Projects.
Pre-made Templates, Transitions, Graphics.
Doesn't need expensive hardware.
Relatively Cheaper.
Invideo editor is an excellent service (SAAS) that you can surely try and test if you are getting into video creation and have little or no experience.
But, the big thing is it offers many amazing templates and features for free.