What's New – Acer Aspire Series
Acer laptops have already emerged highly affordable, thus giving budget-oriented customers several reasonably priced alternatives. If you are on a budget, Acer laptops are quite affordable and can deliver top-notch performance effectively.
Unlike some of the other brands, Acer also has a wide network of service centers to help if you run into any issues.
These laptops offer good reliability.
If you are planning to buy a new laptop, here are some of the newly launched Acer laptops that you must consider:
Acer Aspire 5 (A514-54G) :
Acer has recently announced the new Aspire 5 that comes with the 11th Gen Intel processor. The Aspire 5 is one of the first laptops in India that is launched with the 11th Gen Intel Core i7 Processor.
The Intel 11th Gen Processor offers up to 15% more performance Vs the 10th Gen.
Read More About the Intel 11th Gen processors.
The Acer Aspire 5 comes with a 14 inches Full HD IPS LED-backlit TFT display along with Acer's Blue Light Shield ( eye care technology) and color intelligence. It has a Full HD resolution – 1080 * 1920 pixels.
Powering the machine is the latest 11th Gen Intel Core-i7 1165G7 and Core-i5 1135G7 chipset (with Boost clock up to 4.70 GHz). The laptops come with the new NVIDIA GeForce MX350 with 2 GB DDR5 VRAM.
It runs on Windows 10 Home (64-bit).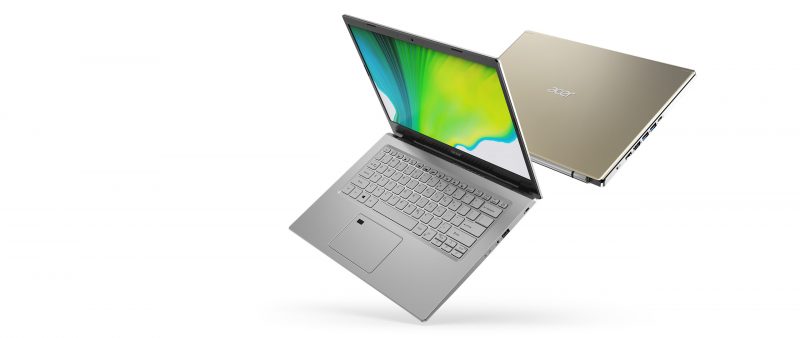 Notably, it is equipped with 16GB DDR4 RAM (upgradable up to 24 GB using SODIMM). The storage combines 1 TB HDD (5400 rpm) (expandable up to 2 TB) and 256 GB PCIe NVMe SSD.
It has a 3-cell 48 Whr battery with up to 10 hours of battery life.
The laptop has an ergonomic full-size FineTip backlit keyboard. The trackpad is also large and comes with a fingerprint scanner. 
The laptop is 17.95 mm slim with a professional appearance. For sound, the company applies Cortana and Acer True Harmony technology.
The ports include- USB 2.0, HDMI 2.0, USB 3.2 (with power-off charging) and 2 * USB 3.2 Type-A.
It offers connectivity for dual-band WIFI 6 for faster communication.
Lastly, it comes with an HD Web Camera. The new Aspire 5 is quite portable as it weighs just 1.55 kg and has a thickness of 18mm.
The price for Acer Aspire 5 is available for Rs. 91,999 on the official website but we can see some discounts once it launches on Amazon/Flipkart. 
Acer Aspire 3 Intel Core i3-10th Gen
Acer Aspire 3 is a thin and light-weight laptop with an Intel 10th Gen processor. It is available in Black color on Amazon for INR 38,139. It's pretty reasonable!
Powering the laptop is the Intel 10th Gen Intel Core i3-1005G1 processor with up to 3.40 GHz turbo boost. It has Intel UHD graphics. 
It comes with 15.6 inches FHD LED-backlit TFT LCD and 1920 * 1080 pixels resolution. 
The laptop runs on Windows 10 Home (64-bit).
The light-weighted device marks 1.9 kg of weight.
The battery capacity is small, only 36.7 WHr battery. We can expect up to 4 hours of battery life from this laptop. 
The machine holds two built-in stereo speakers and a keyboard with Numpad.
Moreover, it has 4 GB DDR4 RAM (expandable up to 12 GB) and 1 TB HDD (5400 rpm) storage.
Lastly, the port section includes 2 * USB 2.0, USB 3.0, HDMI, Audio-out port, and Ethernet.
Buying Advice: This budget-friendly laptop is good for student and office use with upgradable RAM. You can always add 4 GB more ram and make it faster. Also, HDD can be replaced at a later stage with an SSD to boost performance further.
Aspire 5|A515-54-34TN
:
The Acer Aspire 5 (A515) is one of the most affordable notebooks you can purchase in the Aspire series.
The laptop is available in silver color and weighs only 1.8 kg. 
The Aspire 5 runs on the Windows 10 Home OS.
When it comes to its display, the Notebook comes with a Full HD 15.6-inch, high-brightness Acer ComfyView™ LED-backlit TFT panel.
The top highlight of the laptop is its 10th Gen Intel® Core™ i3-10110U. Additionally, It comes with 4 GB of DDR4 ram that is user expandable. 
The total hard drive capacity is found to be 1TB; the HDD used has 5400 RPM speed.
Further, You will find the 10th Gen Intel Core i3-10110U processor. It is a Dual-core processor and can handle all basic tasks like MS word and Chrome with ease. 
It offers 2 speakers and an HD webcam with 1280 x 720 resolutions. When you buy a laptop, you will get whooping offers worth 13,999.
The battery life is quite good, with a maximum battery run time of 8 hours.
It has been priced at Rs 35,990. When you buy the laptop, you will get a one-year international travelers warranty.
Buying Advice: Acer Aspire 5 with core-i3 is a good laptop for the price and comes with decent battery life, enough storage. However, it lacks a faster Quad-Core processor and SSD storage. 
Acer Aspire 5 A514-53, 14-inch Laptop
(10th Gen Core i5-1035G1 processor)
Acer Aspire 5 comes with a 14-inch FHD IPS display and 1920 x 1080 pixels resolution. It is adequately sized a good mid-ground between the large 15.6 inch and smaller 13.3-inch machines. 
The laptop has the latest 10th Generation Intel Core i5-1035G1 processor (Quad-Core) clocked at 1.0 GHz. The Laptop comes with an integrated Intel UHD graphics card and lacks a dedicated GPU. 
It runs on the Windows 10 operating system.
The stylish laptop weighs 1.5 kg.
It contains a simplistic keyboard and has Acer TrueHarmony technology for sound.
Acer offers up to 8 GB DDR4, is upgradable to 12 GB.
The laptop comes with 512 GB of internal Storage (NVMe SSD Drive).
The connectivity section includes USB 2.0, 2 * USB 3.0, HDMI, Audio-out port, and Ethernet.
Further, it binds a battery of 48 Whr, which lasts up to 8 hours.
Lastly, coming to the pricing of the machine has a tag of INR 54,915. It is available in Pure Silver color on Amazon.
Buying Advice: It is a thin and light-weight laptop with a powerful processor, extensive memory, and long battery life. Buy this laptop for your daily work, but it is not suitable for gamers.
Acer Swift 3 SF313-52 13.5-inch Laptop 
The Acer Swift 3 comes with style, strength, and light-weight portability. This beautiful laptop has a price tag of INR 66,990 and is available in Silver shade.
Powering the device is the convincing 10th Gen Intel Core-i5 1035G4 processor with up to 3.70 GHz turbo boost. The graphics offered by the laptop is better than the laptops listed above. It comes with the Integrated Intel Iris Plus graphics.
The thin and light laptop weighs 1.19 kg and measures a thickness of 15.9 mm.
You will get excellent battery life with the Acer Swift 3 as it comes with a decent 56 Whr battery and can offer up to 10 hours of working at a stretch.
It has a beautiful 13.5 inches IPS LED-backlit TFT LCD VertiView display with a high resolution of 2256 * 1504 pixels. Further, the Notebook runs on Windows 10 Home OS.
Additionally, the laptop comes with 8 GB LPDDR4 RAM. It includes storage of 512 GB PCIe NVMe SSD.
The keyboard here is simple and has a fingerprint scanner. Also, the keyboard comes with backlighting support.
The sound quality is also decent as it comes with the Acer purified Voice and TrueHarmony technology with two built-in speakers.
Also, it comes with an ergonomic keyboard for typing and even has backlit keys.
The ports comprise USB 2.0, 2 * USB 3.0, HDMI, and Ethernet. 
Buying Advice – Swift 3 is an excellent machine available for an attractive price. It offers a good display with a 16:10 aspect ratio and also has fast storage and Ram. The downside is RAM upgradability.
Also Read:
New Acer Nitro 5 Gaming laptops Launched in India – Specs, Price, Performance
5 Best Gaming, Students, Home And Work Laptops Under Rs 40000
6 Best Laptops under Rs 30000 for Gaming, Students, Office Use
Written By – Heena Makwana.