Let's check out the latest Asus Zenbook 14 and Zenbook 13 ultrabooks with detailed specs, features, pros/cons.
The Asus ZenBook is a premium thin, high-performance work laptop powered by the latest Intel 12th Gen Core i5 or Core i7 processor.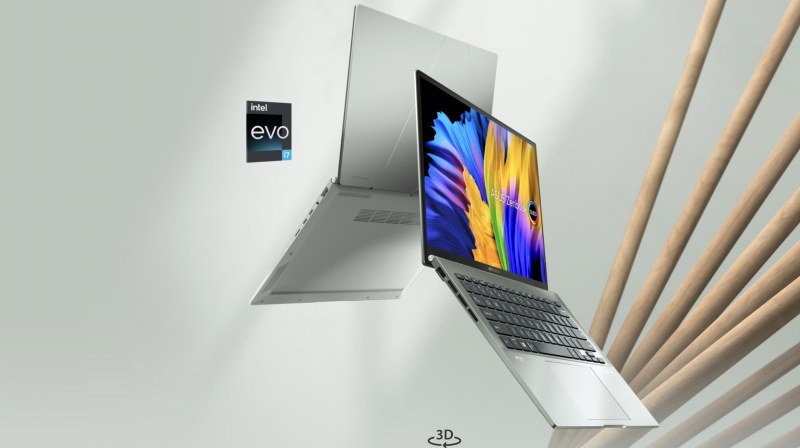 The brand offers different series of laptops, such as the more affordable Asus VivoBook or the workaholic Asus Expert Book. People who want a gaming/work laptop can consider the Asus Zephyrus G14, one of my favorite notebooks.
All right! Without further ado, let's get to the new gorgeous Asus Zenbook laptops.
Asus ZenBook 14 OLED (2022)
The new Asus ZenBook 14 Oled is available in the market with either the 12th Gen Intel Core i5 or Core i7 processor.
The 12th Gen Intel processors come with more than double the Cores, faster clock speeds, and better single-core and multi-core performance than the Intel 11th Gen. So, it's pretty obvious that we should avoid the older Gen laptops (though e-commerce companies are pushing to sell them).
Also, these Notebooks have new Intel Iris Xe Graphics cards that offer 2X the performance of the 10th Gen, not much improvement over the 11th gen.
The performance gains are significant and the jump from 4 cores (Intel 11th Gen) to 12 Cores (Intel 12th Gen) makes the older Intel processors obsolete. There is really no point in buying an Intel 10th or 11th Gen laptop.
ASUS ZenBook 14 OLED – Key Specs and Features
The Zenbook comes with a new Lid design inspired by timeless Kintsugi craftsmanship and looks excellent. The Notebook is available in the Ponder Blue and Aqua Celadon colors. Both the colors are pleasing to the eye, but the Celadon seems new and unique.
For starters, the Notebook comes with a 14-inch OLED display with a 2.8K (2880*1800) pixels resolution, which is far better than the IPS LCD FHD panel from the last year.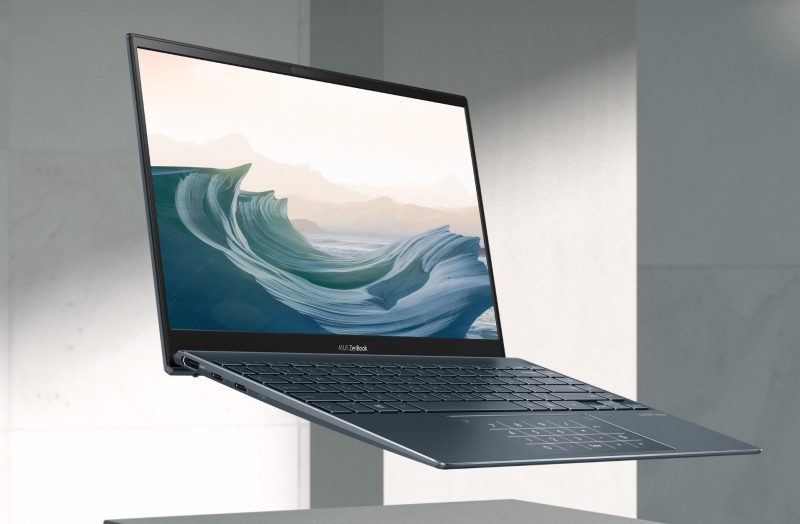 The display offers 600 nits peak brightness, a 90 Hz refresh rate, and a 100% DCI-P3 color gamut. The OLED panel now comes with a 16:10 aspect ratio, offering a much better work experience thanks to the additional vertical space. Moreover, the OLED panel with a 16:10 aspect ratio is perfect for work and the panel quality is better than nearly all the laptops you can currently find on the market.
ZenBook 14 Variants
You can buy the ZenBook in two variants: either with the Intel Core i5 or with the Intel i7 12th Gen processor.
The Processor Configs are as follows:
Intel Core i7-1260P Base Clock Speed – 2.1 GHz Boost Clock Speed – up to 4.7 GHz, 4 performance +8 efficiency cores, 18 MB cache.
Intel Core i5-1240P Base Clock Speed – 1.7 GHz up to 4.4 GHz with 4P+8E cores, 12 MB cache.
Performance
Both the processors have 12 Cores, however, the advantage for i7 is the faster clock speed and larger cache. You won't find much difference in day-to-day tasks unless you do something really demanding.
You can read more on the Intel 12th Gen P Vs. U Vs. H series processors if you want more insights.
Additionally, the machine has got Intel Iris Xe graphics to ensure fast performance in graphics-intensive tasks.
The laptop comes with 16 GB of onboard DDR5 ram with a 5200 Mhz clock speed, which is not user expandable. The ZenBook 14 OLED is among the few laptops (Dell XPS is another) that are offering DDR5 ram currently.
There is 512 GB of NVMe PCI-E 4.0 SSD storage that offers crazy fast read and write speeds.
Both the Core i5 and Core i7 models come with 16 GB Ram and 512 GB SSD storage. I would have liked Asus to offer a 1 TB SSD with the i7 variant.
Other Features, OS, Battery Life
The laptop comes pre-loaded with Microsoft Windows 11, and there is Microsoft Office 2021 with a lifetime license.
The Zenbook 14 has a huge battery capacity of 75 Whrs and comes with a 65 Watts power charger for fast charging. You can expect more than 10 hours of battery life. Notably, Asus has increased the battery capacity from 67 Watts in the last year's model to 75 Watts.
The laptop is ultra-portable as it weighs just 1.39 Kg (last year's Zenbook was lighter – 1.17 Kg). The new Notebook measures 16.9 mm in thickness. Due to the presence of a larger battery and a 16:10 aspect ratio display, the Zenbook is a little heavier, but the advantages outweigh the cons.
The ZenBook 14 comes with the Dual Band WIFI 6E support and has Harmon/Kardon speakers for music. Based on early reviews, the speakers are close to the MacBook Air M1, they are better than most other Windows laptops.
For comfortable typing, an ergonomic keyboard is present with backlighting and 1.4 mm key travel.
Connectivity and Ports
The biggest drawback for Macbooks is the lack of ports, but the ZenBook has sufficient ports to get your work done efficiently.
USB 3.2 Gen 2 Type-A Port for connecting USB drives and accessories.
2x USB Type C Ports – Thunderbolt 4 supports display and power delivery
1x HDMI 2.0b – For Connecting an external monitor
1x 3.5mm Combo Audio Jack – For headphones ( Older Zenbook lacked the headphone jack).
Micro SD card reader.
There is no full-size SD card reader, and also, you will get a type C to ethernet connector if you wish to plug the ethernet cable.
There is also an HD web camera for meetings and calls, offering decent quality.
Price and Buying Advice
The laptop is available for Rs. 88,390 for the Intel Core i5 version and Rs. 104,990 for the Intel Core i7 version on Amazon India.
Considering the big price difference, the Core i5 variant seems like a good choice. If there was more SSD storage space on the i7 variant, I would have recommended that.
If you are getting a new laptop in 2022, you can consider Asus Zenbook 14 OLED.
Now, let's have a look at the more compact Asus ZenBook 13 Oled from 2021.
---
ASUS Zenbook 13 – OLED Display (2021)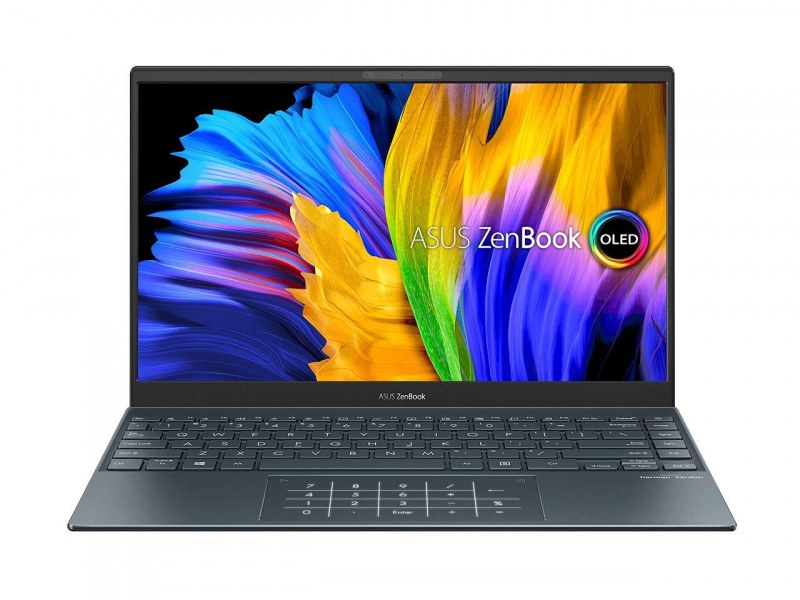 The ASUS Zenbook 13 (2021) arrives with a 13.3 inches OLED FHD (1920*1080p) Pantone validated display.
It has a 16:9 aspect ratio, 100% DCI-P3, 400 nits brightness, and a 4-sided NanoEdge design with IPS technology.
The Notebook runs Windows 10 Home (lifetime validity).
There are different processor, Ram, and SSD combinations available. The processor's choices are 11th Gen Intel Core i5 (Quad-Core), Intel Core i7 (Quad-Core), AMD Ryzen 5500U(Quad-Core), and the Ryzen 5800U (8-Cores).
Undoubtedly AMD processors are better and should be an obvious choice for most people.
Furthermore, it couples 8/16 GB LPDDR4X onboard RAM and 512 GB / 1 TB M.2 NVMe PCIe 3.0 SSD.
It has an IR HD webcam with Windows Hello support and a built-in speaker and microphone array with Harmon/Kardon certification.
The Port section includes – HDMI 2.0a, USB 3.1 Gen1 Type-A, 2* USB 3.2 Gen2 Type-C, microSD card reader, and headphone/microphone port.
Furthermore, the laptop supports WiFi 6 and Bluetooth 5.0 for connectivity.
The battery claims to have a lifespan of up to 10 hours on a single charge.
The Notebook comprises a full-size backlit keyboard with a glass-covered precision touchpad and NumberPad 2.0. It has Cortana and Alexa voice recognition support.
The ASUS laptop has standard military-grade durability. It is thin and lightweight, measuring 1.4 kg weight and 13.9 mm in thickness.
Processor
Ram & SSD
Price Rs.
AMD Ryzen 5500U, 6 Cores and 12 threads,
4.1 GHz Clock Speed
8 GB Ram and 512 GB SSD
Rs. 82,990
AMD Ryzen 5800U, 8 Cores and 16 threads,
4.1 GHz Clock Speed
16 GB Ram and 1 TB SSD
Rs. 94,990
Intel 11th Gen Core i5 – 1135G7, 4 Cores, and 8 Threads
8 GB Ram and 512 GB SSD
Rs. 72,990
Intel 11th Gen Core i7 – 1165G7, 4 Cores, and 8 Threads
16 GB Ram and 1 TB SSD
Rs. 113,990
PROS
Great performance
Thin and lightweight with a sturdy build
Amazing display quality
Recommendation
If you are not planning to burn your hard-earned stash on an expensive machine, the only Zenbook 13 model you should opt for is the Ryzen 5800U.
Personally, I will pick the Ryzen 5800U model with 8 Cores and 16 Threads as it offers incredible single-core and multi-core performance and will hopefully serve well for many years. You should avoid Intel 11th Gen i5 and i7 models currently as they offer poor multi-core performance.
---
You can check out more business notebooks that we have recently shortlisted.
Asus has also introduced the new Expertbook B1400 in India, loaded with Intel 11th Gen Processors. If you are interested in the ZenBook, the Experbook B1400
ASUS ExpertBook B1400
ASUS has launched the powerpack ExpertBook B1400 in India. The new Notebook comes with either the Intel 10th Gen or the new 11th Gen processors in the sole Blue color.
The machine has a MIL-STD810H certification for build quality and has a solid 180-degree flat hinge with an ErgoLift design.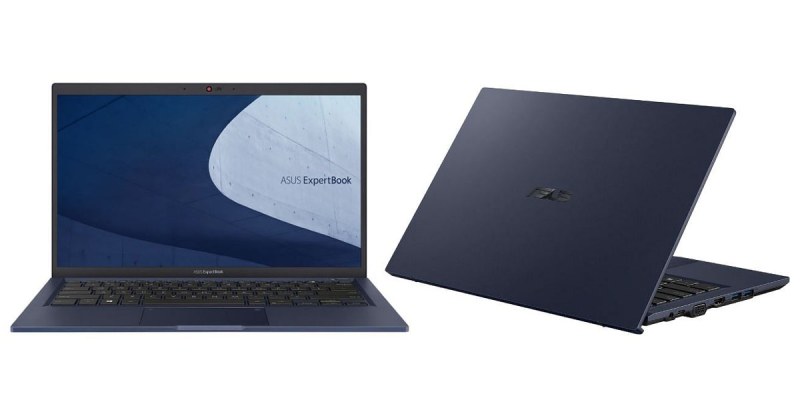 Key Specs – Asus Expertbook
Intel 11th Gen Core i3/i5/i7 Processors
Up to 16 GB DDR4 RAM
Nvidia MX 330 Graphics card
14-inch IPS LCD Display
8 Hours Battery Life
Up to 1 TB SSD Storage
Windows 11
The Notebook has a 14 inches FHD IPS LED display with an anti-glare coating. Also, it has 250 nits peak brightness, 16:9 aspect ratio, and 178-degree viewing angle.
The new model is available in three configs:
Core i3-111G4 (2 cores/4 threads, 3.0 GHz base clock, and 4.10 GHz turbo boost) with intel UHD GPU.
Core i5-1135G7 (4 cores/8 threads, 2.40 GHz base clock, and 4.20 GHz turbo boost) with Intel Xe GPU.
Core i7-1165G7 (4 cores/8 threads, 2.80 GHz base clock, and 4.70 GHz turbo boost) with Intel Xe GPU.
It runs Windows 10 Home operating system and is upgradable to Windows 11. Also, it comprises dual copper pipes for excellent cooling.
Also, some models have an option of Nvidia GeForce MX330 GPU with 2 GB VRAM.
Further, the laptop pairs up to 16 GB of DDR4 RAM. Also, it offers up to 1 TB of M.2 NVMe PCIe 3.0 SSD storage.
Other notable features are a 720p webcam with a shield and a microphone.
The 42 WHr battery claims to deliver up to 10 hours of backup on a single charge with fast charging support. I think it can run for 6 to 8 hours, considering the battery size is not huge.
The classic laptop weighs 1.45 kg and measures and is quite sleek.
The device has AI-powered noise cancellation technology with an integrated dual-array microphone. This feature will reduce the surrounding sound during your calls and online meetings. It has two modes – single presenter and multi-presenter.
The ports section includes – USB 3.2 Gen 1 Type-C, 2* USB Gen 2 Type-A, USB 2.0, HDMI, VGA, RJ45, Kensington lock, micro SD card reader, and a 3.5 mm audio jack.
For wireless connectivity, it has WiFi 6 and Bluetooth 5.2 support. Also, it packs a backlit keyboard and a support fingerprint sensor.
The ASUS ExpertBook will soon be available on online platforms like Amazon India, Flipkart, etc.