If you are looking to buy a thin high-performance laptop for work that comes with 10th or 11th Gen Intel Core i5 or Core i7 processors or with AMD Ryzen Processors.
The Asus ZenBook series may be right for you if you want a premium sleek Notebook.
Asus offers different series of laptops such as the more affordable Asus VivoBook or the thin premium ZenBook or if you want top-of-line gaming performance can get the Asus Zephyrus.
In this article, we will explore the latest Intel 11th/10th Gen Laptops from the Asus Zenbook lineup.
Asus Zenbook Powered by 11th Gen Intel Processors
10-November-2020 – Asus has introduced the new Zenbook 14 in India with the latest Intel 11th Gen processors. Just after the launch of Zenbook 14 a few months back, Asus has refreshed the line-up with the new 11th Gen Intel processors. 
The 11th Gen Intel processors come with faster clock speeds, better single-core performance, and also have new Intel Xe Graphics cards that offer 2X the performance of last gen. 
The real reason for Intel to rush these processors is the AMD Ryzen 4000 series as they offer much better performance than the 10th Gen Intel processors. 
Read More – Intel 11th Gen Laptop Processors Vs Amd Ryzen 4000 Vs 10th Gen Intel
Let's have a look at the specs for the new Asus Zenbook 14 powered by the 11th Gen Intel processors. 
ASUS ZenBook 14 (2020) Intel Core i5-1135G7 (14 Inch)
The new Zenbook comes with a 14-inch display with an FHD panel, 300 nits brightness, and has a 100% sRGB color gamut. Powering the machine is the Intel Core i5 – 1135G7 (4 Cores and 4 threads, 8 MB Cache) and comes with a 4.2 GHz clock speed.
The processor is manufactured using a 10Nm manufacturing process.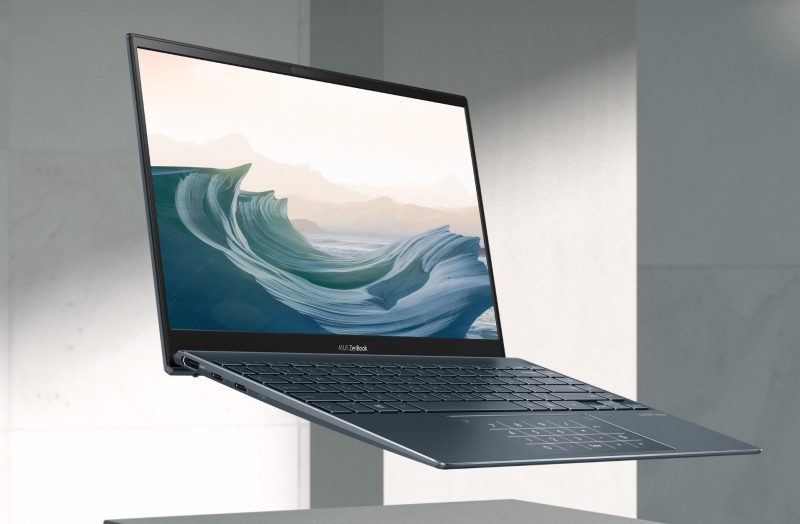 Additionally, the machine has got Intel Iris Xe graphics to ensure fast performance in graphics-intensive tasks. 
The laptop comes with 8 GB of onboard ram with 4267 Mhz clock speed and is not user expandable. There is 512 GB of NVMe SSD storage that offers crazy fast drive speeds. 
The laptop comes pre-loaded with Microsoft Windows 10 and Office 2019. 
The Zenbook 14 has a very good battery capacity of 67 Whrs and comes with a 65 Watts power charger for fast charging. You can expect more than 10 hours of battery life. 
The laptop is ultra-portable as it weighs just 1.17 Kg and measures 13.9 mm in thickness. 
The laptop is available for Rs. 82,999 on Amazon India. There is no point in buying the 10th Gen Intel processor-based laptops as the 11th Gen laptops are already launching in the market and are much better at Single-core performance than the last-gen.
If you are buying an Intel laptop with integrated graphics then I would strongly recommend picking up the 11th Gen models as the GPU performance is far better. 
Let's check the specs and details for the 11th Gen Intel Core i7 model.

ASUS ZenBook 14 (2020) Intel Core i7-1165G7 11th Gen (14 Inch)
Asus has also launched a new 11th Gen Zenbook with the latest Intel Core i7 1165G7.  It is also a Quad-Core processor with 4 Cores/4 threads architecture. It has a boost clock speed of 4.7 GHz and comes with a 12 MB cache size. 
Further, the laptop comes with 16 GB of DDR4 ram with 4267 MHz clock speed and has 512 GB of SSD Storage. 
The rest of the specs and features are the same as the Intel Core i5 model. 
The ZenBook 14 with Intel Core i7 is available for Rs. 96,990 on Amazon India and retail stores. 
ASUS ZenBook 13 (2020) Intel 11th Gen
The new thin and sleek ASUS ZenBook 13 is the latest addition to the ZenBook series. The laptop is available for purchase for Rs. 102,990. 
The beautifully designed laptop comes with powerful performance and long battery life and with a bezel-less display.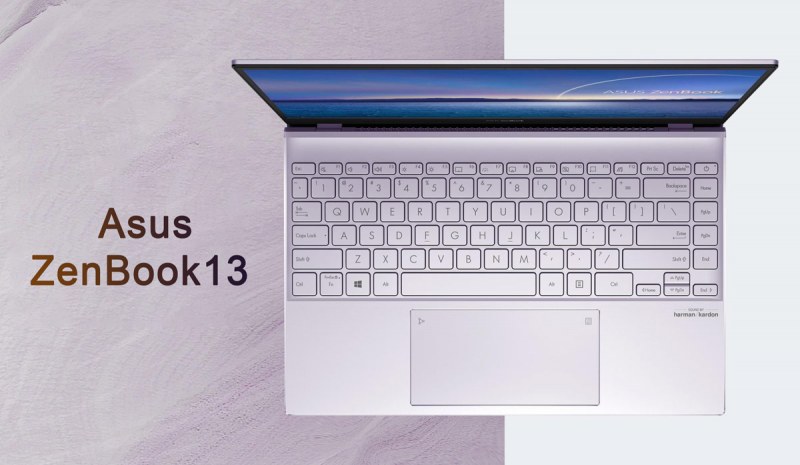 For starters, the Asus Zenbook 13 comes with a 13.3 Inch Display with Full HD (1920*1080) pixels resolution.
The screen has 178-degree wide-view technology and comes with a 100% sRGB color gamut and 300 nits of max brightness. 
The display is ideal for doing video editing or photo editing as it offers excellent color accuracy.
It also has a secondary screen built into the trackpad.
This screen pad comes with a 5.65 inches display that is ideal for quick launch apps and works with Apps like a calculator.
The laptop comes with an ergonomic Full-size Backlit keyboard.
Notably, Powering the Asus Zenbook 13 is the 11th Generation of Intel Processor. The 11th Gen Intel Core i7-1165G7, Quad-Core processor with 4 Cores and 8 threads with a  2.8 GHz Base Speed, Up to 4.7 GHz Turbo Boost Speed, and a 12MB Cache. 
There is a pre-installed Windows 10 Home Operating System with lifetime validity.
The laptop also comes with an Intel Iris Xe Graphics card that offers much better performance than the Intel GPU used in the 10th Generation of processors. 
The GPU is ideal for running low-end PC games for casual gaming and running software like Adobe Photoshop or MS office.
Despite a metallic built, the ZenBook is very light in weight of about 1.11kg, which allows you to carry it anywhere with ease.
Also, it is quite thin and has a 13.9 mm thickness. In fact, it is much thinner and lighter than the Macbook Air M1. 
It offers USB Type-A, USB Type-C ports, and HDMI 1.4.
Additionally, it has an HD web camera that allows Windows Hello feature and uses the face recognition login.
Additionally, the laptop comes with 16 GB of LPDDR4 RAM( 4266MHz) and Storage 1TB SSD (NVMe M.2 SSD).
The battery capacity on this thin Notebook is bigger than any other 13 inch machine. It comes with a 67 WHr Battery (and 65 Watts Charger) that can easily offer up to 14 hours of usage. 
That's a lot of fast storage and Ram to ensure smooth multitasking.
The built-in speakers offer decent sound with the use of Harmon Kardon speakers.
Zenbook 13 Powered By Intel Core i5 11th Gen 
The Zenbook 13 is also available with the 11th Gen Intel Core i5-1135G7 that offers 2.4 GHz Base Clock Speed and has Up to 4.2 GHz Turbo Boost Speed.
Similar to the Intel Core i7 this processor also comes with 4 cores and 8 threads along with an 8 MB Cache(instead of 12 MB on the Core i7 model).
The laptop has got 512 GB of SSD storage and has 8 GB of DDR4 Ram with 4267 Mhz clock speed.  
The other Specs are similar to the Intel i7 model and this i5 variant is currently available for Rs. 72,990. 

ASUS Zenbook 13 – OLED Display (2021) 

Price – ₹ 81,580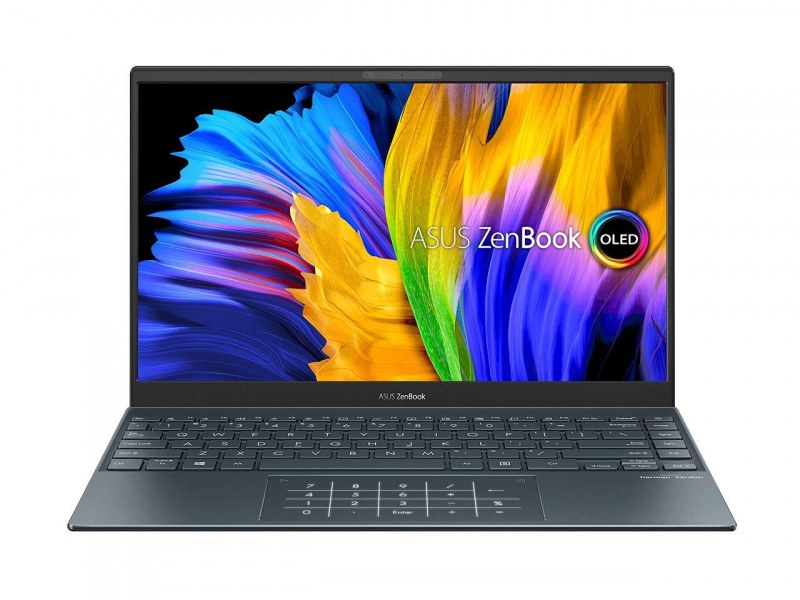 The ASUS Zenbook 13 (2021) (Model no: UM325UA-KG501TS) arrives with a 13.3 inches OLED FHD (1920*1080p) Pantone validated display.
It has a 16:9 aspect ratio, 100% DCI-P3, 400 nits brightness, and a 4-sided NanoEdge design with IPS technology.
The notebook runs Windows 10 Home (lifetime validity).  
Powering the machine is the new AMD Ryzen 5 5500U processor with a 2.1 GHz base clock and up to 4.1 GHz turbo boost frequency.
It has 6 cores and 12 threads, and 8 MB L3 cache memory. For Graphics, it has an integrated AMD Radeon GPU.
Furthermore, it couples 8 GB LPDDR4X onboard RAM and 512 GB M.2 NVMe PCIe 3.0 SSD.
It has an IR HD webcam with Windows Hello support and a built-in speaker and microphone array with Harmon/Kardon certification.
The Port section includes – HDMI 2.0a, USB 3.1 Gen1 Type-A, 2* USB 3.2 Gen2 Type-C, microSD card reader, and headphone/microphone port.
Furthermore, the laptop supports WiFi 6 and Bluetooth 5.0 for connectivity.
The battery claims to have a lifespan of up to 10 hours on a single charge. 
The notebook comprises a full-size backlit keyboard with a glass-covered precision touchpad and NumberPad 2.0. It has Cortana and Alexa voice recognition support. 
The ASUS laptop has standard military-grade durability. It is thin and lightweight measuring 1.4 kg weight and 13.9 mm thickness.
PROS
Great performance
Thin and lightweight with a sturdy build
Amazing display quality
CONS

Asus ZenBook 13 With Intel i5 10th Gen (Price 69k)
If you are not looking to spend over 70k on a laptop the Zenbook 13 with the 10th Gen Intel Core i5 is a decent choice. 
The ZenBook 13 comes with the Intel 10th Gen Core i5 -10210U processor with a 1.6 Ghz base clock speed and a 4.2 GHz turbo boost speed with a 6 MB cache. The laptop comes with the integrated Intel Iris graphics card (Intel UHD 620) that is decent for general office work and light photo editing.  
There is an 8 GB Ram with 2133 Mhz speed and we have got a 512 GB NVMe SSD drive.
The laptop has got a 13.3 inch IPS LCD display with FHD resolution 1920*1080 pixels with (16:9) aspect ratio and 100sRGB color gamut and 300 nits of max brightness.  The display is bezel-less and it comes with a 95% screen-to-body ratio. 
The laptop boots Windows 10 OS and has Microsoft Home office 2019 pre-installed with a lifetime license. 
The laptop has a metallic design and weighs just 1.27 Kg and has 16.9 mm thickness. Additionally, we have got a 50 WHr battery that can last up to 8 hours on standard usage. 
There is a backlit keyboard that comes with 1.4 mm of key travel and is pretty good for people who type all day. 
Lastly, we have the precision trackpad that is made of glass and has palm rejection touchpad tech. 
Recommendation
If you are not planning to burn your hard-earned stash on an expensive machine the ZenBook with Intel Core i5 is the way to go. 
It is an excellent machine if you're not planning to run any heavy application that may warrant the use of an Intel i7 or 16 gigs of Ram then you are not missing much with the Notebook. 
ASUS ZenBook 14 UX434FL-A5821TS
If you are looking for a slightly bigger display to make full use of split-screen multi-tasking features the Asus ZenBook 14 UX434FL is ideal with its 14 Inch panel.
The new Asus ZenBook UX434FL-A5821TS comes with an incredible 178-degree wide-view technology.
It has a 14-inch slim-bezel Nano Edge touch Display with 1920*1080 pixels resolution, 100% sRGB color gamut, with a 16:9 aspect ratio.
The screen pad display arrives with a super IPS technology, 2160*1080 pixels resolution, and 5.65 inches screen size.
Further, the Laptop is powered by the performance grade Intel 10th Generation Core i5 Processor.
It comes with the Intel Core i5 10210U (4 Cores and 8 Threads) – offering a base clock speed of 1.6 GHz, and a Boost clock up to 4.2 GHz.
Moreover, it has up to 512GB PCI-E-based M.2 SSD and up to 8GB of LPDDR3 RAM with 2133 MHz clock speed.
Besides, NVIDIA boasts excellent graphics performance with the GeForce MX250 (with 2 GB GDDR5 VRAM).
The 10th Gen Intel processor and the NVIDIA GeForce MX250 make it an ideal laptop to own for general tasks but not for gaming.
The laptop comes with an ergonomic keyboard with backlighting.
Notably, it is not heavy as it weighs just 1.26 Kg and has a thickness of 16.9 mm.
The powerful notebook is easy to carry and you can even use it on your lap.
The Laptop comes with Windows Hello face login support and possesses an HD camera.
The laptop includes a Built-in speaker and Audio by Bang & Olufsen, Harmon/Kardon.
Further, it has USB Type-C and USB Type-A for connectivity and the HDMI 1.4 Port for connecting to an external display.
The ZenBook UX434FL has Windows 10 Home and promises 12.3 hours of battery life that is amazing considering the high power components and sleek design.
The Asus ZenBook 14 UX434FL-A5821TS is priced at $1161 or INR 86,990 and is available from online retailers like Amazon.
Asus ZenBook 13 UX325 & ZenBook 14 UX425
Asus has recently announced the new UX 325 and the UX 425 laptops in India but these are yet to go on sale.
As the name suggests the UX325 is a 13.3-inch notebook whereas the UX 425 is a 14 Inch Notebook.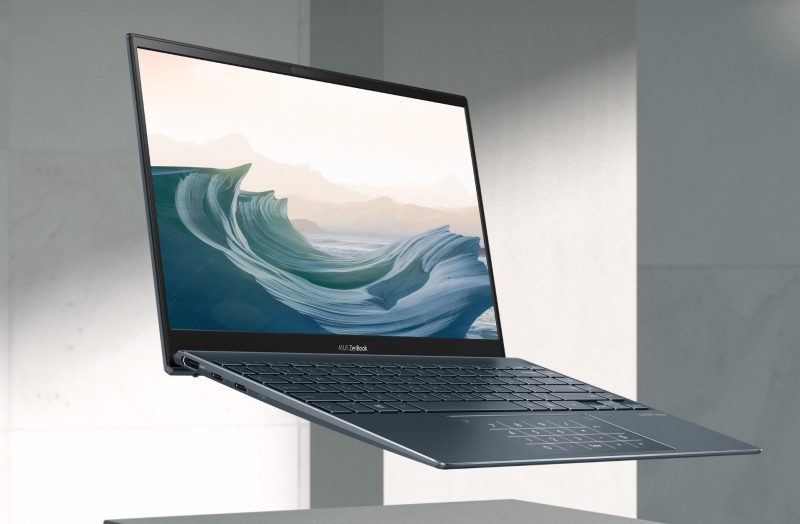 The laptops come with a nearly 90% screen-to-body ratio and have a 2.9 mm thin-bezel display.
Powering the laptops is the latest 10th Gen Quad-Core Intel Core i7 1065G7 processor that comes with 1.3 Ghz Core clock speed and has 3.9 GHz Boost clock speed.
There is Intel Iris Purple Graphics for taking care of the graphics tasks. The laptop comes with Windows 10 Home and offers a decent user experience.
Also, the laptop comes with 16 GB of DDR4X Ram with 3200 MHz speed and even has a 1 TB PCIe Nvme SSD.
Also, it offers the latest connectivity options such as WIFI 6, Bluetooth 5.0, and Thunderbolt 3.
Both the laptops get a 67Whr battery capacity and can offer an enormous 22 hours of battery backup claims Asus.
However, we can expect it to have close to 10 hours of run time with mixed usage.
The starting price for the new Asus laptop is Rs. 79,999 and it will soon go on sale on e-commerce platforms.
The 13-inch laptop weighs just 1.07 Kg and the 14-inch machine weighs 1.10 kg – quite portable.
Asus also makes slightly affordable VivoBook laptops you can check out our review of the Asus VivoBook S14 powered by AMD Ryzen 4700U.
So, these are some of the good laptop choices from Asus. Also, you can explore more latest laptops from Acer, HP, Dell, and Lenovo below.

Related Articles:
Latest HP Omen (Intel 10th Gen, Ryzen 4000) Gaming Laptops – Specs, Price, Launch
Latest Dell XPS Laptops – 13, 15,17 (2020) – Specs, Price, Features, Buying Advice
Latest Acer Laptops – Swift 3, Swift 5 (Ryzen 4000, Intel 10th Gen) Fast, Thin, Lightweight