If you are looking to buy a thin high-performance laptop for work that comes with 10th or 11th Gen Intel Core i5 or Core i7 processors or with AMD Ryzen Processors.
The Asus ZenBook series may be right for you if you want a premium sleek Notebook.
The brand offers different series of laptops such as the more affordable Asus VivoBook or the thin premium ZenBook or if you want top-of-line gaming performance can get the Asus Zephyrus.
Asus ZenBook is available in the following variants -
Zenbook 14 Inch With 11th Gen Intel Core i5 and Core i7 Processors.
Zenbook 13 Inch With OLED Display ( 11th Gen Intel Core i5, i7 and AMD Ryzen 5000 Processor).
Let's first have a look at the 14 Inch Notebooks and then will look at the 13-inch models that come with the OLED display.
Asus Zenbook Powered by 11th Gen Intel Processors
Asus has introduced the new Zenbook 14 in India with the latest Intel 11th Gen processors.
The 11th Gen Intel processors come with faster clock speeds, better single-core performance, and also have new Intel Xe Graphics cards that offer 2X the performance of last gen.
Read More -Intel 11th Gen Laptop Processors Vs Amd Ryzen 4000 Vs 10th Gen Intel
ASUS ZenBook 14 - Intel Core i5-1135G7 (14 Inch)
The new Zenbook comes with a 14-inch display with an FHD panel, 300 nits brightness, and has a 100% sRGB color gamut. Powering the machine is the Intel Core i5 - 1135G7 (4 Cores and 4 threads, 8 MB Cache) and comes with a 4.2 GHz clock speed.
The processor is manufactured using a 10Nm manufacturing process.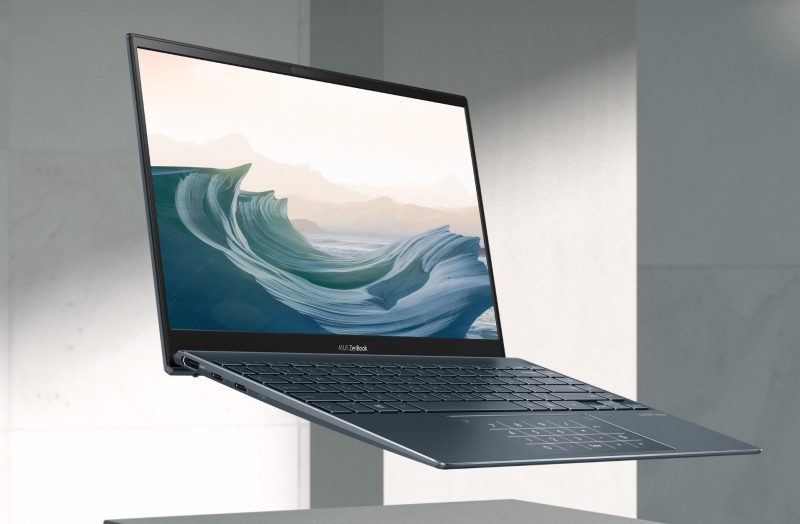 Additionally, the machine has got Intel Iris Xe graphics to ensure fast performance in graphics-intensive tasks.
The laptop comes with 8 GB of onboard ram with 4267 Mhz clock speed and is not user expandable. There is 512 GB of NVMe SSD storage that offers crazy fast drive speeds.
The laptop comes pre-loaded with Microsoft Windows 10 and Office 2019.
The Zenbook 14 has a very good battery capacity of 67 Whrs and comes with a 65 Watts power charger for fast charging. You can expect more than 10 hours of battery life.
The laptop is ultra-portable as it weighs just 1.17 Kg and measures 13.9 mm in thickness.
The laptop is available for Rs. 82,999 on Amazon India.
If you are buying an Intel laptop with integrated graphics then I would strongly recommend picking up the 11th Gen model as the GPU performance is far better.
Let's check the specs and details for the 11th Gen Intel Core i7 model.

ASUS ZenBook 14 - Intel Core i7-1165G7 11th Gen (14 Inch)
Asus has also launched a new 11th Gen Zenbook with the latest Intel Core i7 1165G7. It is also a Quad-Core processor with 4 Cores/4 threads architecture. It has a boost clock speed of 4.7 GHz and comes with a 12 MB cache size.
Further, the laptop comes with 16 GB of DDR4 ram with 4267 MHz clock speed and has 512 GB of SSD Storage.
The rest of the specs and features are the same as the Intel Core i5 model.
The ZenBook 14 with Intel Core i7 is available for Rs. 89,990 on Amazon India and retail stores.
ASUS Zenbook 13 - OLED Display (2021)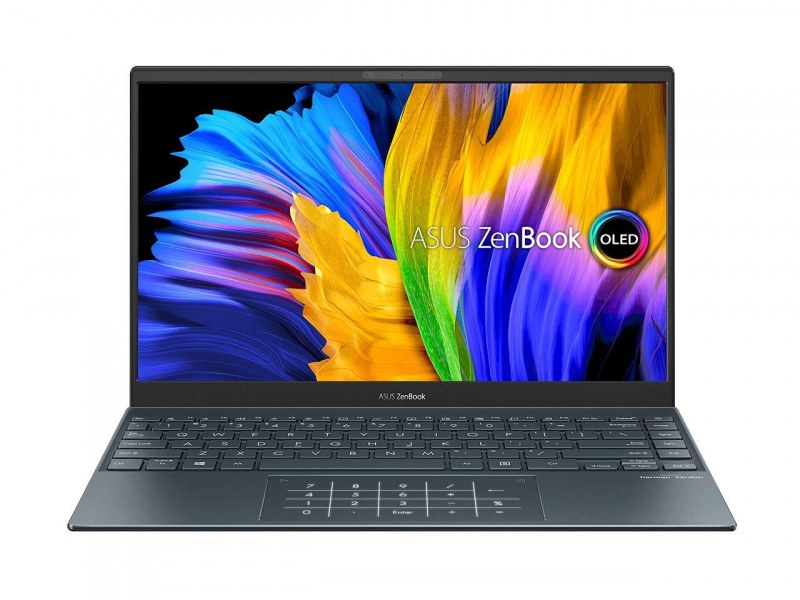 The ASUS Zenbook 13 (2021) arrives with a 13.3 inches OLED FHD (1920*1080p) Pantone validated display.
It has a 16:9 aspect ratio, 100% DCI-P3, 400 nits brightness, and a 4-sided NanoEdge design with IPS technology.
The notebook runs Windows 10 Home (lifetime validity).
There are different processor, Ram, and SSD combinations available. The processor's choices are 11th Gen Intel Core i5 (Quad-Core), Intel Core i7 (Quad-Core), AMD Ryzen 5500U(Quad-Core), and the Ryzen 5800U (8-Cores).
Undoubtedly AMD processors are better and should be an obvious choice for most people.
Furthermore, it couples 8/16 GB LPDDR4X onboard RAM and 512 GB / 1 TB M.2 NVMe PCIe 3.0 SSD.
It has an IR HD webcam with Windows Hello support and a built-in speaker and microphone array with Harmon/Kardon certification.
The Port section includes - HDMI 2.0a, USB 3.1 Gen1 Type-A, 2* USB 3.2 Gen2 Type-C, microSD card reader, and headphone/microphone port.
Furthermore, the laptop supports WiFi 6 and Bluetooth 5.0 for connectivity.
The battery claims to have a lifespan of up to 10 hours on a single charge.
The notebook comprises a full-size backlit keyboard with a glass-covered precision touchpad and NumberPad 2.0. It has Cortana and Alexa voice recognition support.
The ASUS laptop has standard military-grade durability. It is thin and lightweight measuring 1.4 kg weight and 13.9 mm in thickness.
Processor
Ram & SSD
Price Rs.
AMD Ryzen 5500U, 6 Cores, and 12 threads,
4.1 GHz Clock Speed
8 GB Ram and 512 GB SSD
Rs. 82,990
AMD Ryzen 5800U, 8 Cores, and 16 threads,
4.1 GHz Clock Speed
16 GB Ram and 1 TB SSD
Rs. 94,990
Intel 11th Gen Core i5 - 1135G7, 4 Cores, and 8 Threads
8 GB Ram and 512 GB SSD
Rs. 72,990
Intel 11th Gen Core i7 - 1165G7, 4 Cores, and 8 Threads
16 GB Ram and 1 TB SSD
Rs. 113,990
PROS
Great performance
Thin and lightweight with a sturdy build
Amazing display quality
Recommendation
If you are not planning to burn your hard-earned stash on an expensive machine the ZenBook with Intel Core i5 is the way to go.
It is an excellent machine if you're not planning to run any heavy application that may warrant the use of an Intel i7 or the AMD Ryzen 5500U/5800U or 16 gigs of Ram.
Personally, I will pick the Ryzen 5800U model with 8 Cores and 16 Threads as it offers incredible single-core and multi-core performance and will hopefully serve well for many years.
---
Asus has also introduced the new Expertbook B1400 in India loaded with Intel 11th Gen Processors. If you are interested in the ZenBook the Experbook B1400
ASUS ExpertBook B1400 loaded with 11th Gen processor:
ASUS has launched the powerpack ExpertBook B1400 in India. The newly arrived notebook comes with either the Intel 10th Gen or the new 11th Gen processors in the sole Blue color.
The machine has a MIL-STD810H certification for build quality and has a strong 180-degree flat hinge with an ErgoLift design.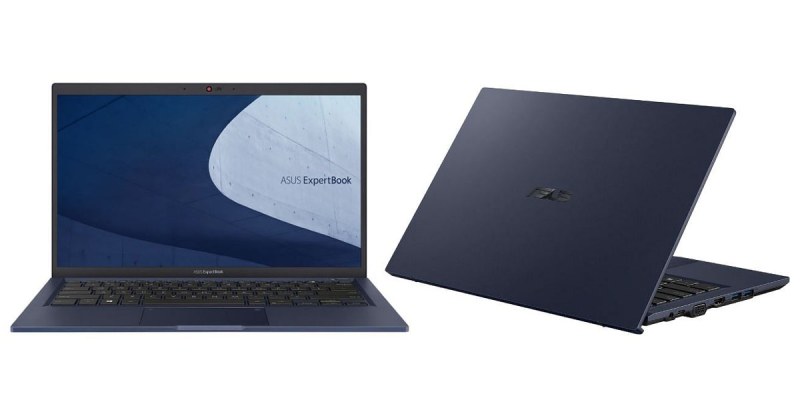 Key Specs - Asus Expertbook
Intel 11th Gen Core i3/i5/i7 Processors
Up to 16 GB DDR4 RAM
Nvidia MX 330 Graphics card
14 Inch IPS LCD Display
8 Hours Battery Life
Up to 1 TB SSD Storage
Windows 11
The Notebook has a 14 inches FHD IPS LED display with an anti-glare coating. Also, it has 250 nits peak brightness, 16:9 aspect ratio, and 178-degree viewing angle.
The new model is available in three configs:
Core i3-111G4 (2 cores/4 threads, 3.0 GHz base clock, and 4.10 GHz turbo boost) with intel UHD GPU.
Core i5-1135G7 (4 cores/8 threads, 2.40 GHz base clock, and 4.20 GHz turbo boost) with Intel Xe GPU.
Core i7-1165G7 (4 cores/8 threads, 2.80 GHz base clock, and 4.70 GHz turbo boost) with Intel Xe GPU.
It runs Windows 10 Home operating system and is upgradable to Windows 11. Also, it comprises dual copper pipes for excellent cooling.
Also, some models come with an option of Nvidia GeForce MX330 GPU with 2 GB VRAM.
Further, the laptop pairs up to 16 GB of DDR4 RAM. Also, it offers up to 1 TB of M.2 NVMe PCIe 3.0 SSD storage.
Other notable features are a 720p webcam with a shield and a microphone.
The 42 WHr battery claims to deliver up to 10 hours of backup on a single charge with fast charging support. I think it can run for 6 to 8 hours considering the battery size is not huge.
The classic laptop weighs 1.45 kg and measures and is quite sleek.
Notably, the device has AI-powered noise cancellation technology with an integrated dual-array microphone. This feature will reduce the surrounding sound during your calls and online meetings. It has two modes - single presenter and multi-presenter.
The ports section includes - USB 3.2 Gen 1 Type-C, 2* USB Gen 2 Type-A, USB 2.0, HDMI, VGA, RJ45, Kensington lock, micro SD card reader, and a 3.5 mm audio jack.
For wireless connectivity, it has WiFi 6 and Bluetooth 5.2 support. Also, it packs a backlit keyboard and a support fingerprint sensor.
The ASUS ExpertBook will be soon available for purchase on online platforms like Amazon India, Flipkart, etc.
Related Articles:
Latest HP Omen (Intel 10th Gen, Ryzen 4000) Gaming Laptops – Specs, Price, Launch
Dell XPS Laptops – 13, 15,17 (2020) – Specs, Price, Features, Buying Advice
Latest ASUS Vivobook 15 - OLED Display, Price, Specs, Features
Latest Acer Laptops – Swift 3, Swift 5 (Ryzen 4000, Intel 10th Gen) Fast, Thin, Lightweight