Lenovo launched the Legion Y720 was launched in India in May 2017 and is exclusive to Flipkart product. You may be able to buy it offline through the retail stores, but since it is a very premium gaming laptop, the availability may be limited to large Lenovo laptop dealers.
Legion Y720 comes with an MRP of Rs. 158,900 and is currently available for purchase on Flipkart for a price of Rs. 152,300. The laptop is available in the market along with the Lenovo Legion Y520 which comes at a cost of Rs. 92,490.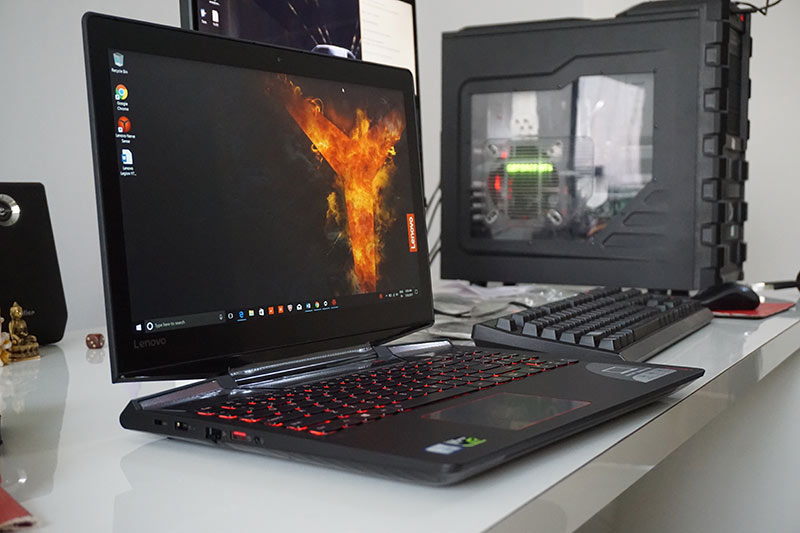 Both the laptops were initially showcased at CES 2017, in Las Vegas in Jan 2017. Legion is a new sub-brand from Lenovo which will have the next generation of gaming laptops from the company similar to Alienware from Dell or Predator from Acer.
Powering the laptop is the Nvidia GTX 1060 and Intel Core i7 Quad Core processor makes it a real gaming notebook. Let's see what we find inside the box.
Let's see what we find inside the box.
Unboxing and Inside the Box
As I received the box was glad to see the packaging was decent from outside to make sure there is no damage to internal contents during the transient. Something you need when you buy an expensive gaming laptop.
The laptop comes foam packaging on all sides to make sure it stays safe.
Moreover, there is a large charging brick which comes with the laptop.
Also, there is a unique square charging port design that I haven't seen before. The laptop charger is quite large and heavy and weighs half Kg.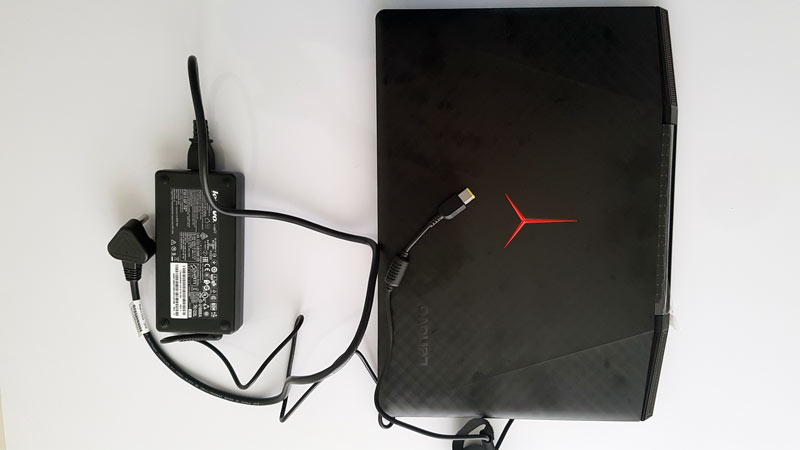 Then there is pretty amazing looking Lenovo Legion Y720, a dream laptop for any gamer.
Lifting the laptop from a table with one hand is difficult. Moreover, I work on the Lenovo ultra light weigh Yoga 710 or on my Macbook.
In fact, it weighs 3.08 Kg in comparison to 1.5 Kg weight for my Yoga 710.
Let's Proceed with the review and mind it this review is typed on the Lenovo Legion 720's keyboard that I liked for typing.
Design and Build Quality
For starters, the laptop comes with a premium finish and build quality. At the back of the gaming laptop, there is Lenovo Legion Logo which glows in red color as you turn on the machine. The back cover is made of aluminum metal with a textured pattern on it. Also, there is Lenovo branding on one of the corners, at the back.
The back side is a fingerprint magnet as you can see from the image below. It catches some fingerprint marks but can be cleaned up with a soft cloth.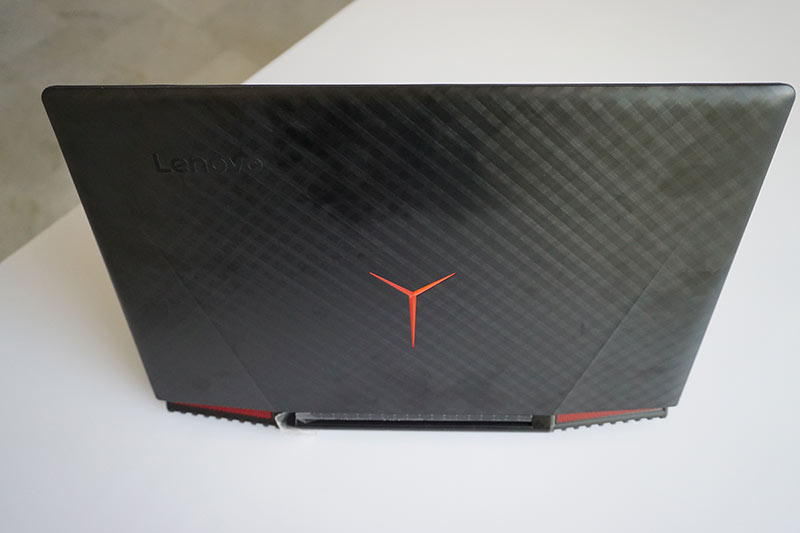 The color theme is black and Red throughout the machine which makes it look aggressive as well as very exquisite.
The front side makes it look like an expensive gaming machine. The display has triangle shaped clearance at the bottom side making the looks more futuristic.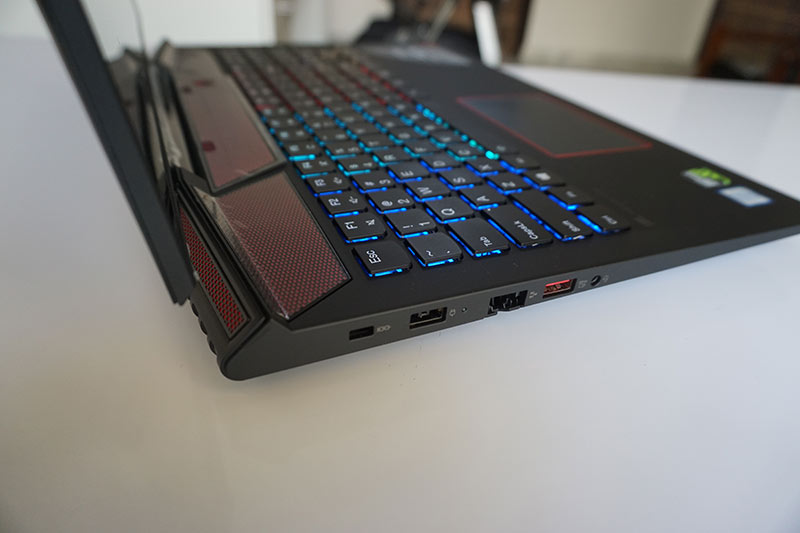 Above the keyboard, there is large speaker grill that houses incredible JBL speakers hidden behind it. The power button rests in the middle of the speaker grill.
Further, the keyboard keys and the trackpad offers decent touch experience. The surface surrounding the trackpad where your wrists rest, has a rubberized feel to it. A very natural typing and gameplay experience for your hands.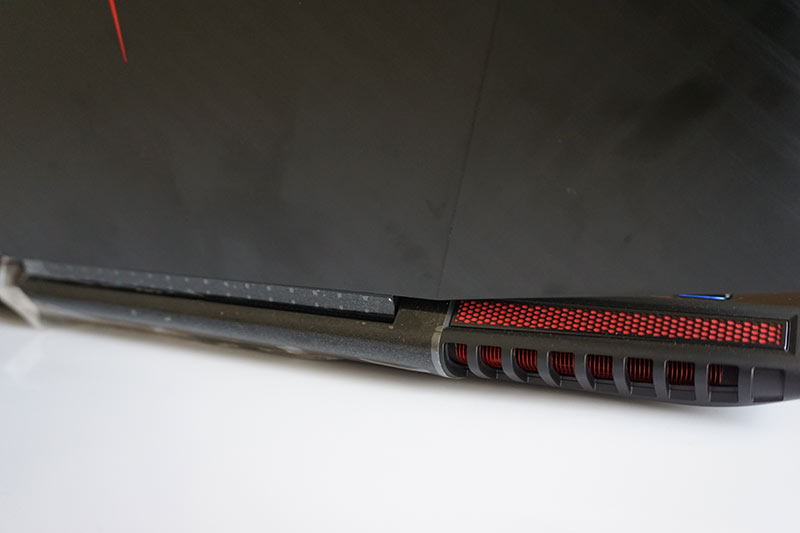 At the bottom, it comes with a triangular speaker grill. Additionally, there are four rubber cushions to keep it firmly placed on your desk while gaming. Also, there are large airflow vents to ensure all the hot air goes out with ease.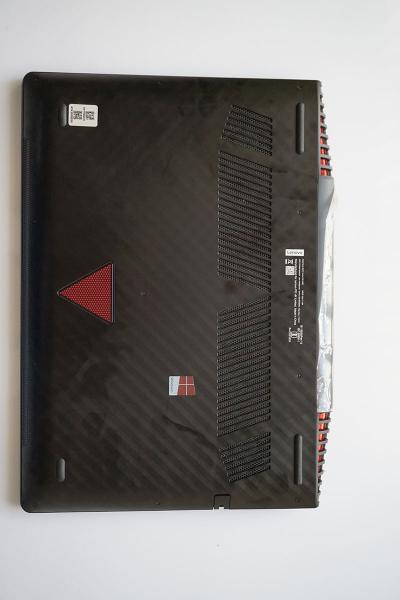 Display
The display looks sharp and has acceptable brightness. It is not the brightest display in comparison to some other very high-end premium laptops, but for all indoor and gaming needs, it is sufficiently bright.
Notably, the Lenovo Legion Y720 comes with a 15.6 Inch Display with Full HD resolution (1920*1080) pixels.
The display panel is not very glossy and does not reflect too much of background lights. Also, the color reproduction looks okay and notably it is not a touchscreen laptop.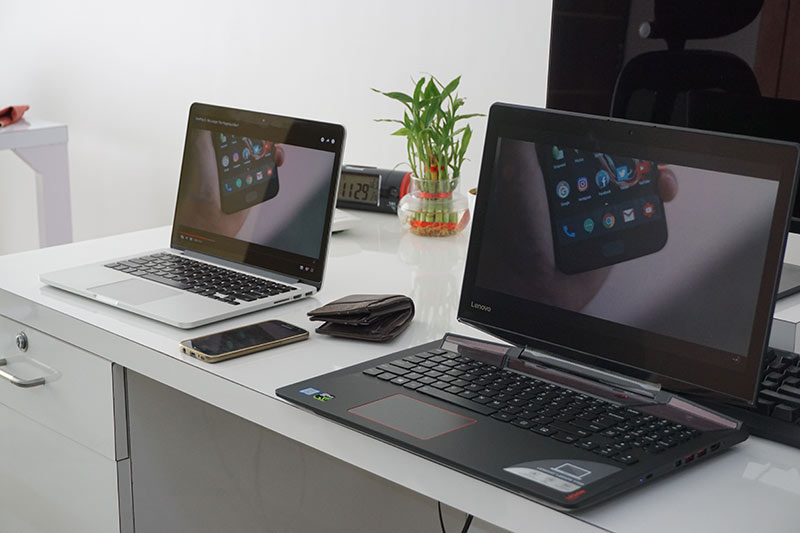 Furthermore, the display comes with sRGB color space percentage of about 57%, and the maximum brightness is 275 nits.
This is low as far as benchmark goes. Also, there is some anti-glare coating on display to make it more easily viewable. Viewing the monitor from sides fades the colors out a bit, and it is best to have a straight view of the monitor.
Sound
Further, It comes with JBL speakers and boy oh boy it does sound better than most laptops I have tested and used in the past.
The JBL speakers offer exceptional audio quality with sufficiently high volume.
While most gamers including me prefer to plug in a headphone when playing games the decent speaker is an advantage if you are watching some movies or videos online.
Also, Lenovo is using the DTS Dolby amplification along with dedicated software support to fine-tune the audio output when you are gaming, watching movies or listening to music.
Even, the sound from headphones is superior in comparison to any other ordinary laptop.
In nut-shell, it sounds good. I am giving full marks to its sound and audio.
Touchpad
The Lenovo Legion Y720 comes with a very easy to use Touchpad. It measures 10.5*7.5 cm, not one of the largest but offers a very responsive touch and user experience. The red border around the trackpad makes it look pleasing. The touchpad has a very smooth feel to it.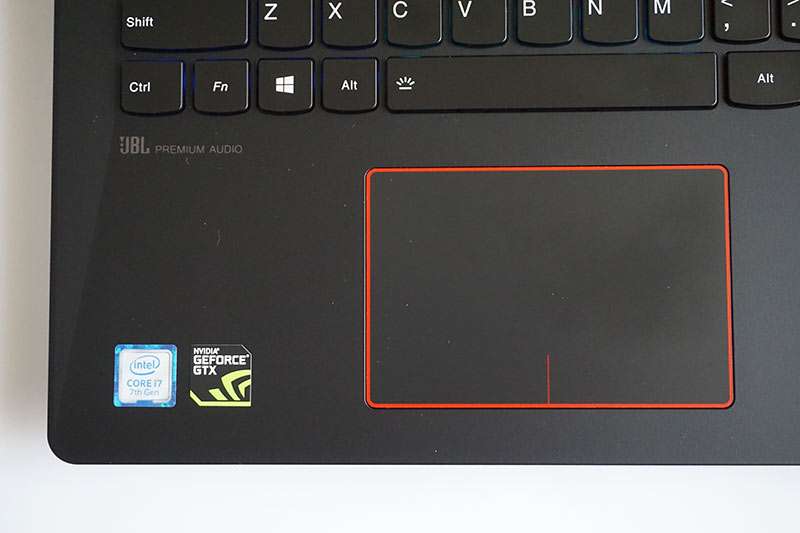 The left and right click buttons are also easy to press, without the need for applying much pressure but at the same time, they don't get pressed accidentally. Also, the click sound is also nominal.
Keyboard
RGB Keyboard – This is what makes a good gaming laptop better. The keyboard comes with rubberized-touch backlit keys. You can change the color profile for the RGB backlighting by pressing space bar and the function key.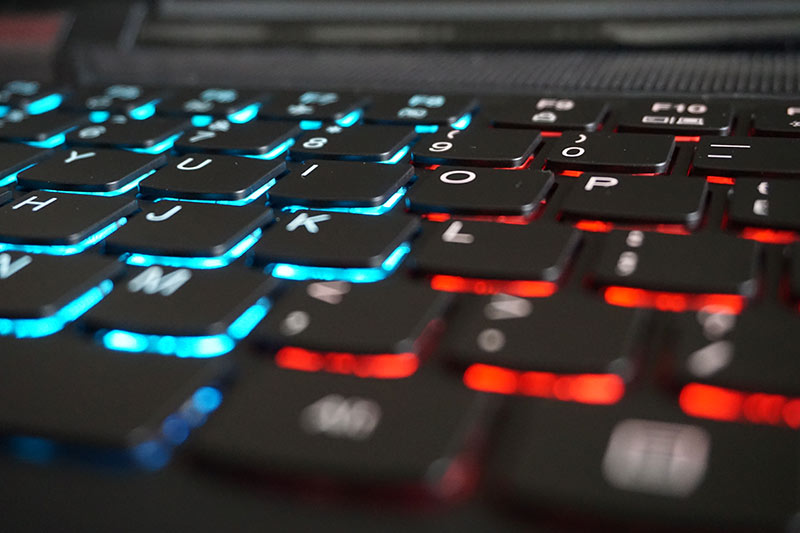 Notably, the keys are rubbery soft to press and work on, I have been typing and playing games on this laptop, and the keyboard feels responsive and easy to use.
I am a fan of Lenovo Thinkpad laptop keyboards, and even the Legion retains some of the exceptional characteristics.
The key travel is adequate and keys don't make much noise while typing.
Additionally, the large arrow keys are a great plus point if you like to play racing games. Page Up and Page down keys are difficult to find on the keyboard and there is even a dedicated key which can record your gameplay.
Overall the keyboard on the Legion Y720 is impressive, and you will like using it for everything.
Lenovo Legion Y720 Review
Connectivity
The laptop has no shortage of ports, and that's a great thing, as I don't like any additional adapters or connectors to use. The adapters are an added weight you need to carry on the move.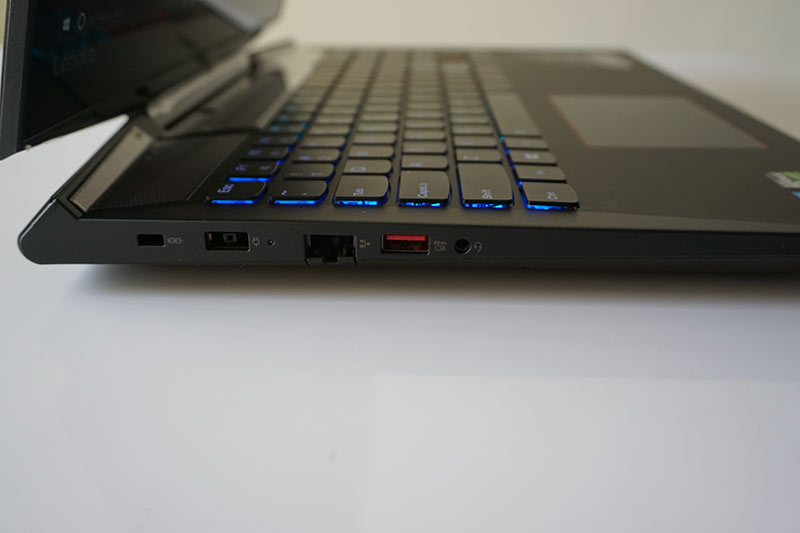 On the left side of the Lenovo Legion Y720, there is a USB port, Ethernet port, power jack and a 3.5 mm audio jack. While on the right side of the device you get 2 USB 3.0 ports, HDMI port, Thunderbolt 3 port. However, there is no SD card slot or a DVD drive if you were expecting to have them in this big machine.
Performance and Internal Hardware Lenovo Legion Y720 Review
Let's talk performance. The heart of any gaming laptop is its CPU and GPU. The Legion 720 has a good heart. There is Intel 7th Generation Kaby lake Core i7 – 7700 HQ clocked at 2.8 GHz. The processor is Quad – Core and comes with a 45 Watts TDP, and the L3 Cache is 6 MB.
Also, the processor has a Boost clock of 3794 MHz which I am able to record while gaming on the machine.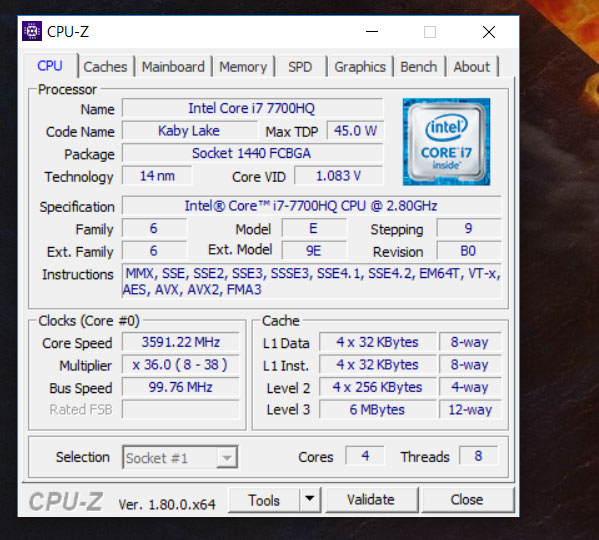 The Intel HQ series is a performance-oriented series, unlike the U series meant for higher energy efficiency.
In addition to that, the Legion Y720 comes with a Nvidia GTX 1060 Graphics card with 6 GB of GDDR5 VRAM. The graphics card has a clock speed of 1405 MHz. Even, there is a Boost clock speed of 1671 MHz that pushes the FPS performance higher in challenging scenarios.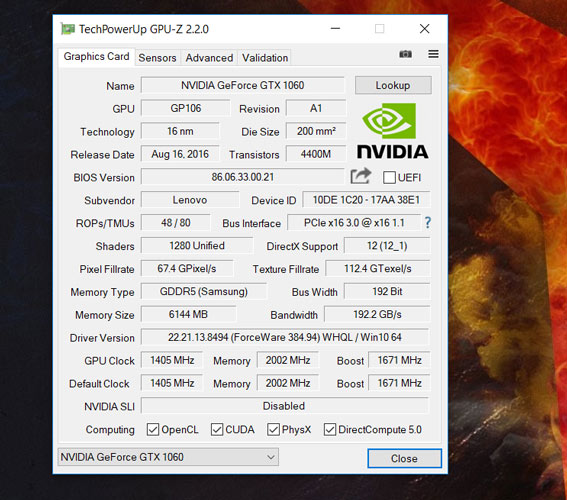 Additionally, there is 16 GB of DDR4 RAM to make sure everything runs smoothly.
The DDR4 RAM uses Dual Channel arrangement and comes with a clock speed of 2400 MHz.
Further, it comes with 256 GB of PCI-E based SSD along with a 2 TB Hard drive.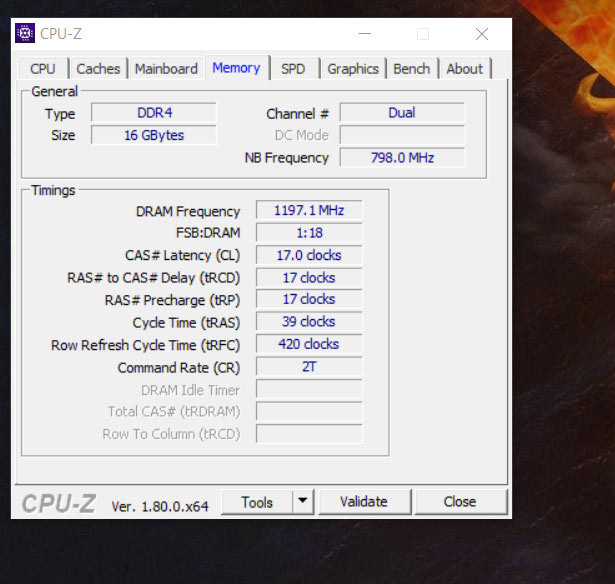 Software Experience Lenovo Legion Y720
Lenovo Legion Y720 runs on the latest Windows 10 OS and comes with Microsoft Office 2016 software.
Also, it has the Lenovo nerve sense software which is quite handy. It comes with options like the Light shift to turn on or turn off the lights, enable the extreme cooling mode, enhance sound and some more quick settings.
You can customize keyboard shortcuts to enable or disable modes. In case you feel after prolonged gaming your machine is getting hot, you can enable the extreme cooling mode by pressing a shortcut key without leaving the game.
Nerve Sense Software From Lenovo in the Below Image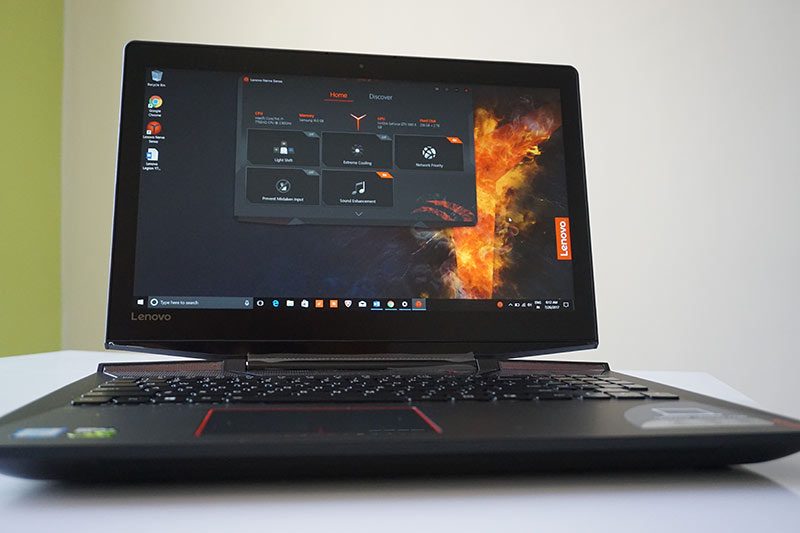 Since it comes with the Nvidia GTX 1060, you get the Geforce experience software. The first thing you must do is log in to the GeForce experience and update the drivers.
I was experiencing low FPS in BF1 before the driver's update but once we updated the Nvidia drivers the legion just maxed out the game with ease.
Another notable thing is the Geforce experience is trouble-free making the experience better.
Gaming Benchmarks and Experience – Lenovo Legion Y720
Let's Move to one of the most exciting part of this review, gaming experience and benchmarks. I played several games on the laptop, though did not doubt about the capability of a GTX 1060, but wanted to see how the Laptop variant of a GTX 1060 performs.
I have a desktop which runs on GTX 1060 + a Core i7 6700K, so the laptop offered me a chance to have a similar configuration in a compact machine.
Playing Battlefield 1 on Legion 720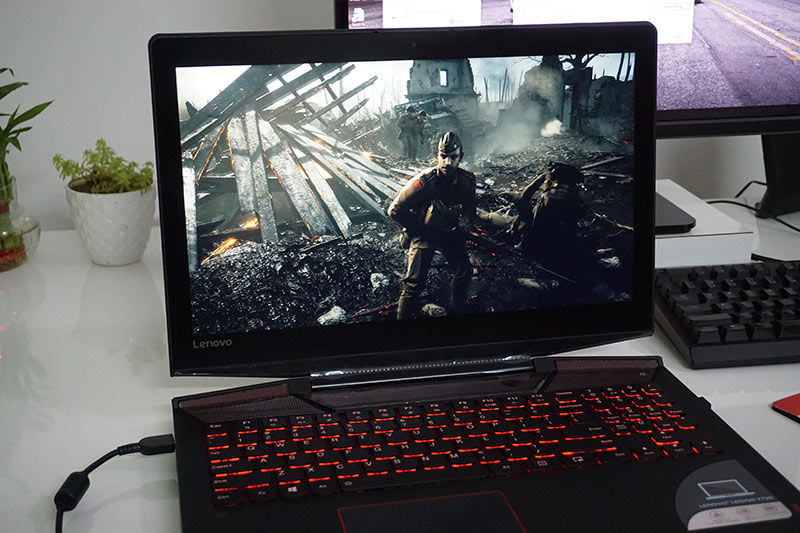 It took a long time to copy and install all the games and to add the latest Nvidia drivers dated 23 July 2017. We run some benchmarks to see how it performs in gaming.
Battlefield 1
I am a huge fan of Battlefield series and whenever free would be caught playing Battlefield 3 or Battlefield 1. I maxed it out on the 1080P resolution and result was appreciable.
The Y720 effortlessly maxed out the game and managed close to 70 FPS average in the title.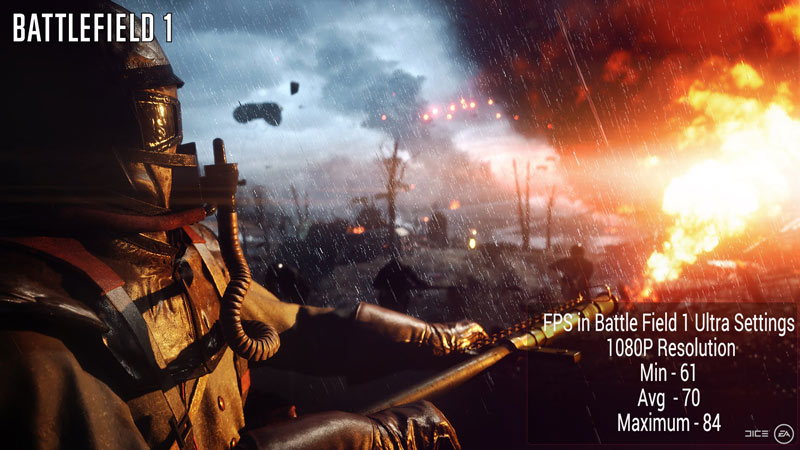 Crysis 3
When I am in a hurry and want to put a gaming laptop or graphics card to test, I bring out the Crysis 3 from it's resting place. The game has brilliant graphics and is a nightmare for graphics cards.
But our Lenovo Legion Y720 has no issues handling it, and with grace. We get an average 73 FPS on very high settings and SMAA on.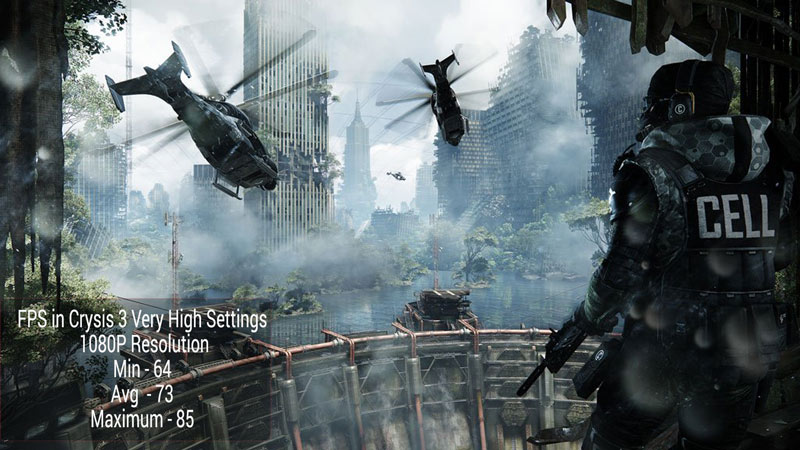 Battlefield 4
After we tested some games, it was clear we only need to up the graphics to ultra and see how well the game works.The BF4 runs flawlessly on the Legion Y720 with 70 FPS.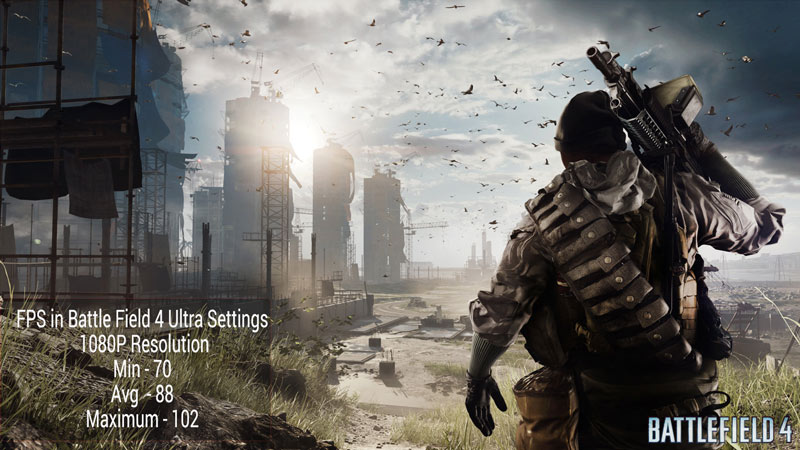 So the gaming performance for Legion Y720 was spot on target, even better than what I was expecting from the laptop. The GTX 1060 and the Core i7 7700HQ handled everything with ease no matter what I threw at it.
But what about heating and noise – I have that covered as well below, but let's check some other important benchmarks.
Photoshop Benchmarks
The laptop did well in gaming, and we expected a good performance from rendering files in photoshop. It was fast, really fast to render an image sized 6000px in just 2.32 seconds, comparable performance to my desktop.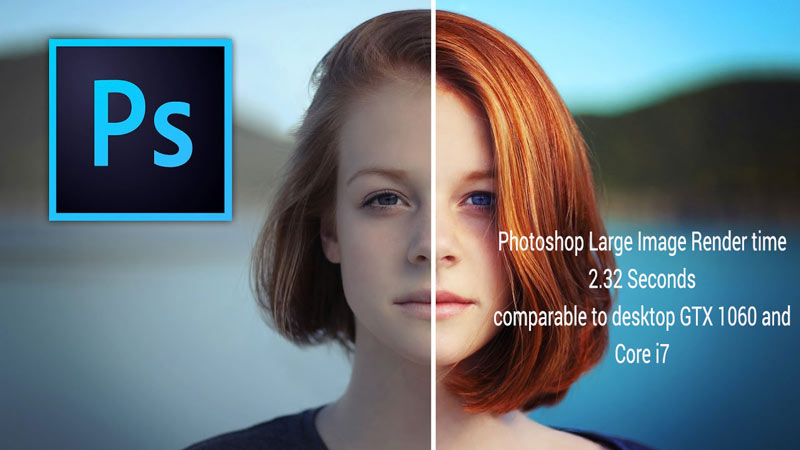 Video Editing benchmarks – Adobe Premiere PRO
Lenovo Legion Y720 Review – Next, we installed the Premier Pro for people who want to use the laptop as a video editing machine apart from being a gaming companion. Rendering a Large Video file close to 1 GB with 1080P resolution in the Adobe Premiere Pro took 3 minutes and 45 seconds. The desktop (GTX 1060 and Core i7 6700k) can do it in about 2 minutes 35 seconds.
Rendering a Large Video file close to 1 GB with 1080P resolution in the Adobe Premiere Pro took 3 minutes and 45 seconds. The desktop (GTX 1060 and Core i7 6700k) can do it in about 2 minutes 35 seconds.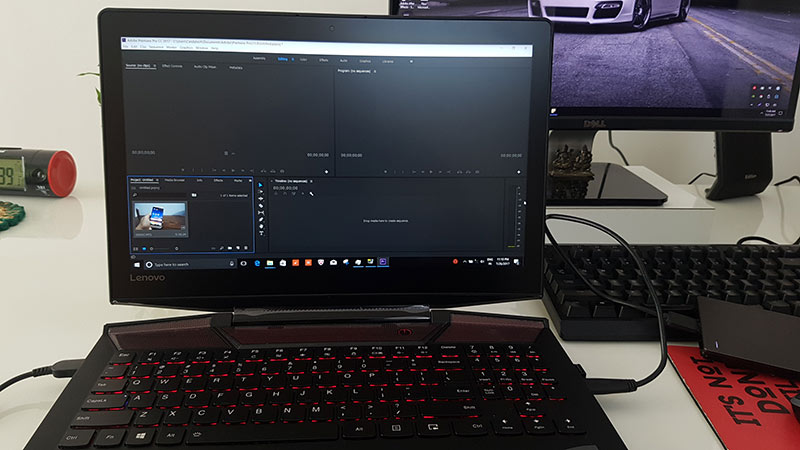 Note – If You wish to see the comparable performance of Desktop GPU's in above games, Photoshop and Premier Pro can refer this review – XFX AMD RX 470 Black Edition Review – 1080P Gaming Beast.
Cinebench R15 Score
If you are also keen to know how the laptop did in the Cinebench here are the scores for the benchmark, you can run Cinebench on your machine and can compare the scores Vs. the Legion Y720, can even post them in the comments below with system configuration.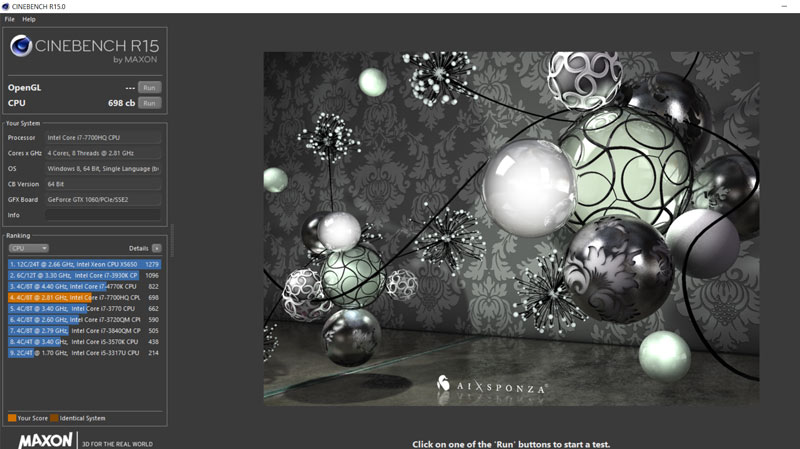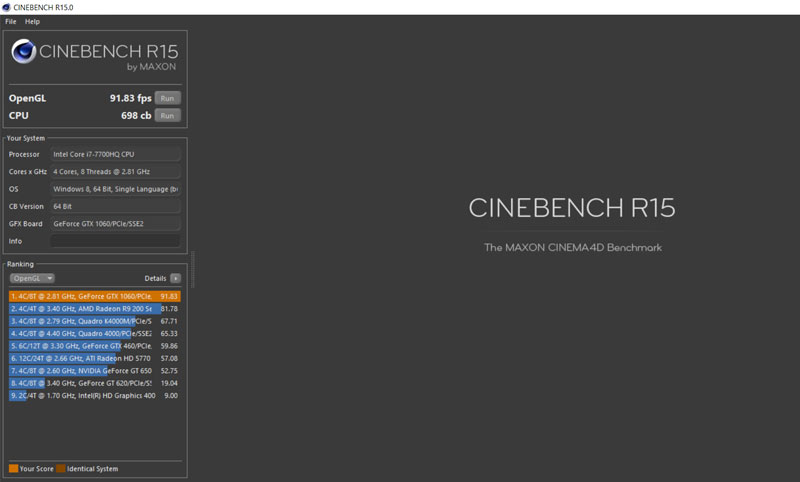 Disk Test – Performance Test 8.0 – Benchmark Scores
The Legion Y720 comes with a Samsung NVMe PCI-e based 256 GB SSD – It is crazy fast just nailed the scores on the SSD test for reading as well as writing.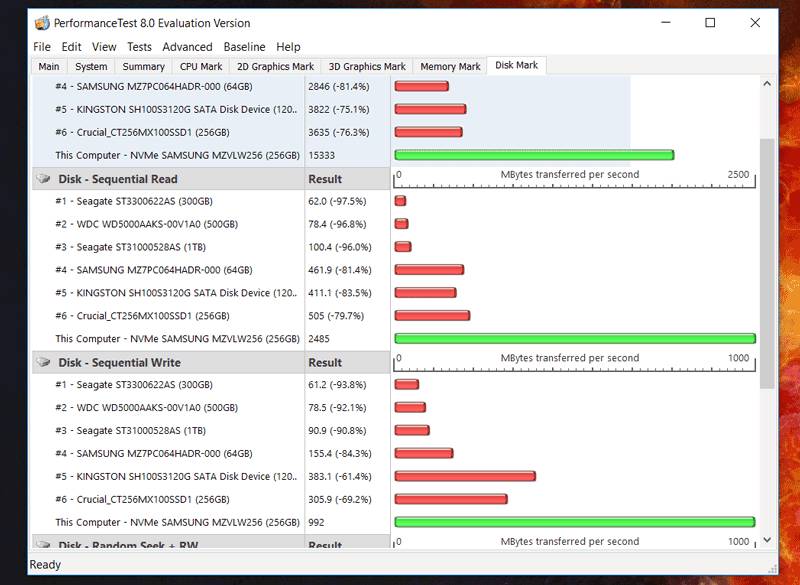 Windows Boot Up and Shut Down Time
Lenovo Legion Y720 Review – If you are not impressed with the above disk test scores here are some real-life performance numbers. It is the snappiest laptop or even desktop I have ever used.
Contrastingly, my desktop running on Samsung 850 EVO SSD takes about 20 seconds to boot up and more than 11 seconds to shut down, and that is much faster than most people would experience.
But the Legion 720 is incredibly fast when it comes to shutting down and starting up.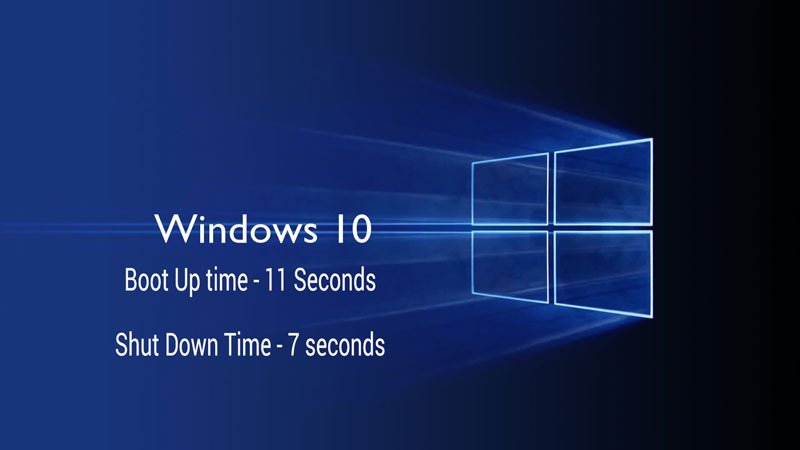 GPU Utilization and Temperatures
Let's have a look at the GPU temperature – the overall experience is good no more burning keyboard or heating of panels stays cool and quiet even under load. The Max GPU Temp stays below 80 degrees which is decent, even after gaming for a good time.

CPU Clock Speed and Temperature Profile
The CPU comes with a Core Clock speed of 2.8 GHz but when you start a Game the Boost increases the clock speed to a Maximum of 3794 MHz, and that is a very high boost frequency. The temperature stays below the 80 degrees mark.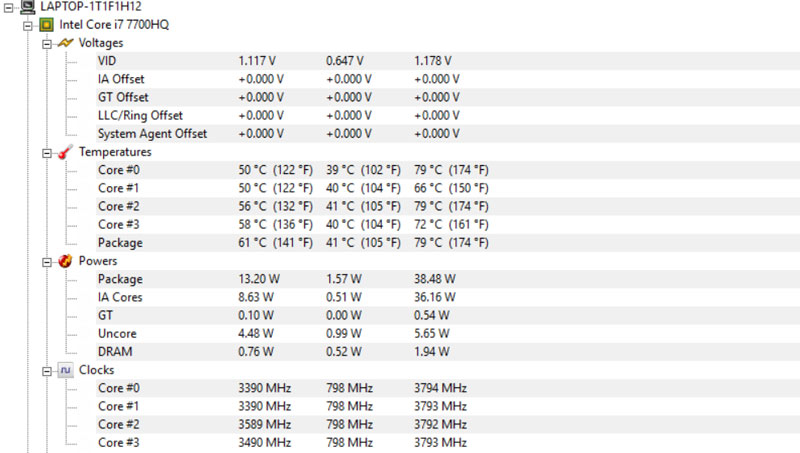 Battery Life and More
The Battery life is decent on the machine can work for 4 to 5 hours easily if you are not gaming. And with gaming, we know the battery life suffers and max can work for 1.5 hours to 2 hours. I usually plug in the charger when gaming to ensure the best performance.
Overall Experience Concluding Thoughts – Lenovo Legion Y720 Review
Major PROs
In my opinion, the Lenovo Legion Y720 is an incredible gaming laptop. However, it is pricey but at the same time delivers the required gaming performance. The GTX 1060 and the Intel Core i7 7700 HQ stand out in gaming and other applications.
We can max out all the gaming titles we tried on it, and with 60 plus average FPS.
There are no heating issues, and it works silently. However, you can hear a low fan noise when playing graphics-intensive games. Moreover, it comes with an adequate cooling solution and even the software integration is also superb.
A faster SSD and 16 GB of DDR4 memory add to the ultra-fast user experience as we expected from the machine. For impatient people, it just shut down very fast and also boot up in 11 seconds.
The keyboard is great, and so is the touchpad. Sound quality from the JBL speakers is fantastic and can add up to the overall experience.
Major CONs
Let's talk about some the Cons. Firstly, the display could have been brighter and better.
At this price, we expect a Quad HD or even 4K. Having said that, a 4K adds up too much load on the GTX 1060 and i7, may not be able to max out everything in latest gaming titles.
Secondly, the Laptop weighs 3.08 Kg and is a bit heavy to my liking. I wish it could be lighter; it is an excellent stable machine if you keep it on a table. Notably, as the Nvidia Max -Q technology is coming up, we can expect future laptops to be thin and lightweight.
Overall Verdict – Lenovo Legion Y720 Review
Overall it is a mean gaming machine and fun to use. Moreover, it is fast and can be a great companion if you wish to play games do project work or assignments.
The speakers add up to your multi-media experience, and blazingly fast performance makes it ideal for surfing the internet, doing photo editing or even some video editing. Given the price of over 1.5 lakh, I expect few buyers for Legion Y720 in India. However, this ultimate gaming laptop will impress them undoubtedly.
Brief Note on the Legion Y520
Lenovo Legion Y520 Price Rs. 92,490
Lenovo Legion Y520 comes with some similar specs while other specs are bit lower compared to the Lenovo Y720. The design is different for the Lenovo Y720 and Y520. The Lenovo Legion Y520 comes with a similar Intel Core i7 processor.
The Rs 92.5K model comes with 8 GB Of DDR4 RAM and is powered by the Nvidia GTX 1050 (4 GB GDDR5) graphics card. While the higher-priced model (Rs. 1.04 Lakh) comes with 16 GB of DDR4 Ram also has the faster Graphics processor – Nvidia GTX 1050 Ti.
There is 128 GB of SSD and a 1 TB hard drive to take care of all storage needs.
Both the laptop come with a 15.6 Inch Display with Full HD (1920*1080) pixels resolution. The Legion Y520 weighs 2.4 kg and also runs on the Windows 10 Home edition.
The Y520 also comes with a red led backlit keyboard.