RealMe 1 Will Not Recieve the Color OS 7 and Android 10 Update
Update – 2-12-2019 
Realme has confirmed on Twitter in a support thread that the Realme 1 will not receive the latest Color OS 7.0 update along with the Android 10.
Further, the Realme India Support said that they offer 2 years software update on all smartphones. But they will not give the COLOR OS7 and Android 10 Update to the Realme 1.
Also, Realme CEO, Mr. Madhav Seth has confirmed that they are not offering COLOR OS7 update on the Realme 1 and Realme 2 phones.
HAPPY UPDATE! Sharing timeline for realme's own customised UI based on ColorOS 7 & Android 10!
Now experience:
-Better RAM Management
-Closer to Stock Android Experience
-Smoother Gaming Graphics
-Unique, Good looking Design

Worked hard with R&D to provide the best improvement. pic.twitter.com/easq8ot3jD

— Madhav 'Super50w' (@MadhavSheth1) November 25, 2019
Notably, Realme 1 was launched in June 2018 and the company is not providing a major update to a phone that is less than 18 months old and at the same time saying they offer 2 year OS updates.
This seems absurd as the Realme 1 is a capable phone and has the hardware to easily run the latest Android version.
Further, the company is also not providing the COLOR OS7, Android 10 update for the Realme U1 and the Realme 2 which is strange considering these devices were released  a year back.
Realme 1 Getting Color OS 5.2 Update in India 
Update – 1-12-2018 –  Oppo's Realme 1 is finally getting the Color OS 5.2 update in India starting 3rd December 2018 as shared by the company in a post on the Realme user forum.
The new update doesn't bring the Android Pie update but runs on the Android Oreo 8.1.
However, there are several positive changes such as One Swipe dismissal of notifications, Headset icon in status bar, status bar not flashing in case developer options are enabled and new icons.
Update – 05-August-2018 – The phone is out of stock for the 3 GB version for many days now on Amazon.in. However, you can buy the 4 GB version or the 6 GB version of the Realme 1 which is in stock on the e-commerce website. It is exclusive to Amazon India so not available on Flipkart or retail stores.
Also, we may see RealMe 2 PRO launch soon maybe in late September 2018.
 Update 30th July 2018 – Oppo is separating the RealME brand just like the OnePlus. The new brand will be headed by Sky Li who is now named as Founder and Global CEO of the company.
Similar to the OnePlus story the company has decided to have a budget mobile brand to target the rivals. Notably, the OnePlus, Oppo, Vivo and the Realme belong to the same parent company BBK electronics.
These are separate brands created by the company to offer different products to users with different value propositions.
Check Out Here what the Founder Sky Li has to say about the new RealME brand.
We can expect many more phones from the brand in the coming months. Realme so far has launched only the RealME 1 phone in India, you can check the details and read the review here.
RealME 1 Review
Update 02/July
Oppo has launched the new Red color of Oppo RealMe 1 with 4 GB ram and 64 GB storage. The new phone is available from Amazon India for Rs. 10,999. The specs and other details are all same as the previous 4 GB ram version launched on 13 June 2018.
Check Out, Our Full Review of  Real ME 1 Here 
Update 13 June
Oppo is launching the new 4 GB Ram and 64 GB storage version for the RealME 1 on 18th June in India and it costs Rs. 10,999.
Also, the new model comes in an impressive silver color option which was not available so far. You can also buy it from Amazon like other models.
Oppo RealMe 1 – Can it take on RN5 Pro and Zenfone Max M1 Pro
Update 25 May  Oppo's RealME 1 is gone on sale today for the first time and the phone was stockout in seconds. We managed to secure one unit for the upcoming review of the that I will post next week.
Oppo's RealMe 1 is launched in India today and will go on sale on Amazon on 25th May 2018. The phone is available in Solar Red, Moonlight Silver, and the Diamond Black Colors.
Also, it comes in 3 Storage and Ram Variants: 
RealMe 1 – 3 GB Ram and 32 GB Storage – Price Rs. 8,999
RealMe 1 – 4 GB Ram and 64 GB Storage – Price Rs. 10,999
RealMe 1 – 6 GB Ram and 128 GB Storage – Price Rs. 13,999
👍 Subscribe to Candytech Channel and You Can Win GiveAways – Subscribe Now
Oppo RealME 1 Unboxing Camera Samples and Experience
Notably, the Oppo Real Me 1 is launched on Amazon India exclusively and will take on the top-selling Redmi Note 5 Pro and the new heartthrob Asus Zenfone Max PRO M1. Amazon listing suggests the Rs. 8,999 model and 13,999 model will go on sale intially, whereas the Rs. 10,999 model will be on the offering probably later.
We were expecting that it will launch in the price range of Rs. 13,000 to Rs. 15,000 for the 6GB ram version and Rs. 14,000 looks exciting.
Also, the RealMe is a new sub-brand from Oppo that will launch more such devices online in future, to take on Xiaomi.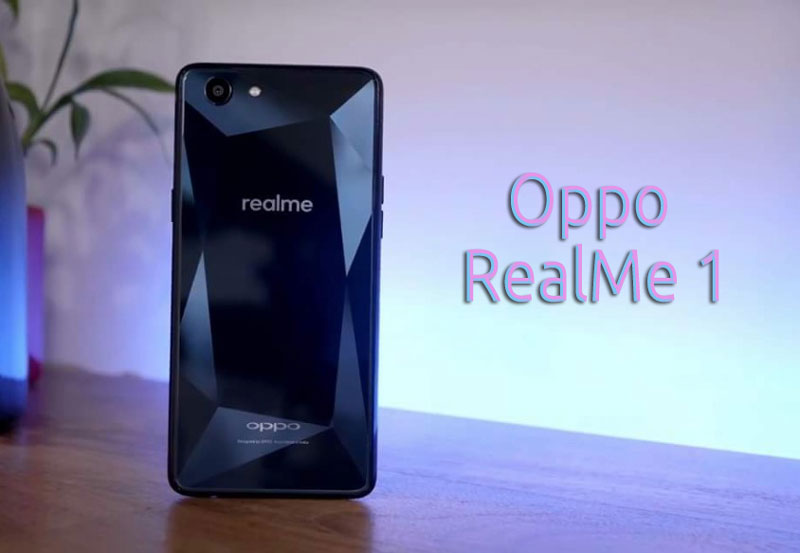 Key Specs and Details Oppo RealMe 1
Let's Talk Performance
First and foremost, it is a phone that comes with a focus on performance, and Oppo is using the same chipset (Helio P60)  they have used in the Oppo F7. The Helio P60 or the MediaTek MT6771 is one of the most powerful processors launched by MediaTek in the recent months.
The Octa-Core processor uses the 12 Nm manufacturing process that is superior to the 14 Nm process used in the Snapdragon 636 (Powering RN 5 Pro and Zenfone Max M1 Pro). Also, the processor comes with a dedicated Image signal processor for faster processing of images.
Besides, it uses the Mediatek CorePilot 4.0 technology that offers sustained performance with higher power efficiency which is quite handy when playing games.
There is ARM Mali G72 MP3 GPU with a maximum clock speed of 800 MHz. Further, the P60 uses big.Little architecture with four Cortex A73 cores with a clock speed of 2.0 GHz and even has 4 Cortex A53 cores with a maximum clock speed of 2.0 GHz.
It is worth mentioning; the Helio P60 offers a 70% performance boost and 12% more power saving in comparison to the Helio P23 (used in Vivo V7).
Another noteworthy feature of Helio P60 is the presence of Multi-Core AI processing unit that improves its performance for AI-related tasks.
Oppo is claiming that the new AI-guided processor keeps the phone much cooler in comparison to other phones.
Let's talk about the benchmark scores and how it obliterates other phones.
Benchmark Scores – Oppo RealMe 1 Vs RN5 PRO
The RealMe 1 scores 139,432 on the Antutu benchmark which is significantly higher in comparison to the 1,14,138 (SD 636) of RN5 Pro or the Zenfone Max Pro M1.
GeekBenchmark Scores
The Zenfone Max Pro M1 Scores 1331 on the Single Core Test and 4824 on the multi-core test that is significantly lower in comparison to the RealMe 1.
Also, the RealMe 1 comes with an insane 128 GB internal storage and 6 GB ram. These are unheard specs in this price range, and if the pricing prediction becomes true, then it can be an ultimate performance phone by the Oppo sub-brand.
The only phone to have 6 GB ram in the Sub 15k price is the Coolpad Coolplay 6, that came with a poor display.
Design & Display
The phone comes with a striking diamond-cut back cover that looks refreshingly different in-comparison to most other phones in this range. Also, the back cover is perfectly smooth to touch. Moreover, it is only the textured look that makes it reflect light and appear as a diamond-cut design.
Furthermore, it has an aluminum unibody and also feels a bit heavy. The phone has a thickness of 7.8 mm and weighs 155 grams which is not too high considering the large battery size.
Catching up with the modern trend, the RealMe 1 comes with an 18:9 aspect ratio, 6.0 Inch Full HD+ (2160*1080) pixels display that offers an enjoyable viewing experience.
Camera
Egregiously, it misses on the voguish Dual camera setup and comes with a single 13-megapixel camera at the back, and has an 8 Megapixel front selfie camera.
The front camera is capable of clicking selfies in the portrait mode, and the rear camera comes with PDAF. However, it comes with the AI camera that allows you to click images with the Bokeh mode using the software features and AI image manipulation.
OS and User Experience
The phone boots with the latest Android Oreo 8.1 OS and has the Oppo Color OS 5.1 skin on top.
It is a heavily customized OS skin and comes without an App drawer and has unique features like cloning for running dual social media apps.
A Big Miss
Notably, the phone comes with the Face Unlocking technology but doesn't have the fingerprint scanner which is surprising as most phones above 8k offer this feature.
To recall, Oppo A83 also doesn't have a fingerprint scanner and follows the iPhone X ideology.
Battery Capacity
It houses a significantly large 3410 maH capacity battery that charges using the micro-USB port. However, it smaller in comparison to the 5000 mAH capacity battery on the Zenfone Max M1 Pro.
Connectivity 
The phone includes the standard connectivity options such as WIFI, 4G VOLTE, Dual Sim Support and a 3.5 mm headphone jack. Additionally, there is a triple slot design that allows you to use 2 sim cards as well as a micro-sd card simultaneously.
Initial Thoughts
Undoubtedly, the presence of Helio P60, 6 GB ram and the 128 GB storage on this phone makes it special and a performance beast.
But it compromises on a couple of things such as a great camera setup (lacks the dual cameras) and a missing fingerprint scanner. The price looks very aggressive for all the three versions and surely it will offer competing phones a good run for their money.
Let's sum-up the discussion by looking at the Pros and Cons.

Major Pros
Fast Processor – Helio P60
6 GB RAM
128 GB Storage
Android Oreo 8.1
3410 mAH capacity battery
FHD+ Display With 6 Inch Screen

Major Cons
Lacks Fingerprint Scanner
Lacks Dual Camera
OS is heavily modded.
Thanks for reading the article, please share your thoughts with me about RealMe 1 in the comments.
Also, Read: 

Asus Zenfone Max Pro M1 Review – Camera, Gaming, Experience

Best Mid Range Smartphones(15k to 20k) – Nokia 6(2018) Vs. Honor 7X Vs. Xiaomi Redmi Note 5 Pro
Get Similar Articles in MailBox