POCO F1 Will Be Available in Offline Stores
Update – 10-October-2018 – Xiaomi will be selling the POCO F1 in the offline stores across India. As per a new statement by the company, the POCO F1 will be available in the MI Home Stores as well as Mi preferred partner stores starting 13th October and 17th October respectively.
So far the phone is available to purchase from Flipkart and Mi.com online but now Xiaomi is bringing the flagship product to the retail market and increasing the reach of the high-end mobile from the company.
The offline price for the POCO F1 is going to be slightly higher in comparison to the online price but the brand has yet not announced the offline prices. Usually, Xiaomi phones are sold at Rs. 300 to Rs. 500 premium in the offline stores to compensate for the higher sales cost.
Why The POCO F1 Is So Cheap?
Xiaomi has launched a new brand of smartphones today called "Poco." I have been wondering from the day they announced that they are launching the new brand. But Why Xiaomi needs another sub-brand, I will answer that question in the subsequent paragraphs.
Why Poco F1 is So Cheap? Cons? Why POCO Sub Brand is Launched?
There are many things that got cleared from Xiaomi's presentation today. POCO is not an India centric brand as people may have thought earlier, but it is a Global sub-brand for Xiaomi.
While the launch of POCO has happened in India, one of the largest markets for Xiaomi, the company plan to sell the phones under the POCO banner in many other countries across the Globe.
POCO will have a separate marketing team, Brand management, Sales to ensure that the brand doesn't loose focus.
Why POCO F1?
Here is What Mr. Jay Mani (product marketing head of Poco) told us at the presentation, the company wants to create a brand which has a unique approach to creating flagship phones on a fair price.
Also, top flagship phones cost $1000 while Xiaomi plans to launch new mobiles for a fraction of that amount. The focus for POCO will be to have phones that excel in key areas such as camera, battery life, SPEED and experience and will not have too many premium features such as waterproofing or wireless charging.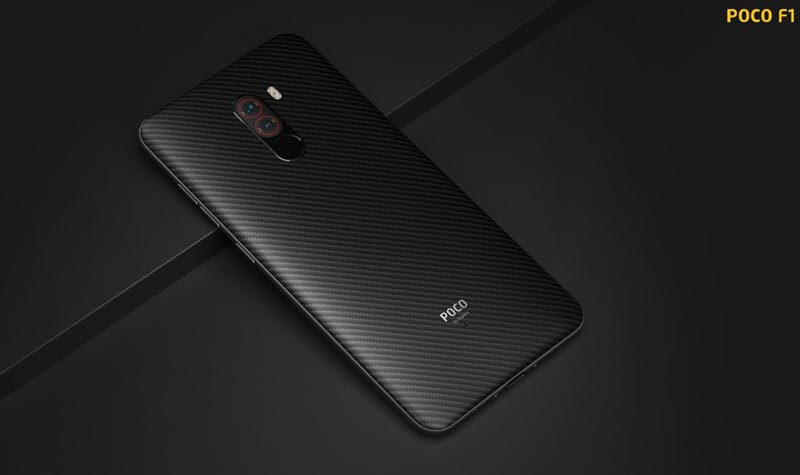 But let me now tell you why Xiaomi needed POCO – they want to compete with OnePlus 6 Globally with a similar sub-brand even offering phones at a cheaper rate than OnePlus.
The whole of Xiaomi's presentation was OnePlus 6 being compared to the new Poco F1 whether it was the camera, sustained performance or battery life they have benchmarked OnePlus and launched a phone at a much lower price to take away the market share from the BBK electronics sub-brand.
As you know OnePlus, Oppo and Vivo are all brands from parent company BBK Electronics, Xiaomi wanted to have a similar structure as it is probably becoming challenging to bring the Mi flagship phones to other countries.
Also, for India, the Poco F1 will be made in the country and will make it easier for Xiaomi to launch it much cheaper by not paying the import duties.
Now, I guess you would get the picture, why Xiaomi launched the POCO brand, now let's deep dive and find out what Poco F1 has to offer to us.
Poco F1 Top Features and Specs
Performance
The phone comes with super fast performance, to begin with, and it is powered by the Qualcomm Snapdragon 845 Octa-Core flagship processor similar to the OnePlus 6.
There is Adreno 630 processor to handle the graphics and Xiaomi is using water-cooling technology to keep the chipset cooler and have a better-sustained performance.
Storage, Ram, Availability and Price
The Poco F1 is available in India in 4 variants:
6 GB Ram + 64 GB Storage – Rs. 20,999.
6 GB Ram + 128 GB storage – Rs. 23,999.
8 GB Ram + 256 GB Storage – Rs. 28,999.
Kevelar Aramid Special Edition – 8 GB Ram + 256 GB Storage – Rs. 29,999.
The phone will go on sale exclusively on Flipkart and Mi.com on 29th August 12:00 pm.
Notably, the phones come with LPDDR4X ram and also has UFS 2.1 storage which is significantly faster than the standard storage.
Design and Display
The Poco F1 comes with a basic design, no frills, it is not even metallic, but a polycarbonate build. This is where Xiaomi has done most of the cost cutting I believe. The phone is also available in a slightly premium Kevlar back design as I have mentioned above which looks more sturdy and aesthetic.
There is a 6.18 Inch display on the POCO F1 that comes with 19:9 aspect ratio and a notch. You can even hide the notch in the settings if you wish to.
The display has FHD+ resolution and comes with a 2.5D Curved glass as well as Corning Gorilla Glass protection (unspecified). OnePlus 6 has Corning Gorilla Glass 5. The maximum brightness for the display is 500 nits.
Xiaomi is also not using the Super AMOLED panel like the Oneplus 6  which are more expensive and is probably another area of cost-cutting by the brand.
Camera
The POCO F1 packs some impressive camera sensors for both rear as well as the front. There is a 12 Megapixel rear camera that comes with the Sony IMX363 sensor and has 1.4-micron sensor size.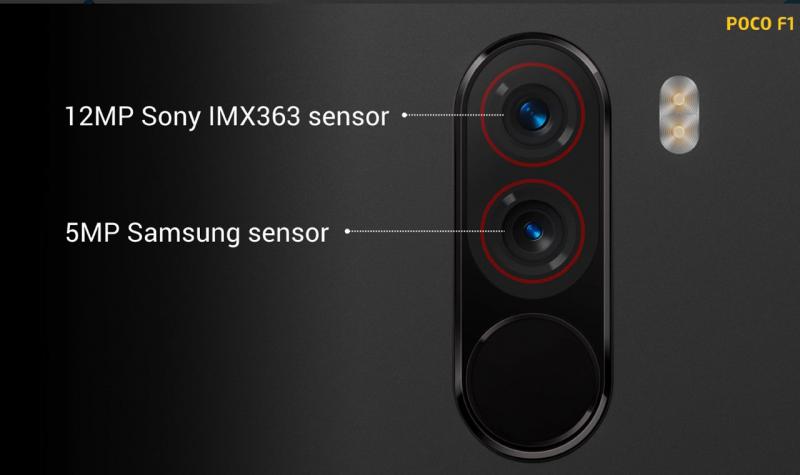 Xiaomi has not shared the aperture size on the camera, but it comes with AI scene detection to enhance your images. There is also a 5 Megapixel secondary camera which is made by Samsung. The secondary camera helps in the depth sensing.
At the front side, there is a 20 Megapixel front camera that can capture detailed selfies.
Battery Life, OS, and Connectivity
The phone comes with massive battery life as the Xiaomi redmi Note 5 Pro with 4000 mAH capacity. To make things even better there is fast charging support with Qualcomm Q.C 3.0.
The phone runs on the MIUI 9 and comes with the latest Android Oreo update but have some customizations to differentiate it from the standard MIUI.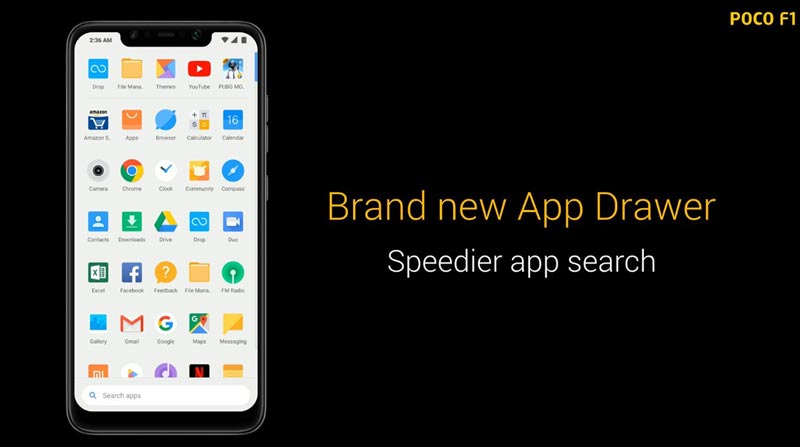 There is an App Drawer introduces, and a new Poco launcher is present which makes it look a little more like stock Android.
Also, Xiaomi has done several optimizations to make sure the App launch times are super fast on the phone and even better than the arch-rival OnePlus 6.
The phone comes with 4G+ support, and there is Dual Sim – Dual VOLTE support to ensure that you get faster data connectivity. Also, there is a USB Type C port and a headphone jack. After huge backlash for the Mi A2, Xiaomi has finally thinking straight.
Also, there is expandable storage in the POCO F1 which was even missing on the Mi A2.
Fingerprint and Face unlocking
The face-unlocking is fairly advanced on the POCO F1, and it comes with an infra-red sensor to ensure that the phone is more secure and even the Faceunlock works at night.
There is also a Fingerprint scanner at the back of the device for quick unlocking.
So Why is the Poco F1 Cheap?
First of all, there are a couple of things that are not present on the phone like support for wireless charging, a waterproof design. Secondly, the design looks very generic and mid-range on the POCO F1 helping Xiaomi to cut some more costs.
Thirdly, it comes with an IPS LCD panel ( they didn't mention a super AMOLED panel), AMOLED panels are more expensive and vibrant. Further, the Corning Gorilla Glass used is probably 1-2 generation old which may have also helped to save more costs.
Aforementioned, they are making the POCO F1 in India, so that also saves import duty which is a big saving.
Initial Thoughts About the POCO F1
It looks impressive inside out, the pricing is killer and Xiaomi is going to kill the competition with this phone. Indian buyers are super Specs hungry, and that is what this phone delivers and that too with style.
But is it better than the OnePlus 6 or the Asus Zenfone 5Z, difficult to say at this point? However, the design and some of the missing features like a better display are evident on the Poco F1.
Also, if you are buying it on the first flash sale on Flipkart, you can get Rs. 1000 discount using an HDFC bank credit or debit card. We will buy the retail unit and will do the full testing soon, so stay tuned.
Share Your thoughts in the comments below.
Also, Read: