Review Galax Nvidia GTX 1060 EXOC – Superb Performer
Gaming Benchmarks Galax GTX 1060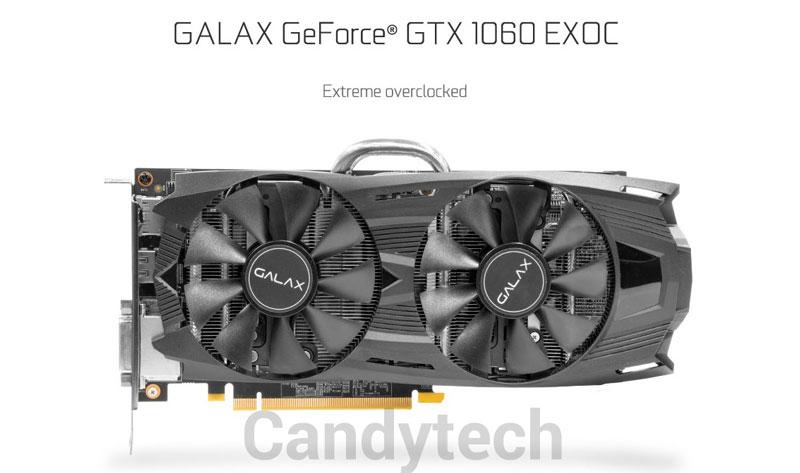 Before We Proceed to the Gaming benchmark let's check the GPU clock and Memory Clock and No load GPU Temperature.
| | | | |
| --- | --- | --- | --- |
| GPU Core Clock | GPU CLOCK | Memory Clock | GPU Temp No Load |
| AMD R9 280 OC Edition Saphire | 940 | 1250 | 38 |
| Nvidia GTX 1060 Galax | 1921 | 2000 | 40 |
We measured the above using latest GPU-Z and MSI Afterburner, HW monitor and the Sapphire Trixx OC utility. I use different software to ensure that the reading we are taking is absolutely correct.
The interesting thing with the Galax Nvidia GTX 1060 is that even before touching any OC settings the card was boosting to 1921 MHz the clock speed. Far higher than the 1759 boost clock and the base clock of 1540. I didn't see it ever running on the base clock. The GPU was boosting itself as and when required based on the graphics load from the Game we were playing.
Let's Check the Gaming Benchmarks first for both the cards without any overclock settings and later we will see how well the Galax GTX 1060 performs with the Overclock.
Let's start with one of my favorite titles Battlefield 3, it is not very taxing on the graphics card and performed well with our old R9 280 as well. We did all the benchmarks at 1080P high, very high and ultra settings for different games.
Gaming Benchmark Galax GTX 1060 EXOC – BF3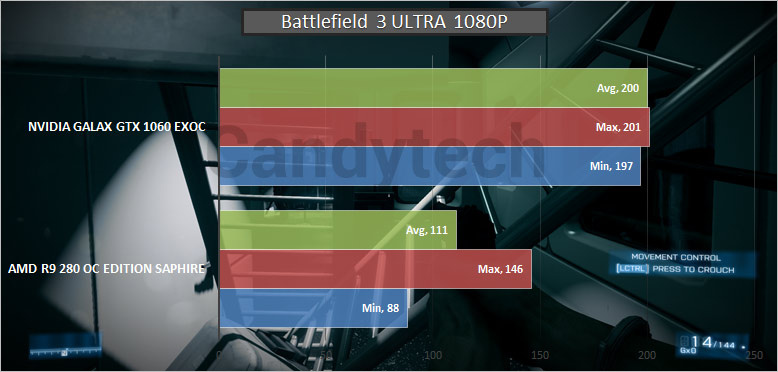 The game just got maxed out and reached the upper cap of 200 FPS. We could have pushed some more settings higher but it is apparant that the GTX 1060 is very capable to handle BF3.
Gaming Benchmark Galax GTX 1060 EXOC – FarCry 4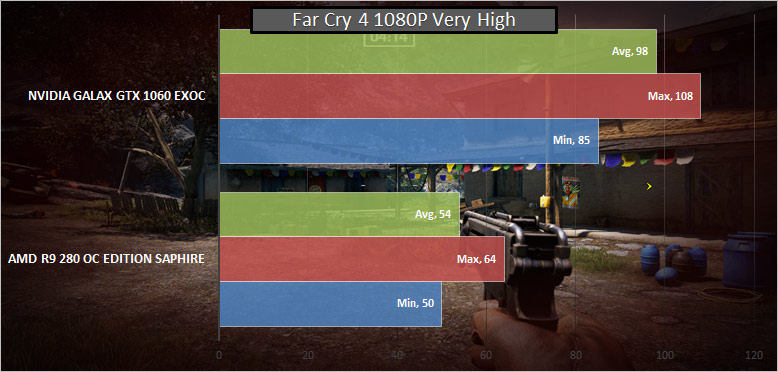 The performance almost got doubled in comparison to the R9 280.
Gaming Benchmark Galax GTX 1060 EXOC  – Crysis 3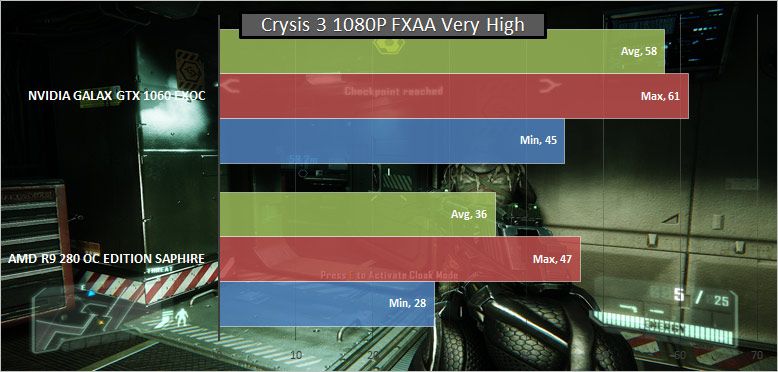 Crysis 3 is still one of the most gruelling games and can push any card to the limit. The performance nearly got doubled  (read AVG FPS) when compared to the R9 280. Actually, it was locked at 60 FPS, the card is capable of pushing even higher.
Gaming Benchmark Galax GTX 1060 EXOC – BF4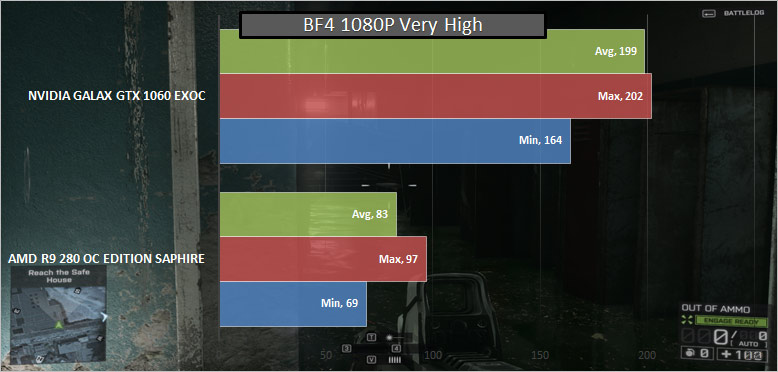 BF4 also got maxed out at 1080P very easily by the GTX 1060.
Two more games I wanted to test but due to a technical issue will require to be downloaded again , GTA V and Witcher 3.
Synthetic Benchmark Performance
We tested the Graphics card on the Furmark and the performance was almost double of the AMD R9 280.  The graphics card did not felt being stretched or heated even after running it for 2-3 times.
Furmark Benchmark Score Nvidia GTX 1060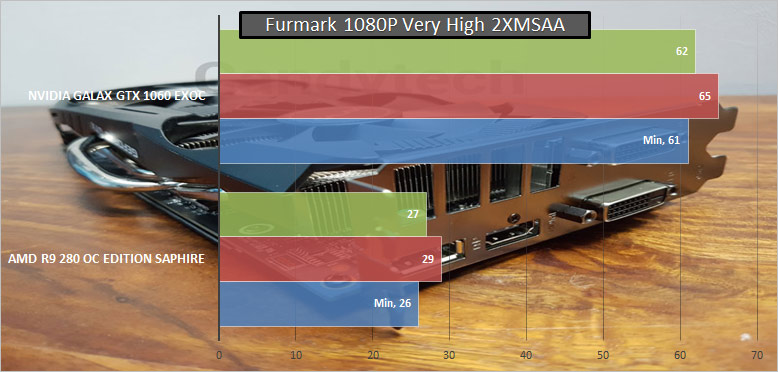 The benchmark scores are very impressive for the Galax GTX 1060.
Adobe Photoshop Performance
I was expecting a similar gain in the Adobe Photoshop as the GTX 1060 uses 6 GB of VRAM instead of the 3 GB VRam on the AMD R9 280. However, the results were contrary to expectation.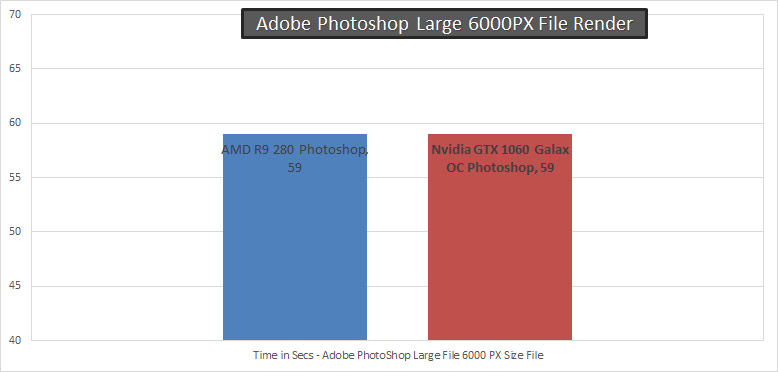 For testing, I used a large picture with 6000 px width which can easily make a laptop go into a dizzy state. We opened it in Photoshop and rendered it to save for web. It takes around 59 seconds for the AMD R9 280 and the Nvidia GTX 1060.
No performance upgrade as far as the photoshop is concerned.
Adobe Premier Pro Performance
I was again having some mixed thoughts while rendering a 1080P video with the Adobe premier pro and exported it to save in .H264 format. There is very similar performance by both the cards.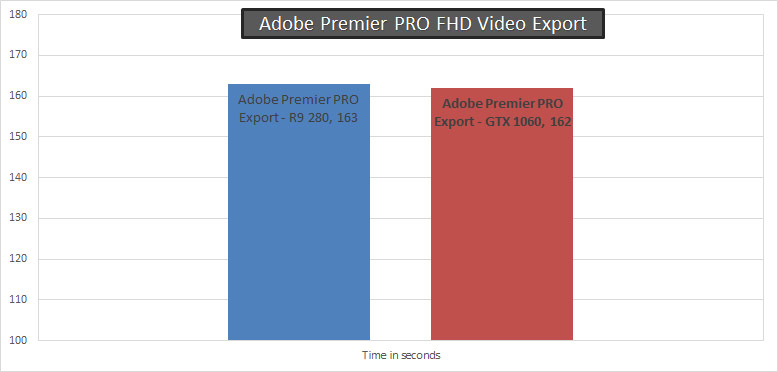 In conclusion if you are working on the Adobe Photoshop or the premier pro you won't get much benefit from the upgrade. But definitely a CPU upgrade from a Core i5 to Core i7 and a faster Ram helps. We will do some of this benchmarking on this later.
Click Next Below For Overclocking Performance , Temperature and Concluding Thoughts
Review Galax Nvidia GTX 1060 EXOC – Superb Performer
Overclocking Performance
Lets check out the performance for Games once we overclock both the cards. The AMD R9 280 is a good overclocker and same is the case with the Galax GTX 1060 EXOC.
You can read our simple overclocking guide for your GPU here and if you wish to OC your processor you will need a Air Cooler like we use Hyper 212 X or a liquid processor cooler. Also, I would recommend you use the latest GPU before Overclocking. As they will give you more stability in games and even more boost in performance.
Read – Does GPU driver update help in Boosting performance.
Gaming Benchmarks Overclocked Galax GTX 1060 EXOC
We pushed the clock even higher than 2000 MHz on the Galax EXOC to put it to paces. Also, increased power draw for more stability in the over-clocked performance benchmarking.
OC Settings Used for Both the Graphics Cards
| | | | |
| --- | --- | --- | --- |
| Graphics Card | GPU CLOCK | Memory Clock | GPU Temp No Load |
| AMD R9 280 OC Edition Saphire OC | 1100 | 1325 | 45 |
| Nvidia GTX 1060 Galax OC | 2050 | 2050 | 44 |
FarCry 4 Benchmark Galax GTX 1060 – Overclocked

Crysis 3 Benchmark Galax GTX 1060  – Overclocked

BF4 Benchmark Galax GTX 1060 – Overclocked

Far Cry 4
Crysis3 FXAA Very High
Graphics Card FPS
 Min
 Max
 Avg
 Min
 Max
 Avg
Galax GTX 1060 EXOC
85
108
98
45
61
58
Galax GTX 1060 EXOC Overclocked
95
126
110
54
61
60
% Gain
12%
17%
12%
20%
0%
3%
We could easily push the gaming performance by 12% with overclock on the Galax GTX 1060. Moreover, it can be pushed to around 10 to 15% in some of the modern gaming titles without breaking a sweat.
Temperature And Noise Level
Furthermore, we over clocked it higher and put it under due stress, the card responded with vigor and was able to hold on to 75 degree temperature mark for all games and benchmarks.
Also, we have a large HAF 912 case with 4 fans blowing away hot air which is an added advantage to keep the temperatures low.
In fact, In the hot summers of north India, this can be a big deal for some of the gamers. I am really impressed with the cooling of the Galax GTX 1060, the max temperature for the graphics card while playing games as well as benchmarking with the overclock settings was in the range of 66 degree C to 69 degree C.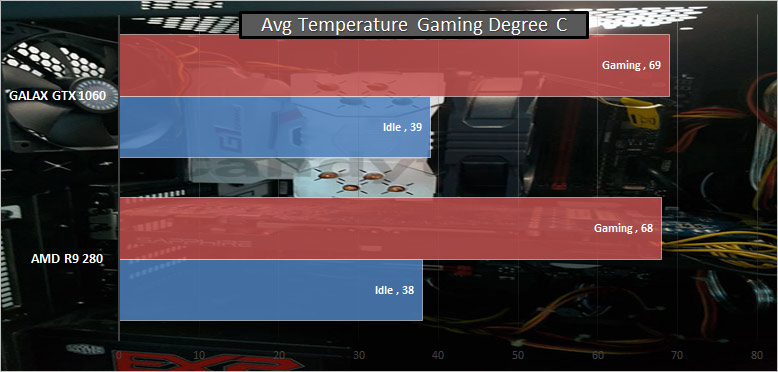 The max load temperature is fairly cool and fans profile are also quiet. Even while playing the games, there is very low noise from the GPU and it don't looked stressed even under the heavy load.
Even our AMD R9 280 has good thermal profile and is a cool graphics card, never going above 70 degree C.  Some of the cards like Zotac tend to run a bit hot but there is nothing to worry about. However, I prefer the lower temperature profile cards.
Concluding Thoughts – Review Galax Nvidia GTX 1060 EXOC
In conclusion, the Galax Nvidia GTX 1060 comes with a robust design, looks aesthetic and performs to our expectations in most gaming titles. It burnt our AMD R9 280 which is just 1.5 years old to the ground. It offers almost twice the performance.
Furthermore, the graphics card is well suited to run with an Intel Core i5 or Core i7 processor, throw in a good Z170 board and high speed DDR4 Ram and you have a great Gaming PC rig for the 1080P gaming, for next couple of years. There were no Cons in the limited testing, in case some issues arise I will update the article.
Availability of the card in India may be a factor which can limit the success, and even the pricing in different markets can be higher.
Notably, in comparison to the AMD RX 480, the GTX 1060 has an edge of 10% or more in most gaming titles. Additionally, the price is lower for the GTX 1060 in India at the time of writing this review.
It is a no brainer to pick a GTX 1060 if you are in the market for buying a performance GPU. Lastly, you may want to read more on Vulcan and DX 12 performance of RX 480 and GTX 1060 here before making a purchase.
Overall, the card has exceptional performance and will thrill fellow PC gamers with ultimate power to blow anything thrown at it. An ideal match for all night gaming sessions.
If you have any queries about the graphics card or otherwise , you can ask me in comments below.
You May Like to Read : 
Why the Founders Edition Nvidia GTX 1080 And 1070 Cost More