This article will check out the 8 Best Processor Coolers (Liquid/Air) that you can use for your gaming pc build. The processor coolers are compatible with Intel 10th, 11th, and 12th Gen and AMD Ryzen 3000 and Ryzen 5000 series desktop processors.
The processor coolers are ideal for gaming and video editing PCs and can help you overclock the processor to get the most out of your system.
Also, I have detailed how you can install a processor cooler along with benchmarks and the impact of using the stock cooler and an aftermarket cooler.
10 Best CPU Coolers – Air and Liquid Coolers Worth Buying in India
What are the Different Types of Processor Coolers, and Which One Should You buy?
There are two types of coolers available in the market:
Air Coolers
Liquid Coolers
Both are effective in cooling the processors – liquid coolers are slightly more effective, and if you are buying a top-end processor like Intel Core i7/i9 or a Ryzen 3900XT or 5800X or 5900X, you can opt for a liquid cooler to get the best cooling. The Mid-range and entry-level processors like Intel Core i3/i5, Ryzen 3, or Ryzen 5 can use the air-cooler.
Important Considerations before buying a Processor Cooler
Also, if your PC cabinet is not too big, you may want to check the cooler's height before purchasing. Liquid coolers with a single fan are compact and can usually fit in most cases.
Beginning with the Air processor coolers, we will check out the liquid coolers.
Best Processor Air Coolers
Ant Esports ICE-C612 with RGB LED – Price Rs. 1899
The Ant Esports processor air cooler arrives with direct contact technology having four heat pipes that give an outstanding heat emission.
The PWM fan automatically regulates the speed according to the CPU temperature by reducing the fan noise. This feature will give you a quiet working environment.
The ICE-C612 with Rainbow RGB LED Fan produces an optical feast and can make your rig look cool.
The Tunnel Effect has an Aluminum Fin Array design which generates micro vortices to boost the airflow. The four 6 mm heat pipes are the key components that enhance the performance.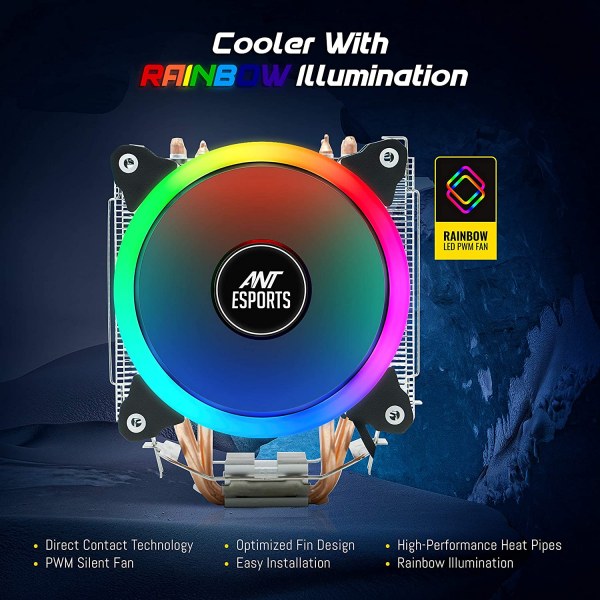 Key Specification:
4 pin PWM Connector
Rainbow Illumination
Optimized fin Array design
Direct contact technology (4 pipes)
4 X Copper heat pipes*9
155 mm height
1200 – 2000 rpm fan speed
Compatibility – up to Intel LGA1200 and up to AMD AM4 sockets
PROS:
Easy Installation
Carries quiet operation even under heavy load.
Affordable price with great features
CONS:
The cooler is not suitable for over-clockers.
Price – ₹ 1,899
Note, if the ANT ICE 612 cooler is not in stock, sometimes it is not, you can buy the Deepcool Gamaxx V2 400, which offers decent processor cooling and is comparable to
DEEPCOOL GAMMAXX 400 V2 Blue LED Air CPU Cooler – Price Rs. 1625
The DeepCool Air CPU cooler (Model no – DP-MCH4-GMX400V2-BL) is a low-cost processor cooler from the GAMAXX 400 series.
It comes with a 120 mm Blue LED fan. The cooler includes 4 heat pipes and a heat-resistant mounting kit.
The Cooler is ideal to pair with the Intel Core i3, Ryzen 3, or even the Intel Core i5 or Ryzen 5 series processors.
In addition, the fan is designed in such a way that it maintains the noise balance very well. The copper-enhanced heat pipes disperse the CPU heat with maximum performance.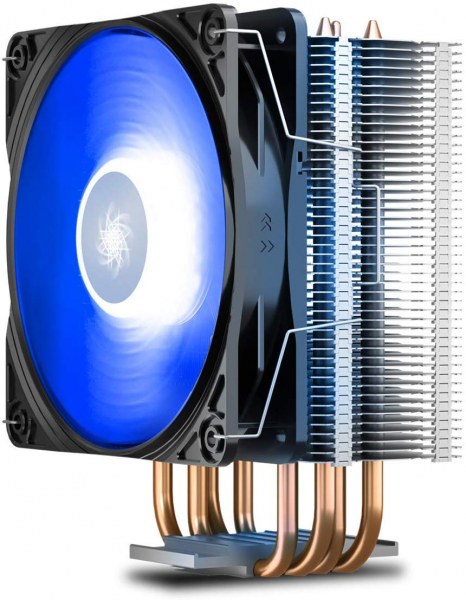 Key Specification:
4 new tech copper pipes
Blue LED
120 mm PWM fan
Optimized fin Array design
155 mm height
Compatibility – up to Intel LGA1200 and up to AMD AM4 sockets
PROS:
Easy Installation
Good mounting mechanism
Affordable
CONS:
Price – ₹ 1,625
Also, Read – How to Install Processor Air Cooler – Benchmarks, Temperatures, Comparison
Cooler Master Hyper 410R RGB Cooler – Price Rs. 1999
The Cooler Master Hyper 410R processor air cooler has a low-profile design to fit it even in the limited space cabinets.
The cooler has been manufactured to give the best-in-class cooling to the processor. So, the CPU can deliver sustainable performance for long hours without any hindrances.
It has four heat pipes with Direct Contact Technology that efficiently produce an excellent heat distribution. The stacked fin array layout assures the limited resistivity and completely passes the airflow into the heat sinks.
The wired RGB LED has been customized with a single touch on the button. The snap and play feature enables upgrading and switching the fan flurry.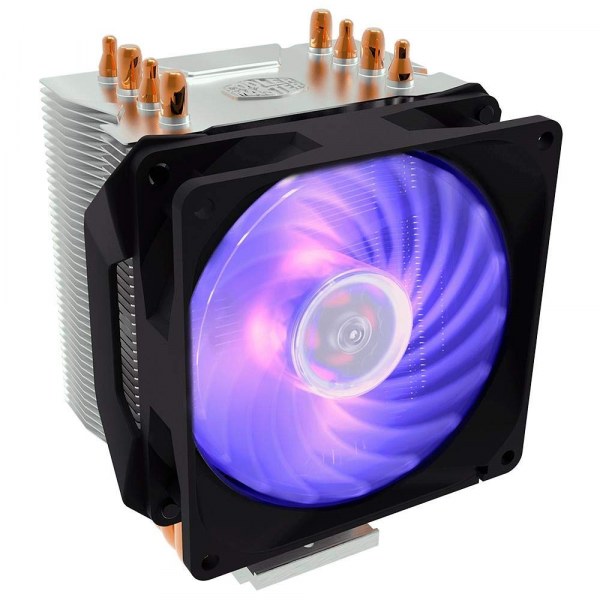 Key Specification:
92 mm RGB LED fan
136 mm height
Small factor design to fit anywhere easily
Quiet and outstanding performer
4 heat pipes with direct contact technology
Stacked fin array
Compatibility – Intel and AMD sockets
PROS:
Maintains the CPU temperature very well.
RGB controller works amazingly, Easy installation.
CONS:
If the motherboard does not support the RGB header, you require a connector.
Price – ₹ 1,999
Cooler Master Hyper 212 LED CPU Air Cooler – Price Rs. 2999 (Top Choice)
The Cooler Master Hyper 212 CPU air cooler is a handy all-in-one mounting solution for Intel and AMD processors. The cooler has uniquely designed blades that deliver excellent airflow to manage the system cooling.
The optimized bracket design allows for easy fitting. The wide-range PWM fan comes with Red LED lights and unique blades.
The 212 comes with a bigger 120 mm fan and has a much bigger surface area to offer excellent cooling.
It has four heat pipes with Direct Contact technology. The heat pipes own a funnel shape and are made of Aluminum fins to offer higher productivity and superior heat dissipation.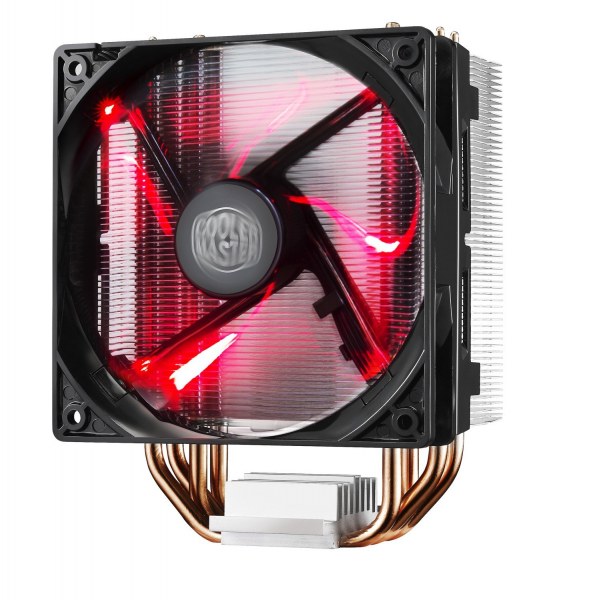 Key Specification:
120 mm PWM fan
4-pin connector
600-2000 rpm
Quick snap cover for easy installation
Four direct contact heat pipes
160 mm height
Compatibility – Intel and AMD processors
PROS:
Great cooling effects.
Easy installation.
It works well with over-clocking.
CONS:
Price – ₹ 3,000
ARCTIC Freezer 50 Dual Fan CPU Cooler – Price Rs. 5999
Arctic freezer 50 (Model no – ACFRE00080A) is a dual fan tower CPU air cooler with RGB LED. It works well with both Intel and AMD processors.
Moreover, it sports 2 P-fans that work in the push and pull manner. It has 120 mm and 140 mm fans that help to increase the airflow.
Typical Air Coolers have just one fan, but this one comes with two and offers better cooling to the processor. If you are not planning to get a liquid cooler and run a beefy processor, this can be an ideal cooling solution for your rig.
The cooler has its A-RGB controller to set the lighting effect according to your need and mood.
The six U-shaped Direct-touch Heat pipes enhance the heat distribution and make it faster.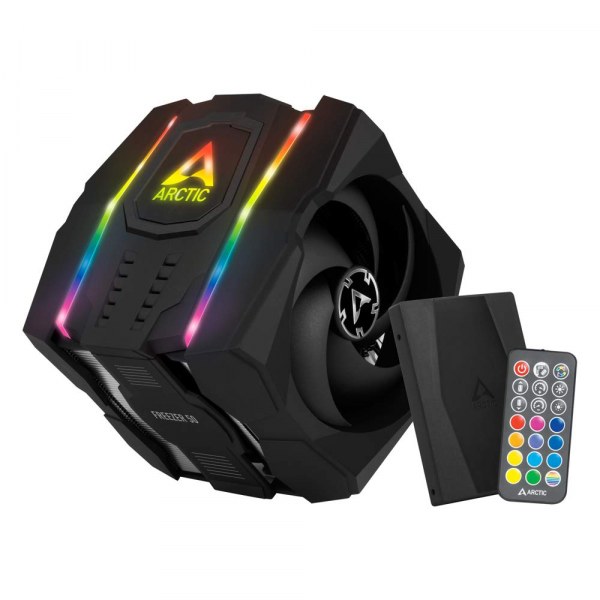 Key Specification:
Full-fledged A-RGB LED
Dual-tower design
Ideal AirFlow
RAM clearance
120 mm fan and 140 mm lead
6 U-shaped Direct-Touch heat pipes
MX-4 Thermal paste included
Compatibility – up to Intel LGA1200 and up to AMD AM4 sockets
PROS:
Great cooling performance
Works quietly
Easy installation
CONS:
Big in Size, may not fit in all cabinets.
Price – ₹ 5,999
If you have a higher budget, I suggest picking up the liquid cooler that offers silent operation and better cooling.
Best Processor Liquid Coolers
Corsair Hydro – All-in-One Liquid CPU Cooler – Price Rs. 4100
The Corsair Hydro liquid processor cooler has been designed with a larger surface area with a 120 mm fan radiator for outstanding cooling performance.
It is one of the most affordable yet effective coolers out there.
The PWM fan delivers static air pressure and has customizable speed.
The advanced cold plate and pump layout provide higher efficiency and lower temperature with low noise.
The quick and easy installation saves you time. It comes pre-filled and never demands to prime.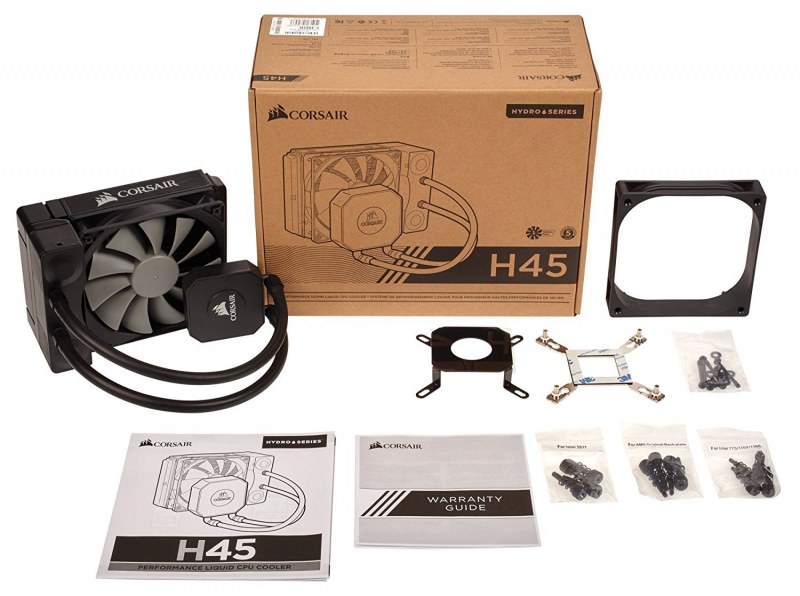 Key Specification:
120 mm PWM fan
215 mm height
Easy mounting
Arrives pre-filled
Small components and flexible tubing
Compatibility – Intel and AMD
PROS:
Great cooling effect.
Fit comfortably with any cabinet.
Reliable and Durable.
CONS:
Price – ₹ 4,100
All of the processor coolers are compatible with the latest AMD or Intel motherboards.
Deepcool GAMMAXX L240T Blue LED CPU Liquid Cooler – Price Rs. 4999
The Deepcool GAMMAXX liquid cooler offers great performance and is currently available for an attractive price.
The cooler has been updated with revolutionary Anti-Leak tech to enjoy a leakage-free execution.
It achieves an automated pressure balance that enhances operational safety. The two 120 mm fans have been illuminated by BLUE LED lightning.
The E-shaped micro water-channel design brings out the heat circulation by expanding the thermic contact space. The powerful induction motors deliver a potent liquid flow and pressure.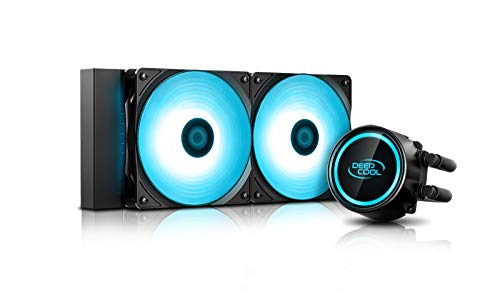 Key Specification:
Two 120 mm PWM fans with Blue LED
Optimized micro water-channel
Powerful and effective motor.
The Improved liquid cooling system
Anti-leak technology
An automated pressure balance
22 dB noise level
Compatibility – Intel and AMD
PROS:
Effective cooling.
Fans are durable
Cheap compared to other mid-range liquid coolers.
CONS:
No RGB Fans.
A bit cumbersome to install and needs space for two fans.
Price – ₹ 4,999
The processor cooler is ideal for high-end processors like i5,i7 or AMD Ryzen 5, 7, 9.
NZXT Kraken M22 AIO Liquid Cooler – Price Rs. 6599
The NZXT Kraken CAM liquid processor cooler is the best-looking cooler available on the market.
Not only the good looks, but this high-quality product also offers superb cooling and effortless installation.
For optimal production, the fine-tune settings can be done via CAM's software interface.
The water block has a copper build with plastic shielding, whereas the tubes have ultra-low evaporation Rubber with Nylon Braided Sleeve.
The cooler comes with customizable lighting effects.
The AER P120 mm fan provides excellent durability and keeps the system cool to intensify the performance.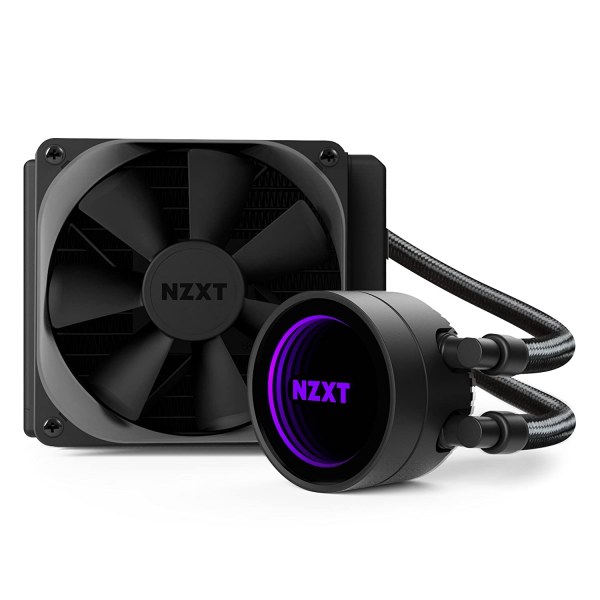 Key Specification:
4-pin connector
120 mm PWM fan
800 – 2,800 rpm pump motor speed
Customized lighting
CAM's software interface for settings
Compatibility – Intel and AMD
PROS:
Keeps the system pretty cool.
Works silently
Simple installation
CONS:
Price – ₹ 6,599
Concluding Thoughts and FAQs
How does the Processor Cooler Work?
The processor cooler sucks the heat from the processor and dissipates it in the air keeping the temperature under control. When we overclock the processor, the temperatures increase even more, so we need a better cooler.
The processor is the PC's brain and does millions of calculations in seconds. Unquestionably, this load will produce heat that can damage the sensitive electronic components if the temperatures are not kept under control. This necessitates the use of processor coolers.
What are the benefits of upgrading from a stock Processor cooler to a good Air or Liquid cooler? Temperature Benchmarks Stock Vs. After Market Processor cooler.
You may be able to see a temperature difference of up to 20 degrees Celcius with an aftermarket cooler. Your leverage varies based on your existing cooler and the aftermarket solution that you purchase.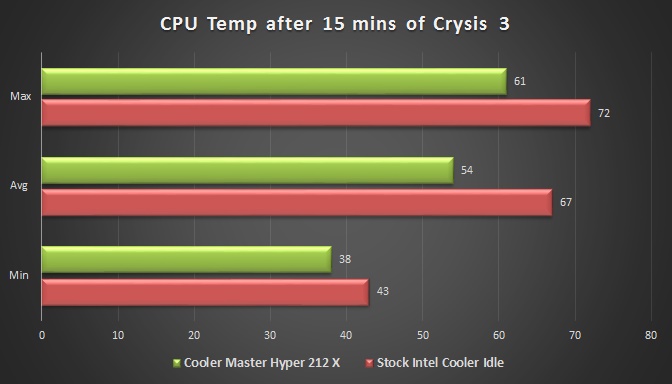 I have gone through the coolers available in the market and have listed the best ones here to help you choose. Pick the one that fits your budget.