This article will focus on the best affordable Wired headphones with the incredible sound quality available for Rs. 1000 to Rs. 3000 in India – ideal for listening to music or watching movies.
Wired headphones are far from Dead! Despite the rise of the truly wireless earbuds that everyone and their Grandma want to buy.
Buying the best headphone is an arduous task amid the availability of many options.
You must do thorough research and consider comfort, ergonomics, sound quality, build quality, audio experience, and reliability.
I have lost hair in researching and testing some of the best headphones over the years. Not to mention, I love reviewing audio gear and sharing my two cents.
Special Note - Dear Reader, We independently review everything we recommend. When you buy through our links, we may earn a tiny commission. Read Privacy Policy.
I don't know what your poison is. Maybe the cheerful Maroon 5 or drowning in the deep voice of Adele or listening to Guru Randhawa. Or perhaps you are just a PUBG addict on the verge of becoming a pro. Some of these headphones will appeal to you, and pick the one based on the pros and cons that I have listed.
Everyone loves great music and good headphones can improve the experience for long listening hours without causing any discomfort to ears.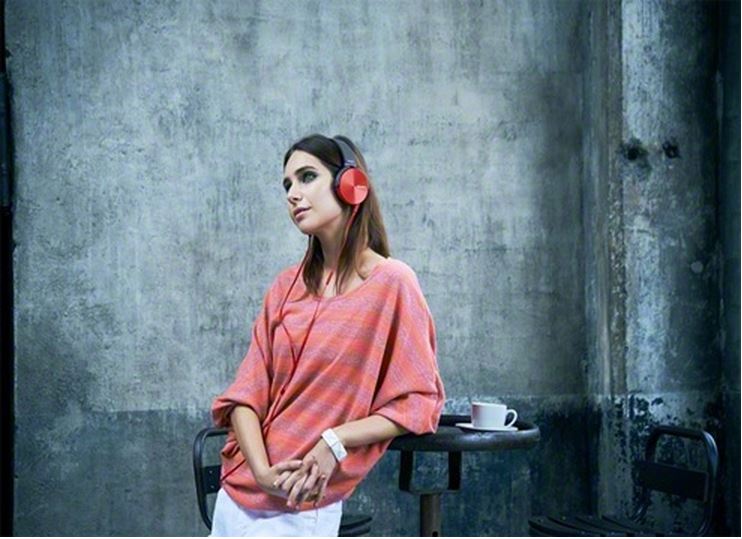 Let's check out the best affordable wired headphones you can currently buy:
Boat BassHeads 900 Wired Headphone with Mic – Price Rs. 749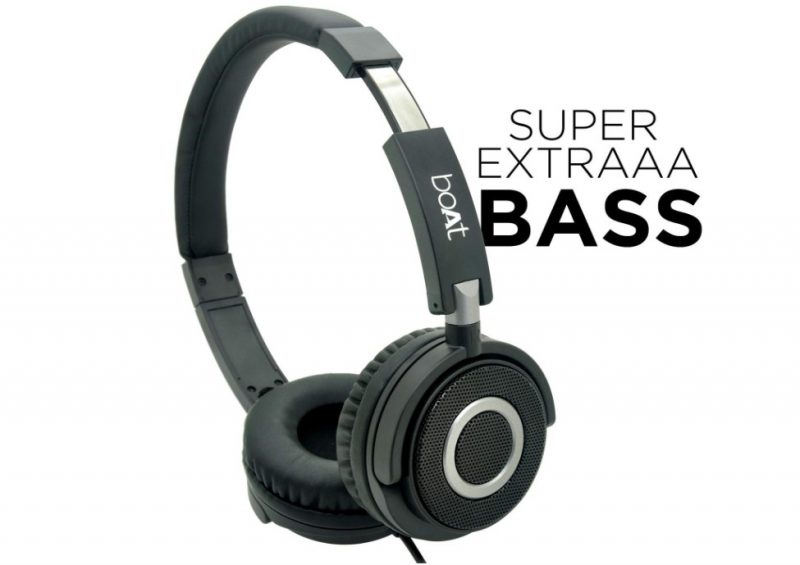 The super extra bass of the headphones allows you to enjoy a stunningly powerful and dynamic bass at an affordable price.
You will get more base in the sound stage, and the frequency response on these is from 20 to 20,000 Hz. The sleek and compact design of the headphones makes them highly portable.
Additionally, the on-ear headphones with rotatable ear cups provide flexible wearing and a comfortable fit for everyone.
Key specifications –Boat BassHeads 900 Wired Headphone:
Designed for all 3.5mm supported device
On the ear
12 months warranty
In-line microphone
Tangled-resistant cable
40mm Neodymium drivers
Weighs 150 g
Pros
Offers flexible wearing and comfortable fit for all users
The headphones are available in sleek, compact, and lightweight design.
The travel-friendly headphones are easy to store.
The price is quite affordable.
The padding in the device helps in blocking external noise.
Cons
Average comfort doesn't sound very natural and misses on lows and highs.
Logitech H110 Stereo Headset – Price Rs. 699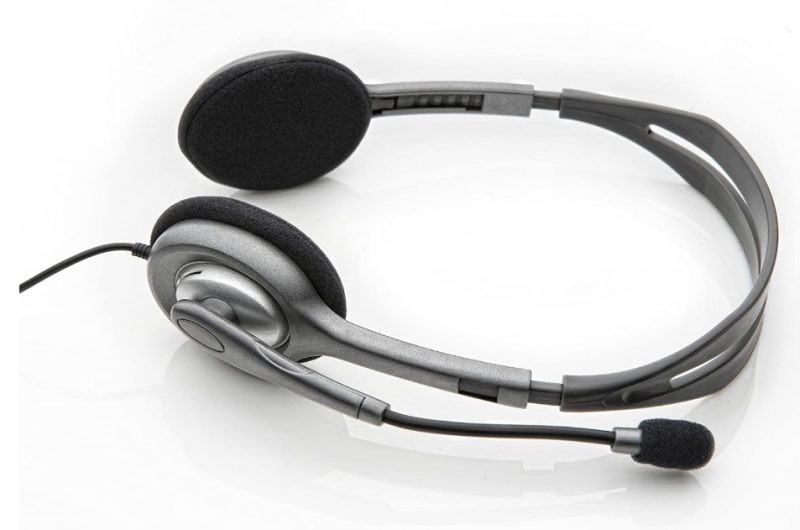 These look like typical office-goer headphones. The headphones are equipped with a flexible mic that can be positioned for clear voice capture. It can revolve 180 degrees and can be worn on the left or right side.
The highly soft foam ear cushions give maximum comfort to users and are ideal if you work in a hot environment. It has emerged as a one-stop solution for all your audio requirements.
Ideal Use – Zoom calls, office virtual meetings, casual gaming, and music.
Key specifications – Logitech H110 Stereo Headset:
Wired headphone
Microphone included
Frequency response 20Hz-20 kHz
Weighs 74 g
On-ear
Corded 3.5mm plugs for convenient PC connection
Analog connection with 3.5mm audio in and audio out jacks
Pros
It has a decent mic and is ideal for flawless internet calls
Good for casual music, games, and movies
The presence of a flexible headband provides you with a customized fit
Compact and lightweight
It offers you a dual plug connection.
Cons
Average comfort and sound quality
Sony MDR-ZX110AP Wired On-Ear Headphones – Price Rs. 1,390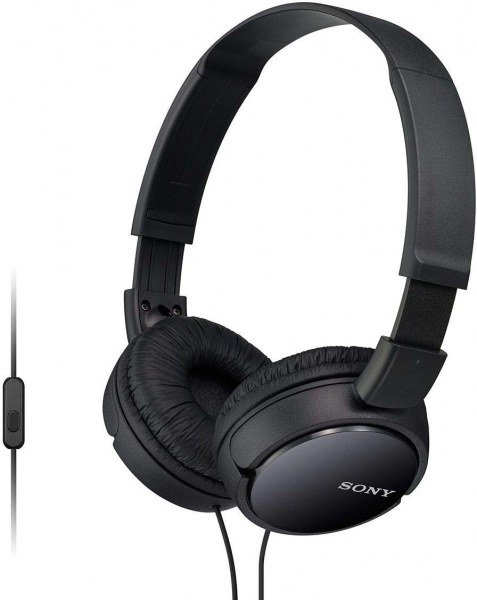 The Sony MDR-ZX110 wired headphones have 30 mm dynamic drivers that deliver a fantastic sound. The cushion earpads give you a long comfortable wearing experience.
The headphones offer a punchy and rhythmic response to almost all the soundtracks. These headphones offer a balanced sound and nothing crazy for bass or treble.
Also, these come with a wide frequency range of 12Hz to 22KHz, offering a more profound listening experience. You can hear the tiny beats that you may miss on some of the most affordable TWS headsets.
The enfolding design allows you to enjoy every music and call without distraction.
Key specification – Sony MDR-ZX110AP:
30 mm dynamic driver unit
On-ear headband
Cushioned Earpads
In-line microphone and controls
Tangle-free cord
Portable and Swivel folding design
Weight – 120 grams
Frequency Response – 12 Hz-22 kHz
Impedance – 24 ohm
3.5 mm jack
Pros
Good sound clarity
Soft and comfortable cushions
Handy and lightweight
Durable
Cons
Missing active noise cancellation
Cable is fragile
JBL Tune 500 Powerful Bass On-Ear Headphones – Price Rs. 1775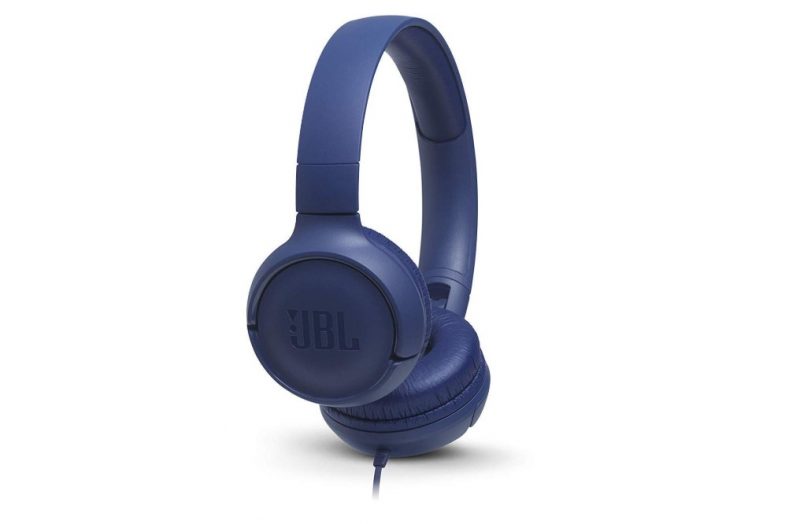 If you are scouting for budget-friendly headphones under Rs. 2000, you can consider JBL Tune 500. Also, if you are fond of listening to modern styles of music, these will leave you thoroughly satisfied.
The JBL Tune 500 offers a lightweight and foldable design. You will get the option to buy headphones in four stunning colors. The powerful and flat cable can effectively keep the cable tangle-free while traveling.
The idea for listening to music, traveling, and playing games on the go.
Key Specifications – JBL Tune 500
Quick launch access to Google Assistant and Siri
12 months manufacturing warranty
Compatible with Android and IOS mobile, tablet, laptop, and audio player
It weighs 150g
One button remote/mic
Tangle-free flat cable
Requires a Li-ion battery
Pros
You will get good cushioning on the headband, which sits quite firm against the ears.
The button lets you play/pause, skip tracks, and answer the phone calls
The terminations of the headphones appear to be well-insulated
The small yet foldable design of the on-ear cans make them quite portable
The frequency range of the headphones is 20-20,000 Hz
Cons
May not excite bass heads and audiophiles looking for studio-grade audio.
Overall a good mix of sound and ergonomics – not excel in any field.
The headphones allow you to enjoy clear audio for music, calls, and games. When you buy the headphones, you are assured of a trustworthy headset for daily chores, including video calls with family members and friends.
Sony MDR- XB 450AP (Bass King) – Price Rs. 1999
The headphones are specifically designed for electronic dance music lovers. Extra Bass technology allows you to enjoy deep bass notes.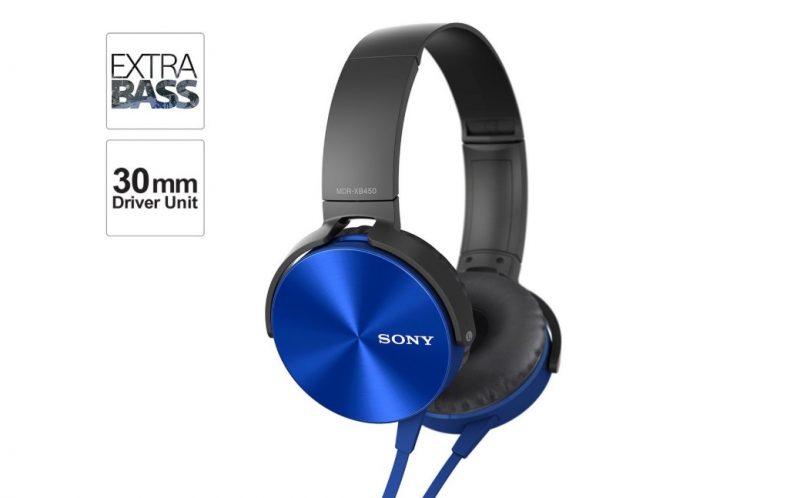 Further, It can amplify low-end frequencies to give you an unforgettable experience. The swivel design in the housing lets you store your headphones flat, thus making them travel-friendly.
Key specifications – Sony MDR- XB 450AP
Weighs 165 g
Wired extra bass headphones
Tangle-free wire
Frequency response 5 -22000 Hz
Available in 3 colors
30 mm powerful bass
Wired 3.5 mm single pin
Pros
The headphones are equipped with cushioned earpads for maximum comfort
Strong sensitivity for clear and loud sound
The headphones offer an in-line remote and mic for hands-free calls
Neodymium dynamic driver help in providing top-quality sound
Cons
Sound Stage is not as wide as on Sennheiser.
Sennheiser HD 205 II Closed-Back Stereo Headphone – Price Rs 2499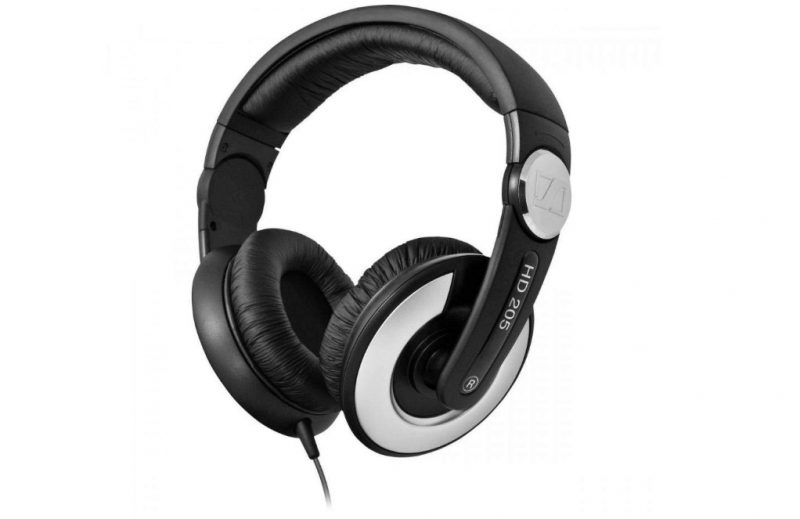 Sennheiser is my go-to brand when it comes to buying headphones. They offer fantastic sound and a reliable build that can last many years.
The HD 205 II is quite comfortable, and you can rely on them for long-term use. The bass is outstanding in the category of budget smartphones.
You will witness negligible noise leakage. The headphones can protect from ambiance noise effectively due to large ear cups. They are cost-effective and come with a protective pouch for convenient storage and transportation.
They are ideal for mobile and compact systems.
Key specifications – Sennheiser HD 205 II
Excellent stereo sound
Single-sided cable
Comfortable head and ear pads
2-year warranty period
Revolving ear cup for single-ear listening
Maximum wearing comfort for an extended duration
3.5 mm jack plug along with a ¼ screw-on jack adaptor
No microphone
Pros
They offer a wide sound stage.
The headphones are not very heavy (206 grams).
They offer you great value for your money and durability
You will get excellent passive attenuation to reduce ambient noise
Headband Padding makes them very comfortable.
One-sided cable makes these easy to wear.
Cons
You may find the cord to be a little too thin.
Bit higher compression force on ear when they are new.
Average Bass, ergonomics.
Also, I recently wrote in-depth articles with Pros and Cons on Wireless Headphones under 2K and wireless headphones for workouts.
AKG K72 Close-Back Studio Headphones – Price Rs. 2499
AKG K72 wired headphone comes with a 40 mm driver, which delivers astounding sound quality with decent mids and non-overwhelming bass. If you listen to music with drums and bass guitars, these are a delight.
The design is retro, and they look more premium than the affordable price tag of Rs. 2499.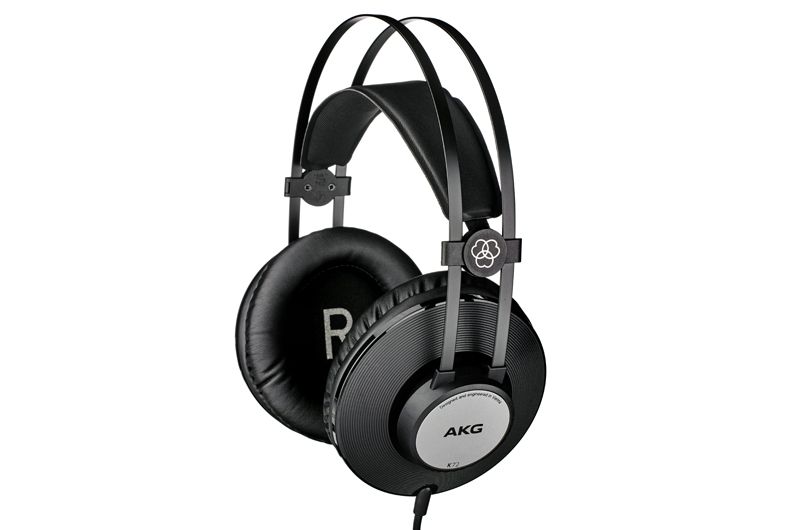 Also, the headphones feature low impedance to match the compatibility with the broad range of playback devices.
The headphones have a closed-loop design which reduces the possibility of any leaks. This innovative design and the single-sided cable allow you to listen to music without much interference from the wire.
These are ideal to use with a smartphone or laptop/PC.
Key Specifications – AKG K72 Close-Back Studio Headphones
40 mm powerful drivers
32 ohm
112 dB impedance
Connector Type – 3.5 mm audio jack
Adjustable headband
One-sided cable
Weight – 544 grams
Price – Rs. 2,499
Pros:
Great sound quality
Comfortable to wear for hours
Treble is almost accurate
Cons:
Sony MDR-XB550AP Wired Extra Bass Headphones – Price Rs. 3290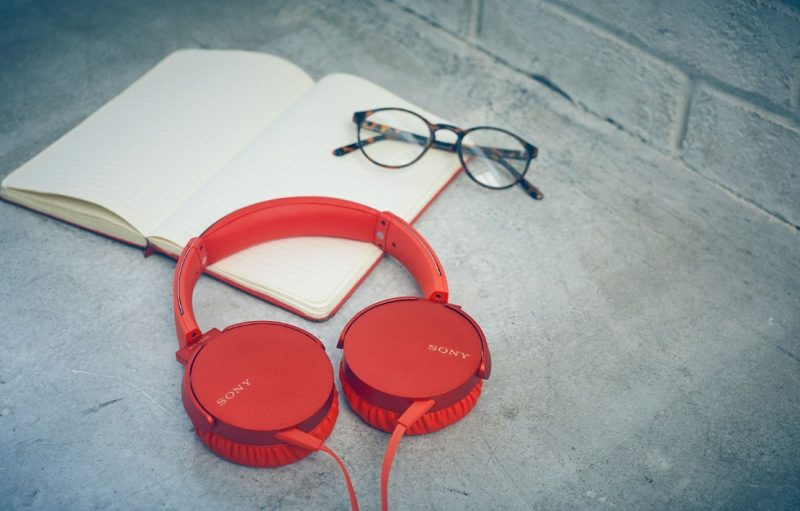 Sony has been making audio gear for many years and can deliver top-tier portable headphones that rarely disappoint customers.
The Sony MDR-XB550AP is relatively lightweight (190 grams) and compact. Sony preferred sharp colors to provide these headphones with an edgy appearance. As for wired headphones, you will not encounter any audio compression or battery life concerns.
You can buy these in three colors – Red, Black, and Blue.
The finer details of the headphones will leave you stunned. You will notice the earcups to be a little marbled along with a textured finish.
The cable used on these headphones is quite long-lasting, and it can effectively hold its shape and will not get tangled up when you keep it in your bag.
Key Specification – Sony MDR-XB550AP Wired Extra Bass
In-line mic for hands-free calling
Tangle-free flat serration cord
Portable and revolving folding design
Matte finish
Cord-length – 1.2 meter.
Sensitivity – 102dB, Frequency Response – 5Hz-22,000Hz, Impedance – 24 ohm.
Cushioned ear pads
30mm dynamic driver unit
1-year warranty.
Pros
The earcups are quite soft and plush and allow you to wear them for a long duration sans any discomfort
The headphones work in conjunction with all other sounds.
Good Bass if you're looking for extra bass.
The headphones sound quite precise, controlled, and tight thus leaving you engaged and impressed
You can also attend a call without any hassle
It offers you an incredibly great value
The headphones offer great durability
Cons
Not extremely loud.
Headphone foams can get soiled after a year or two (replaceable).
Active noise cancellation is missing
Concluding Thoughts – Best Affordable Wired Headphones (Rs. 1000 to Rs. 3000)
All the above headphones are of excellent quality and are the best sellers to purchase as per your liking and budget.
Good quality headphones ensure you enjoy music, movies, podcasts, gaming, and audiobooks.
Also, wireless headphones are getting popular these days, but I still love the old-fashioned high-quality audio from wired headsets. Also, there are nuances of charging the wireless headphones that I hate.
The wired headphones offer better sound quality at a lower price than wireless headsets in the same price range.