AMD RX 6600 launched in India – RDNA2 Architecture, 1080p Gaming Mooster, Offers 8 GB VRAM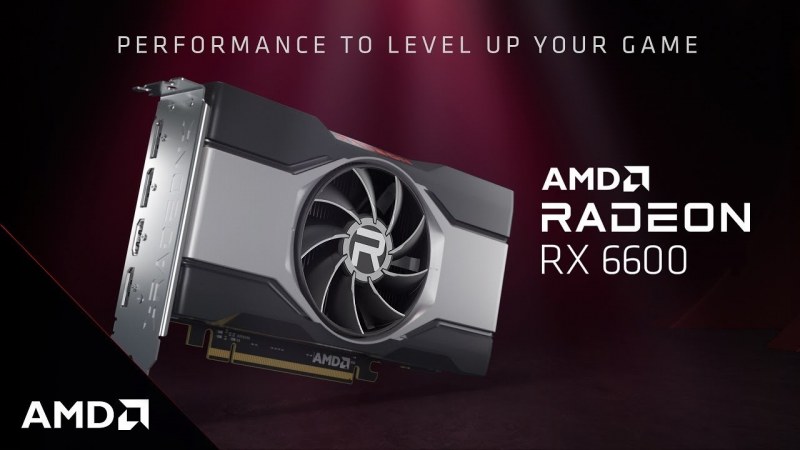 The red team has recently unveiled the entry-level desktop graphics card – AMD RX 6600, with the advanced RDNA2 architecture and the new Navi 23 chip. The company has previously launched the Radeon 5500 XT.
Previously, the company has launched more powerful GPUs – Radeon RX 6900, RX 6800 XT, and RX 6700 XT.
The newly arrived GPU is intended for 1080p gaming. The RX 6600 GPU sports 28 compute units, 1,792 stream processors, and 8 GB GDDR6 VRAM memory. Also, it can boost up to 2491 MHz and has a 2044 MHz base game clock speed. It has a 14 Gbps memory bandwidth and 32 MB high-speed Infinity cache.
Nonetheless, the GPU uses the PCIe 4.0 *8, which has a slower bus speed, and we had this structure on the RX 6600 XT. The card has 132 W TDP, so you can use the 450 Watt power supply. You will need a 1×8 Pin connector to power it.
Further, the Graphics card offers a Peak Single Precision Compute Performance of 8.93 TFLOPs.
The GPU costs $329 in the US and will cost approx. INR 26,490 – excluding GST.
However, when we add 18% GST to the manufacturing price, the total rate will rise to INR 31,258.
When the graphics card rates are touching the sky, it will be tough to find it anywhere close to the launch MRP.
The Nvidia RTX 3060 FE is available in the Indian market for above Rs. 60,000, and the RX 6600 is also expected to be available in a similar price range. The market Price for AMD RX 6600 in India will be between Rs. 50,000 to Rs. 60000.
A very steep price to pay for just 1080p gaming, thanks to Cryptocurrency mining.
Performance – AMD RX 6600 GPU:
When we upgrade our computer system, we all have one thought of choosing the right components that has long-lasting durability because these components cost a little more. One of the components on this list is the Graphics card.
When we talk about the performance of the recently launched AMD RX 6600 GPU, the card plays its part quite excellently.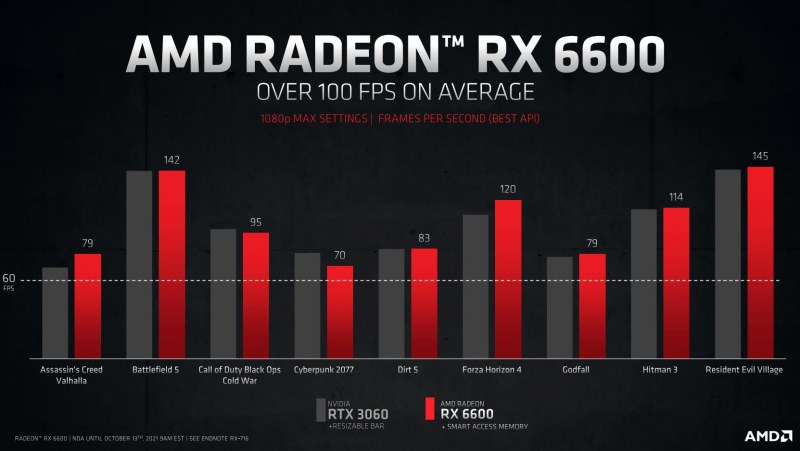 When RX 6600 was compared in terms of performance with RX 6600 and NVIDIA RTX 3060, NVIDIA had a win-win position in the benchmark.
Gaming Performance For AMD RX 6600 (Ultra Settings 1080P Gaming)
Assassins Creed Valhalla – 79 FPS
Battlefield 5 – 142 FPS
Call of Duty: Black Ops Cold War – 95 FPS
DEATH LOOP – 85 FPS
Far Cry 6 – 91 FPS
Hitman 3 – 114 FPS
Resident Evil Village – 145 FPS
World War Z Aftermath – 175 FPS
The 3D Mark Time Spy scores for RTX 3060 – 11,308, RX 6600 – 9872, and RX 6600- 8521. Thus, RX 6600 trailed behind and is 4% slower than RTX 3060.
On the other hand, RX 6600 works 6% faster than RX Vega 64 at 1080p. Also, it uses half of the power. The GPU comes with improved efficiency at an affordable rate.
Honestly, the RX 6600 is an excellent option for gaming at 1080p ultra and gives comparable performance to the older AMD RX 5700.
Indeed, the card runs cool and comes with a low power consumption of just 132 Watts.
In short, it is suitable for gamers who want to build a compact PC as the GPU can work well with even the Single Fan GPU Cooler.
Above all, the AMD RX 6600 GPU marginally leads in many games like – Assassins Creed, Borderlands 3, Forza Horizon, and Dirt 5.
However, RX 6600 disappoints in ray tracing as the RDNA 2 architecture doesn't offer a comparable performance as the Nvidia RTX 3060. Also, the Nvidia RTX 3060 is available with 12 Gigs VRAM making it a more compelling choice for gamers and content creators. AMD has also announced the Radeon RX 6600 XT which is more powerful than the RX 6600.
Information Source – AMD Official Website