Smart speakers are becoming essential, and the Voice Assistant makes them easy for kids or even the elders. We are comparing smart speakers with voice assistants – Amazon Echo Dot 4th Gen, Xiaomi Smart Speaker, Apple HomePod, and Google Nest Audio to see which is the right choice for most buyers.
It is insanely convenient to use voice commands to play their favorite music or ask for the breaking news or weather.
Besides, if you have Spotify, Gaana, or Amazon Music these smart speakers are ideal for pairing your phone with Bluetooth to stream music.
Home Automation and smart devices are taking over. The craze for getting new fitness bands or smartwatches is on a high.
One of the biggest Application for Smart speakers are for the elderly or even for physically disabled or even the blind folks. It is hard for them to move and operate normal speakers but these smart speakers can be very easy to use. The hard part is to set them but once these are set they can work effortlessly.
Let's Check out the Latest Smart Speakers With Voice Assistants for listening to Music:
We will start with the best seller from Amazon – the latest Echo Dot(4th generation).
1. Amazon Echo Dot(4th generation) [Fun to Use]
The Amazon Echo Dot comes with a cool spherical body design. The material used for making the body of the Echo Dot is plastic and blue color fabric.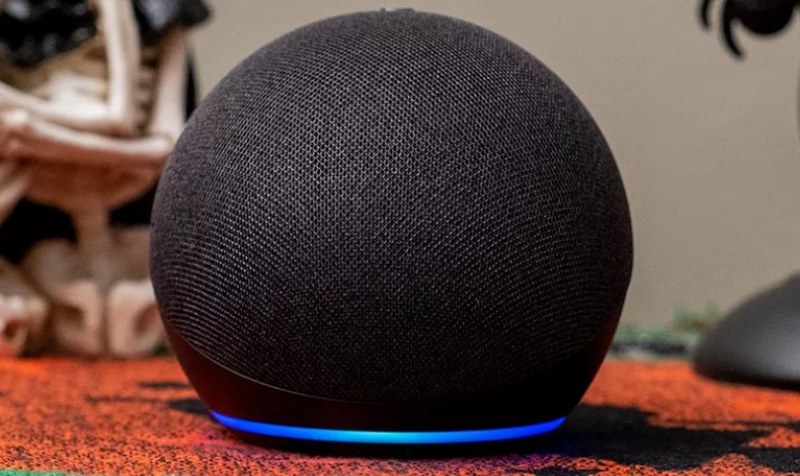 The speakers are very sturdy and come with an excellent build and finish. The key highlight of Amazon speakers is Alexa which I find more charming than both Google Assistant and Siri.
Also, I have Google Assistant on my phone and Siri on my Macbook so wanted to have an Alexa device. Alexa is good at understanding English as well as Hindi and I can easily tell her to do things like play music, ask for the weather or news.
Talking about the buttons on Echo Dot, it comes with 4 buttons: Mute, Alexa command, Volume up, and volume down.
At the lower of the Echo Dot, we get the multicolor LED ring light which basically indicates the command given to the device.
It comes with an AI system named Alexa. To operate an AI assistant, you just need to say the trigger word 'Alexa'. Additionally, we get a power port and a 3.5mm AUX port at its back.
Like Echo Dot(3rd generation), it also comes with an LED clock that enhances the looks of this smart speaker. (The premium version available for Rs. 4,999 has the clock, the base version doesn't have the clock).
If we talk about its processor, it is powered by an AZ1 Neural edge processor which accelerates the machine learning skills of the device. For setup, firstly download the Alexa app and follow the instruction it will take hardly 1-2 minutes for the first time.
Overall the speaker quality is good and the tiny speaker can produce good sound output for listening to music overall I like the Echo Dot.
The price of the Amazon Echo Dot is on Amazon is Rs 3,999.
Key Specification
Powered by AZ1 Neural edge processor.
Provide WiFi & bluetooth connectivity.
A Multicolor LED ring indicates command and notification.
Also comes with a unique whisper mode.
Used for calling also.
Can control your smart devices like a bulb, T.V.
Comes with 4 mics for far-field voice detection.
You can access Alexa in various languages.
Price – 3,999.
Pros – Low price, good design, and improved Alexa.
Cons – No battery and low bass, No Aux-In support.
Echo Dot 4th Gen With Digital Clock
You can also buy the Echo Dot with a Digital Clock. You can use it as an alarm clock on your table and for a quick glance to check the time during the day or even at night. The LED-lit clock looks beautiful and at the same time, it is functional too.
2. Xiaomi Mi Smart speaker
Xiaomi started its journey with smartphones in India and slowly expanded to smartwatches, headphones, and even smart speakers. Last year they launched the Xiaomi Mi smart speaker.
The speaker is made from Polycarbonate for the upper and lower side and in the center, metal is used. Additionally, it also has a multicolor LED ring at the top. The design for the speaker is somewhat similar to the older Google Nest speakers.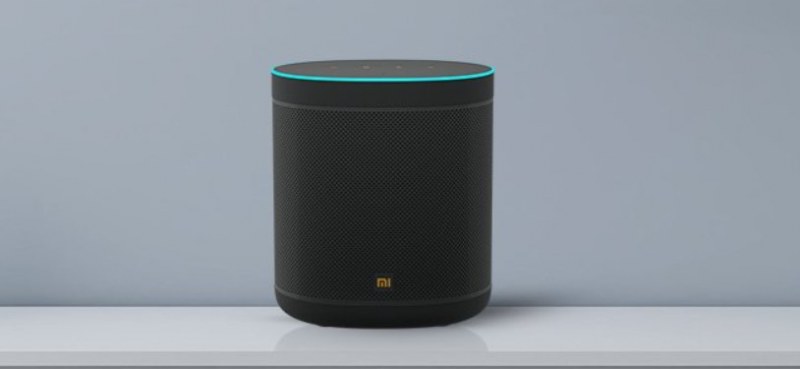 The Mi speaker comes with 4 touch-sensitive buttons at its top are Mute, Play/Pause, Volume Up, and down.
It also comes with a google assistant which can be triggered or come into action by saying 'Ok Google' same as we do in our mobiles.
For setup, firstly you have to install google home on your smartphone then after following the instructions your device can pair with your smart speaker.
It has a Power input port at its back and even comes with a Gaana Plus subscription for 1 year free (worth Rs 999).
The price of the Mi smart speaker is Rs 3,999.
Key Specification
Powered by TAS5805M processor.
Comes with 2 far-field intelligent mics.
Provides you with 360 degrees of equal sound experience.
Also has a multicolor LED ring at its top.
Can Pair with your smart T.V.
Play music, video online on command.
Easy and quick setup.
Also comes with a Gaana subscription for 1 year(Free).
Can even access Speakers in the Hindi language.
Compatible with Android 4.4 and iOS 9.0 or above-based devices.
Price – Rs 3,999.
Pros – Built quality is good, High bass.
Cons – Not portable and bulky in size.
3. Google Nest Audio [Fast and Accurate Response A.I]
Google is now an expert at making smart speakers and has launched many speakers in the past such as Google Home, Google mini et Cetera. One of them is a Google Nest Audio.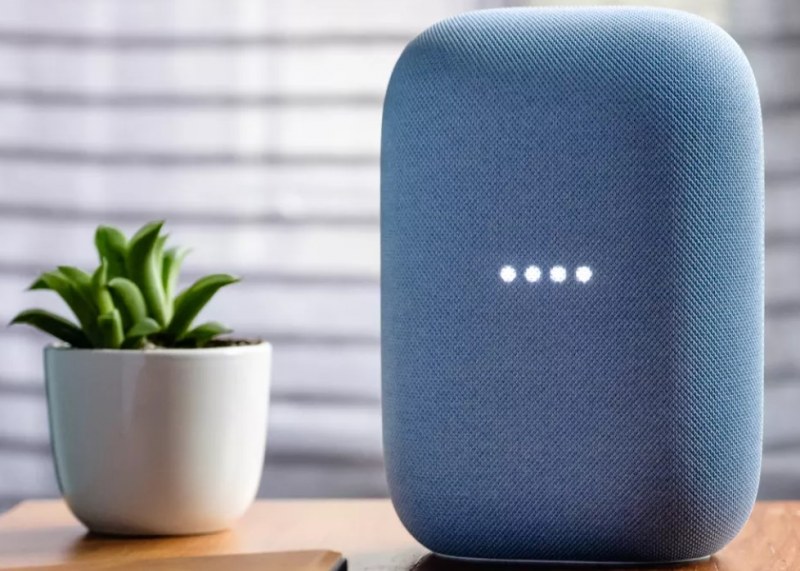 The design of the latest Nest Audio is very simple and it is big in size while the body of the speaker is mainly made up of 70% recycled plastic material.
Google Nest audio is an improvement over google home it has one of the most accurate and easy-to-use voice control assistants and high bass.
The Nest audio comes with a built-in google assistant that is triggered by saying the word "Ok Google".
It comes with 3 far-field microphones for better voice recognition by AI and it comes with a price tag of Rs 7,999.
Key Specification
Simple design.
Powered by Quad-core A53 processor.
Built-in google assistant.
3-far field microphones for voice recognition.
Powerful bass.
Comes in chalk and charcoal color.
Compatible with both iOS and Android systems.
Price – Rs 7,999.
Pros – improved bass and Best at Voice command recognition and AI.
Cons – Very bulky.
4. Apple Homepod Mini (Good Audio Quality)
Apple last year(2020) launched the Homepod Mini smart speaker which was the small version of Apple's Homepod speaker launched in 2018.
The Homepod mini is built with a soft fabric-type material that looks premium. At the top, it has a glossy touch control for volume up and down and it also comes with a permanently attached power cable(Type-C ) along with a 20 Watts Apple charger.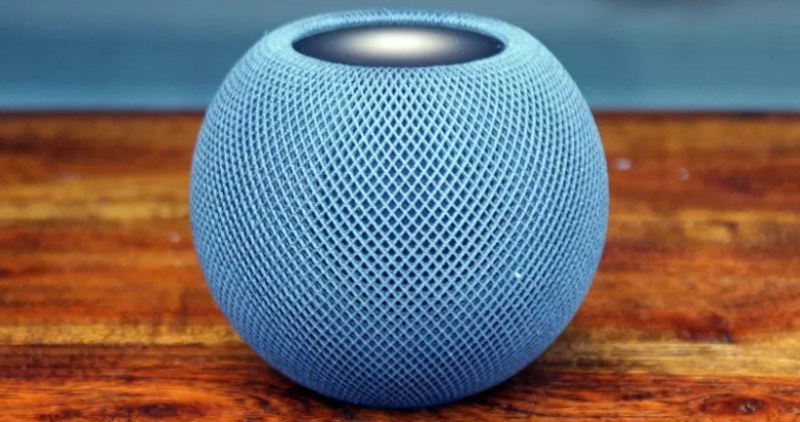 It comes with a very easy and simple setup process you just need to take your iPhone close to the Homepod mini and it will guide you further.
The Homepod mini comes with the AI assistant – Siri and it can come into action if you say 'Hey Siri'. It comes with some nifty features like one-touch share with it.
For example, if you play a song on your iPhone and if you tap your phone on the Mini speaker then the song gets shared to the speaker and starts playing on it.
If you are already in the Apple ecosystem and own an iPhone, iPad, or Mac the HomePod Mini is the obvious choice. It has the excellent audio quality and can be worth the premium price. The price of the Apple Homepod Mini is Rs 9,900.
Key Specification
Compact design.
Powered by Apple S5 chip.
Come with 4 microphones.
360-degree audio experience.
The animated screen at the top looks awesome.
Has a unique one-tap transfer feature.
The triggered word is 'Hey Siri'.
Compatible with Apple's products.
Price – Rs 9,900.
Pros – Cool design, and High bass.
Cons – Costly, not portable.
Concluding Thoughts – Smart Speakers With Voice Assistant
I like the Alexa (Echo Dot) and since I use the Google Assistant on the phone and saying Ok Google is not what I want to do when I get home, I picked up the Echo Dot. It has a great sound quality and is robustly built and the microphones are also very responsive.
Once you set it up and pair it with the WIFI network it just works as intended and can be a good companion. Also, the Google Nest is a solid option if you love Google products and want to have another one of the Android ecosystem devices at your home.
The Mi Speakers are affordable and have a big sound and offer almost the same features as the Google Nest Home at a cheaper price but there are some quirks and the quality is not as good as others.
Apple Homepod Mini sounds the best in my opinion but comes with Siri and is more compatible if you have an iPhone or iPad.
Also, Amazon recently launched the Echo Show which comes with a smart speaker and a display. You can check that out as well if it serves your needs.