Foldable phones are slowly making progress and getting released by manufacturers. Samsung, Huawei, Microsoft, Motorola are all trying to launch a consumer-grade phone that we can actually use.
The latest foldable phone launches are Huawei Mate Xs and the Samsung Z Flip. Both the phones are exciting and offer a unique experience.
Let's check out the top 6 foldable phones that you can currently buy.
SAMSUNG Galaxy Z Fold 2:
Samsung has launched its most anticipated foldable phone for 2020 – Samsung Galaxy Z Fold 2.
It comes with a tablet size screen making it easy for users to read and work on it. 
The Samsung Galaxy Z Fold 2 is an expensive device and costs Rs. 1,49,990 in India and the pre-orders have begun. 
It has a larger front display with a robust hinge design plus a more sophisticated split-screen software. 
The phone is available in Mystic Bronze and Mystic Black.
Specification details for Samsung Galaxy Z Fold 2 
The foldable smartphone has large 7.6 inches Full HDR10+ Dynamic AMOLED 2X capacitive screen with 1768 * 2208 pixels resolution and 373 PPI.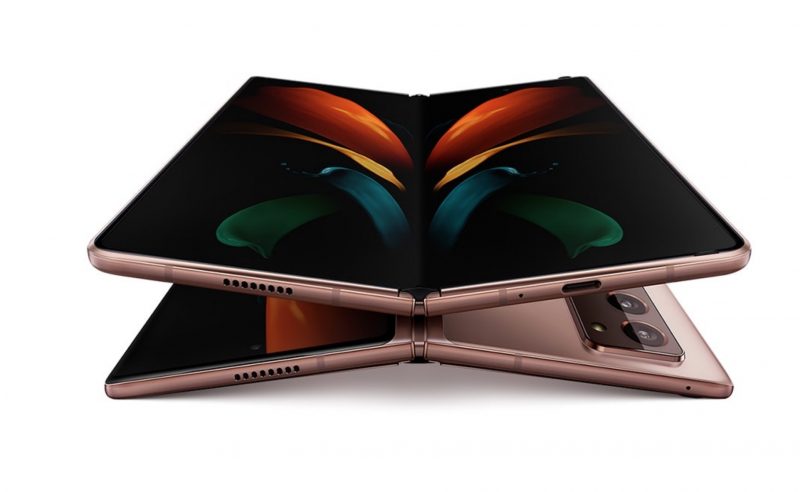 The cover display has 6.23 inches Super AMOLED screen with 816 * 2260 pixels resolution. 
Both screens have a 120Hz refresh rate.
The gigantic phone weighs 282 g. When the phone's folded, it measures 159.2 * 68 * 16.8 mm, whereas 159.2 * 128.8 * 6.9 when unfolded. 
The mobile comes with a Glass back and has an aluminum frame. Further, the device has stereo speakers that are tuned by AKG. 
Fueling is a massive 4500 mAh battery with 25W charging, 11W fast wireless charging, and 4.5W reverse wireless charging.
Notably, the foldable smartphone is powered by an Octa-Core Qualcomm Snapdragon 865+ chipset (7nm+) with a clock speed of 3.09 GHz. 
It runs on One UI 2.5 based Android 10 and comprises Adreno 650 GPU. 
As far as memory is concerned, the phone has no expansion slots for storage. It is available in two variants of 12 GB RAM and 256 GB/512 GB Storage space (UFS 3.1).  
Additionally, It comes with a side-mounted fingerprint sensor. 
Moreover, the beautifully designed phone comes with Triple Rear camera setup, 12MP ( f/1.8 aperture) wide lens with OIS, and Dual Pixel PDAF, 12 MP (f/24 aperture) telephoto lens with 2x optical zoom, and 12 MP ( f/2.2 aperture) ultra-wide lens. It supports 4K at 60 fps. 
It has a dual selfie camera, and both lenses have 10 MP resolution with f/2.2 aperture ( One on the Cover display and the other inside the phone). 
The newly arrived phone tested for its performance, whose data are as follows:
AnTuTu – 564907

GeekBench – 12607 for the multicore. 
Huawei Mate Xs
Huawei has announced the launch of its new foldable phone Mate XS. It is claimed to be the fastest 5G smartphone with robust connectivity and Integrated User experience.
The phone has a large foldable OLED Full View display that folds to a 6.6″ AMOLED screen with 2200 x 2480 pixels (~414 ppi density).
Considering the architecture, it has used two layers of aerospace-grade and designed with the Falcon Wing approach that comes with an innovative hinge. This phone will deliver an immersive visual experience. The power button has intelligently been given the fingerprint scanner.
The foldable screen offers you to work on two independent Windows to be used as a dock for your favorite apps or a split-screen and even a Floating Window that can handle small tasks.
Powering the device is Octa-Core HiSilicon Kirin 990 5G processor with a maximum clock speed of 2.86 GHz and Mali-G76 MP16 GPU, it delivers a power-packed performance.
Running the phone is Android 10.0 OS based on EMUI 10.0 Its network spectrum includes 2G/3G/4G/ 5G SA and NSA support that provide seamless connection even on the go.
It comes with a Flying Fish Fin Cooling technology designed keeping in mind the foldable form factor. So you can enjoy binge-watching ultra HD videos or play 3D games without worrying about phone heating up.
The camera set up includes Leica Optics, HDR, dual-LED Flash with a 40MP (f/1.8) Quad-Bayer main camera, 16MP (f/2.2) Ultra-Wide lens, 8MP (f/2.4) Telephoto lens and a 3D Time-of-Flight sensor. It uses the main camera as the front camera. The cameras offer 30x Hybrid zoom, OIS and AI image stabilization resulting in perfectly detailed shots.
Backing up the phone is a powerful 4500 mAh Li-Po battery. It also sports a 55W fast charger and with the Huawei SuperCharge, it charges 85% battery in just 30 minutes.
The phone is quite hefty ~ 300gms and comes with 8GB RAM and 512GB internal storage.
The phone is expected to be high end priced at Rs 195,290.
Samsung Z Flip
Samsung Z Flip is a compact foldable phone that will fit in your palm and has been launched in February this year in attractive Mirror Purple and Mirror Black Colors. It comes with a side-mounted fingerprint sensor, glass front in an aluminum frame and weighs 183 gms.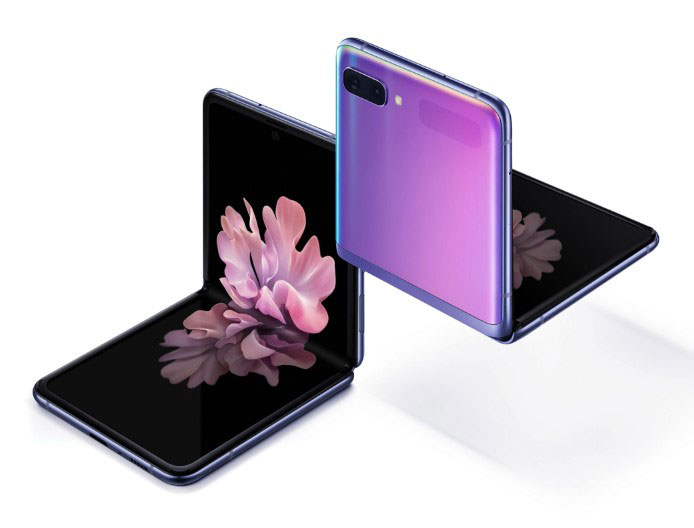 It comes with an Infinity Flex display, 6.7″ AMOLED Display with 1080 x 2636 pixels screen resolution (~425 ppi density) and HDR10+. It is made of Samsung Ultra-thin glass which you can fold and slip into your pocket comfortably. The Hideaway hinge designed as per lotus blossom, allows you to adjust the angle smoothly. Divided into two screens, the secondary screen will allow you to only see notifications and answer phone calls.
It has been powered by Octa-Core Qualcomm SM8150 Snapdragon 855+ processor and Adreno 640 GPU. The operating system is Android 10.0 based on One UI2. Sitting on the phone is 8GB RAM and 256GB internal storage. This configuration makes a powerful core for the phone.
The camera on the back is a 12MP Dual set up with the main lens aperture at (f/1.8) and an ultra-wide lens at (f/2.2). it also sports LED Flash and HDR. The selfie snapper is a 10MP Lens at (f/2.4).
Thanks to the multiple positioning angles you can now have fun while taking pictures or videos even handsfree with phone positioned at various angles. It also records 4K UHD videos.
The battery is a 3300mAh Li-Po battery that is accompanied with a 15W fast charger. 
You can unveil all this at Rs 1,09,999. 
Moto Razr
Motorola has reinvented and revamped the flip screen with two touchscreen displays: Quick View and a larger Flex View.
The new Moto phone will release in March 2020 and flaunts a foldable P-OLED screen, a zero-gap hinge that unfolds into seamless 6.2″ screen with 876 x 2142 pixels (~373 ppi density).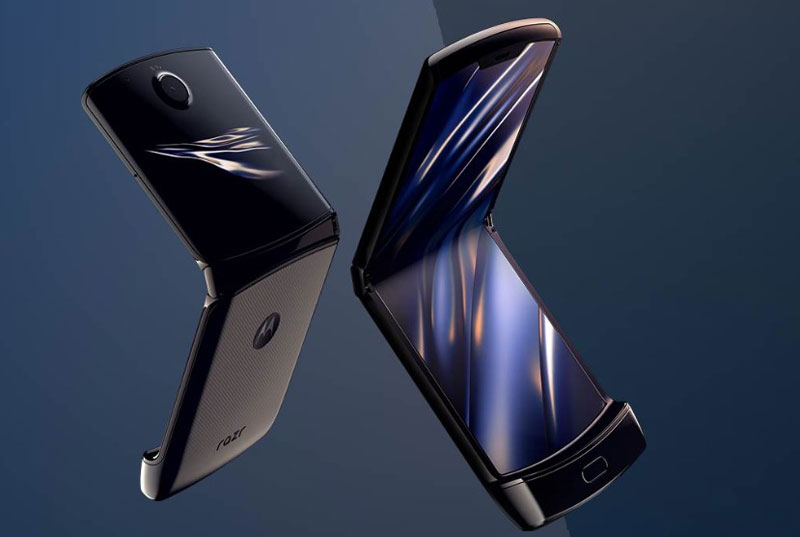 The Quick view is a 2.7″ G-OLED display with 600×800 pixels which allows you to play music, see notifications, take pictures and more. The phone comes with splash-proof nano-coating and weighs about 205gms. Also, the fingerprint sensor is mounted on the front of the phone.
Powering the device is a mediocre Octa-Core Qualcomm SD 710, clocked at 2.2GHz. and Adreno 616 GPU.
It runs on the Android 9.0 (Pie) OS and offers 6GB RAM /128 internal storage. Specs-wise it is a mid-range phone and lacks the top of the line Snapdragon 800 series processor. 
A Dual camera: 16MP(f/1.7) and 3D T-o-F depth sensor with Dual LED Dual Tone Flash, HDR, built-in AI, Night vision, shot optimization, etc lets you play with your pictures. A 5MP front camera with (f/2.0) lets you shoot selfies.
The battery is Li-Po 2510 mAh and comes with a 15W fast charging capacity.
We are expecting that the new Moto Razr will cost close to Rs 108,290 when it lands in India.
Microsoft Surface Duo
Those who thought Microsoft has thrown in the towel; they are dead wrong. Bringing together Microsoft and Android is the new upcoming launch- Surface Duo with foldable dual screen. With the new Surface, Duo company is making a comeback to the mobile arena, sans Windows. 
The hinge provides 360-degree mobility across the 5.6-inch dual screens and glass body. On unfolding, it gives an 8.3-inch tablet view screen to work on.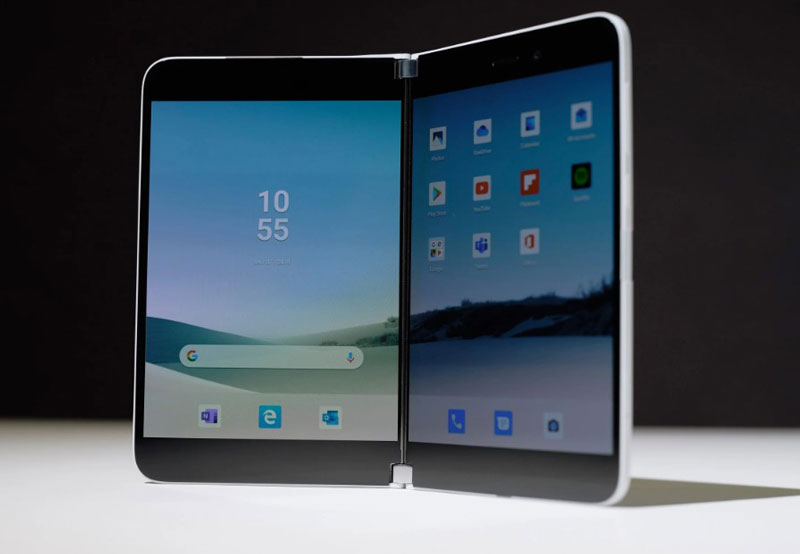 The dual-screen set up that gets folded 360 degrees with front and back glass touchscreen phone and vice versa no outer screen display in being closed.
The processor is its flagship Qualcomm Octa-Core Snapdragon 855 withy Android 10 OS. With the above-mentioned configurations, the phone is not yet slated to be released on a particular date.
Expected to release in multiple variants, the base model is believed to sport a 6 GB RAM and 64 GB Onboard storage.
Many details still need to be unveiled like the price, camera, and UI. We will update the details as soon as possible.
Samsung Galaxy Fold Offers 7.3 Inch Flex AMOLED Display, $1980
Updated 1-March-2020 – Samsung claims that they have sold 1 Million Galaxy Fold So Far. Samsung Electronics president Young Sohn at the TechCrunch Disrupt conference in Berlin. He said that "there are a million people that want to use this product at $2,000 each", later clarifying that the company has actually sold that many Galaxy Fold devices.
Notably, Samsung has launched the Galaxy Fold back in February and the smartphone is also available in the Indian market for a price tag of Rs. 164,999 from the official Samsung stores and their website.
February 21, 2019 – Samsung has launched the world's first Foldable Smartphone at an event in San Francisco yesterday.
Along with the launch of S10, S10+, and S10e, Samsung has also unveiled the Samsung Galaxy Fold.
The Samsung Galaxy Fold comes with a foldable display, which turns the phone into a tablet when you open it.
Notably, there is no crease line on the display when you open it like a book.
Specifications & Details – Galaxy FOLD
The Galaxy Fold has 2 displays – the main tablet display with a 7.3 Inch Infinity Flex Dynamic AMOLED panel and a secondary display with 4.6 Inch Screen size.
The main display comes with QXGA+ resolution (4.2:3) with 1536×2152 pixels resolution whereas the secondary display has an 840×1960 pixels resolution with a 21:9 aspect ratio.
The foldable display works on a hidden hinge design that Samsung has carefully crafted to work seamless and is robust.
Also, the cutting edge hinge design for the device is built from scratch and offers great durability and long life.
The phone has 512 GB of UFS 3.0 internal storage and has massive 12 GB of Ram.
The phone comes with 2 batteries instead of one since there are no flexible batteries available. However, the Android system will shot it as a single battery of 4380 mAH capacity.
Powering the Samsung Fold is an unknown 7Nm processor which can be most likely be the Snapdragon 855 used in the S10 series.
Galaxy Fold comes with an insane 6 cameras. Three cameras are at the back, 2 on the inside and one at the front.
The rear camera assembly includes 16 MP ultra-wide sensor with f/2.2 aperture. The second camera has 12 MP resolution and variable aperture (f/1.5 to f/2.4) with OIS support whereas the third sensor comes with 12 MP telephoto shooters with f/2.4 aperture.
There are two cameras present on the display with an odd top right side placement. These have a 10 MP f/2.2 lens and an 8 Megapixel f/1.9 lens.
Furthermore, there is a 10 Megapixel camera on the cover (front side) that comes with an f/2.2 aperture.
Hmm ….. these are too many cameras for probably anyone.
The Samsung fold runs on a customized software on top of the Android Pie and comes with some special features.
The most noteworthy is the presence of multi-tasking that allows you to window 3 different Apps simultaneously and multi-task.
Another intuitive feature is a seamless transition from the smaller display to the large display.
If you are working in an app and you open the larger display, you will be able to continue your work on the larger display without the need for doing anything. Both the displays are in sync.
Pretty cool!!!
So Samsung has not only worked hard to deliver a new mobile experience but also have made sure the software experience is as smooth as possible.
According to Samsung, they have worked closely with several App developers like  Google, Facebook and others to make the experience refined.
Price and Availability
It costs a bomb – $1980 or Rs. 145,000. Ouch !!! that's what you need to shell out for Galaxy Fold when it launches in April'19.
The Galaxy Fold is a first-generation device for folding phones with flex display. There are more such devices in work from Lenovo, Xiaomi, and even LG.
LG launched the G-Flex long back with a flexible display but was not a success due to several factors.
Let's see how the new Samsung Fold works in real life and if the buyers find value in such devices.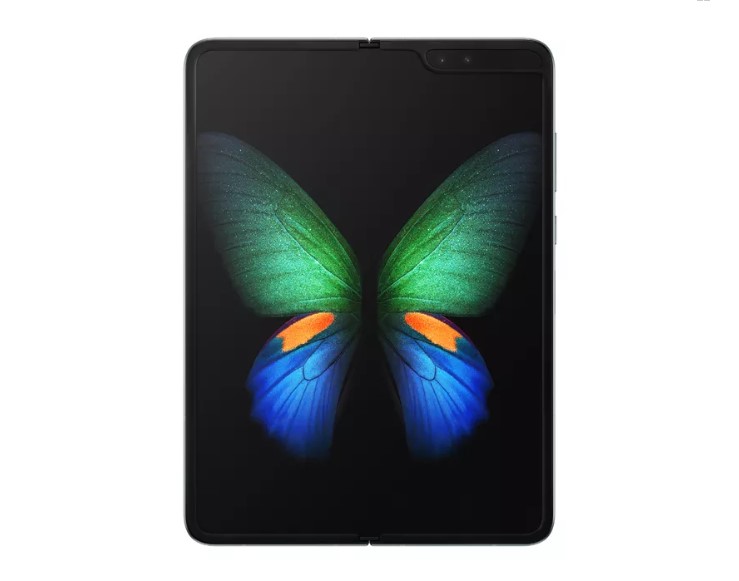 ---
Huawei Mate X  –  Foldable Phones are Here
Huawei at an event in Barcelona has unveiled the second foldable phone in the world – the Mate X.
A couple of days back Samsung has showcased the Galaxy Fold with a 7.3 Inch Foldable Infinity AMOLED display.
And now the Chinese rival is taking a shot at the Korean neighbor with an 8.0 Inch folding phone.
The Mate X costs a whopping Euro 2299 or Rs. 2,09,000.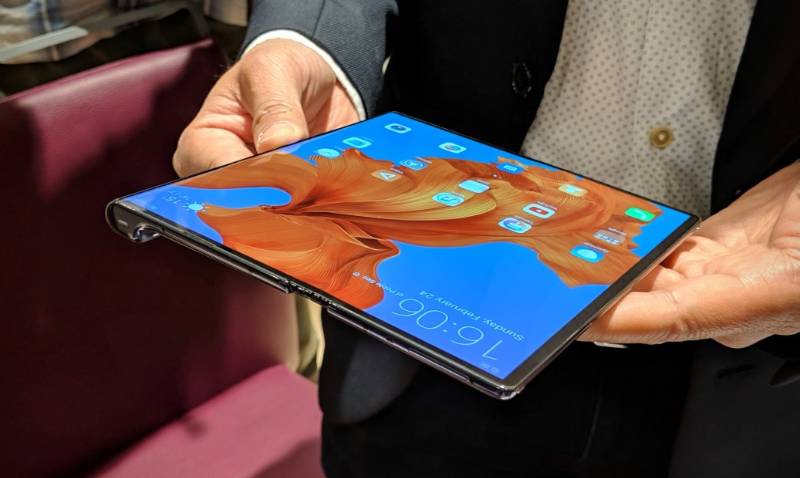 The Mate X is not exactly the same as the Galaxy Fold but has a key difference. The Mate X folds on the outer side and the displays stay on the outer side.
Whereas, the Galaxy Fold creases towards inside and there is a secondary display at the front.
Having one display makes the Mate X more unique and less energy-consuming. But at the same time, there are concerns about the safety of the display as it is on the outside.
Also, the Mate X comes with two in one camera which can click selfies as well as act as rear cameras.
Let's have a look at some of the images so you get a fair idea about the device.
More Highlight Features – Mate X
Not only it is one of the most innovative phone designs we have seen in years apart from Mi Mix or the Galaxy Fold, it comes with insane charging speed.
Huawei has bundled a 55 Watts charger which can charge the 4500 mAH capacity battery up to 85% in just 30 minutes. Truly insane !!!
If that was not enough the Mate X also comes with support for 5G cellular networks. Huawei claims that the phone can support upto 6.5/3.5 (download/upload) GBPS theoretical speeds.
The phone uses the world's first 7Nm 5G modem, Huawei Balong 5000 5G.  The phone comes with a Quad-5G antenna and will support NSA as well as SA 5G technologies.
Mate 10 Display and Design
The Mate X runs on the Android 9.0 Oreo OS along with the EMUI 9.0. In fact, the phone has 2 display panels with 6.6 Inch and 6.38 Inch size that becomes 8.0 Inch single panel when unfolded.
When the display is folded the front side has 6.6 Inch (1148×2480 pixels, 19.5:9 aspect ratio) display and the rear has a thinner 6.38-inch display offering 892×2480 pixel count and a 25:9 aspect ratio.
Of course, on the backside, there are cameras on the side, that take up space.
Notably, the Samsung Galaxy Fold has a notch on the unfolded display which houses cameras, whereas the Mate X has no such notch and offers a better Full View Experience.
Huawei CEO Mr. Richard Yu claims that it has taken them nearly 3 years to develop the revolutionary phone. He also said that it comes with a hinge design that has over 100 components.
The Mate X is about 5.4 mm thick when unfolded and about 11 mm thick when folded. Galaxy fold measures 6.9 mm and 17 mm respectively.
Performance
Powering the Mate X is the latest flagship processor from Huawei, Kirin 980 and there is 8 GB of DDR4 Ram.
Further, the phone comes with a massive 512 GB of internal storage with the ability to expand up to 256 GB using the Micro-sd card.
Cameras
Aforementioned, it comes with 2-in-1 cameras at the back which is co-engineered with Leica. The three-camera assembly consists of a primary 40 Megapixel sensor, 16 MP (wide-angle lens) and an 8 Megapixel telephoto lens.
On the other hand, the Galaxy Fold comes with 6 cameras – 3 at the back, 1 at the front and 2 on the inside display panel.
Mate X Vs Galaxy Fold – Initial thoughts
Mate X or the Galaxy Fold is the first generation of Foldable phones and marks the beginning of a new era.
Maybe it will take 1-2 years for the concept to become slightly more mainstream, refined and affordable.
But these are very exciting devices and offer a much better experience.
But there are going to be some hurdles like scaling of Apps and videos on the 8-inch display with 2480 x 2038  and a weird 8:7.1 aspect ratio.
It is more squarish for standard video formats like 16:9.
There are more concerns like the hinge robustness and overall durability and ruggedness of these devices.
Share in the comments below which one do you like more the Galaxy Fold or the Mate X.
Also, Read:
Samsung S10 Plus, S10, S10e SD855/Exynos 9820, 12GB RAM, UltraSonic Scanner, Dynamic AMOLED Panel
Samsung M Series M10, M20, M30 (All Details, Specs, Price, Launch & Controversies)