Samsung had a market share of above 30% few quarters back with the recent aggression by many companies like Motorola, Micromax, Karbonn it has got reduced to 29% as per report from IDC(International Data Corporation) for Q2(Apr-Jun) and same has been drastically reduced in the Q3(july-Sept'14). According to IDC the entire smartphone market expanded by 27% in Q3 Vs  Q2 in 2014.
The total Shipment of Smartphones and Feature Phones give us a fair Idea of the Market penetration of Smartphones.
The total phone market stood at 72.5 million units shipped (23.3 million smartphones and 49.2 million feature phones) in Q3 2014.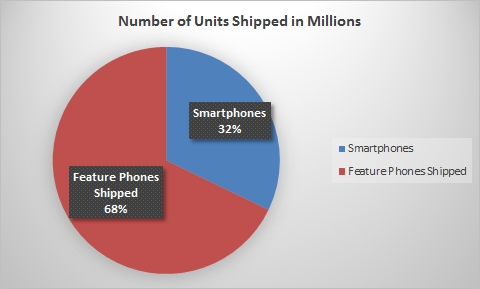 Motorola India on Monday announced that it has sold 2.5 million smartphones in India this year. The company announced the news on Twitter and said, "#MotoFans, thanks for choosing us! To celebrate 2.5M customers, we have some cool offers in store!".
Motorola, Xiomi, Lava, Micromax all have been eating into the market share of Samsung in India which once had a close to 34% share.
Is Samsung headed the Nokia way?
According to the Last IDC report based Smartphone Market Share in Q2 2014(Apr-Jun'14).
Samsung had 29% Market Share, followed by Micromax with 20% market share, Lava having 6%, Karbonn 8%, Motorola 5% and others had a 34% market Share.
The Latest Report By IDC for Q3(July- Sept) Suggest Samsung has lost Massive Market Share by 5% in the Indian Market. 
As Per Latest IDC report Samsung have 24% market Share, followed By Micromax at 20% ,  Lava 8%, Karbonn 8%, Motorola 5%, and others 35%.
Key Highlights
Lava has been a clear winner with 2% increase in Market share.
Micromax has also been doing great with a similar increase of 2% market share in Q3.
Others – This may be Gionee, Xiaomi and other brands like Spice and Intex eating into Samsung's market share.
Motorola and Karbonn have been able to hold on to their share in Q3 Vs Q2.
Samsung had its share of troubles from not getting the latest updates from Google when Kitkat came and predatory pricing from the rivals like Xiaomi and Motorola. Now with Google and Motorola devices has moved to the Android Lollipop it is even more difficult for Samsung to have any kind of differentiation. Samsung is going to struggle more in coming years if Google does not allow it to offer latest OS updates as fast as they are rolled out on the Nexus and Motorola Devices.
When we have cheap Chinese hardware available why would a consumer buy Samsung for premium with an old operating system. Is Samsung situation "FUBAR" (you may have to Google what is FUBAR) we may see that in coming months. While Apple with it's own iOS operating system is not living on Google's mercy, vision of Steve Jobs have made Apple a formidable organization.
With Entry of Xiaomi and online crazy sales deals offers and the infamous Billion day , Mi3 and Redmi has sold more than 8 lakh handsets in the country as per recent reports and it is every bit possible that Xiaomi will be able to sell 1 million smartphones by end of 2014 in Indian market. With other Manufactures like Intex, Spice, Gionee also becoming aggressive with new smartphone launches it is yet to be seen how does the market share for Samsung gets impacted by the end of December 2014.
Also check out the best smartphones under Rs. 10000.
Check Out Our Latest Video and Subscribe to Candytech Channel!!!