Asus has launched two new gaming/productivity PCs in India – the ROG Strix GA35 and the ROG Strix GT35. The new Gamings Rigs are available for a price tag of Rs. 254,990 and Rs. 2,34,990 respectively.
The new Gaming/Video editing PCs offers incredible performance and are suitable for playing AAA titles, video editing, and content creation.
We have previously written about the Pre-built gaming PCs that you can buy in India. The real benefit of the pre-built PCs is the balanced performance. The major con is the lack of customization that you get when building your own gaming pc from scratch.
Let's have a look at the Key Specs and Features for both Asus Desktops:
Asus ROG GA35 ( For Content Creators/Gamers)
The ROG A35 is an ideal computer for Content Creators, Streamers, and professionals that use applications like Adobe After Effects, CAD/CAM, 3D rendering, Photoshop, and Adobe Premiere Pro. The system is also optimized for playing games and streaming videos on Twitch or Youtube.
The Asus ROG GA35 is powered by the top-of-the-line Nvidia RTX 3080 and there is a 12 Core Ryzen 9 3900X or Ryzen 9 3950X processor (16 Cores/32 threads).
The processor is cooled using a 240 mm liquid cooler to keep temperatures in check and offer incredible performance.
Additionally, there is Nvidia RTX 3080 (10 GB VRAM) powering the machine. The Nvidia RTX 3080 is top of a line graphics card from the company and can easily play AAA games at 4K.
Further, the machine has got 32 GB of DDR4 ram with a 3200 MHz clock speed. We have got 1 TB M.2 PCI-E Nvme SSD along with a 2 TB HDD with 7200 RPM for quick data access.
There is Windows 10 Home Pre-installed on the PC and comes with a lifetime license.
Both the desktops come with Aura Sync accents and Keystone II technology that offers a lot of customization options for lighting.
The cool lighting and performance make it a perfect machine for every gamer.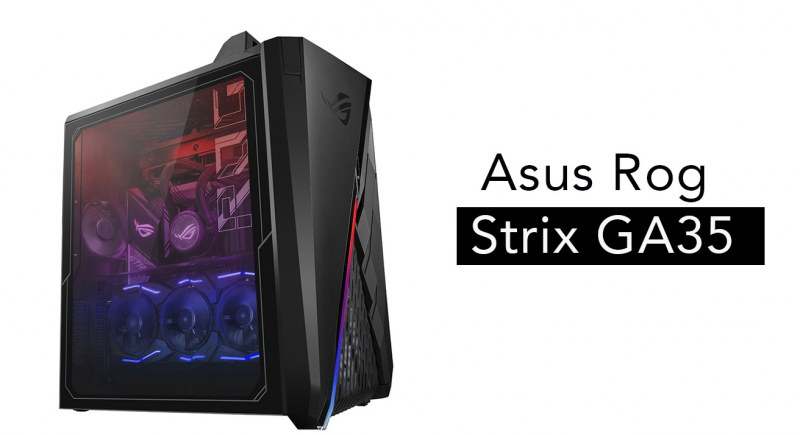 Currently, the Asus GA35 is available with the Nvidia RTX 2070 or the RTX 2080 as there is no supply of RTX 3080 and these machines have got some price cuts.
You can check the pricing on Amazon to see if it suits your buying needs. We may have to wait a long time for the RTX 3000 series machines to launch due to the scarcity of graphics cards.
Next, we have got the Asus Rog Strix GT35 Intel-based Gaming Desktop.
Asus ROG GT35 (For Gamers)
The Asus ROG Strix GT 35 is powered by the Intel Core i7 10700KF processor that comes with 8 Cores and 16 threads. Notably, Intel has a lead over AMD for single-core performance and also in gaming titles.
The Intel-based ROG GT35 is more focused on gamers and streamers than on Content creators that can take advantage of the additional cores that AMD processors offer.
The ROG Strix GT35 has a 120 mm liquid cooler to keep the temperatures in check and comes with a massive 32 Gigs of Ram (Clock Speed of 2933 MHz).
Also, Asus is using the same Nvidia RTX 3080 graphics card as the GA35. The storage solution is also the same with 1 TB SSD and a 2 TB HDD. We are getting the pre-installed Windows 10 home.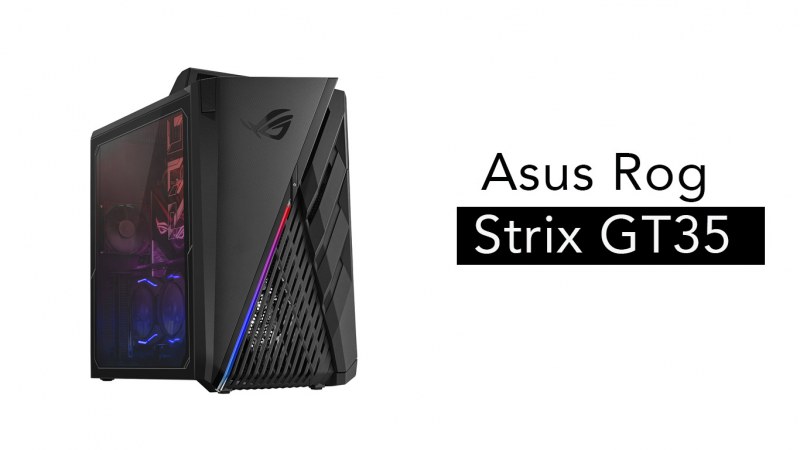 Comparison Table – Asus GA35 Vs Asus ROG GT35
| | | | | | | |
| --- | --- | --- | --- | --- | --- | --- |
| Model No | Processor | Graphics | OS | Thermal | RAM | Storage |
| ROG StrixGA35 (AMD) | AMD Ryzen™ 9-3900X Processor & AMD Ryzen™ 9-3950X Processor | NVIDIA® GeForce® RTX 3080 10GB | Windows 10 Home | 240 MM Liquid Cooler | 32GB DDR4-3200 MHz LO-DIMM | 1TB M.2 NVMe™ PCIe® 4.0 SSD-2TB SATA 7200RPM 3.5″ HDD |
| ROG StrixGT35 (Intel) | Intel® Core™ i7-10700KF Processor | NVIDIA® GeForce® RTX 3080 10GB | Windows 10 Home | 120 MM Liquid Cooler | 32GB DDR4-2933 MHz LO-DIMM | 1TB M.2 NVMe™ PCIe® 3.0 SSD -2TB SATA 7200RPM 3.5″ HDD |
Commenting on the launch, Arnold Su, Business Head, Consumer and Gaming PC, System Business Group, ASUS India, said: At ASUS ROG, we understand the importance of personal preferences and are working to provide the best performance along with personalized designs and aesthetics. These new ROG Gaming desktops offer incredible experience not only for avid gamers but also for the everyday users looking for high productivity machines.
Upcoming – Asus ROG Strix GA35 (5900X and RTX 3070 or 3080)
The gaming PC will be available for sale from the second half of April 2021.
The Asus ROG Strix GA35 Gaming PC comes with a powerful processor including two options – AMD Ryzen R9 5900X and AMD Ryzen R7 5800X. They are processed on 7 nm FinFET architecture.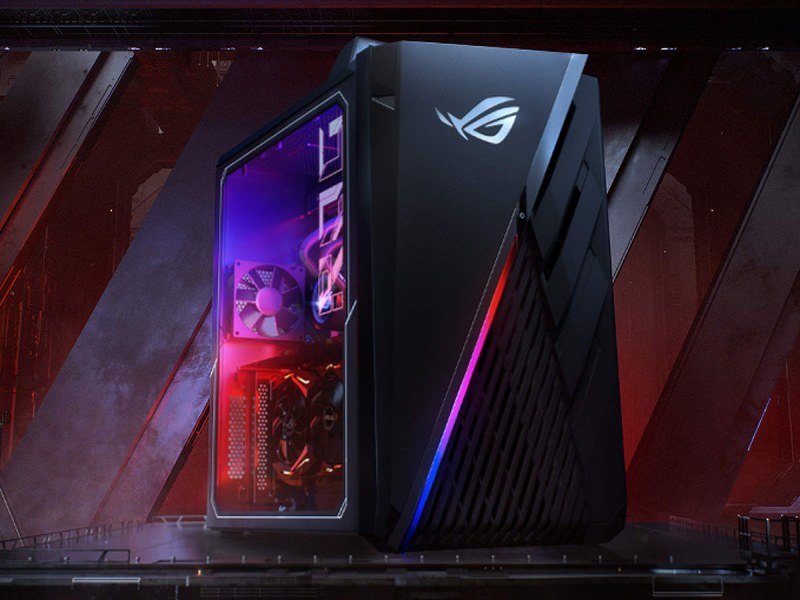 AMD Ryzen R9 5900X has 12 cores and 24 threads. It clocks at 3.7 GHz and leads to a maximum boost frequency of up to 4.8 GHz.
AMD Ryzen R7 5800X holds 8 cores and 16 threads. The processor has a 3.8 GHz base frequency and up to 4.7 GHz turbo boost.
To offer an immersive gaming experience, the gaming PC gives you the choice of two potent GPUs. They are based on the latest Ampere NVIDIA architecture.
1) NVIDIA GeForce RTX 3080 with 8 GB GDDR6 VRAM. It consists of 8704 CUDA cores.
2) NVIDIA GeForce RTX 3070 with 8 GB GDDR6 VRAM and 5888 CUDA cores.
The device sets up to 32 GB DDR4 RAM (3200 MHz). For storage, it has 1 TB M.2 NVMe PCIe 4.0 SSD and up to 2 TB SATA 3.5 inches HDD (7200 rpm).
It has 2 Drive Bay – 2* 3.5″ HDD bays and 2* 2.5″ hot-swap bays. It supports 802.11 ac gigabit-class WiFi and Bluetooth 5.0.
The expansion slots comprise – 2*M.2 socket type, 3* PCIe 4.0X16, and 2* PCIe 4.0X1.
The front I/O includes – 2* USB 3.2 Gen1 Type-A, 2* USB 3.2 Gen1 Type-C, mic-in, and headphone out.
The rear I/O combines – 4* USB 3.2 Gen1 Type-A, 3* USB 3.2 Gen2 Type-C, USB 3.2 Gen2 Type-C, HDMI 2.0, Display Port 1.2, RJ45, 5* audio jacks, and SPDIF.
It consists of 700W PSU with 80 plus certifications.
Key Specification:
Processor – AMD Ryzen R9 5900X and AMD Ryzen R7 5800X
Graphics card – NVIDIA GeForce RTX 3080 and NVIDIA GeForce RTX 3070
VRAM – 8 GB
RAM – up to 32 GB DDR4
Storage – 1 TB NVMe PCIe 4.0 SSD and up to 2 TB SATA 3.5″ HDD
Operating System – Windows 10 Home
Starting Price – INR 1,99,990
Initial Thoughts
Overall both the offerings are excellent and come with the top-of-the-line Nvidia RTX 3080 graphics card.
There are hardly any RTX 3080 GPUs available in the market and the ones that are available are really over-priced at the moment.
The pricing from Asus could have been a bit more aggressive to push these mean machines in the market and expand the market for high-performance pre-build gaming and editing rigs. We may see some discounts later on when these go on sale on Amazon and other e-retailers.
For first-time buyers that don't want to get into the hassle of building a high-performance Gaming or Content creation PC, these are ideal solutions.
AMD has also recently launched the new AMD 5000 series of desktop processors and Intel is also planning to get the new Tiger Lake 11th Gen processors in the market in the next couple of months.
I use a custom-built gaming PC with 32 Gigs of Ram, Nvidia GTX 1060, and Intel Core i7-6700k for occasional gaming and video editing and have played PC games for the past 25 odd years.
In the future, I plan to get one of these pre-built monsters to do more work on Videos. What About you, share in the comments below.