Best Gaming Smartphones 2020
Mobile gaming is becoming more popular and some of the developing countries like India, it is far more popular than the Console or PC Gaming.
In this article, I have listed down some of the high-end smartphones that you can purchase if you want to play high graphics games like Fortnite, PUBG, and Asphalt 9 on ultra settings.
The most important thing for a blazing fast Gaming mobile is the Processor and GPU. Currently, we have Snapdragon 855 and the Adreno 640 GPU that offers the best performance for gaming across the board.
Also, Qualcomm has launched the new Snapdragon 855 Plus processor which will come in upcoming mobiles like Asus Rog Phone 2.
All the phones in this list come with a superfast processor, adequate cooling, good display, and long battery life to ensure great gaming experience for an extended time.
5  Best Gaming Smartphones Currently:
Asus Rog Phone 2 – Snapdragon 855 Plus, Adreno 640
Xiaomi Black Shark 2 – Snapdragon 855, Adreno 640
Nubia Red Magic 3 – – Snapdragon 855, Adreno 640
Asus Rog Phone I – Snapdragon 845, Adreno 630
Oneplus 7 – Snapdragon 855, Adreno 640
Asus 6Z – Snapdragon 855, Adreno 640
Above mentioned, three phones are the true gaming mobiles, while the Asus 6Z and the Oneplus 7 both come with the fastest Processor and GPU and are also affordable.
Any of the mobiles mentioned above can effortlessly max out PUBG or Fortnite with the smooth gameplay experience.
I am not going to talk much about the camera quality or other features for these phones in this list but will focus more on the gaming aspect and performance.
1. Asus Rog Phone 2
Read Detailed Review of Asus ROG Phone II.
Aforementioned, the Asus Rog Phone 2 is one of the first gaming smartphones to run on the latest Qualcomm Snapdragon 855 Plus processor and Adreno 640 GPU.
Rog Phone 2 is the most powerful mobile that you can purchase for gaming currently.
The phone comes with 8 GB of Ram and 128 GB (UFS 3.0) of internal storage for the base version which is available for Rs. 37,999 on Flipkart.
There is a higher variant with 12 GB Ram and 512 GB storage that is also available on Flipkart for Rs. 59,999.
It is one of the few mobiles in the world that comes with an impressive 120 Hz, 6.49 Inch FHD+ AMOLED display. The display has the 1 ms pixel response time and is protected by the Corning Gorilla Glass 6.
Further, we have got a massive 6000 mAH capacity battery that is sufficient to last all day, even with gaming. Additionally, it comes with an 18 Watts fast charger for rapid fueling.
The mobile also boasts of 48 MP Sony IMX 586 sensor-based primary rear camera. The secondary camera is a 13 MP ultra-wide lens. Further, the selfie camera uses a 24 MP lens for clicking detailed selfies.
If gaming is your primary use, the Rog Phone 2 is a no-brainer.
2. Xiaomi Black Shark 2
The Black Shark 2 is available on Flipkart for Rs. 39,990 for the 6 GB Ram and 128 GB storage versions. Also, you can buy the insane 12 GB Ram / 256 GB storage version for Rs. 49,990.
The Black Shark 2 comes with an aggressive design and looks like a bad-*** gaming device. The green and black color combination with RGB strip light make it irresistible.
Powering the device is the fastest chipset in the world – Qualcomm Snapdragon 855 Octa-Core processor and Adreno 640 GPU. The phone comes with a ludicrous mode, which makes it even faster by closing all other applications running in the background.
We also get a Gamer Studio software that helps you optimize settings such as notifications, performance, audio, touch, and network. The Shark Space allows you to push the performance to the maximum for a buttery-smooth gaming experience.
The phone comes with direct touch liquid cooling technology 3.0 with an oversized cooling plate to ensure maximum cooling. The phone is made from frosted metal and glass for better heat dissipation and to keep temperatures in check.
Also, it comes with a fast touch response Super AMOLED display with 6.39 Inch panel (FHD+1080 x 2340 pixels) and offers 420 nits maximum brightness with DCI -P3 color 108% gamut.
Dual Speakers that offers 25% better audio in-comparison to typical mobile speakers for the better audio experience. Further, it comes with an improved haptic motor for better in-game vibrations.
There is even a Game Dock that allows for viewing of real-time FPS and temperature to manage your mobile better.
Lastly, it comes with a massive 4000 mAH capacity battery with 27 Watts Fast charging support to ensure you can charge it upto 60% in 30 minutes.
Black Shark 2 is an ultimate gaming phone, it may seem expensive but is far more affordable than the ROG phone from Asus, and due to the SD 855, it performs even better.
Even if you go with the 12 GB ram version (costs Rs. 49,999), you are not going to see a performance boost since most games use less than 4 GB Ram.
Black Shark 2 Official Video Trailer
Check More Details About the Black Shark 2
3. Nubia Red Magic 3
Number 3 on the list is the Nubia Redmi Magic 3 which was recently launched in China and India.
The Nubia Red Magic 3 is available for purchase from Flipkart for a price tag of Rs. 35,999 for the 8 GB Ram and 128 GB Storage version.
The mobile comes with Red, and Black design, which looks aggressive and the RGB light at the back is the show stopper.
Powering the device is the Qualcomm Snapdragon 855 processor and Adreno 640 GPU. There is 8 GB DDR4 Ram to ensure super-smooth gaming and multi-tasking.
The Nubia Red Magic 3 comes with a unique active liquid cooling technology with a turbofan for effective heat dissipation and keeping the device cool.
Further, the phone has a large 6.6 inch AMOLED Full HD+ (2340*1080) pixels display that offers an immersive gaming experience. While the Black Shark 2 comes with a 60Hz display, the Nubia Magic 3 offers a 90 Hz display for an even smoother visual experience.
There are built-in shoulder trigger switches to use them in any game for an added advantage.
The smartphone also comes with a haptic engine for managing the vibrations. You can feel accurate vibrations during gunfire or when revving the car engine.
The mobile also boasts of front stereo speakers with support for DTS:X for an immersive audio experience.
There is a Gaming Hub Software integration to record gameplay, manage notifications, and monitor real-time stats.
Lastly, the Nubia Magic 3 comes with a massive 5000 mAH capacity battery that can fuel it for many hours of gaming. There is even a fast charger bundled with the device for Quick Charging.
Read More about the Nubia Red Magic 3.
4. OnePlus 7
The Oneplus 7 is one of the most affordable phones with Qualcomm Snapdragon 855 processor that you can buy today. The reason for adding this mobile to this list is the blazing fast processor and Adreno 640 GPU.
The OnePlus 7 doesn't come with a high refresh rate display or liquid cooling, but it can run Fortnite or PUBG and ultra settings with ease. You may see some frame drops or a bit of heating but nothing serious.
The phone has adequate cooling and can easily play all the modern games.
If you want liquid Cooling and a 90 Hz display for an even better experience – you should buy the OnePlus 7 Pro.
For starters, it comes with a gorgeous 6.41 Inch Super AMOLED Panel with FHD+ resolution (2340*1080 pixels). You can get upto 8 GB of DDR4X ram, and it even comes with the fastest UFS 3.0 storage. 
There are Oxygen OS and Android 9.0 Pie for a smoother experience, and it even comes with a Fnatic mode for a better gaming experience.
Further, it has got a new vibration engine for better haptic feedback and also comes with dual stereo speakers with support for Dolby Audio.
The Oneplus 7 comes with a 3700 mAH capacity battery and even has fast charging support.
Overall, if you don't want to get a pure gaming mobile, Oneplus 7 or the 7 Pro offers a good solution.
5. Asus 6Z
The Asus 6Z is another mobile with Snapdragon 855, which is available for Rs. 31,999 or $500.
The Asus 6z also lacks a high refresh rate display or a liquid cooling system, but it comes with a massive 5000 mAH battery to ensure you can game for many hours without the need for charging. Also, the mobile comes with Quick Charge 4.0 support for rapid charging.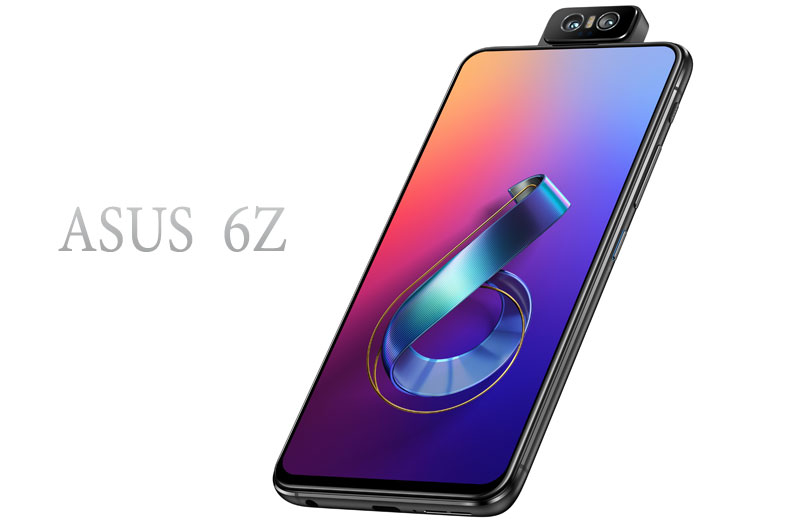 The 6Z offers a 6.4 Inches Full HD+ (2340×1080) IPS display with 600 nits of maximum brightness and comes with Corning Gorilla Glass 6 protection.
There is UFS 2.1 storage with 128 GB /256 GB storage options, and it comes with 6 / 8 GB Of DDR4X ram.
There are Dual Stereo speakers with DTS:X support for the immersive audio experience. Also, it offers rotating cameras, for clicking selfies or making Tik Tok videos if that is what you desire.
Nevertheless, it is not a real gaming phone but can offer good gaming experience in any Android game you throw at it.
5. Asus ROG 
Asus at Computex 2018(in June 2018), unveiled its new mind-blowing ultimate gaming phone for enthusiasts called "ROG Phone."
The company has launched the ROG phone in India for Rs. 69,999 and comes with 8 GB Ram and 128 GB internal storage.
The new breed of gamers is looking for powerful mobiles to play some of the latest titles such as PUBG, Asphalt 9, or the Fortnite.
However, Asus is taking the gaming phones to a new dimension with some serious muscle, cooling capabilities, and terrific display.
Details – ROG Phone
ROG (Republic of Gamers) comes with a super AMOLED display with a refresh rate of 90 frames per second. Or in other words, it has a 90Hz display that helps to improve the visuals in the game and reduces the screen tear, the same as high refresh rate monitors in PC gaming.
However, It is not as fast as the Razer phone that offers 120 Hz display but with an LCD panel.
Additionally, the response rate is just 1 microsecond, and it comes with the HDR support to watch videos.
Asus is bringing the PC gaming innovations to mobiles now, and it makes a lot of sense since a vast number of gamers are shifting to the mobile platform from good old PC gaming.
Moreover, there will be some, like me, who will hold on to PC gaming no matter what.
Notably, there is a Snapdragon 845 processor on board, which is especially overclocked to 2.96 GHz (from the usual 2.8 GHz) to push even more pixels.
The overclocked phone scored over 300,000 on the Antutu Benchmark, making it the fast Android phone as per the benchmark data.
Also, you can buy a cooling fan accessory that sticks to the back to keep it even cooler.
In the smartphone world full of selfie-focused phones, it is good to see a gaming-centric device, yet it has all the bells and whistles to work as a daily driver.
Further, it has a dual-camera set up at the rear, which can take detailed shots to impress the camera critics.
Most Interesting of all, it comes with not one or two, but 3 USB-type C ports, and a headphone jack too.
One of the ports is present at the bottom, and the other two are on the side.
Why Does it come with so many USB Type C Ports? – The answer is to connect with the specially designed accessories that you can use with this phone such as the Aero active cooler or the mobile desktop dock, which is similar to the Samsung Dex.
You can connect the Mobile Desktop Dock to the PC, and can use a monitor, mouse, or a physical keyboard to do your work.
Another cool accessory is the Twin-view Dock that adds up a second display and some extra battery life to the device.
Also, there is a clamp-on game controller from Gamevice which you can use to convert this gaming phone to a handheld gaming device with physical buttons and navigator.
The phone comes with 8 GB of RAM, and 128 / 256/ 512 GB internal storage options that are quite sufficient to fulfill the needs of a moderate as well as heavy users. Aforementioned, in India the phone is only available in the 128 GB storage variant.
Its 4000 mAh battery supports Asus' "HyperCharge" that utilizes 20W fast charging to make sure that the phone charges quickly.
Key Specs for the Asus ROG smartphone
Display – 6 inches AMOLED, 2160*1060 pixels, 18:9 ratio at 402 PPI
Qualcomm Snapdragon 845 Octa-core overclocked at 2.96 GHz
Adreno 630 GPU
8 GB RAM, 128 GB or 512 GB internal storage
No SD card support
Fingerprint sensor: Yes, rear-mounted
Selfie camera – 8 MP front camera
Rear Camera – 12 MP + 8 MP Rear Shooter with LED flash
Battery capacity – 4000 mAH non-removable with Quick Charge 4+
Operating System – Android 8.1 Oreo
Practically speaking, Asus's ROG phone seems to be a mammoth of a device and is a tough-to-beat, even for widely popular devices like the Razor Phone.
Asus ROG certainly has a more fabulous array of features and more muscle than the Razor Phone (comes with Qualcomm Snapdragon 835), making it a better choice than the latter.
ROG phone's "3D vapor-chamber cooling system" has so many of its internals covered, which gives nearly 16 times more area for the heat dissipation, making peak CPU endurance up to 5 times.
It is a good concept, but the price and product are not for the Indian market.
Apart from the phone, Asus is selling the Professional Dock, for Rs. 5,499; GameVice (Joystick) For Rs 6000; TwinView Dock for Rs. 21,999 Desktop Dock at Rs. 12,999 and ROG Phone Case for Rs.2499.
By the look of it, I can clearly say that it gives me the feeling of using portable gaming consoles like Sony PSP and Nintendo DS which have been providing an optimized handheld gaming experience for so long.
While devices like the Nokia N-Gage were a gaming sensation and revolutionized the gaming standards back in time, Asus ROG has top-notch specs and features to match the needs of next-gen gamers.
It might not become a top-selling device due to the cost factor, but it will appeal to enthusiasts with a fondness for hard-core gaming. The price for the phone is not known so far, but we can expect it to cost close to flagship phones such as Samsung S9 or the Huawei P20 Pro.
Its incredible display and better graphics performance than the existing handheld gaming devices are the two most important factors that set it apart from rivals. Not to mention, the cool accessories which are innovative and useful at the same time can make one drool over it.
Also, the unmissable illuminated ROG logo at the back which glows when you game on the device makes it a head-turner.
Asus mentions that the ROG phone will be available for purchase starting this summer, with all the accessories, sold separately.
It is a new innovative product, and it is the first generation of such devices. The market is probably not yet mature for these, but in the coming months, we may see more such phones from other brands helping to expand the segment.
India Price and Availability
Aforementioned, it is available for purchase from Flipkart starting today (29th November 2018). The phone costs a whopping 69,999, and according to me, it is a too high price for gamers to buy a phone.
India is not a market for such products; here, most of the PC gamers tend to buy a sub 50k PC or laptop. A gaming phone for 70k will find only very few niche buyers.
Also, the phone doesn't have a camera that can compete with the Mate 20 Pro or Google Pixel 3, so non-gamers will not be interested in it.
You May Like: