If you are looking to buy the best-prepaid plans in India, here are the top suggestions for you. We have carefully picked up and compared the best-prepaid plans for all the major operators in India – JIO, Idea, Airtel, and Vodafone.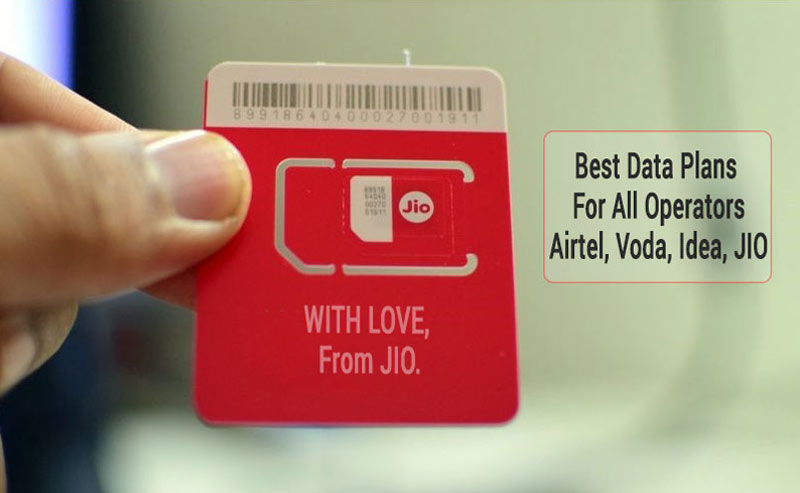 Indian telecom industry is all about the mobile internet at the moment. Voice calling has taken a back seat. Moreover, Reliance Jio announced that it now carries 15 percent of world's data traffic, making it the only exabyte (1 exabyte = 1000000 TB) network in the world.
Notably, Reliance Jio entered the Indian market in September 2016 and had already grabbed over 200 million subscribers, a major milestone. As a result of affordable rates, the craze for data consumption is increasing in India. Contrastingly, the voice calls have seen a substantial decline.
Furthermore, users are switching to VoIP apps such as Skype, WhatsApp, Viber, Hike, etc. for voice calling. For starters, Reliance Jio also introduced a new technology to the Indian consumers- VoLTE, that uses data to carry voice calls. Besides, Jio has introduced affordable unlimited combo packs for Indian consumers that are shaping the tariff strategy for all telecom players.
With that said, to match Reliance Jio and its tariff plans, top Indian telecom operators such as Airtel, Vodafone, and Idea have launched new plans, offering both voice call and data benefits, in short, 'combo plans.'
A significant change has happened in Indian Telecom industry, from Balance Top Up packs, users are now shifting to more affordable unlimited plans.
If you're looking for the best plan in the market, then you're at the right place.
Let's Check out the Best Prepaid Plans in India from JIO, Idea, Airtel & Vodafone.
1) Reliance Jio – Best Prepaid Plan for Data and Voice
JIO Long Validity Plans
First of all, Reliance Jio recently announced two new plans of Rs. 349 and Rs. 399. The Rs. 399 scheme replaced the earlier Rs. 309 plan under the Jio Dhan Dhana Dhan offer.
The Rs. 399 scheme gives 1.5 GB data per day, and unlimited voice calls for 84 days( total data benefit – 126 GB).
Another plan, Rs. 349 gives 1.5 GB Data per day, and unlimited voice calls for a validity of 70 days.
Notably, the validity is 84 days in the Rs. 399 and 70 days (Rs 349) respectively. In my opinion, you should get the Rs. 399 plan as it is slightly more beneficial.
JIO High Data Plans
Further, Jio has also launched some high per day data plans that offer 2/3/4 GB data per day. You can recharge with Rs. 498 to get 2 GB of data per day for 84 days (total 168 GB Data).
Also, there is a 398 plan that offers 2 GB of data per day for 70 days (total 140 GB data), and another Rs. 198 plan that offers same data benefit for 28 days (total 56 GB data).
Furthermore, JIO also has 3 GB /day data plan that costs Rs. 299, comes with 28 days validity (total 84 GB data).
All the above-mentioned plans come with free unlimited voice calls, complimentary JIO Apps subscription.
JIO Sachet Plans
If you just want to use data for 1 day can buy the Rs. 19 plan that offers 150 MB of data, 20 SMS, Unlimited Calls. There is even a Rs. 52 pack that has 7 days validity and offers 150 MB Data, unlimited calls and 70 Sms.
These are the best 4G plans available in India at the moment for JIO subscribers. Here is the Link to check the JIO 4G Prepaid Plans so you can explore more. Next, on our list of Best Prepaid Plans India is Airtel.
You can read more about JIO latest Recharges and plans.
2) Bharti Airtel – Best Prepaid Plan for Data and Voice
Bharti Airtel doesn't offer plans for all the customers on a pan-India basis. Airtel, Idea, and Vodafone have different MRP's, in different states, for unlimited plans.
Airtel Best Recharges – 249, 448, 499 and 558
For the typical 2 GB per day data plan and unlimited voice calling these companies are charging Rs. 250 depending on the Circle (state) you live. Some of the plans are also common applicable in all circles like the Rs. 249 plan.
Further, there are also some special segmented offers they continue to offer to most of the subscribers. You can dial *121# from your mobile number of Airtel, Idea or Vodafone to check the balance and also the special offers eligibility.
MRP 249 Recharge
For instance, for the Rs. 249 prepaid recharge you get Unlimited All Local & STD calls+2 GB 4G data per day valid for 28 days. Additionally, you also get 100 SMS/day and incoming and outgoing roaming calls are free.
MRP 499 Recharge
There is also another recharge of Rs. 499 offering Unlimited All Loc+STD calls + 2.0 GB data for 3G/4G data per day on 4G H/S (2 GB for other H/S) for 82 days. Also, you get 100 sms/day and unlimited local and STD calling benefit on your mobile number.
MRP 448 Recharge Pack
The Rs. 448 recharge is similar to the 499 plan but offers 1.4 GB data per day instead of 2.0 GB data. The validity is 82 days and

MRP 558 Benefits (New)
Airtel has introduced the MRP 558 plan on 20th May 2018 and it comes with some incredible benefits. The Rs. 558 plan offers whopping 246 GB data for a period of 82 days. You get 3 GB/day data for a period of 82 days bringing the cost per GB of data down to Rs. 2.26.
Additionally, you get unlimited calling benefit, free roaming, 100 SMS/day.
Also, note if you have a 2G/3G phone then you won't be getting 2 GB / day or 1.5 GB/ Day of data benefit, but you will get a much lower data benefit. Now, this is interesting since the threat for Airtel, Voda, and Idea is from JIO; And JIO only works on 4G smartphones, all operators are not offering anything to the poor 2G customers.
Here is the link to Airtel – Prepaid – Plans – You can just change the Circle from Top Right Corner and, can check the Best Offer for your Circle (Look for 250 to Rs 350 MRP for unlimited Offers).
3). Vodafone India – Best Prepaid Plan for Data and Voice
Vodafone also has the similar plan that offers 1.4 GB/ day data, and unlimited Voice calls for 28/84 days. The price point is again different in different states but some of the plans are common.
Vodafone 28 Days Plans – 199, 255 and 349
The 199 plan is the cheapest and affordable plan that offers 1.4 GB /day data for 28 days. Besides, you get unlimited local as well as STD calling and 100 SMS per day. Also, there are no roaming charges.
The Rs. 255 plan comes with 2 GB /day data and also has 28 days validity and other benefits are same as the 199 plan. Moreover, there is a Rs. 349 plan that offers 3.0 GB/day data for 28 days.
In my opinion, the 199 plan is good if you wish to spend higher better get the 82 days validity plans listed below.
Vodafone Long Validity Plans
There are 2 good plans Rs. 399 and the Rs. 458 pack that offers 1.4 GB data /day for 70 and 84 days respectively. There is unlimtied voice calling benefit plus free roaming and 100 SMS per day.
I think the 458 pack is a better value for money proposition as you get 14 days more validity.
Vodafone High Data Plans – 2 GB / 3 GB per day (Few Circles Only)
Vodafone has introduced the new packs (Rs. 511 and 569) on 28th April 2018, in some select circles, that gives some serious data benefits to users. The Rs.511 recharge offers 2 GB/Day data for a period of 84 days with UL voice calling and 100 SMS.
If you want more data the 569 plan is ideal, offering 3 GB/day data for 84 days period with other benefits same as Rs. 511 plan.
Besides these plans there are not too many low price data plans from Vodafone.
Here are the top plans that Vodafone is offering for its customers, you need to change the state you live in to check the price point for the unlimited plans. Link to Vodafone – Prepaid – Tariff – Plans.
The last operator on our list of Best Prepaid Plans in India is Idea Cellular Ltd.
4) Idea Cellular – Best Prepaid Plan for Data and Voice
Right after Jio and Airtel announcing the savvy data plans, Idea Cellular announced two new plans of Rs. 199, 249, 398, 449 and Rs. 509.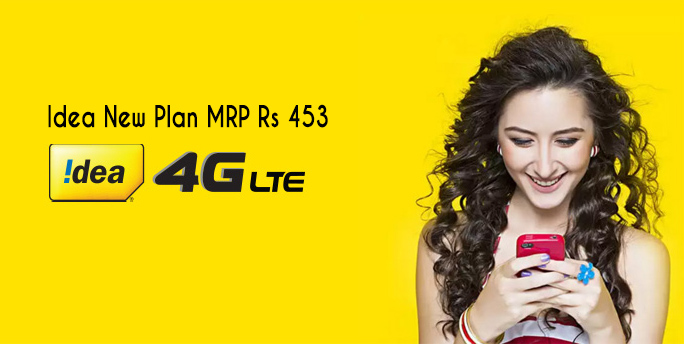 One Month (28 Days) Plans
There is 199 and 249 recharge that offers 1.4 GB data per day or 2 GB data per day respectivity for 28 days period. Also, you get 100 SMS per day, free roaming and unlimited local/STD call rates with these plans.
If you wish to spend a little higher and get better benefit take the long validity plans.
Idea – Long Validity Plans – 398, 449, 509
The Rs. 398 recharge offers 1.4 GB data per day for a period of 70 days and also has free 100 SMS/day, roaming, UL Voice calls benefit. Furthermore, you can buy the Rs. 449 recharge that offers same benefit as 398 but has 82 days validity.
Also, the best plan is Rs. 509 that also provides same data benefit as 398 or 449 but has a validity of 90 days.
Personally, I would get the 509 plan for 90 days as it offers best value for money.
You can check some of the best Idea plans here. Don't forget to update your Circle when checking the latest Plan.
Summary Table – Cheapest Unlimited Voice Calling and High data Packs – Airtel, Voda, Jio and Idea
Comparing Best Prepaid Plans in India

Airtel
Vodafone
Idea
JIO
MRP Rs 558 , 3 GB per day data and unlimited Voice Calls for 82 days -(Total Data 246 GB)
MRP Rs 458, 1.4 GB data /day and unlimited Voice Calls for 84 days
MRP Rs 509, 1.4 GB per day data and unlimited Voice Calls for 90 days
MRP Rs 399, 1.5 GB per day data and unlimited Voice Calls for 84 days (126 GB)
All Operators Now have very competitive data plans – For getting more benefit take long validity packs.
Also, Read – Prepaid Vs Postpaid Plans – Better Choice In India 2018
Telecom Wars -Jio Crosses 200 Million Subs, Berates Airtel on Apple Watch Series 3 Issue
More From Candytech