Do you want to know which are the Best Jio Recharges available currently?
Updated – 24 July 2019 – In this article, let's look at some of the best-prepaid Jio recharge offers that you can currently buy to get the maximum benefit.
There are different plans available for JIO subscribers with a different monthly budget.
I will try to address and cover most of the plans that are the best value for money and will also add some discount and cashback offers that you can avail.
We will start with some of the most affordable plans and then will move higher per day data plans.
How do we find out which are the best Jio Recharges?
I created an excel sheet with validity and data benefit and got the price per day. Based on this calculation, we got the best plans from JIO.
You don't need to worry about anything, my friend. We have the latest plans, and we keep updating them every month.
*Note these plans are applicable for all Jio users including JIO phone buyers as well.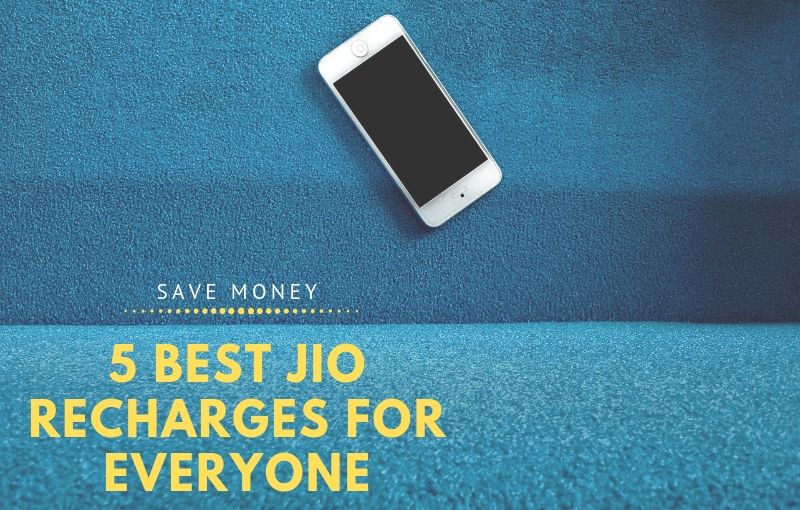 Let's us check out the 5 Best Online Jio Recharge Offers and Plans (52, 98, 149, 399, 1699)
1). MRP Rs. 52 (Weekly Pack)
MRP 52 is one of the most affordable plans from JIO that you can recharge.
It offers 150 MB/day data for 7 days (Total Data =7*150 MB = 1.05 GB) and the plan also has a seven days validity.
Additionally, you will get unlimited local, and STD calls benefit for 7 days.
There are 70 Free SMS and access to JIO Apps.
MRP Rs. 52 recharge is suitable for you if you are planning to recharge with a low amount and don't want too much daily data.
2). MRP Rs. 98 (Cheapest Monthly Recharge from JIO)
The Rs. 98 recharge from JIO is the cheapest monthly recharge that you can buy. The benefits include 2 GB Data, Unlimited Voice Calling, and 300 complimentary SMS that you can use in 28 days.
Notably, the pack has a validity of 28 days, and you get a total of 2 GB data.
Some people mistakenly think it is 2 GB / day, but it is not.
The Rs.98 plan is useful if you are not a heavy data user or you already have access to faster WIFI or your primary Sim offers you functional data connectivity.
3). MRP Rs. 149 and 198 (1.5 GB/Day and 2 GB/Day Plans)
If you want to use a high amount of daily data, the best monthly plans from Jio are the Rs. 149, and 198.
The Rs. 149 plan offers – 1.5 GB/Day Data – Total Data – 42 GB, Unlimited Voice Calls, 100, SMS/Day, Validity Period 28 Days.
The Rs. 198 plan offers – 2.0 GB/Day Data – Total Data – 56 GB, Unlimited Voice Calls, 100, SMS/Day, Validity Period 28 Days.
The 1.5 GB/Day plan is attractive and will best suit most users. In a rare case if you require more than 1.5 GB/Day pack, can opt for 198 plan.
If you are not willing to do a long validity recharge but want to use a high volume of daily data, these are the best packs.
4). MRP 399 and MRP 448 ( Best Value for Money Recharges from JIO)
If you can spend a little higher amount, these are the best recharges for you. These are much cheaper and offer a longer validity than the monthly packs.
The Rs. 399 plan offers – 1.5 GB/Day Data – Total Data – 126 GB, Unlimited Voice Calls, 100, SMS/Day, Validity Period 84 Days.
The Rs. 448 plan offers – 2.0 GB/Day Data – Total Data – 168 GB, Unlimited Voice Calls, 100, SMS/Day, Validity Period 84 Days.
The Rs. 399 is an ideal plan as 1.5 GB/day is more than sufficient for a majority of users.
There are 70 days validity plans; also, they are more expensive in comparison to above-mentioned.
How is the Quarterly Plan Cheaper than Monthly Plan?
If you are wondering why the three months plan is cheaper, below is the explanation:
For the Rs. 149 plan per day cost is (MRP/Validity) = 149/30 = Rs. 5.3. In the case of Rs. 399 plan it is = 399/84 = Rs. 4.75. Data benefit is the same per day in both the plans, so you are getting 1.5 GB data for Rs. 5.3 or Rs. 4.75 in the later plan.
The quarterly plan is about 12% cheaper than the monthly plan.   
There are some 3/4/5 GB /Day packs also, details here. You can opt for these only if you plan to have so much higher per day data usage.
5). MRP 1699 – Yearly Jio Recharge
The Rs. 1699 plan offers – 1.5 GB/Day Data – Total Data – 547.5 GB, Unlimited Voice Calls, 100, SMS/Day, Validity Period 365 Days.
If you are 100% committed to JIO for the long term and don't want to do a quarterly, the 1699 option is for you.
However, it doesn't offer much benefit over the Rs. 399 plan in terms of discount.
Which Jio Recharge Should You Get for Maximum Benefit?
The best Jio recharge is Rs. 399 for 84 days with 1.5 GB daily data. It is my favorite pack for almost a year now.
Jio is offering maximum benefit to the users who recharge for 3 months or higher, and I also do a long validity recharge to save money.
Should you buy the yearly 1699 Jio recharge?
Even if you are taking the yearly 1699 recharge, the benefit is not much to justify the 1-time cost.
If you recharge four times with the 399 plan, here is what you get
Price – 399*4= Rs. 1596 Validity = 84*4= 336 days. Daily data is same for both the packs, why pre-pay for one year.
You may want to change the connection, or if service becomes unusable, you also have an option for MNP.
Considering there is not much benefit, it is better to stick with the quarterly plan.
Below you can read about some more details the latest Jio Dhamaka Offer.
Also, Read About the new JIO Postpaid Plans(are they better than Prepaid), Comparison of Best Prepaid Plans in India (Idea, Vodafone, JIO and Airtel).
JIO APP Special Double Dhamaka Offer (Additional 1.5 GB/day Data)
JIO is continually revising and updating its plans to stay ahead of the competition and to counter some aggression shown by Airtel the company is offering insane data benefit from 12th June to 30th June if you recharge using MY JIO App.
The new App Special offers give users additional 1.5GB 4G data if you recharge with say Rs. 149 then instead of getting 1.5 GB/day you will get 3 GB data per day. In total, you will get 84 GB data in 28 days.
It is one of the cheapest data plans and brings the cost of per GB data to a mere 1.77 per GB from Rs. 250 per GB before JIO launch.
The last 19 months since the launch of JIO has seen massive data volume growth in India, pushing usage across social media channels such as Facebook and Youtube.
Further, JIO is offering Rs. 100 cashback on recharges above Rs. 300, for instance, you can now do an Rs. 299 recharge instead of Rs. 399 from the MyJIO App and get 252 GB data (3 GB per day for a period of 84 days.)
Also, if you are doing less than Rs. 300 recharge, you can get a 20% discount. Note that these offers are specific to JIO App and not available on Recharges through Paytm or even the JIO website.
Also Read: 
Telecom Wars -Jio Crosses 200 Million Subs, Berates Airtel on Apple Watch Series 3 Issue