Jio announced these three packs (153, 54 and 24) back on 21st July 2017, along with the launch of the JIO Phone.
To recall, the JIO phone is available free, but users need to do a recharge of Rs. 153 in order to enjoy the data benefits.  Nevertheless, the JIO Phone although is marketed as free but comes with a caveat of security deposit of Rs. 1500 refundable after three years.
Now, JIO has revised these three plans, making them more lucrative for JIO users. Below, I have shared the details of the revised offerings.
Coming to the Revised Pack Details
JIO MRP Rs 153 Pack Details
Firstly, The Rs 153 pack comes with unlimited calling benefit and 100 SMS/day (instead of 300 SMS earlier). Users will get unlimited data, but a fair usage capping will throttle the speed after the users have consumed 1.5 GB (earlier limit was 512 MB) of data. So, in total, you will get 42 GB data in 28 days. Further, The validity of the pack is 28 days and even comes with the complimentary subscription to JIO Apps.
Note – If you are using a JIO Phone it is better to do the new Rs. 49 recharge that provides 1 GB data per day, unlimited voice calling and 100 SMS per day.
JIO Pack MRP Rs 24 Details
Secondly, The Rs 24 MRP Pack comes with 2 days of validity and is aimed at users who want to buy a daily pack. To make things more affordable for consumers who don't want to spend Rs 153 on the pack at one go, the Rs. 24 pack is ideal. You get unlimited calling and per day 500 MB data. Additionally, the pack subscriber gets 20 SMS per day with this recharge.
JIO weekly Pack MRP Rs 54 Details
Thirdly, the MRP 54 pack, is the weekly variant of the MRP 24 recharge and comes with 7 days of validity. Buyers, 

who have limited spending capacity, 

can opt for this plan if they don't want to purchase the monthly pack. The users get 500 MB data/day, unlimited voice calls and 70 sms per day in this plan.
Moreover, JIO has a similar plan for Rs. 52 mentioned on their website that provides the same benefit as the Rs. 54 plan. Also, the new JIO plan of Rs. 149 provides the same benefit as we get in the Rs. 153 plan.
Ideally, you should now recharge with the Rs. 52 or Rs. 149 plan.
JIO Rs 49 Plan – Now offers 28 GB Data and Unlimited Calling
Jio is offering an unprecedented offer to the JIO Phone users with its new plan. The new JIO 49 plan offers unlimited data and voice calls for the Jio Phone users.
The above-mentioned benefit was available for Rs. 149 earlier but now it is available for just Rs. 49. Aggravating the pain of incumbent telecom operators this is a terrific offer by the telecom giant.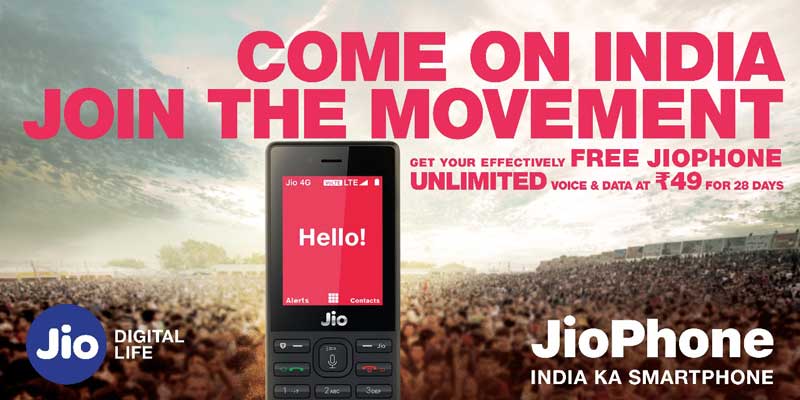 The new JIO recharge offers 1 GB data per day for 28 days and you also get the unlimited voice calling benefit. However, this offer is not meant for all the JIO users but only for the JIO phone users. Notably, other users will not get this offer.
To clarify, this recharge will work only if you have the JIO sim inserted on your JIO Phone.
The offer is effective from tomorrow 26th January 2018. To recall, JIO has previously shared that they are increasing the data limit on the plans. The new 49 plan for the JIO phone users seems similar to the older Rs. 149 plan.
The earlier Rs. 149 plan offered 1 GB data per day along with unlimited voice calling. As part of the Republic day offer, JIO has increased the data limit from 1 GB per day to 1.5 GB per day on the new 149 plan.
Jio even has Rs. 24 and 54 plan that offers much less benefit in comparison to the Rs. 49 plan. So, I don't think you need to do the Rs. 24 or the Rs. 54 plan as the new Rs. 49 plan is significantly better.
If you have not purchased the JIO phone, you can buy it by paying Rs 1500 refundable security deposit. However, there are some other options like the Vodafone smartphone or Airtel phone that you can consider.
The new JIO Rs. 49 plan is a very aggressive offering and it a super crazy offer giving 28 GB of data. It is less than Rs. 2 per GB of data, an unimaginable feat in the Indian telecom.
To recall, we were paying close to Rs. 150 per GB prior to JIO launch for 3G or 4G data to the incumbent operators.
Should You Now Buy the JIO Phone to use with Rs 49 Plan?
If we think deeply, why JIO is offering the Rs. 49 plan while it is already cheaper in comparison to other operators. One reason can be the company wants to push the sales of JIO phone. Also, Rs. 149 plan is not an affordable option for most JIO phone users, who may want cheaper unlimited voice calling services. This new JIO plan can help bring back some dormant JIO phone customers who are probably not using the phone anymore.
Notably, JIO has not specified for how long they will offer this benefit to JIO phone users. It is likely they may reduce the benefit or validity of the Rs. 49 plan in the coming months.
Nonetheless, Rs. 49 plan looks enticing and may lure many potential feature phone buyers to switch to the JIO phone.
Also, read about the latest Best Jio Recharge Offers and Plans to save money.
JIO is Winning the Mobile War
Notably, JIO posted there first quarterly profit of Rs. 504 crores recently and a revenue of Rs. 6,897 crore. Moreover, Idea Cellular posted a huge quarterly loss of Rs. 1284.5 crores.
Also, in a related news, the Reliance JIO phone is crowned number 1 feature phone as per a research by Counterpoint. The JIO phone has 26% market share in the market in comparison to Samsung with 15% share.
Samsung is the biggest loser in the feature phone market and lost 10% market share in the last 1 year.
You May Like to Read: