India Ka Smartphone – Jio Phone Arrives
Jio has unveiled the latest phone from it's stable and shared that the feature phone will come with free unlimited voice calling.
Availability JIO Phone – The company has launched the JIO Phone which will be available from September 1st week. The pre-booking will start on 24 August, and the mobile will be on sale beginning the first week of September in India. Further, the phone will be made available on, first-come, first-serve basis.
Anyways, there are going to be long queues, very long.
Also, Read About the – Upcoming Jio Phone 3.
Jio Phone is available in all parts of the country, through JIO Digital Express stores and retailers.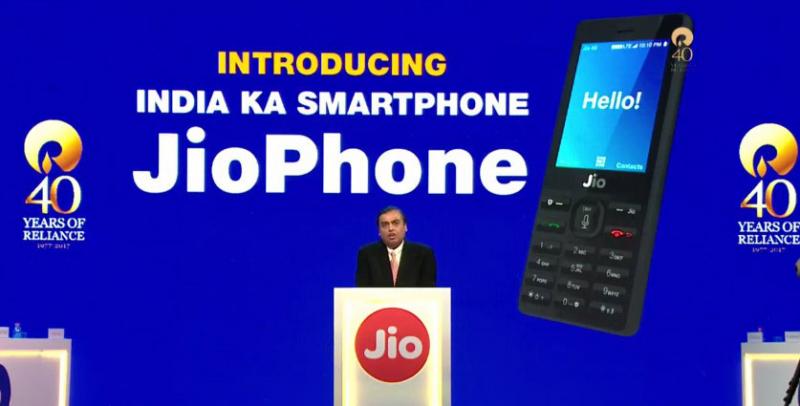 Pricing
The price for the phone is set to Rs. Zero by the company, but to avoid misuse, the buyers will have to pay a security deposit of Rs. 15,00, refundable after 3 years. Although it is marketed as a free phone, there is an investment of Rs. 1500 to own it.
Jio is taking Rs. 500 as an initial deposit at the time of booking, the remaining amount is required to be paid on pickup from the JIO Store.
For more clarity can read – pre-booking Starts Deposit Rs 500 Now and 1000 Later
Also, JIO has introduced a new recharge with MRP of Rs. 153 for the JIO Phone users offering unlimited Voice calling and 1 GB / day data for a month. Mr. Mukesh Ambani has also announced that JIO Phone users can buy the Rs. 309 recharge to get all this. And users also get support for mirroring phone screen on a TV, via a cable. You can use it to even, plug into an old CRT TV.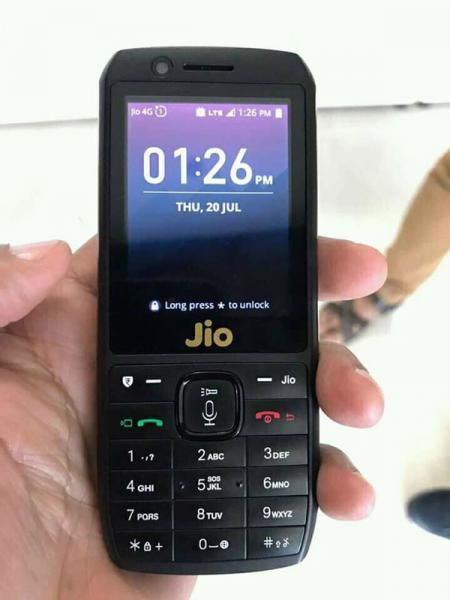 Other than the large value packs, JIO has also launched two sachet packs, Rs. 24 and Rs. 54 that offer unlimited calling benefits as well as 1 GB data/day for 2 and 7 days, respectively.
Besides, the JIO phone comes with support for JIO 4G network and will be a good option for more than 50 million feature phone users in India.
Reliance JIO had a constraint that JIO sim was only usable in a 4G Volte phone that they have addressed with this new phone.
The new affordable phone will give access to the cheaper calling tariff for the rural and urban users, additionally access to data using the Rs. 153 or the Rs. 309 plan.
Also, know about all the best and latest plans for the Jio Phone.
Update Some More clarification on the JIO Packs of Rs 153 and Rs 309
For Jio Phone users, there's a special Rs 153 monthly plan, offers unlimited calls and SMS along with 512 MB data per day. Further, there's also a Rs 309 plan that you can purchase to connect your Jio Phone to a TV and Livestream content.
JIO has 125 Million Customers Now
JIO has also shared that they now have 125 Million subscribers in India and will continue to gain more users after the launch of the JIO phone.
Commenting on the Launch of the feature phone, Mukesh Ambani said: "There are more than 78 crore mobile phones users in India out of which about 50 crore people still use a feature phone. The new JIO Phone – India Ka Phone will provide free voice calling and affordable data options to these people."
Full Specs for the JIO 4G Phone
The smartphone comes with a 2.4 Inch QVGA TFT Display with Screen Resolution: QVGA (320 x 240), and has a 2000 mAH capacity battery. Further, the JIO Phone comes with support for wireless Radio and Music and Video Player.
Notably, it comes with support for 22 Indian languages with support for Assamese, Bengali, Bodo, Dogri ,Gujarati, Hindi, Kannada, Kashmiri, Konkani, Maithili, Malayalam, Manipuri,
Marathi, Nepali, Oriya, Punjabi, Sanskrit, Santhali, Sindhi, Tamil, Telugu and Urdu, apart from support for English.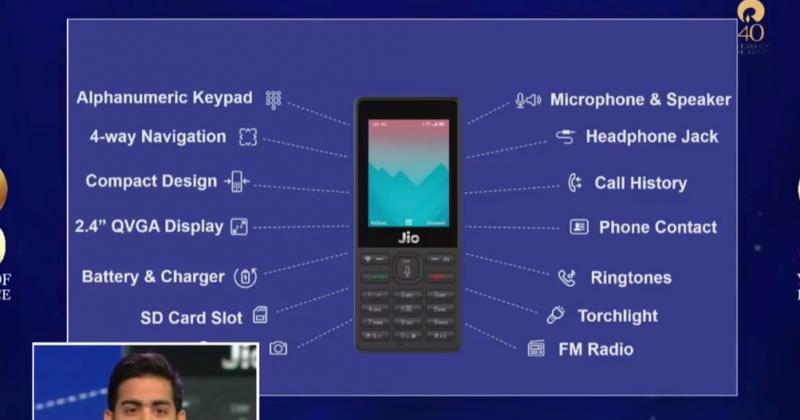 JIO Media Cable Connects it to a TV to stream Videos – As mentioned above you can buy the Jio Media cable to broadcast the videos watched on the phone to a TV screen.
The cable may come with some adapters to help stream videos even to an old CRT TV, as shared by Mukesh Ambani in the Reliance AGM.
Voice Command – Moreover, the Phone also comes with Voice Command, JIO Cinema and JIO TV support.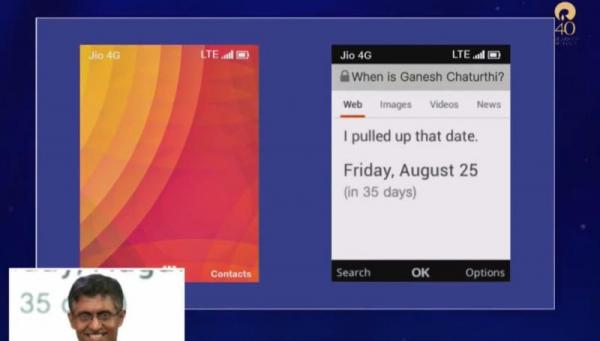 Special Safety Features – To recall, the phone was unveiled by Akash and Isha Ambani, and they showcased unique Safety features.
If you press the numeric 5 key for a few seconds, the phone will send a distress message to your dear ones. It is a safety feature, required by many users.
Also, the sent SMS includes the latitude, longitude and area information of the person in distress.
Processor and Ram Details for JIO Phone
Furthermore, the Phone comes with a 1.2 GHz Dual Core chipset from Spreadtrum SPRD 9820A/QC8905 and has Mali-400 GPU clocked @ 512 MHz, and 512 MB of Ram.
Also, the phone supports LTE Cat 4 Modem for high-speed data connectivity upto 150 MBPS.
RAM and Storage – Additionally, it with 512 MB of RAM and will run on the new KAI OS. There is 4 GB of internal storage that can be expanded to 128 GB.
For photography, the rear camera comes with a 2 Megapixel resolution while the front camera is VGA (0.3 MP) resolution. It also supports Video calls.
Apart from the above features, it has support for 4G LTE as well as VOLTE, WIFI, Bluetooth, and NFC.
Lastly, the Jio mobile comes with a single sim slot, that can house a nano sim, and it offers USB Connectivity through a USB 2.0 port.
Key Confirmed Specs for JIO 4G Phone
Display: 2.4-inch QVGA (320 x 240) pixels with 167 PPI
Processor: Dual-core processor clocked at 1.2 GHz
Chipset: SPRD 9820A/QC8905 (Spreadtrum)
GPU: Mali-400 @ 512 MHz
OS: Custom Kai OS
RAM: 512 MB RAM
Internal Storage: 4 GB, expandable up to 128 GB through micro-sd card
Wi-Fi, 4G LTE and 4G VOLTE, Micro USB 2.0 Connectivity
Single Nano sim connectivity
Camera: 2 MP rear camera & 0.3 MP Front Selfie camera
Battery Capacity: 2000 mAH battery
NFC Support – Yes
22 Regional language Support.
Fingerprint Scanner – No
Price: Rs. 1500 or $20
Available – JIO Digital Stores
Launch Date – 24/Aug/2017
There are several Questions asked about the Reliance JIO Phone. I have tried to add some more details below to answer these Questions.
5 Key Questions About the Reliance Jio Phone – Answered.
1. Will JIO Phone Support Facebook ?
Answer – Yes (most likely not confirmed by JIO website yet), The JIO Phone comes with the support for Facebook.
2. Will the Reliance JIO Phone Support WhatsApp?
Answer – No, It is unlikely to have any support for WhatsApp.
3. Does Jio Phone come with Support for WIFI or Hotspot?
Answer – Yes the Jio Phone does have support for WIFI, or it is not clear if it has support for creating a mobile Hotspot.
4. How to Buy the JIO Phone?
Answer – You can pre-book the phone from 24th August 2017 on any JIO retailer, JIO digital express store or from My JIO App. Can read more details here – How to Buy the Free JIO Phone (Booking, Sale Date).
5. Is the Reliance JIO Phone free?
Answer – The Phone is not free as you have to pay Rs. 1500 as a security deposit which is refundable after three years. Additionally, you need to spend Rs. 153 monthly to use the data benefit. The voice calling is free though.
How to Buy the Free JIO Phone (Booking, Sale Date)
Jio has introduced the new JIO Phone which the company is marketing as a free phone for the buyers. However the for buying the JIO phone, you need to shell out Rs 1500 as deposit and you will also need a Rs 153 recharge.
The total cost of owning the phone is Rs. 1653.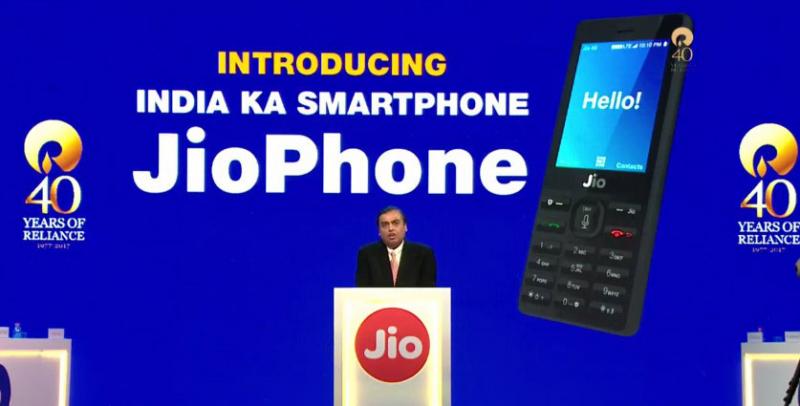 The deposit amount is refundable and will be given back after a period of 3 years which is a very long time. The JIO phone pre-booking will start from 24th August 2017 and customers can book the JIO phone from a JIO retailer, JIO digital Store or can also be booked online from the MyJIO App.
How to Book the JIO Phone Online from Official Website or App
The JIO Phone pre-booking can also be done on this official JIO Website and it will start from 24th August 2017 @ 5:30 pm. – Link to Book the JIO Phone. You will need to deposit Rs. 500 at the time of pre-booking and Rs. 1000 will be paid at the time of picking up the JIO phone from Reliance Digital store.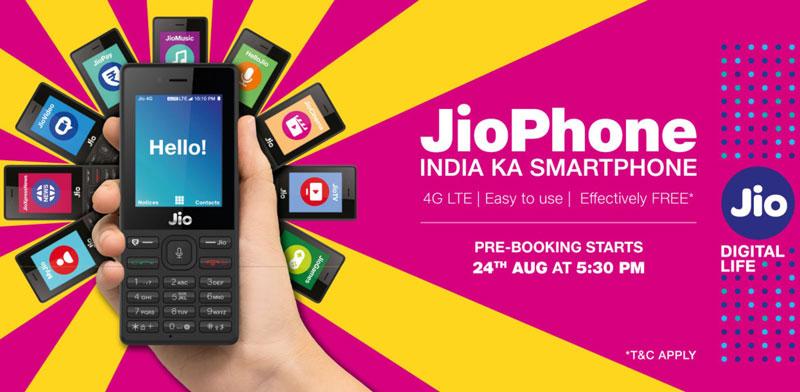 The smartphone delivery and sale will start from 1st week of September 2017, you will also get an SMS from the company which will have the details of which store you have to visit and when to pick up the JIO 4G Phone.
You will be required to pay Rs 1000 to the JIO Phone store when you pick up the phone and will also need to do a recharge of either Rs 153 or 309, 399 to use the JIO Phone.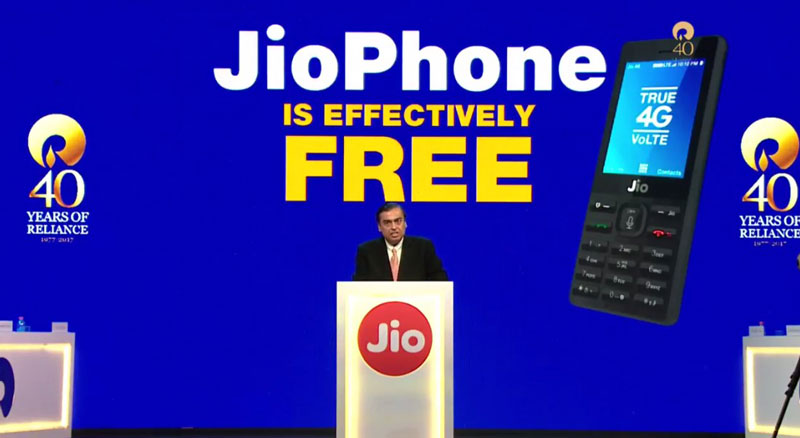 JIO plans to sell around 5 million sunch JIO Phone (India Ka Phone). As Mukesh Ambani stated there are around 50 crore feature phone users who may want to upgrade to a better JIO phone with unlimited calling and unlimited data benefit with the JIO phone.
This can be a good deal for buyers who have low spending capacity and can't buy a new 4G smartphone which costs around Rs. 3000 to Rs. 4000.
JIO Phone FAQs and Features Explained
People looking to buy the JIO phone are asking several questions, that we will try to answer in this post. The JIO Phone was launched by Mr. Mukesh Ambani on 21st July 2017.
Notably, it is available for free but you need to deposit a Rs. 1500 refundable amount to JIO, in order to get the new JIO Phone. The pre-Booking starts from 23rd August both from the My JIO app, by visiting JIO retailers and digital stores.
Let's look at some of the key questions and their answers.
Does the JIO Phone support for WIFI, FaceBook, WhatsApp, HotSpot?
There is yet not a 100% clarification what features the JIO phone will have out of these. Since the phone itself is under-development and there is still more than a month for it to go on sale. The sale starts in September 2017.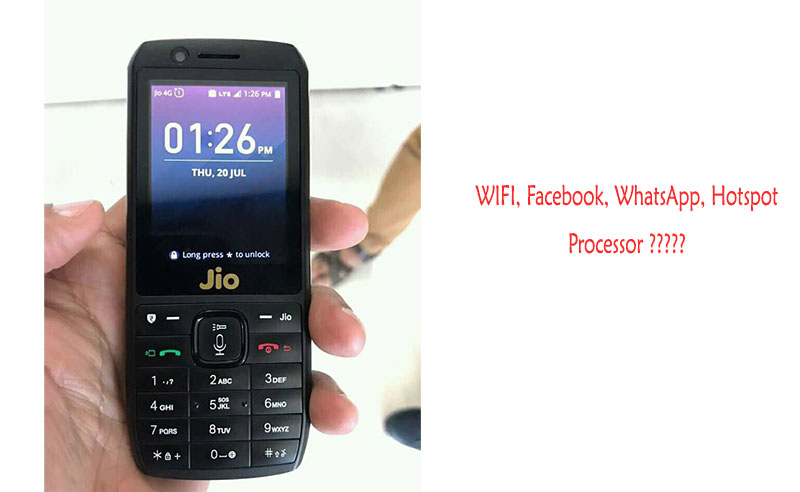 To that end, after digging into these features, here is what we got.
Does the JIO Phone support FaceBook?
Yes, it has support for Facebook but JIO is yet to confirm this. Also, NDTV Gadgets shared this information.
Does the JIO Phone come with support for WhatsApp?
As was pointed by Financial Express and several other news media websites, the phone does not support for WhatsApp. Not to mention, at this stage, it is unlikely to have WhatsApp.
However, we think that WhatsApp is a really essential feature with 200 Million Indian users. And JIO should include it on the feature phone.
Does the JIO Phone Support Youtube?
The Phone is likely to come with support for Youtube Application (not confirmed). Nevertheless, it comes with support for MyJio, JioTV, JioCinema, JioChat, JioMusic, JioXpressNews.
Support for WIFI connection or creating a Hotspot – Yes, JIO Phone come with support for connecting to a WIFI network (Confirmed By official JIO Phone specs)
Mobile Hotspot – It is not officially communicated whether the phone offers support to create a mobile hotspot – but it is likely to have this feature (not confirmed).
It comes with the following features and will also have the support for NFC (confirmed). The phone also comes with voice command support.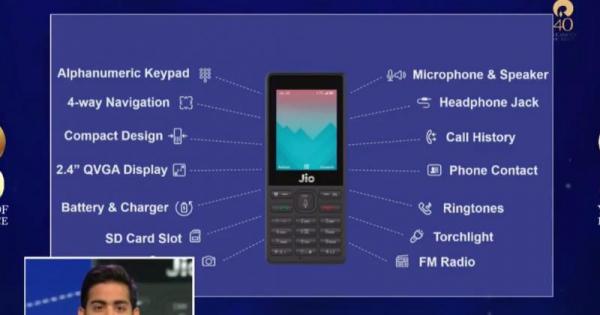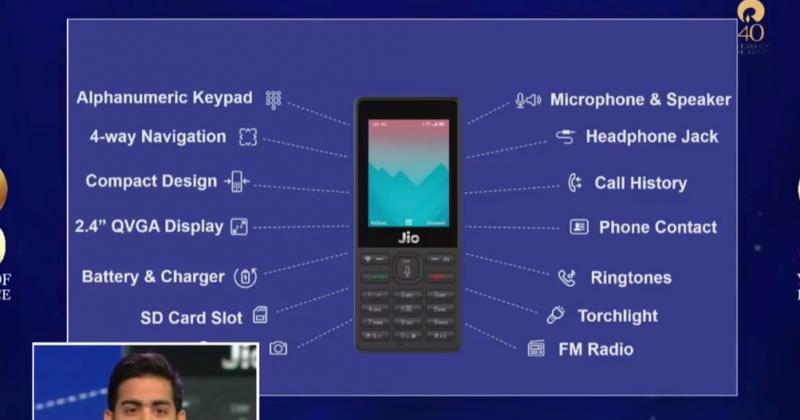 What Processor is Used in the JIO Phone?
JIO has officially shared that the JIO Phone uses a 1.2 GHz Dual Core processor, manufactured by Spreadtrum. The smartphone comes with an SPRD 9820A/QC8905 Chipset. What's more, The it comes with the Mali-400 GPU with a clock speed of 512 MHz. Also, the phone comes with 512 MB of Ram and runs on the KAI OS.
Additionally, 28 NM process is used to make the processor. So, we can expect decent battery life and performance from it.
Does JIO Phone have NFC Support?
Yes JIO Phone comes with NFC support and even has support for micro USB 2.0.
Is JIO Phone a Dual Sim Smartphone?
No, the JIO Phone comes with a single Nano sim support as confirmed by the official specs shared by the company.
What is the Storage on JIO Phone and is it expandable?
The JIO Phone comes with 4 GB of internal storage and you can expand the storage to 128 GB using the Micro-sd card slot.
How to Buy the JIO Phone and What does it actually Cost?
You will need to spend Rs. 1500 on JIO Phone and additionally will need to recharge it with Rs 153.
I have answered some of the key questions, based on the prelim information we have got for the JIO Phone. If You have to share some information or update please add that to the comments below. Also, if you have any queries please ask that as well in the comments below.