How Fast?- Ram reviews are not the most exciting stuff to read or write, but this review will try to answer some more fundamental questions and understand how RAM can impact the overall performance of your PC.
Whether you are a gamer or not, we have you covered if you use your PC for video editing with software like Adobe Premiere Pro or After Effects or for image manipulation with Photoshop or Adobe Illustrator.
Some insights on how much a better ram improves your productivity in day-to-day things. Also, Does DDR4 high-speed ram makes a difference in gaming.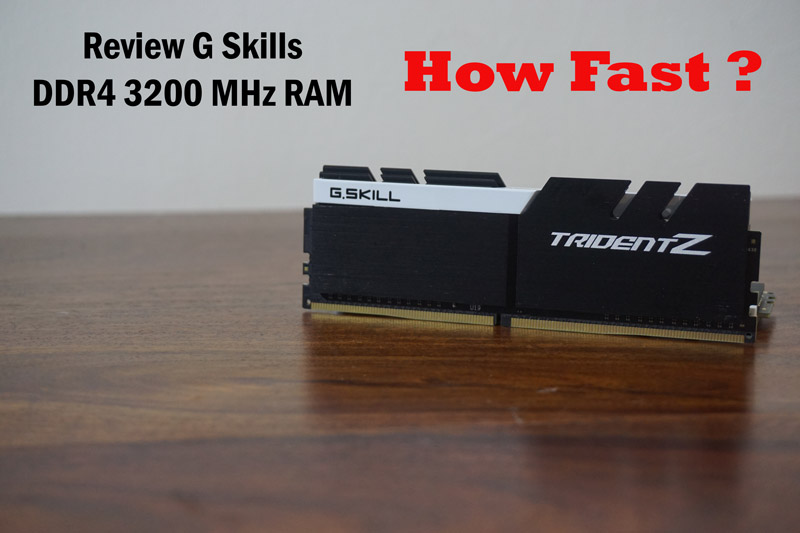 In this review, we will cover and compare, Performance benchmark of 16 GB DDR4 Ram (Clocked 3200 MHz Vs. an 8 GB RAM and a slower clocked 16 GB Ram at 2133 MHz. Also, I will look at how to install the RAM correctly to ensure it works in Dual Channel rather than a single channel.
Single Channel installation can have a slight impact on the performance compared to the Dual Channel configuration. In layman's words, if you need 16 GB of RAM, better buy two 8 GB sticks rather than purchasing a single 16 GB stick.
3 Important Questions I would try to answer in this review :
Should you buy 16 GB RAM or 8 GB RAM for Gaming, Photoshop, General tasks, Video editing.
Single Channel Ram performance Vs. a Dual Channel RAM performance
The performance difference between 2133 MHz RAM and the 3200 MHz RAM.
But before that, let's do the unboxing and understand the basic Specs for our G.Skill DDR4 RAM (3200 MHz).
UN-BOXING G.Skill DDR4 RAM
Un-boxing – The RAM we got has 2 Sticks, with each stick of 8 GB capacity, and we can add these DDR4 Ram to our Z170 or an X99 motherboard. The RAM comes in neat and primary packaging.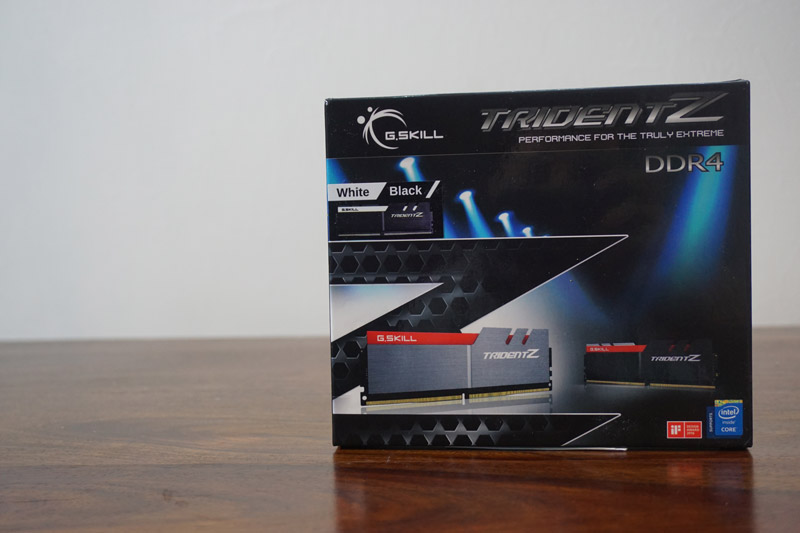 Design – The Trident Z RAM looks aggressive and true gaming Ram with the Red and Matte Grey finish. The Fins or the heat sink, meant for heat dissipation, also carry a sharp look and have a broad surface to keep the ram cooler.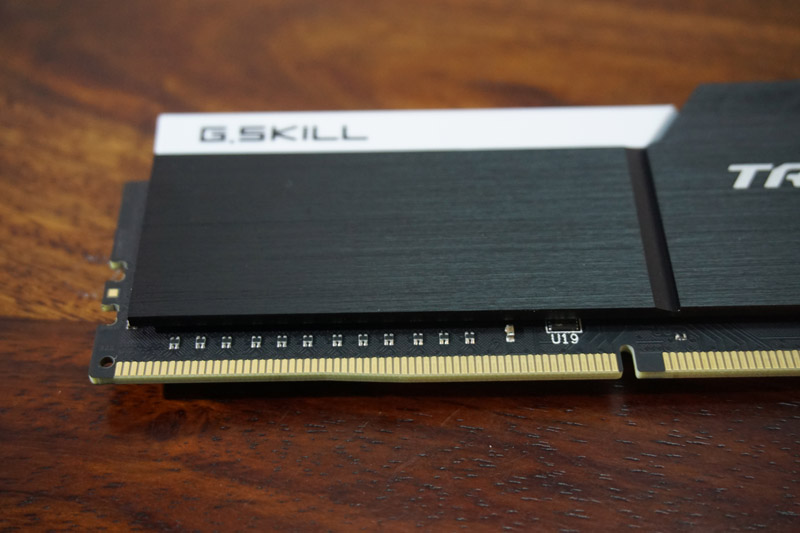 The design and build quality are top-notch for the Ram and look sturdy and robustly built. I was worried if it would fit along with our large Hyper 212X cooler, but it did quickly.
Key Specs G Skills RAM
Clock Speed 3200 MHz
Capacity – 16 GB (2*8)
Supports Intel XMP 2.0
Low Latency – 16-18-18-38-2N
Voltage – 1.35 V
288-pin UDIMM
Height – 44 mm
Made in Taiwan
Lifetime Warranty
Ideal for Gaming PC or Video Editing (After Effects) and Adobe Photoshop work
Price – $92 or Rs. 9000
DDR4 RAM Installation the Right Way
Review G Skills DDR4 3200 MHz RAM TridentZ: Let's Get to the Installation – You will need to install the RAM in Dual Channel Configuration as we have two sticks. It is best to check the manual for your motherboard, which looks daunting.
You can always insert one Ram on a slot, leave one slot empty and add another stick in the 3rd slot. In some boards, it will work, and in some boards, you may not have to leave the empty slot.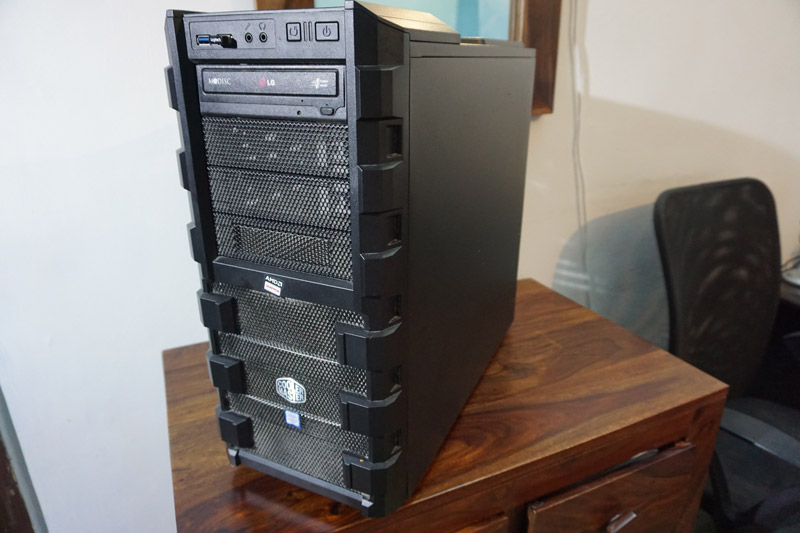 In the case of Gigabyte, you have to leave a slot empty, and that's all about installation.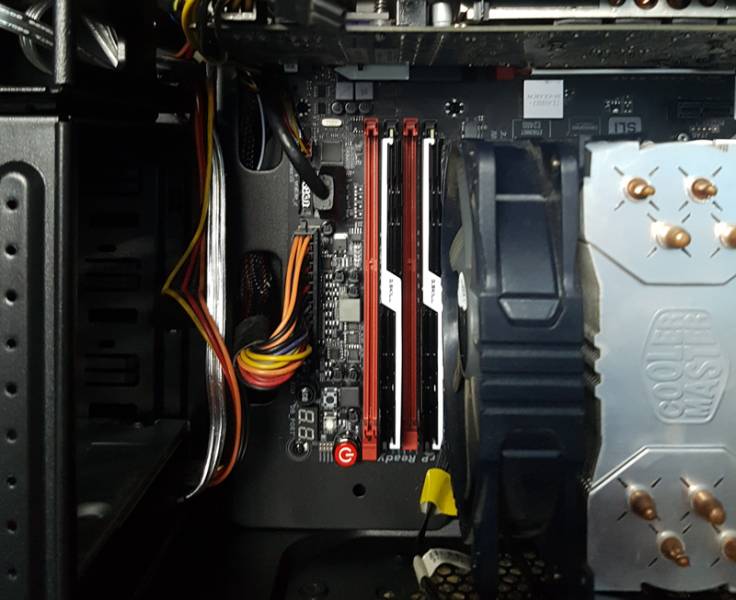 Installation of RAM – 3 Important things:
1). Check that the securing clip on the board has fastened the Ram properly; you will usually hear a click sound when it closes.
2). Download and install CPU Z. You will see that the RAM is in Dual Configuration.
3). Go to Bios and check if the RAM is set to the highest frequency and the Intel XMP profile is enabled; in our case, by default, the Ram was on 2133 MHz, allowing the XMP to profile automatically raised the clock to 3200 MHz. Make sure that you are getting the Speed you have paid for.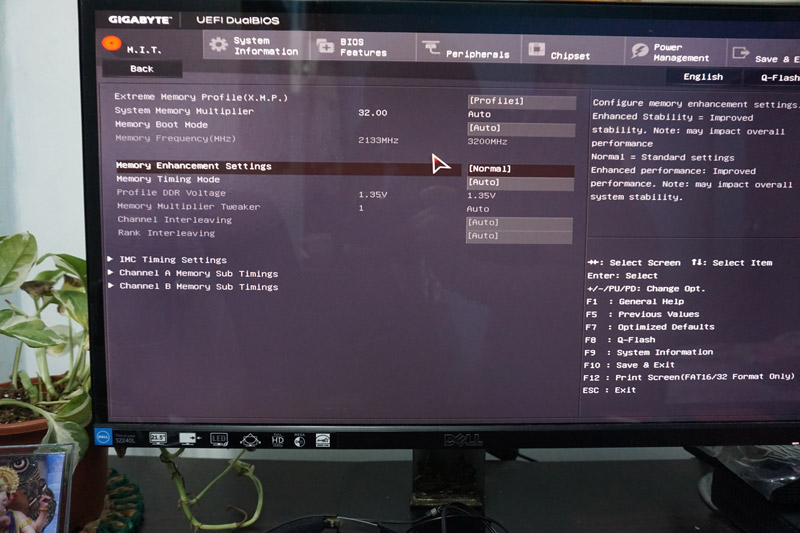 So that's all the care you need to take while installing the RAM.
Troubleshooting Ram Install issues – If you get a beep sound while installing the RAM, it is likely that you have added the RAM to the wrong slot or you have not mounted it properly. Also, be careful not to push it too hard on the motherboard can cause damage to dim pins.
Our TEST Gaming Rig Specs
Intel Core i7 Skylake 6th Gen 6700 K Clocked @ 4.2 GHz.
16 GB G.Skill DDR4 RAM clocked at 3200 MHz.
Cooler Master Hyper 212 X Processor Cooler.
Gigabyte Z170 Gaming X Series 7 Motherboard.
Samsung Evo SSD 128 GB and 1 TB HDD Seagate.
Haf 912 Cooler Master Cabinet.
Dell FHD Monitor 1080P
More excellent master 650 Watts Bronze PSU
GPU – AMD R9 280
Latest Radeon Drivers
TEST Methodology – Important
Now we will compare 8 GB RAM performance Vs. 16 GB, we removed one of the sticks to do the benchmarks, and it also gives you an idea of Single-Channel 8 GB performance Vs. a 16 GB Dual Channel performance.
The second thing we did was benchmark the Performance difference between 2133 MHz RAM and the 3200 MHz RAM. I disabled the XMP profile and set the RAM speed to 2133 before doing the benchmarks again. (Yes, it is painful and time-consuming, but we discovered some excellent insights).
Benchmark and Performance
Windows 10 Boot-Time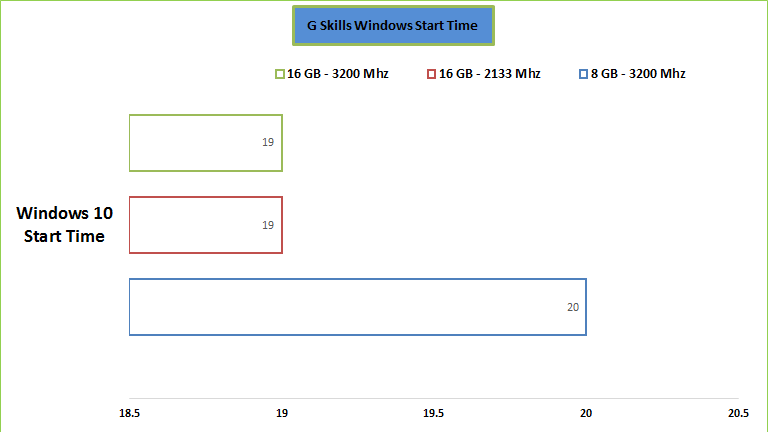 Windows 10 Shut Down Time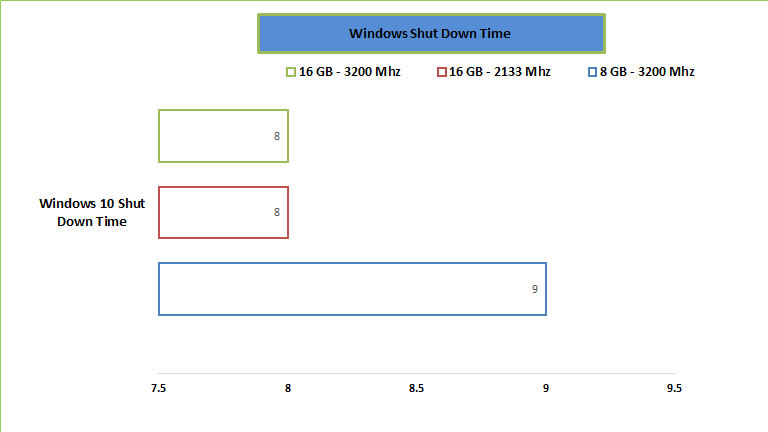 Synthetic Benchmark – Passmark Performance
Let's Move to Synthetic benchmark performance – We downloaded a free utility Passmark that helps with testing Ram Write Speed, Read Speed, and Latency.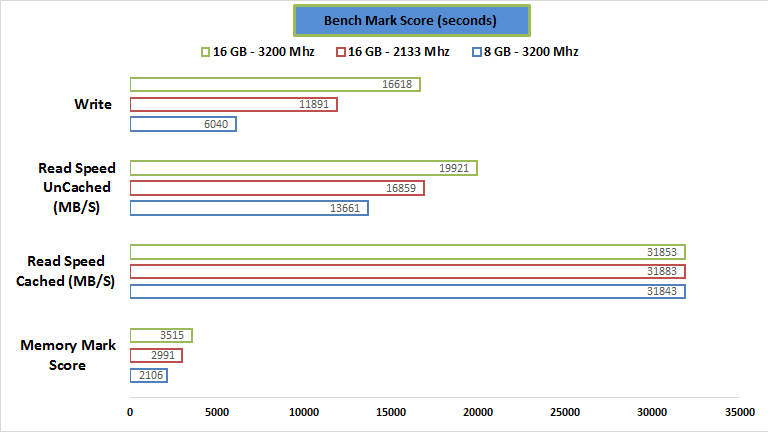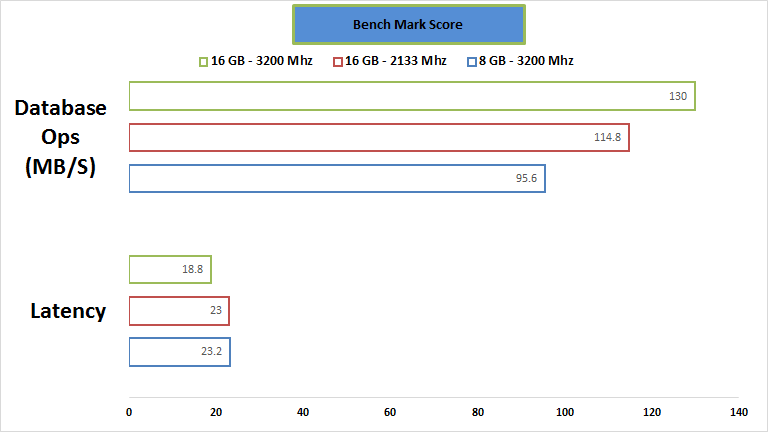 Real-World Benchmark Performance
Let's Move to Some accurate world benchmarks; synthetic benchmarks provide good numbers and tell it is fast but can't quantify in actual day-to-day performance gains.
Adobe Premiere PRO – Editing a Video in Adobe Premiere Pro and rendering the Output.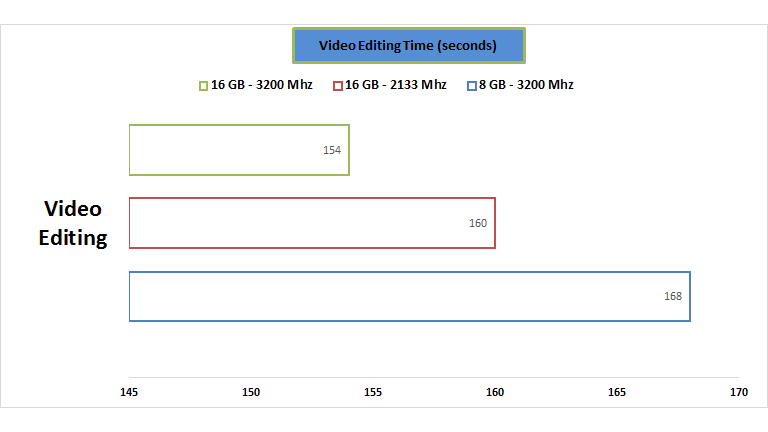 Photoshop – Editing a huge Image 6000 px and Saving it for Web.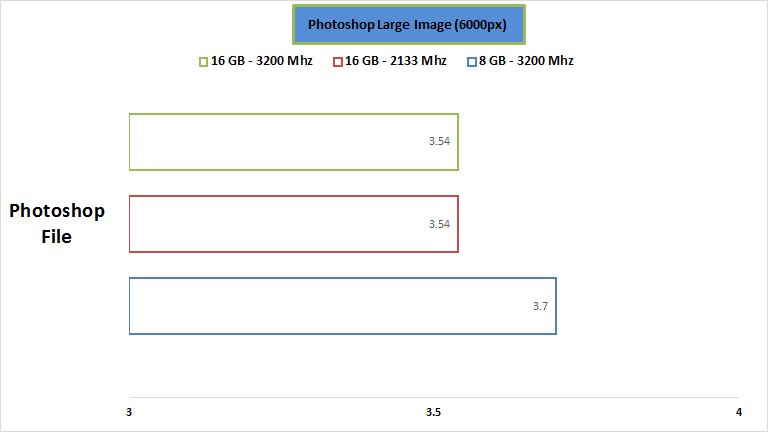 Compression and Decompression
Compressing a File Using Win RAR – Our File was 450 MB and had 40,000 files and folders.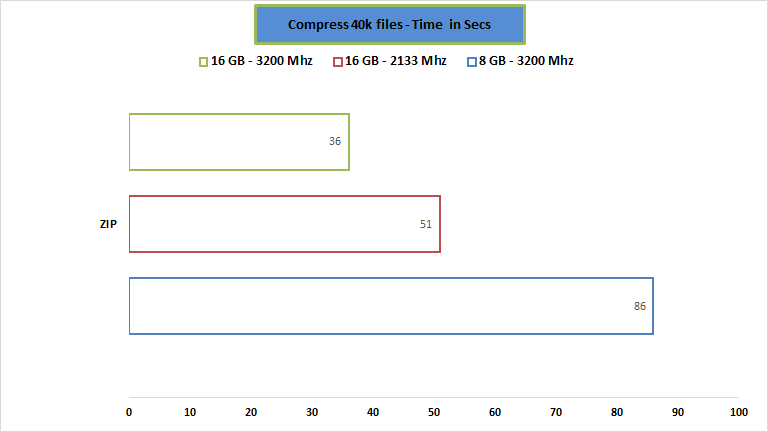 De-Compressing the Same File to see does it make a difference in actual world day-to-day tasks.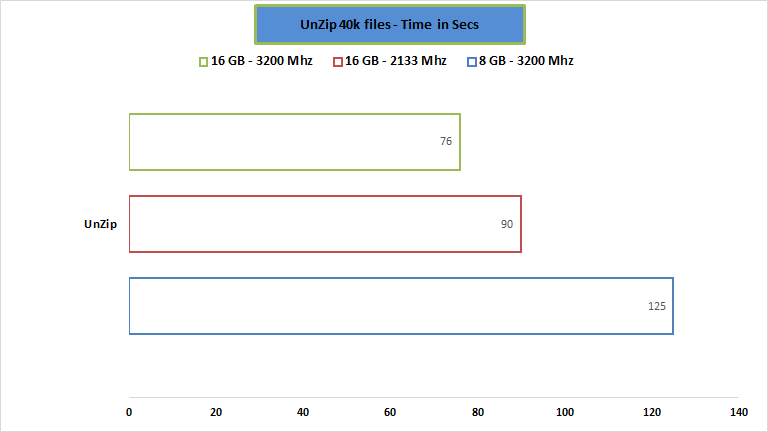 Web performance – I didn't notice any difference while working in Chrome or opening-closing of Office suites and programs.
Gaming Benchmark G Skills DDR4 3200 MHz RAM TridentZ
Review G Skills DDR4 3200 MHz RAM TridentZ: Now let's Get to Gaming performance – I tried the punishing title – Crysis 3 and then battlefield 4 (which is not so demanding). There was hardly any benefit from the RAM speed or capacity. The loading speed may have improved, but games require internet and connection to the origin, which also impacts the load time.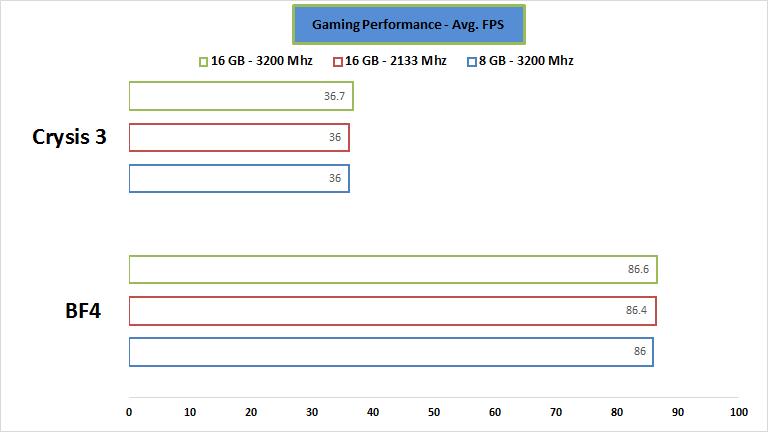 ---
If you would like to see the complete installation as well as a Closer look at the G Skill TridentZ DDR4 RAM – (Video Review)
Detailed Video REVIEW

Concluding Thoughts Review G Skills DDR4 3200 MHz RAM Performance Benchmark
Let's try to Answer the Questions which we thought at the beginning of the Review :
1). Should you buy 16 GB RAM or 8 GB RAM for Gaming, Photoshop, General tasks, Video editing.
As the benchmark shows, you are good with even 8 GB, but if you buy a new PC and want to do many other things, you should consider 16 GB, of course, depending on your budget.
All general compression, installation of games, and other tasks will be faster than the 8 GB RAM.
2). Single Channel Ram performance Vs. a Dual Channel RAM performance?
It makes a difference; in our test, we used 16 Vs. 8 GB config, so the results were a bit skewed; I will carry out another round of questioning with a 3000 MHz Corsair RAM with 16 GB config single stick Vs. the Dual Sticks to share more on this.
But as per my experience, as I have been using both, a slight advantage exists in using Dual Channel configuration. It is better to buy two sticks, each 8 GB, rather than purchasing a single 16 GB stick. It will, though, cost more to buy two sticks.
3). Performance difference between 2133 MHz RAM and the 3200 MHz RAM.
Our benchmarks suggest the advantage of High-speed RAM in many tasks over the lower-clocked Ram. The higher we get, the better, of course, keeping the budget insight.
For gaming, however, there is no difference if you switch on your PC and dive into Battlefield 1 or the Witcher 3; it is not going to amuse you spending a lot on the highest clock RAM.
I recently built a system for myself and got a Core i7 6700k and Gigabyte Gaming 7 board, and I got 16 GB 3000 MHz RAM purely as I work and play games.
It feels faster and works great. If you are building a new PC, get the best and fastest RAM your budget allows; if you plan to upgrade your existing PC and replace Ram for gaming purposes, it may not give the desired boost in FPS.
Another option is to get a slightly higher clocked 3400 MHz G.Skill DDR4 RAM.