Today we are doing a round-up of some of the Best Cabinets you can buy in India for your gaming PC. We will start with the budget gaming PC cabinet starting at Rs. 2000 and will gradually move up to Rs. 5000($90) and even Rs. 10,000(120$).
I have changed 4-5 cabinets for my PC in the last few years and also reviewed many different cabinets from Corsair, Cooler Master.
The list below is based on best design and reliability and what I think will be the best value for money cabinets for Gamers looking to build their Gaming Rigs.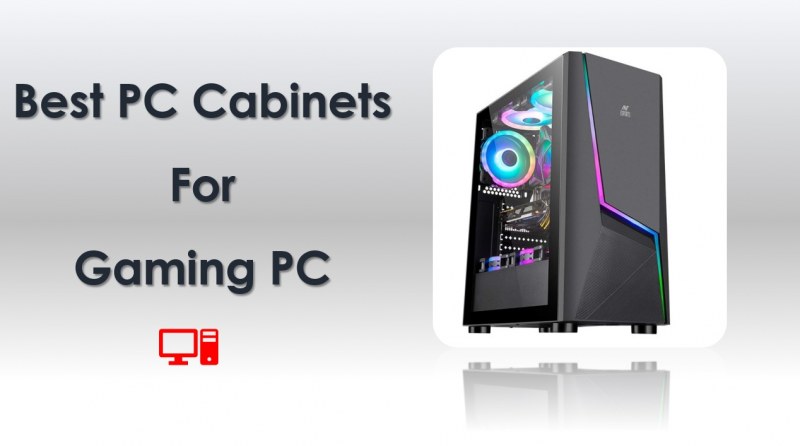 Your Computer Case serves three basic purposes:
House all your PC components
Provides adequate cooling to the PC hardware (processor, graphics card, Motherboard, SSDs, and Ram).
Make your PC look Dope!
How to choose the best cabinet for Your gaming PC?
You may consider these 2 Major points before buying a PC Cabinet.
What is your budget for the PC cabinet? When building a gaming PC some Gamers tend to buy the cheapest cabinet and PSU – This is a bad choice, your graphics card, CPU, and motherboard require adequate cooling and power supply. Factor in the cost of PSU and Cabinet in the Rig, don't try to fit in the cheapest.
How much space do you require in the cabinet? Do you need more than 1 GPU, Need 2-3 HDD and SSD in PC? Think about it and then decide.
The number of USB ports, general design, ability to add more cooling fans is some more things I would look at before buying a new cabinet.
Quick Tip – Check for the graphics card length whether it will fit in the small cabinet you are buying. Some cards like Nvidia RTX 3080 or AMD 6800XT are long, check the cabinet specs if it has enough space to house it. Space, where you are going to keep the cabinet, is sufficient to house it with ease.
Also, some of the processor coolers are too big in size and may not fit the cabinet check for the processor cooler height before buying the cabinet.
We are done with the basics and requirements for choosing a cool cabinet for your gaming rig. Let's check out some of the best value for money cabinets. Let's begin with the low price PC cabinet which is ideal for gamers building a RIG with a Budget of Rs. 20,000 to 50,000.
7 Best PC Cabinet for Gaming PC Build India
Starting with a basic cabinet for a low-end starter budget Gaming PC Build we have CHIPTRONEX X310B Mid Tower ATX Cabinet.
1. CHIPTRONEX X310B Mid Tower ATX Cabinet:
Price – ₹ 1999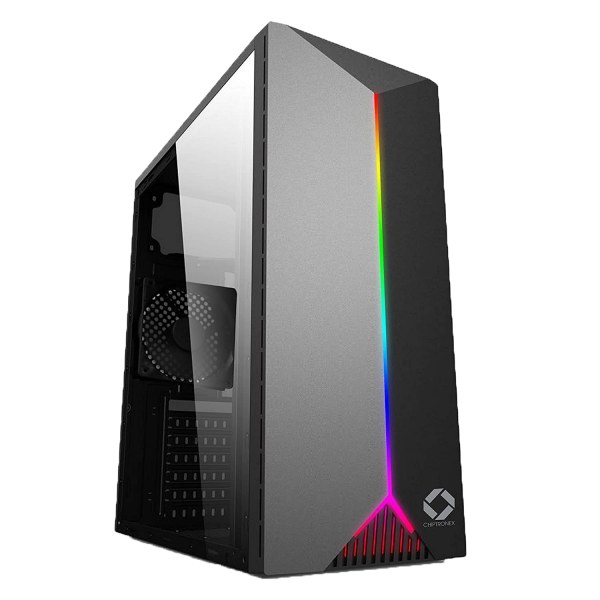 The Chiptronex X310B cabinet is quite spacious and is excellently styled with a front RGB strip. The cabinet is available for just Rs. 1999 but looks more premium than the price.
The button at top of the case enables the RGB lighting with a single click and is convenient.
The cabinet is compatible with any motherboard form factor- ATX, Micro ATX, and Mini ATX.
The dashing Acrylic side panels give a clear and beautiful look at your fabulous components.
It supports up to 280 mm Graphics card length and up to 150 mm of CPU cooler height.
You can use two HDDs and an SSD with this case.
Key Specifications:
Transparent Acrylic side panel
Front RGB strip
Ports – USB 3.0, 2 * USB 2.0, HD Audio
Maximum Supported Graphics card Length upto 280mm
Max CPU cooler height of 150MM
One – 120 mm fans Pre-Installed
Can Use up to – 3 x 120mm fans on the front side.
Dimensions – 35 x 18.5 x 42 cm
Supports a 3 * 120 mm fan on the front, and a single fan at the rear side.
How to Build a Gaming PC for a budget of Rs. 20000, 30000, or Rs. 40000.
2. Ant Esports ICE-130AG Mid Tower Computer Case I Gaming Cabinet:
Price – ₹ 2,690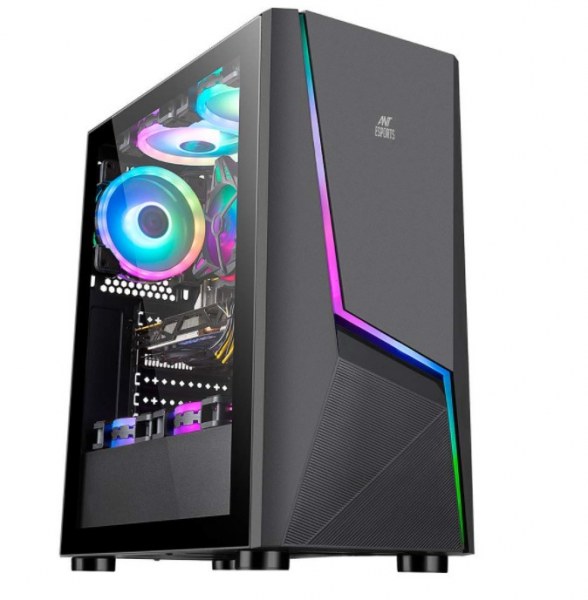 The Ant Esports gaming cabinets' build quality is sturdy and has an elegant look with an LED strip on the front panel. The build quality is slightly better than the Chiptronix case we have listed above and if you can spare some money can go with this cabinet.
The cabinet comes with magnetic dust filters to trap the dust and keep the insides clean also the filters are easily removable for cleaning.
The side panel is transparent making all your fantastic components visible.
You can use three 120 mm fans on the front, 2 at the top, and 1 at the backside to maintain adequate airflow in the case.
It is spacious and can fit the CPU and GPU easily and also has plenty of space to add more hard drives or SSDs. The case has good airflow and cooling and supports up to 7 cooling fans.
It is compatible with all motherboard form factors.
Key Specifications:
7 * 120 mm fan support
2* HDD, 2* SSD, and 7* PCI slots
Transparent side panel
Pre-Installed Fans -1
Maximum Graphics card length – 265 mm
Maximum CPU Cooler Height – 150 mm
Supports ATX and M-ATX boards
Front side Ports – 1*USB 3.0, 1 * USB 2.0, 1 Audio In, 1 Mic
Top & Bottom Magnetic Dust Filter
Dimensions – 34.4 x 19.6 x 43 cm
3D air ventilation system
3. Corsair Carbide Series CC-9011050-WW Mid-Tower Steel Gaming Case with Red LED (Black):
Price – ₹ 3,350
Looking for a reliable branded cabinet – look no further the new Corsair Carbide Cabinet is an excellent choice for Gamers looking for a cabinet in the Rs. 3000 to Rs. 4000 price range.
The cabinet comes with 2 years of warranty from Corsair India.
The Corsair Carbide gaming PC cabinet is spacious with a large transparent side panel window.
I am using this cabinet for the last 1 year for my second PC and so far it has worked well. Corsair builds the best cabinets.
The cabinet has a stylish design with a clean look and lasting construction. You can arrange up to 5 fans of 120 mm. The cabinet offers excellent cooling and Airflow and has robust built.
The cable routing cutouts help to lessen clutter while the in-built dust filters preserve the segments.
This case contains front ports for USB 3.0 with an internal connector. With this device, you can organize up to four storage drives and 7 PCIe slots.
The cabinet is not too broad so be careful with the cooler selection for the processor. You can easily fit a liquid cooler and even some of the smaller Air coolers with a max height of 150 mm.
Key Specifications:
USB 3.0 – internal connector
Transparent and big side panels
7 PCIe slots
2 Front 120 mm fans, 1 top fan, and 1 at the back.
Dust filters for PSU and front intake
CPU cooler backplate
Dimensions – 47.75 x 19.81 x 42.93
Can easily fit a large graphics card like GTX 1660 or 1660Ti
4. Ant Esports ICE-200TG Mid Tower Gaming Cabinet Computer case with RGB Front Panel:
Price – ₹ 3,299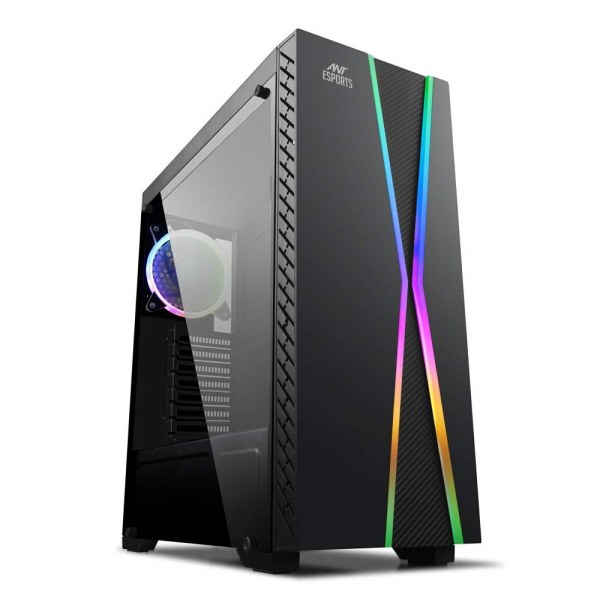 The ANT Esport Cabinet is engaging with its dashing RGB LED look. It has a black glossy finish.
The cabinet is slightly bigger in size and if you plan to use a large graphic card this can be an ideal cabinet to house the GPU without running into any issues.
The side panels are transparent and protected by tempered glass. The RGB LED can be controlled with a button.
The cabin has decent cable management support and a separate power supply zone. It supports 2 * HDD, 2 * SSD, flash card reader, support ATX, Micro-ATX, Mini-ITX motherboard.
The port interface is available at top of the cabinet for easy accessibility. The top port has 1. LED Effect Toggle, Power, Reset, Headphone, Microphone, USB 2.0, SD/TF Card Reader, USB 3.0 port.
Key Specification
Tempered glass side panels
Button controlled RGB LED
Supports 3 * 120 mm fan at the top and 2*120 mm fan at a rear side.
Pre-installed 120 mm fan at the rear side
3 Front 120 mm fans, 1 top fan, and 1 at the back.
Dimensions – 42.7 x 18.5 x 460 mm
Graphics card length – less than 330 mm
Processor Air Cooler Height – 150 mm
Ports – 2 *USB 2.0, USB 3.0, Audio in, Microphone jack, SD/TF card reader
The above 4 cabinets are ideal for building Gaming PC in the sub 50k to 60k price range and if you are building a beefier PC then I will suggest getting a bigger case as the processor cooler and graphics cards usually take a lot of space.
5.Cooler Master K380/Window/USB 3.0 Cabinet:
Price – ₹ 3,972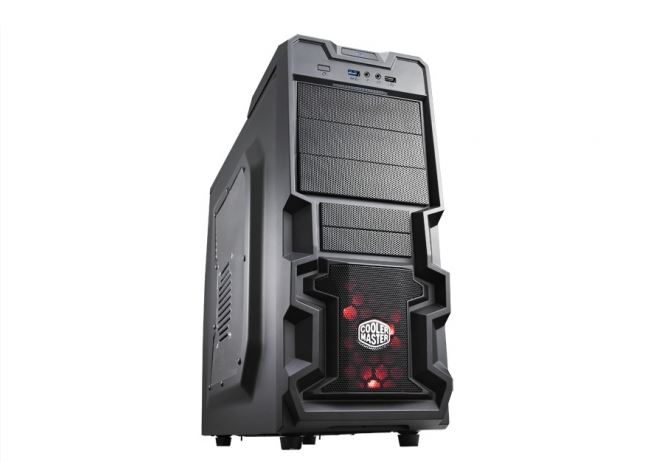 If you are looking for a strongly built military-grade cabinet, then Cooler Master K380 is the ideal choice. It looks aggressive and firm with a strong front grille and a bold design.
The cabinet is good for years of use and will not fail even with minor wear and tear.
You can fit any graphics card in this cabinet as it is quite spacious. The cable management is excellent and keeps your cables tangle-free. It can house any big card like 1660 super.
Key Specification
Honeycomb vent at the front panel for superior cooling.
Side panel with a large window with fan mounting.
120 mm red LED fan included, holds up to 4 fans.
Super speed USB 3.0 port.
Size – 47.9 x 20.9 x 44.5 cm;
7 HDD bays for increased expandability.
Spacious interior.
6.Cooler Master MasterBox K501L RGB V2 Mid Tower Gaming Case:
Price – ₹ 4,288
Cooler Master master box K501L is the cabinet build for a high-performance gaming PC. The stunning look is so alluring with red or purple color.
The cabinet is bigger than most of the cabinets that I have listed above.
It is so spacious and has adequate air ventilation. It is one of the best cabinets for mid-range and even high-end gaming rigs.
You can install a 360mm radiator on top for excellent cooling. The cabinet has got support for up to seven 120mm fans and an engineered airflow path.
You can also fit RGB fans or create the look as per your own preference.
Side panels are transparent with ventilation. The dons sharp design and striking lines provide the best airflow.
There is a PSU shroud that covers the PSU and makes your PC looks clean and minimalistic. Also, there is an edge-to-edge tempered glass on the side that showcases the whole PC.
There is sufficient clearance to add a monster 410mm Graphics card, 165mm for the CPU cooler, and 180mm for PSU.
This is the case you want to buy if you don't want to be worried about what will fit in and what will not or if you have a large graphics card with triple coolers that require plenty of space.
It comes with an illuminated button. The gamer core has a unique slat-angled design.
Key Specification
360 mm AIO compatibility.
Supports up to seven 120 mm fans.
Compatible with 410 mm graphics card, 165 mm CPU coolers, and 180 mm PSU.
Engineered airflow pathway
Dimensions – 49.6 x 21.7 x 46.9 cm
Preinstalled – 2 Fans – One RGB fan at the front and the other non-RGB at the rear.
Supports all the high-end gaming components
Edge-to-edge tempered glass side panel
USB 3.0 Type-A and USB 2.0 included
7. Thermaltake H200 Tempered Glass RGB Light Strip ATXGaming cabinet :
Price – ₹ 5,890
Model No – CA-1M3-00M1WN-00
Thermaltake cabinets are designed for PC builders. It gives you a sleek and clean polished look. It offers excellent cooling performance and has got a large hinged tempered glass panel.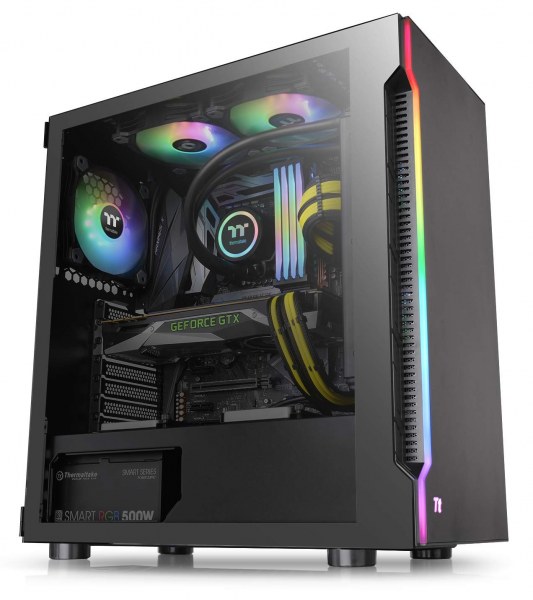 It supports up to the ATX motherboard. The gaming cabinet arrives with one pre-installed standard 120 mm cooling RGB fan. The RGB button lets you switch between 19 lighting modes.
The cabinet is compact but fits almost all the gaming components. The cables are easy to manage with the case.
The case has got Handy I/O Ports – we have two 3.0 USB ports on top of the front panel that grants direct access when needed
It has two magnetic dust filters, one at the top and then another at the bottom. The cabinet has sturdy build quality.
Key Specifications:
Clean and Sleek look
Tempered glass panel
Hinge door with a smart lock security system
Superior Hardware support
Supports CPU cooler up to 180 mm
You can use a long graphics card up to 320 mm in length
1-120 mm Fan is pre-installed
Dimensions -52.1 x 49.3 x 26.9 cm
Weight – 8.64 Kilograms
Unique RGB light bar
8. Montech X1 Black ATX Mid-Tower Gaming PC Cabinet:
Price – ₹ 4,500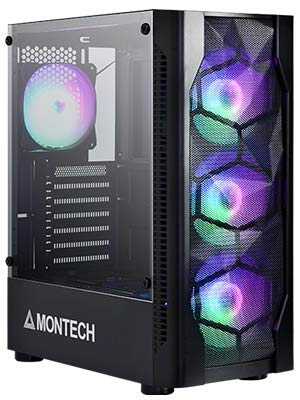 The Montech gaming cabinet has a gorgeous front panel. It has a mesh design with 3 RGB fans that allows superb Airflow inside the case and help keep the PC parts cooler.
There is a 120 mm fan at the back that removes the hot air from the case.
The fans are auto-flowing and can not be controlled manually with the button.
It has elegant tempered glass side panels. It can showcase your gaming build well.
The airflow has been maximized with the front mesh panel and the rear exhaust panel. The four pre-installed RGB fans give an excellent cooling performance.
Key Specifications:
4 pre-installed Auto-flow RGB fan
Tempered glass side panels
High airflow through mesh front panel and rear exhaust
Supports motherboards up to ATX form factor
7 expansion slots
Supports up to 5 * 120 mm cooling fan
Maximum Lenght for the Graphics card – 305mm
Max Height for the CPU Cooler:165mm

Dust Filters Top, Bottom
9. NZXT H510 Compact ATX Mid-Tower PC Gaming Case:
Price – ₹ 6,999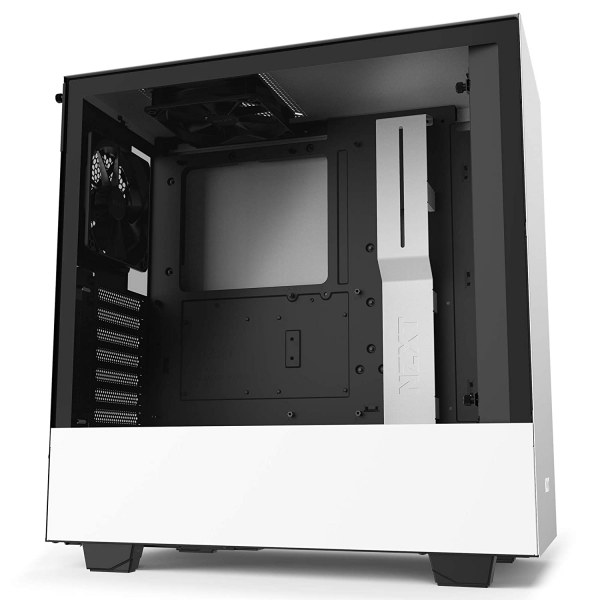 For the folks that like the minimalist yet elegant design – the NZXT case is the way to go.
The NZXT cabinets are clean and meticulously designed. It has simple to use SSD trays and a smarter and convenient cable management system that you will not find in the cheaper cases.
The NZXT gaming cabinet is ideal for high-end PC builds as they are spacious and allow you to assemble all the gaming essentials with ease.
It has a well-engineered air-flow, removable radiator mounting bracket, multiple-fan filters, and a front USB C connector panel.
Key Specification
Single Screw installation
Flattered cable management
USB 3.1 Gen 2-compatible USB-C connector on the front panel
Drive Bays – For SSDs 2.5 inch – 7 and for HDD 3.5": 2+1
Ports – 1 x USB 3.1 Gen 2 Type-C 2 x USB 3.1 Gen 1 Type-A 1 x Headset Audio Jack
Supports all form factor for motherboards
Pre-Installed Fans – 3+1
Dimensions – 42.8 x 21 x 46 cm
Weight – 7.76 Kilograms
Fan Support – Front: 3 x 120 or 2 x 140mm (3 Aer F120 included), Top: 3 x 120/2 x 140mm Rear: 1 x 140 (1 Aer F140 included)
Tempered glass transparent window
10. LIAN LI LANCOOL II MESH RGB Mid-Tower ATX Gaming Cabinet :
Price – ₹ 9,337
Model No – LANCOOL II MESH RGB – White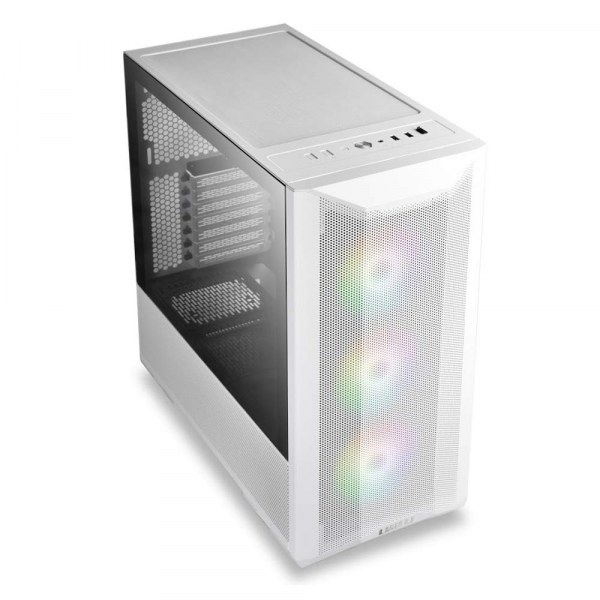 The Lian Li gaming cabinet has an appealing minimalist look. The honeycomb vent design with built-in RGB fans gives it a dashing glance. The all-White look makes it stand out from the crowd of black cabinets.
The lighting effects of the cooling fan can be controlled through the C and M buttons, located at the top of the front panel.
The cover plates can conceal all the cables perfectly. You can easily fit a large CPU cooler and also a long graphics card in this cabinet. Also, there is plenty of space to add SSDs and HDDs.
The gaming cabinet has advanced cooling support. It is a combination of the brand new mesh design. It has exhaust vent holes and three high-performance ARGB cooling fans.
Key specifications:
Hinged tempered glass flip panels
Premium build quality
Pre- Installed Fans – 3 x 120mm ARGB Fans
Honeycomb design with built-in RGB fans
Optimized Cooling support
Supports up to 10 multi-way fan
Fan Support : Front 3 x 120mm or 2 x 140mm , Top: 2 x 120/140mm , Rear: 1 x 120mm , Above PSU Chamber: 2 x 120mm
Modular Design – Easy to fit components
Radiator support up to 240 mm
Convenient cable management
Efficient Storage configuration
Dimensions – 55.88 x 29.21 x 55.88 cm
Modular PSU Shroud covers