Jio Phone Next (4G) was announced by Mr. Mukesh Ambani at Reliance Industries 44th Annual General Meeting (AGM) on 24th June 2021.
The new Android JIO Phone will go on sale on the auspicious day of Ganesh Chaturthi – on 10 September 2021.
The Jio Phone Next is a result of a partnership between Reliance Jio and Google that was announced last year(2020).
Mr. Mukesh Ambani and Google CEO Mr. Sundar Pichai have a goal to provide an affordable Android 4G phone.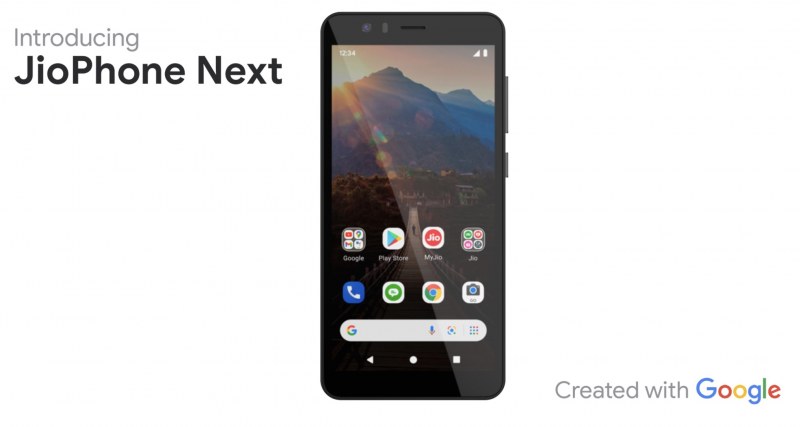 For achieving this goal, Last year in July Google invested Rs 33,737 crores in Jio platforms that come under "Google's India Digitisation Fund".

Let's talk about the specs of the Jio Phone Next:
It will be an entry-level smartphone that comes with a touchscreen display. The display looks small and will be close to 5.2 inches with substantial bezels at the top and bottom.
The smartphone is made from plastic and comes with a legacy design.
This new Jio Phone operates on a custom Android Operating system that is specifically designed by Google for Jio.
The phone also comes with a preloaded voice assistant and it will also carry a decent rear and selfie camera.
Connectivity options include Bluetooth, WiFi, GPS, and Dual-SIM 4G support. The Jio phone next doesn't have 5G support but will only offer 4G VOLTE.
The exact details for battery, processor, ram, and screen size are not available but we will update you as more details emerge.
We expect a battery capacity of around 3000 mAH, a Mediatek Quad-Core processor, and 1 GB Ram for this affordable phone.
The phone is likely to come within Rs. 4000 to make it more accessible for the masses.
There will also be special plans for the new Jio Phone Next offering 4G services at an affordable price.
Overall, the Jio Phone Next will give tough competition to the brands like itel, Realme, Redmi, Lava, etc that are making phones in the sub 6k price range.
Special Features for JIO Phone Next
The new Android phone from Google and JIO is getting a deeper integration to JIO apps that allows voice commands to do tasks like checking JIO account balance.
Check the image below and see how it works.
Jio Phone Next comes with the Text to Voice narration option and makes it very easy to listen to information. It is beneficial for users who can't read.
Also, users can easily translate any content on the screen or even in images from one language to another.
This will help many users who can only read their local dialect but don't know English.
Jio Phone Next – Initial Thoughts
The Jio Phone 1, and Jio phone 2 came with the Kai OS  – a simple OS that can't compete with Android in terms of Apps and features.
A lot of consumers want to upgrade to an affordable 4G Android Phone but there is hardly anything good available in the sub-5k price range.
If you remember Google also introduced the Android Go Operating System for affordable phones but it got limited success due to several reasons.
Mr. Ambani has a huge distribution network and has the ability to sell huge volumes.
I don't think that JIO will manufacture the phone in-house but it is likely to outsource the manufacturing to Itel with whom they have partnered to launch many Android phones (recently launched – Itel A23 Pro).
The Jio Phone Next is a very important launch for both companies as it will help them reach millions of untapped customers.
Also, Jio can gain customers from rivals Airtel and Vodafone Idea.
There are millions still using basic 2G phones with sim cards from Airtel and Vodafone idea.
That's the Big Opportunity for Jio & Google to have access to these folks!
Share your thoughts about the Jio Phone Next in the comments below. 
Thanks for reading, You May Also Like to Read: 
10 Best Affordable 4G Mobiles Under Rs 4000 in India (2021)
Top 5 Low Price Android Go Mobiles Worth Buying (2021)
Upcoming Jio Phone 3 (5G) launch, Offers, Booking Exchange Offers, Specs, Price
References –Google Blog