Jio Phone Next (4G) was announced by Mr. Mukesh Ambani at Reliance Industries 44th Annual General Meeting (AGM) on 24th June 2021.
The new JIO Phone will go on sale during Diwali starting from 4th November 2021.
It is the result of a partnership between Reliance Jio and Google, announced last year.
Mr. Mukesh Ambani and Google CEO Mr. Sundar Pichai have a goal to provide an affordable Android-based 4G phoneto the masses.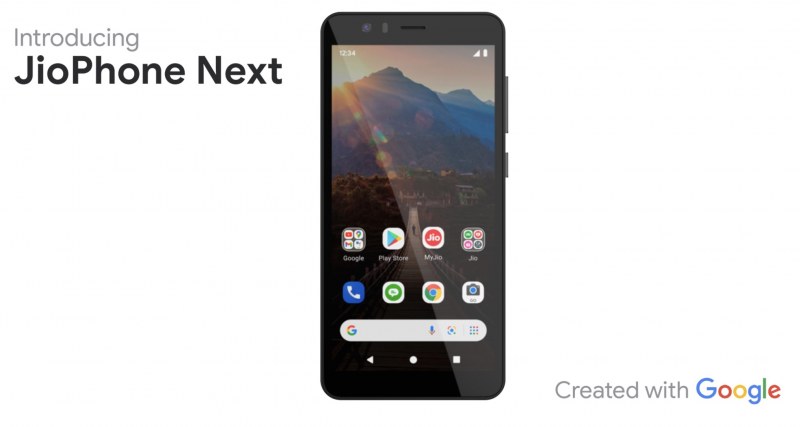 For achieving this goal, last year in July Google invested Rs 33,737 crores in Jio platforms that come under "Google's India Digitisation Fund".
Please Sign-Up (Click Here) to Get More Latest Updates About the Jio Phone Next and other Tech News.
Key Specs and Features – Jio Phone Next:
The Jio Phone Next is an entry-level smartphone that comes with a touchscreen display. The display looks small and measures 5.45 inches HD+ (1440*720) pixels with substantial bezels at the top and bottom.
The smartphone is made from plastic and comes with an old design.
This new Jio Phone operates on a custom Android Operating system that is specifically designed by Google for Jio.
The phone will run on a new Pragati OS developed by Google India. The word "Pragati" means progress in Hindi, and the JIO Phone Next also stands for the progress of India, as per the company.
Also, it comes with a preloaded voice assistant and text-to-voice features that I will explain subsequently.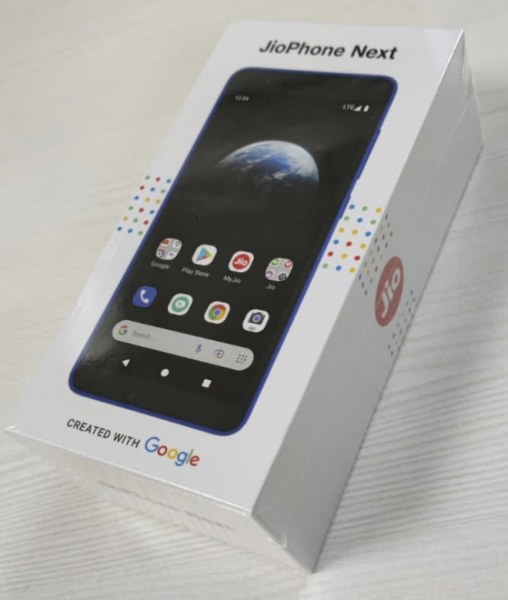 Connectivity options include Bluetooth, WiFi, GPS, and Dual-SIM 4G support. The Jio phone next doesn't support 5G but will only offer 4G VOLTE.
Furthermore, it has a 3500 mAH capacity battery (that's not huge) and comes with standard charging support (lacks fast charging). There is a 7.5 Watts Charger supplied with the handset that can take more than 2.5 hours to fully charge the battery.
The Qualcomm Snapdragon 215 is not one of the faster processors out there in the budget segment. The SD 215 scores only 606 on the GeekBench Single-Core test and 1516 on the multi-core test. In comparison theXiaomi Redmi 9A, price Rs. 6799 (2 GB Ram and 32 GB Storage) comes with the Mediatek Helios G25 Octa-Core processor.
The Single-Core score for the Redmi 9a is 711 whereas the Multicore score is a massive 3256. There is a huge performance difference between both devices.
Considering the SD 215 is a Quad-Core processor it doesn't have a great multi-core score. However, Google's Pragati OS may still run well, if they have optimized it.
Furthermore, there is a 13 MP rear camera on the device that offers decent imaging capabilities. The phone comes with an 8 MP Front selfie camera.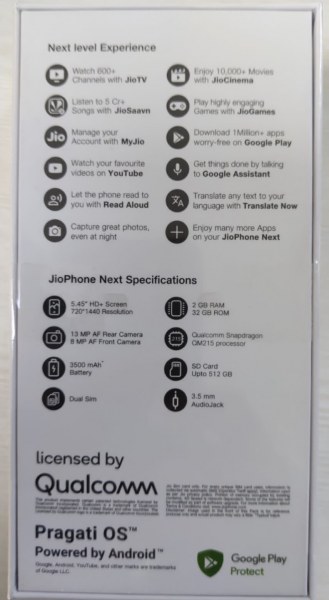 Price and Launch Offers – JIO Phone Next
The JIO Phone Next will cost Rs. 6499 and there is also an EMI option.
The Jio Phone Next will be available for Rs. 1999 for the base price with EMI and comes with 4 plan options to pay the EMI.
Always On Plan
24 Months – Rs. 300 per month and you will get 5 GB of data and 100 minutes every month.
18 Months – Rs. 350 per month and you will get 5 GB of data and 100 minutes every month.
Large Plan
24 Months – Rs. 450 per month and you will get 1.5 GB of data per day and Unlimited Voice minutes.
18 Months – Rs. 500 per month and you will get 1.5 GB of data per day and Unlimited Voice minutes.
XL Plan
24 Months – Rs. 500 per month and you will get 2 GB of data per day and Unlimited Voice minutes.
18 Months – Rs. 550 per month and you will get 2 GB of data per day and Unlimited Voice minutes.
XXL Plan
24 Months – Rs. 550 per month and you will get 2.5 GB of data per day and Unlimited Voice minutes.
18 Months – Rs. 600 per month and you will get 2.5 GB of data per day and Unlimited Voice minutes.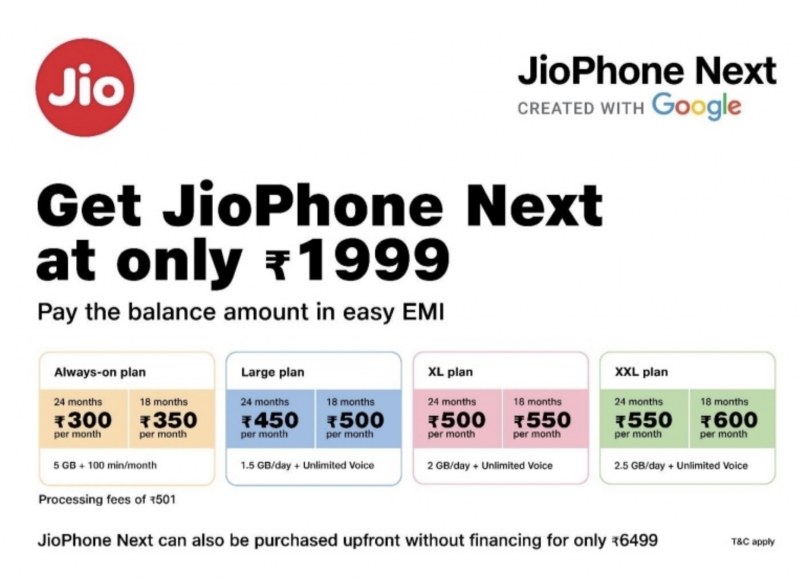 Also, there is a processing fee of Rs. 501 applicable when you buy the phone on the EMI.
Overall, the Jio Phone Next will give tough competition to the brands like itel, Realme, Redmi, Lava, etc that are making phones in the sub 7k price range.
Special Features for JIO Phone Next
The new Android phone from Google and JIO is getting a deeper integration to JIO apps that allows voice commands to do tasks like checking JIO account balance.
Check the image below and see how it works.
Jio Phone Next comes with the Text to Voice narration option and makes it very easy to listen to information. It is beneficial for users who can't read.
Also, users can easily translate any content on the screen or even in images from one language to another.
This will help many users who can only read their local dialect but don't know English.
Jio Phone is Made in India
The Jio Phone Next is made in India at a facility in Tripura, Andhra Pradesh by a company called "NeoLync".
NeoLync website doesn't share any information about the ownership or promoters or if it is owned by the Reliance group.
However, they are making the JIO Phone Next on a large scale and millions of these new smartphones can change the dynamics of the affordable smartphone market.
Cons for Jio Phone Next
Old and dated design with large bezels at the top and bottom.
Snapdragon 215 is a 2-year-old processor and is not fast or ideal for gaming or multitasking.
Lacks fast charging support, no fingerprint scanner.
You can't use any other sim card (Airtel, BSNL, Vodafone-Idea) to use data on this mobile.
Data works only with the Reliance JIO sim card.
Resale value will be less as only Reliance JIO users can use it.
There are many better options in the 7K price range that you can easily get in the market.
Pros for Jio Phone Next
Good for those looking forward to buying it on the EMI option. The Rs. 1999 price point is decent for people who can't shell out more money
Pragati OS from Google has some special features that may help feature phone users to migrate to a smartphone.
Easy to repair comes with a removable battery.
Jio Phone Next – Initial Thoughts
The Jio Phone 1, and Jio phone 2 came with the Kai OS– a simple OS that can't compete with Android in terms of Apps and features.
A lot of consumers want to upgrade to an affordable 4G Android Phone but there is hardly anything good available in the sub-5k price range.
If you remember Google also introduced the Android Go Operating System for affordable phones but it got limited success due to several reasons.
Mr. Ambani has a huge distribution network and has the ability to sell huge volumes.
The Jio Phone Next is a very important launch for both Google and JIO as it will help them reach millions of untapped customers.
Also, Jio can gain customers from rivals Airtel and Vodafone Idea.
There are millions still using basic 2G phones with sim cards from Airtel and Vodafone idea.
That's the Big Opportunity for Jio & Google to have access to these folks!
Share your thoughts about the Jio Phone Next in the comments below.
References –Google Blog