Kids are getting smarter, and often they want to use smartphones to play games or watch videos. We have collated the best free games that your kids can play on a smartphone – Android or iPhone to improve brain function, problem-solving skills, and logical reasoning. However, as parents, we have to be very careful about mobile usage and addiction in kids.
Rather than wasting time on shooting games and useless videos, it is better to guide them to play games that can help with brain development and cognitive problem-solving.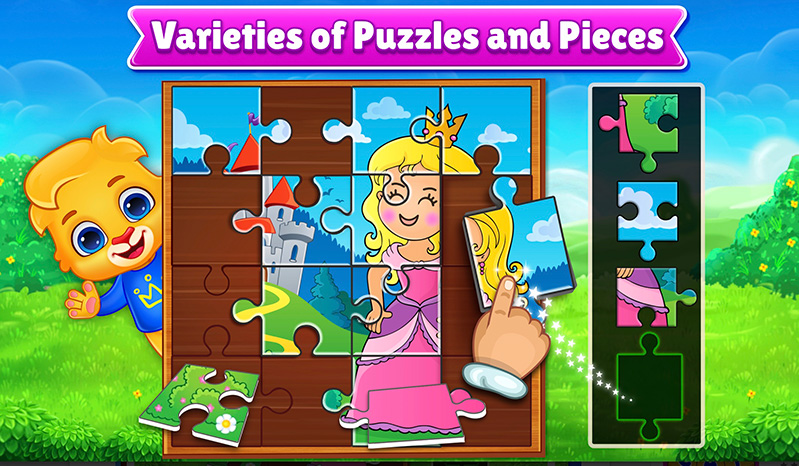 I also recently wrote about GTA 6, Battlefield 2042, and games for parents, which you may want to check out later.
This will help them in future studies and doing mathematical and reasoning questions.
Puzzle and riddle games are excellent mental exercises, and if your kid is watching the phone, he utilizes the time well.
We have collated a list of games that are beneficial for kids from 6 years to 10 years of age and help them develop brain function.
I have also added some videos that you can check out before downloading the game.
Without further Ado, Let's get started with the games.
Brain Games for Kids (Age 6-10 Years) To Improve Intelligence
1# Puzzle kids
Puzzle Kids is a learning and problem-solving kind of game designed for kids and parents to have fun together and some learning.
This game is completely free from third-party apps and in-app purchases too.
Further, the Puzzle Kids include the following games – Shape matching(Drag the matchable object onto the empty outline to solve the puzzle), Object builder(Drag and fit the scattered pieces of a large image to reveal a fun image).
The Guess the Object(mystery box appeared that help in guessing the picture using a few clues as possible), and Jigsaw puzzle (Arrange the complex shapes to complete larger image and you can also customize the number of pieces and difficulty of the puzzles).
The games help to improve concentration and logical skills and also, during the game, kids can also earn stickers and toys as rewards.
Game Size – 51 MB.
Number of downloads – 10 Million+
Suitable for – toddlers, kindergarteners, or preschoolers.
2# Words of Wonder
Words of wonders(WOW) is a challenging crossword game from the makers of Wordz that will help your kid to improve vocabulary and also spelling skills at the same time. In the game, the kids can travel around the world, discovering the hidden secrets of the 7 wonders and incredible cities.
Basically, the game's main concept is to test your brain to write and create new words from scratch and connect all of them to get the final crossword solution.
This game enhances and develops searching, writing, and solving problem skills in the kids.
Kids can also enjoy this game with their friends and cousins by playing this game in multiplayer mode. You can also build a team of up to 4 players to find all the words or compete with your friends on every board.
Game Size – 155 MB.
Number of downloads – 100 Million+
Suitable for – 3 year old + kids
3# Pictoword
Pictoword game is also like a Wonder of Words game. It is a brain teaser type of game: a cool, simple yet addictive word game where kids "read" two pics that combine to create a word or phrase.
The game is all about linking pictures and solving mind puzzles. For example, pics of ear and ring and combine them for EARING.
The kids can play this game either single or in multiplayer mode with their friends as per their wishes and set difficulty levels that include easy and hard mode.
The benefit of the Pictoword game is that the kid can learn to spell in English, train the brain to solve the quiz and riddle, Improve cognitive abilities and active mental health.
Game Size – 83 MB.
Number of downloads – 10 Million+
Suitable for – 3-year-old + to all age group kids
4# Block Puzzle
Block Puzzle is a simple, fun, and classic offline game. The game is easy to play, and once the kid tries this game, they will not stop playing it.
In the game, Kids have to drag the blocks to move them and try to create full lines on the grid vertically or horizontally, and there is no time limit for doing this and yeah, note one thing: you cannot rotate the blocks according to you.
This game enhances and creates few things in the kids like creativity, problem-solving attitude, and concentration.
Game Size – 10 MB.
Number of downloads – 10 Million+
Suitable for – 3-year-old + kids
5# Mystery Manor
If your kid loves story-based mystery games then Mystery Manor is a good option.
The story of the game is that there is a mysterious and elusive Mister X(owner of Mystery Manor) who has disappeared, leaving the residents all to themselves to solve all the mysteries of this strange place. This is where you come in as a detective to solve a mystery.
There are many rooms full of hidden objects and dark secrets in this mansion, and you have to find that hidden object to move forward.
So, start your journey into the depths of the Manor that has more secrets than a big city, and please note that don't let a single detail escape your keen detective eyes.
Game Size – 153 MB
Number of downloads – 10 Million+
Suitable for – 3-year-old + kids to adult
6# Pet Bingo by Duck Duck Moose
Pet Bingo is a basic math teaching game creatively and easily. Here basic math means Addition, Subtraction, Division, and Multiplication.
In this game, Kids will visually learn and practice addition, subtraction, multiplication, and division. The game involves unique educational hints that teachers have developed to help kids to understand different math concepts.
The game also has a report card section where you can monitor progress and find additional skill-building activities.
Game Size – 37 MB
Number of downloads – 100K +
Suitable for – 3 – 10-year-old kids
Install Pet Bingo By Duck Duck Moose
7# Logic Master 1
Logic Master is a fun-based brain training game that comes with the most unusual & tricky questions that require a creative approach to solve.
The game has more than 200 unique and funny problems and to solve this, the kids have to think outside the box.
Playing this game increases concentration, improves cognitive abilities, Trains creativity, and proves problem-solving.
Game Size – 13 MB
Number of downloads – 10M +
Suitable for – 3 year-old + kids
Thanks for reading the article – Please share in the comments which game you liked, and if there is any other game that is your kid's favorite, we will try to include that in our gaming list.
Written By Ayush Sharma – Edited by Kanuj Sharma